The term vacuum double glazing might confuse many people, as some assume that there is a vacuum between the glass panes cavity of any window with double glazed units.
But as a matter of fact, the conventional, energy-efficient Low-E double glazing has quite the opposite of vacuum physics. The standard double-glazed unit has inert gases between two glass panes or just air. The seals around the edges of the glass panes and spacer bars do not let the gas escape, but over 3-10 years, regular gas-filled double glazing loses most of its insulation performance due to gas leaks.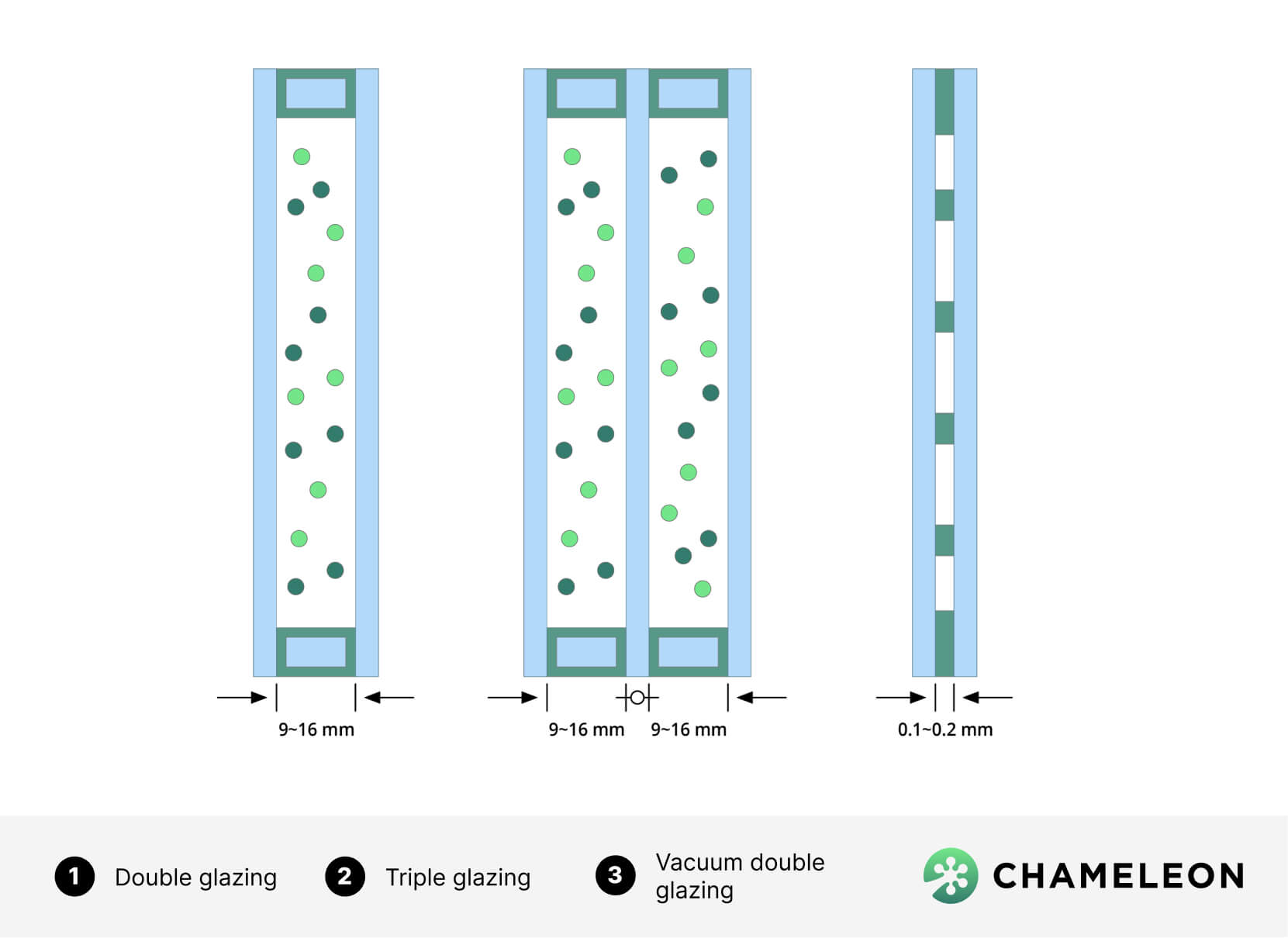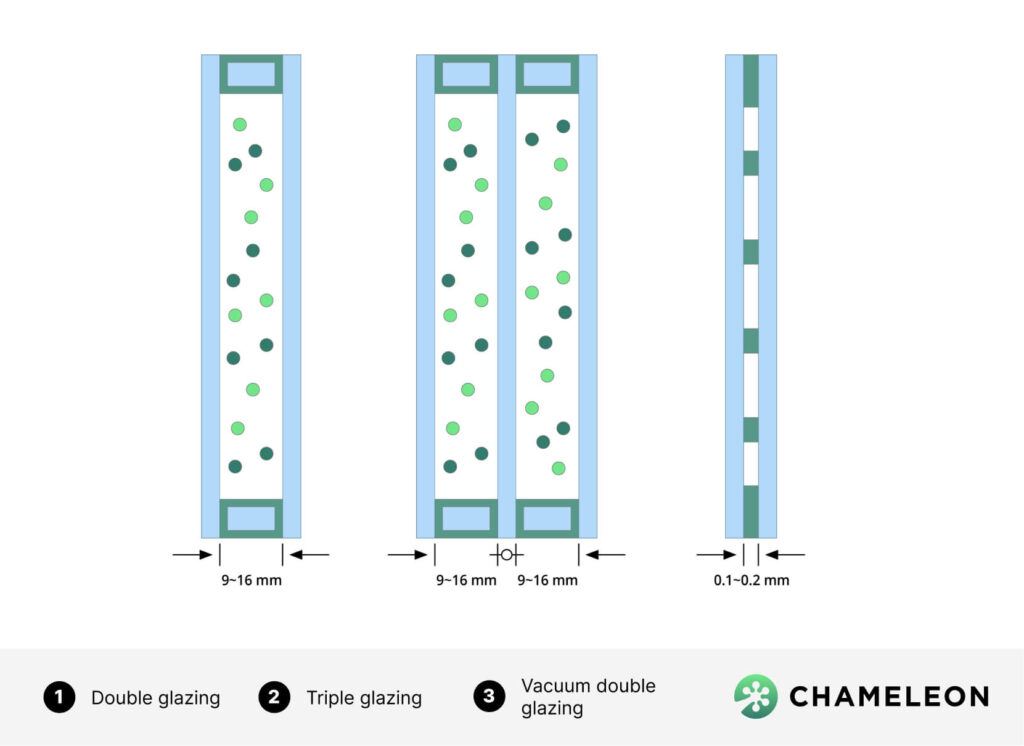 So you might ask now, what exactly is a vacuum insulated glass (VIG), how is it different to the standard double glazing we all used to see in our homes and why this glazing technology is the future of the next generation of the high efficient windows.
What is vacuum glazing?
Vacuum double glazing has the same panes of glass separated by a gap, but instead of gas or air in between them, it has a vacuum. The vacuum has very low thermal conductivity and thanks to its highest thermal insulation coefficient. A vacuum is an excellent thermal barrier, which will stop cold or hot weather from entering your home drastically.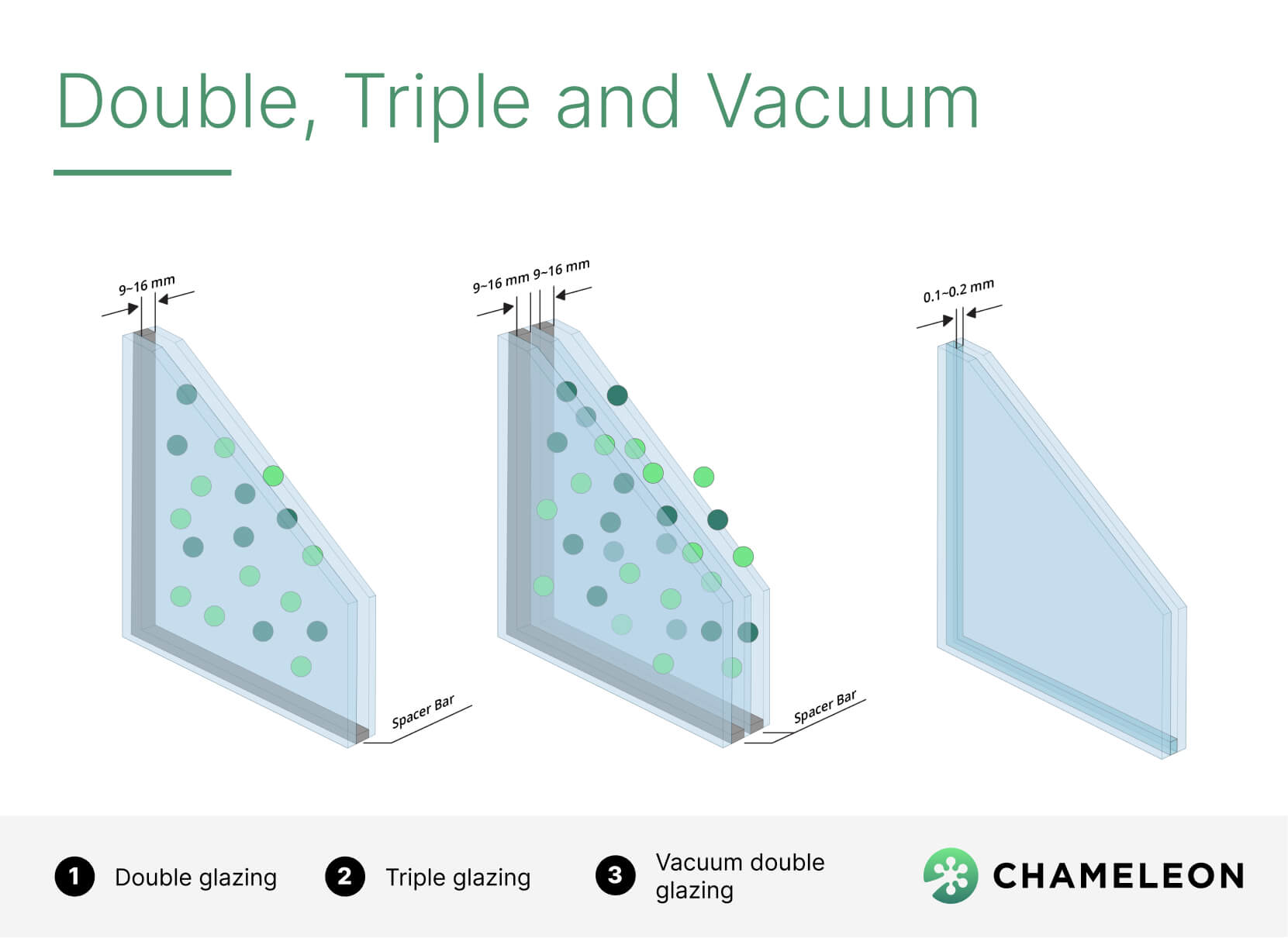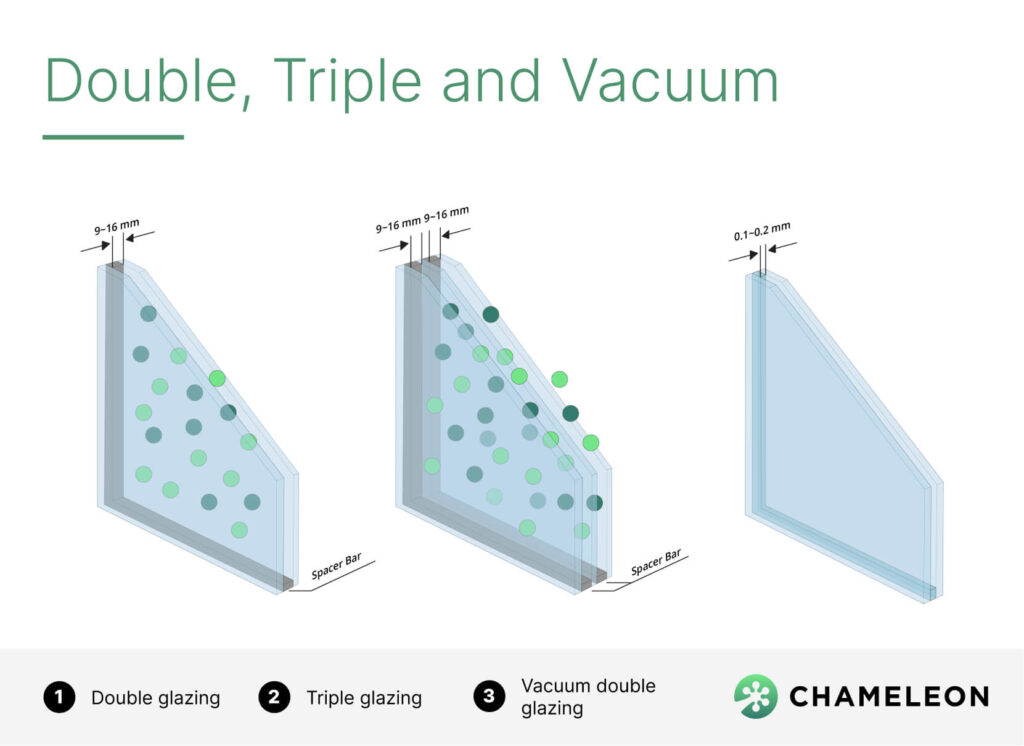 How does vacuum glazing technology differ?
The fundamental physics of how the vacuum works dictates the design of the vacuum glazed unit; the vacuum, unlike the inert gases, creates high atmospheric pressure; it pulls two glass panes to each other. Because of these pressure forces, something needs to stop two glass panes from bending and touching each other in some parts of the unit; the micro-spacers, which some people call supportive pillars, were introduced in the design of vacuum double glazing.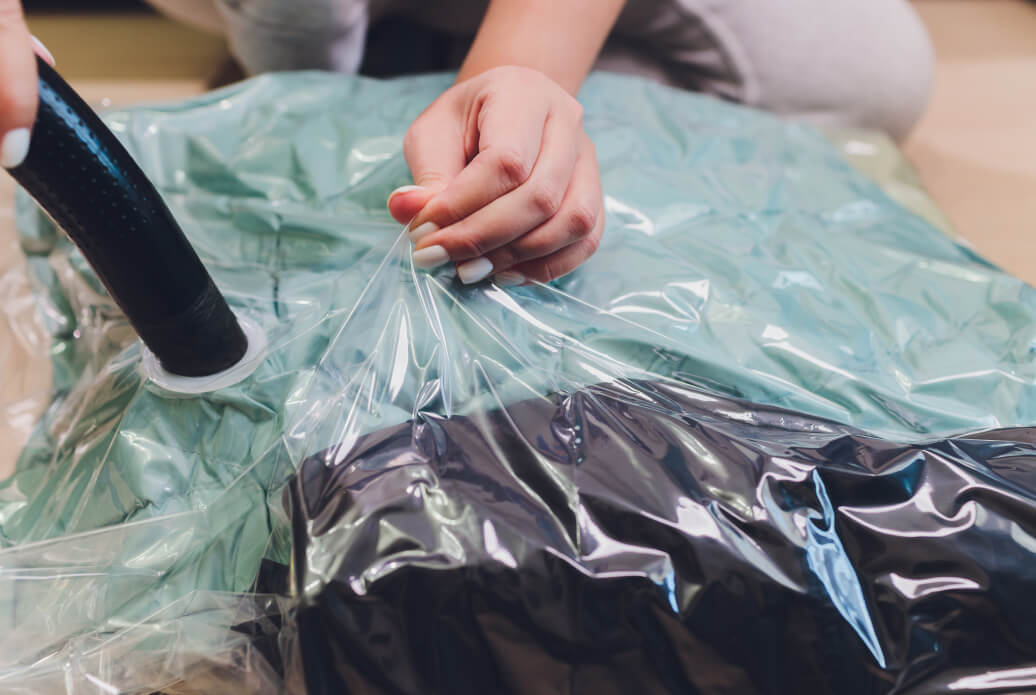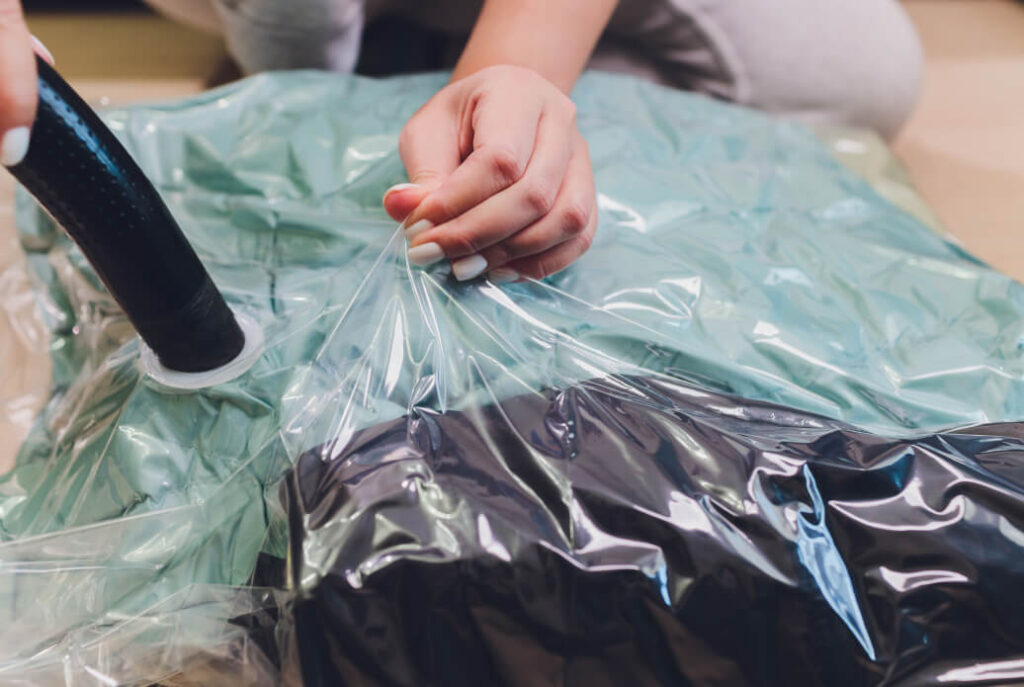 History of VIG and vacuum double glazing
In 1913, german scientist Zoller first described the concept of vacuum insulated glass. During 1985, and 1993, US and Australia also start researching this glass technology. In 1996 first commercial VIG product was produced in Japan using the research of the University of Sydney. In 1997, the first commercial production of vacuum insulating glass was launched.
Where is the vacuum double glazing currently used?
Heritage windows restoration projects
The main application of vacuum double glazing units is in historic building restoration projects, where single glazed windows are retrofitted to prevent heat loss, and improve thermal performance while at the same time keeping the old timber frame and preserving the historic building's character.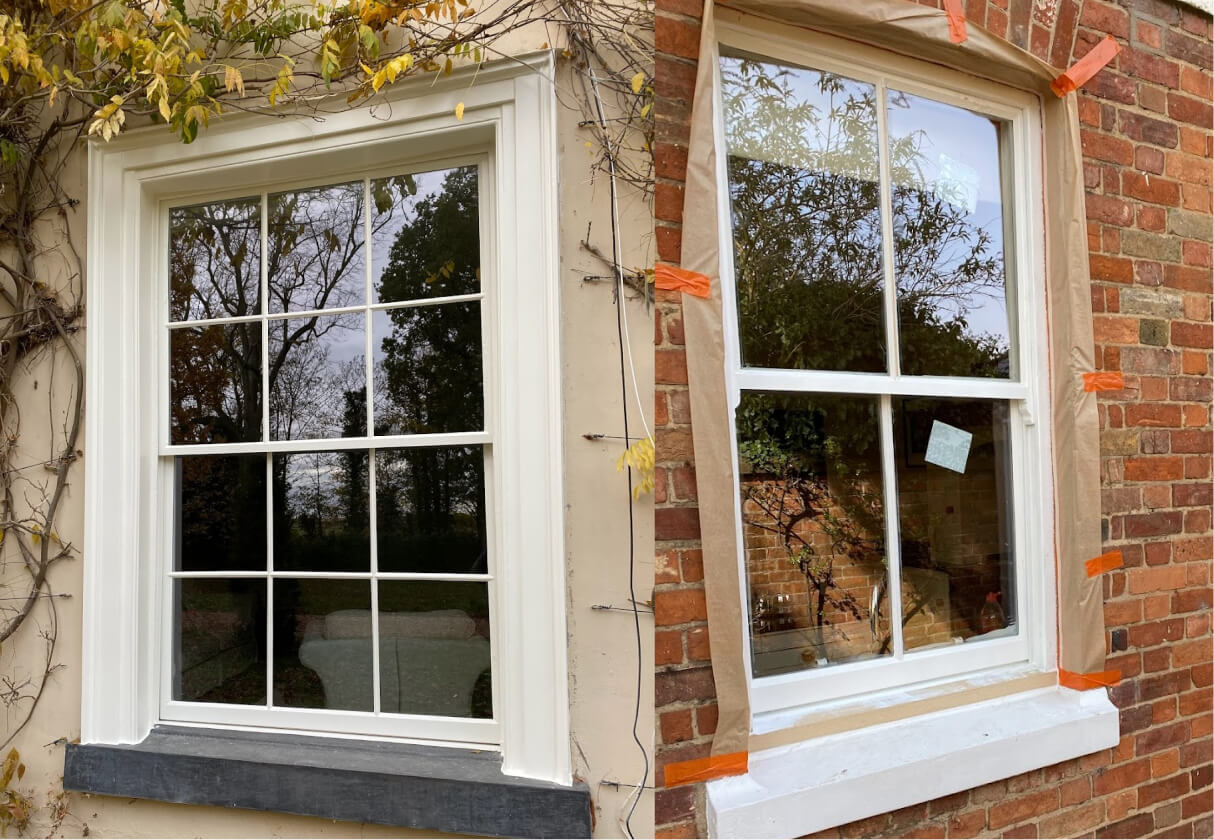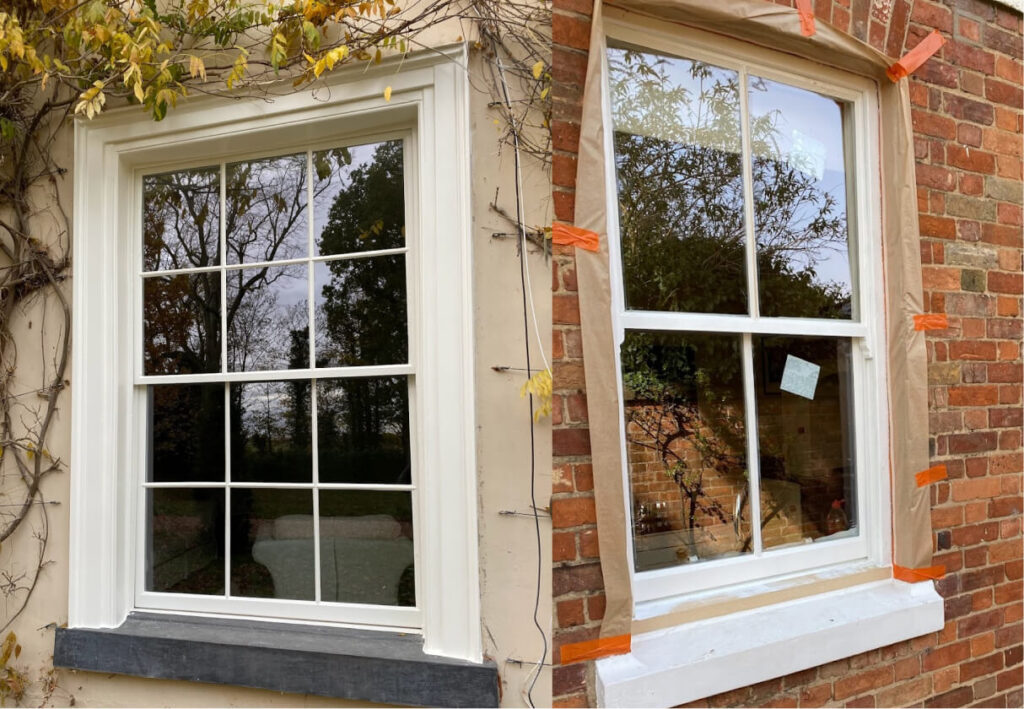 Sash window retrofitting is one of the main and growing markets for vacuum glazing manufacturers. Retrofitting is one of the best alternatives to bulky secondary glazing.
Our company works in this marketer as a glass installer, but we also refurbish sash window frames as the part of sash window double glazing installation process.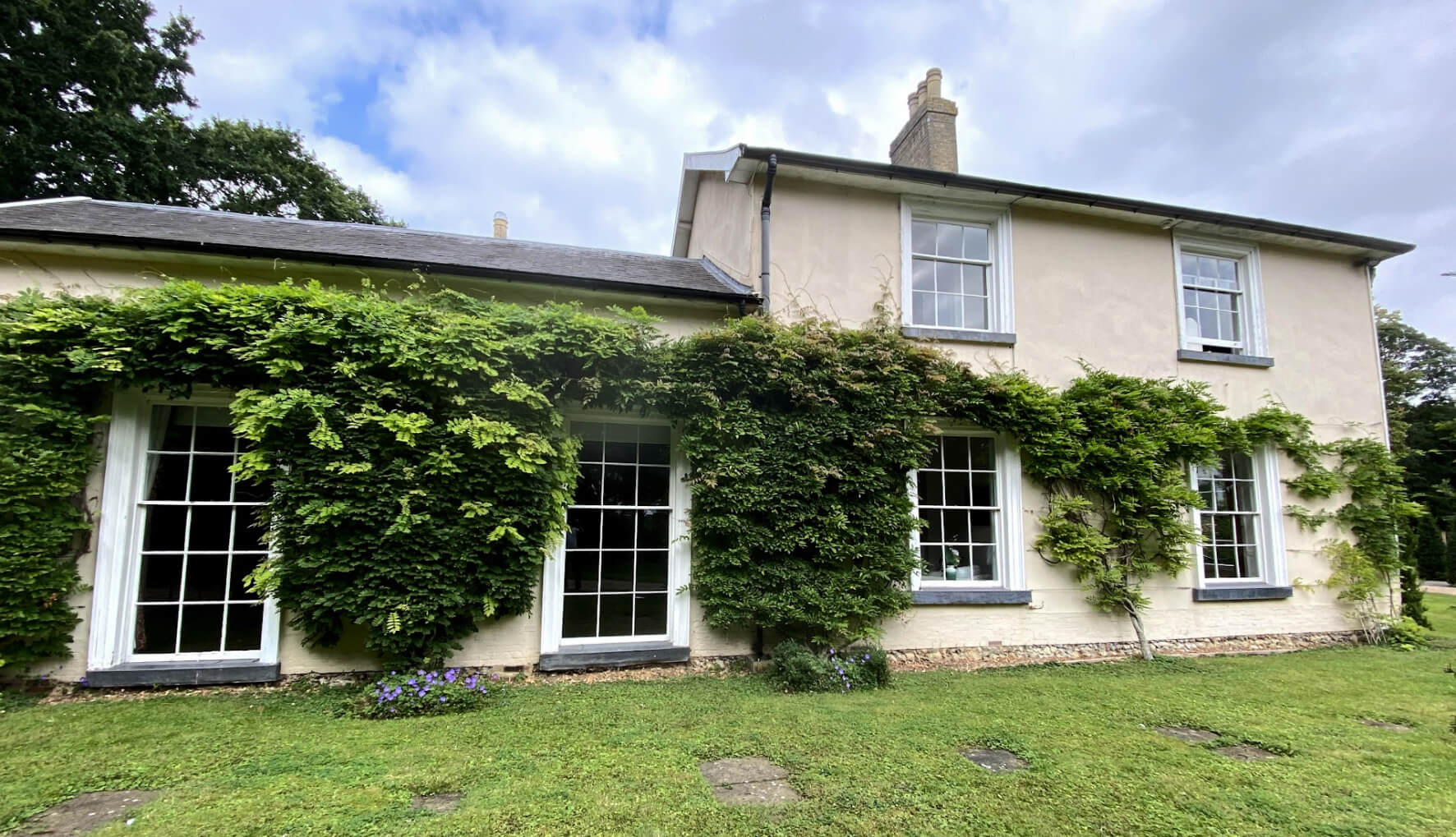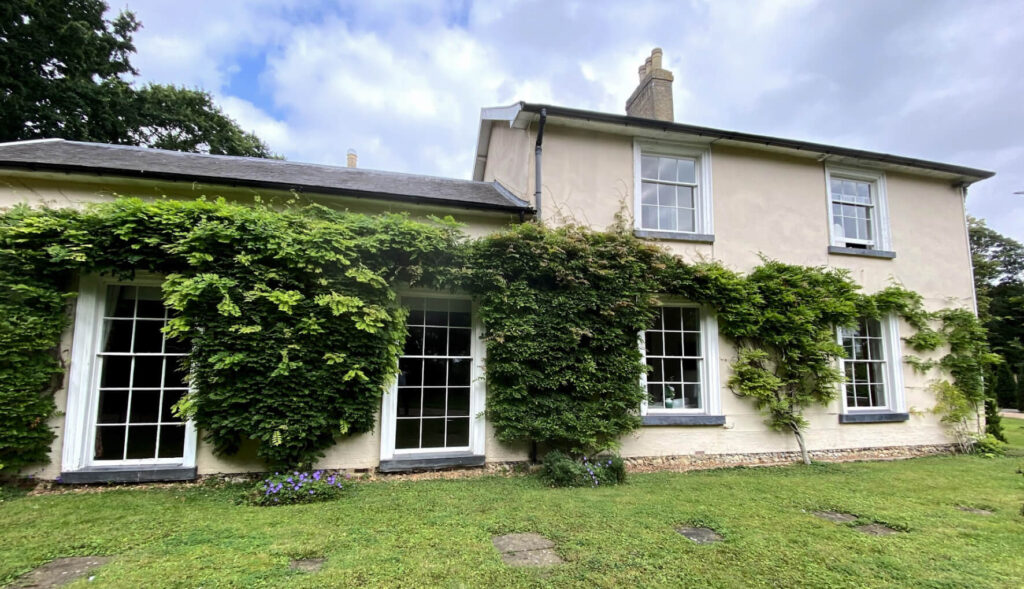 Thermal imaging of retrofitted wooden frame windows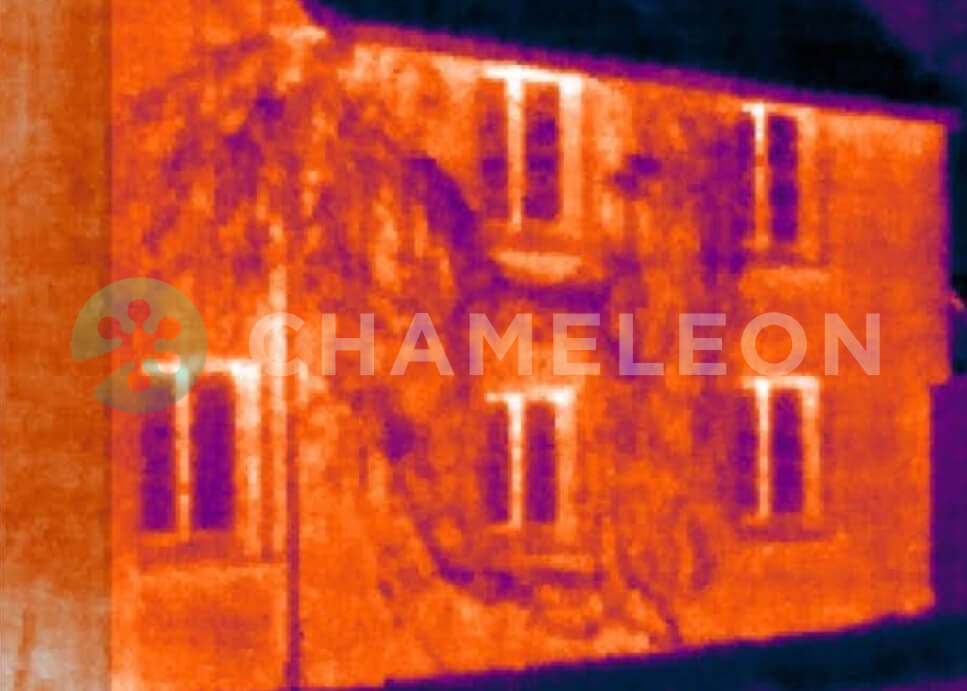 Read more
Because of its use in window restoration projects and slime profile, vacuum double glazing also is called heritage double glazing.
With vacuum insulated glazing units, old beautiful windows can be as energy efficient as triple-glazed windows.
Our projects where we retrofitted VIG to wooden windows: 
Other applications
Vacuum double glazing can also be used in secondary glazing where slim-profile and lightweight glazing is required by design. It can also be used as one of the panes of triple glazing. Some makers of bespoke windows use this slim-profile double glazing.
Specs example:
Thickness: Slim-profile double glazing, from 6.7 mm
Cavity: 0.1 mm with micro spacers in between / 20 mm grid
Glass edge seals: Soldered
Toughened glass: Laminated safety glass with two EVA foils.
Low emissivity coating: Yes, in accordance with EN 1096
Special shapes: Oval, arch, triangle, half arch and more
U-Value: 0.7 W/(m².K)
LT – Light transmission: 77%
LR out / LR in – Light reflectance: 13 / 14 %
Acoustic performance: 39 (-2;-4) Rw (C; Ctr)(dB)
Pros and cons of vacuum double glazed units
Like any product on the market, Vacuum glass has its own pros and cons, so it is important that you understand these before making a decision.
Pros
Slim profile: minimum thickness is 6.7 mm
High thermal efficiency: Outstanding energy performance, equal triple glazing.
Sound insulation: Reduces outside noise in half.
Blocks UV radiation.
Cheaper than full window replacement.
Life expectancy: 15 years manufacturer guarantee and +25 years service life
Cons
Visible evacuation port: FINEO glass (by AGC glass), unlike Pilkington Spacia glass, has now managed to produce double glazed units without a protective cap/ evacuation port, but for other manufacturers, this is still a significant disadvantage.  
Cost: More expensive them conventional slimline double glazing.  
Delivery from Belgium, Japan or China.
Conventional double glazing
The main difference is in the spacer. Conventional double glazing uses a warm edge spacer, made of metal or composite materials and has a desiccant to absorb moisture. The most popular on the market is Super Spacer by Edgetech (a US company). This type of spacer conducts less heat than metal spacers. However, it still conducts heat.
The other difference is in the insulation of conventional double glazing, which uses gasses. Conventional double glazing uses argon or krypton gas for insulation. These gases have good insulating properties, but they are not as good as a vacuum.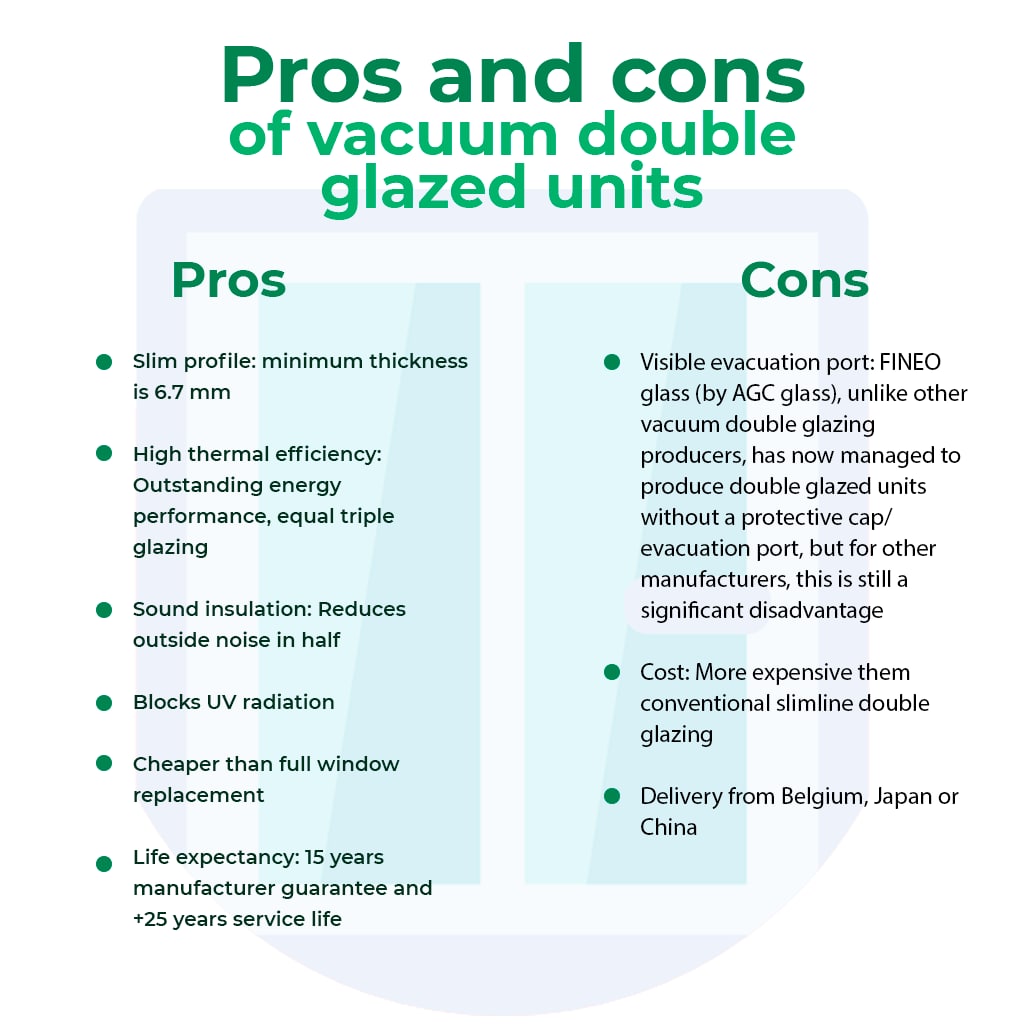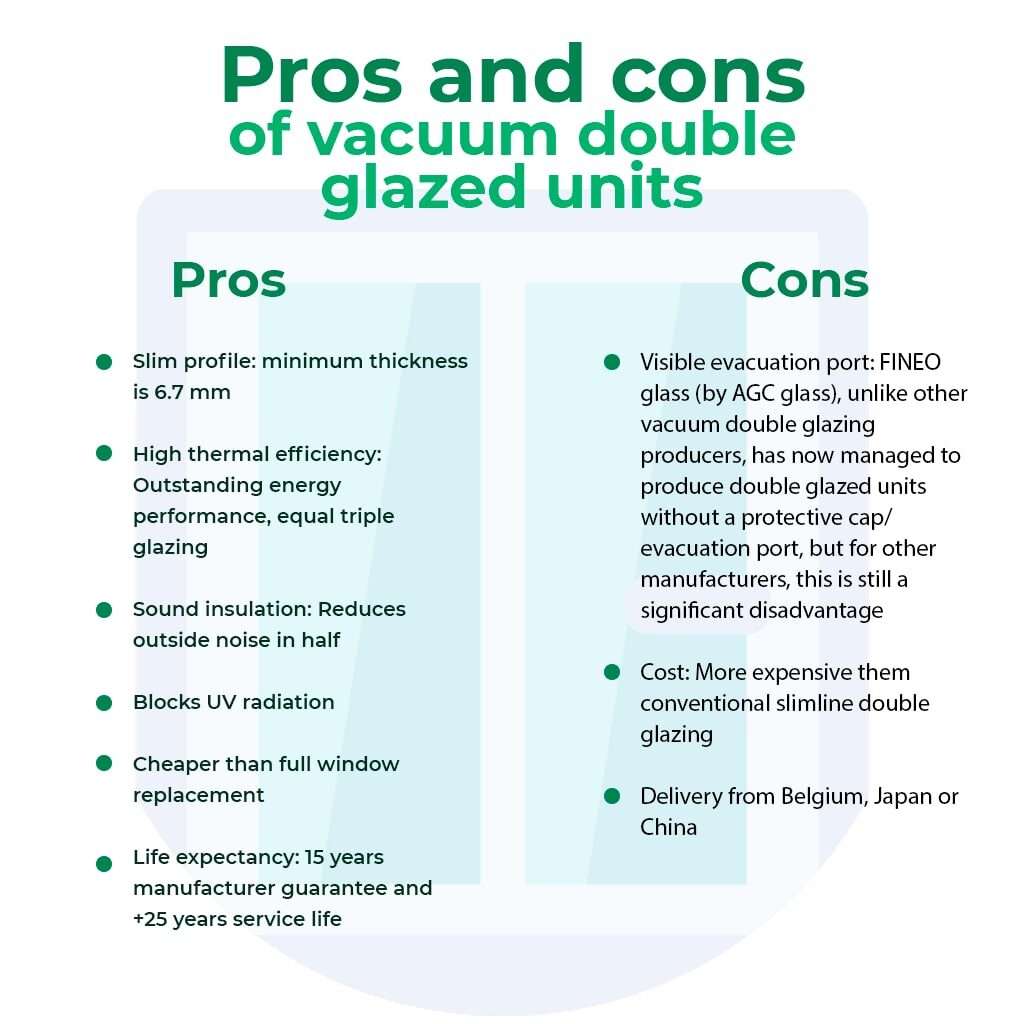 The future of vacuum double glazing
More companies will start production of vacuum insulated glass; this will reduce the cost of vacuum double glazing and will make it more affordable. The energy cost will also make VIG a more financially viable choice for homeowners looking for ways to increase the thermal efficiency of their houses to reduce energy bills. More manufacturers will be using VIG glass for new windows.
Retrofitting of single glazing will only be done with vacuum glass; the standard gas-filled double glazed units will become obsolete for this task.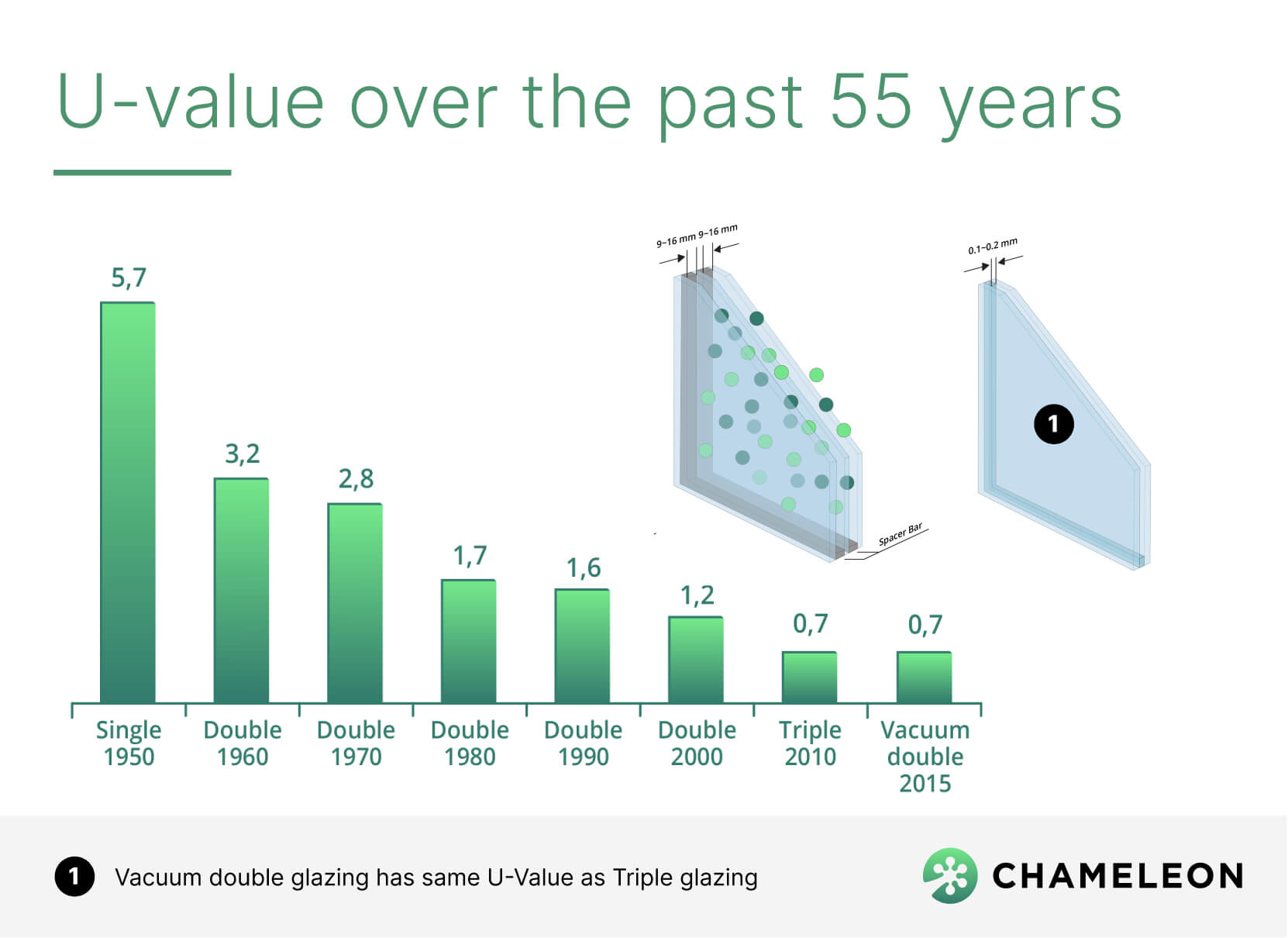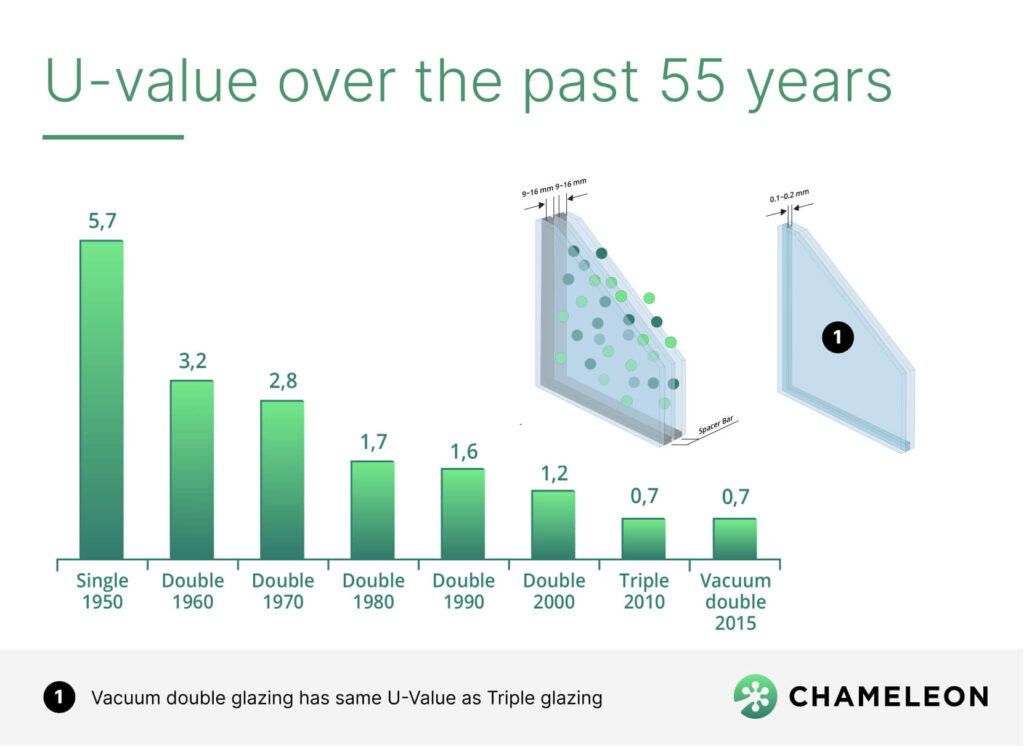 Reference: https://winsmart.eu/activities/vacuum-insulation-glazing.aspx
U-Value will drop to below 0.5 W as, during the last 50 years, the insulation capability of windows has significantly improved, and this trend will continue. U-value of window glazing will be close to the well-insulated wall.
The performance of glazing has changed over time. A well-insulated wall, for example, has a U-value of 0.15 W
FAQ
Is there a vacuum between double glazing?
Yes, if it is a vacuum double glazing (VIG), and no if it is standard double glazing. 
Where does the need for slim double glazing come from?
The demand for slim double glazing comes from restoration projects, where single glazing is retrofitted.  
What is in the middle of double glazed windows?
The middle of double glazed windows is usually filled with argon or krypton gas or has a vacuum instead.
VIEW ALL QUESTIONS