Sash windows refurbishment
If your period property features original sash windows, you will inevitably need to consider sash window refurbishment and other repair services to maintain or restore the timber frames at some point.
Refurbishment encompasses a variety of sash window repairs, including draught-proofing and retrofitting existing sashes with double-glazed units.
Like all wooden period elements, traditional sash windows require special attention and routine maintenance to preserve the timber in good condition. Wooden windows are exposed to the elements, and without proper restoration and upkeep, their lifespan can be significantly shortened.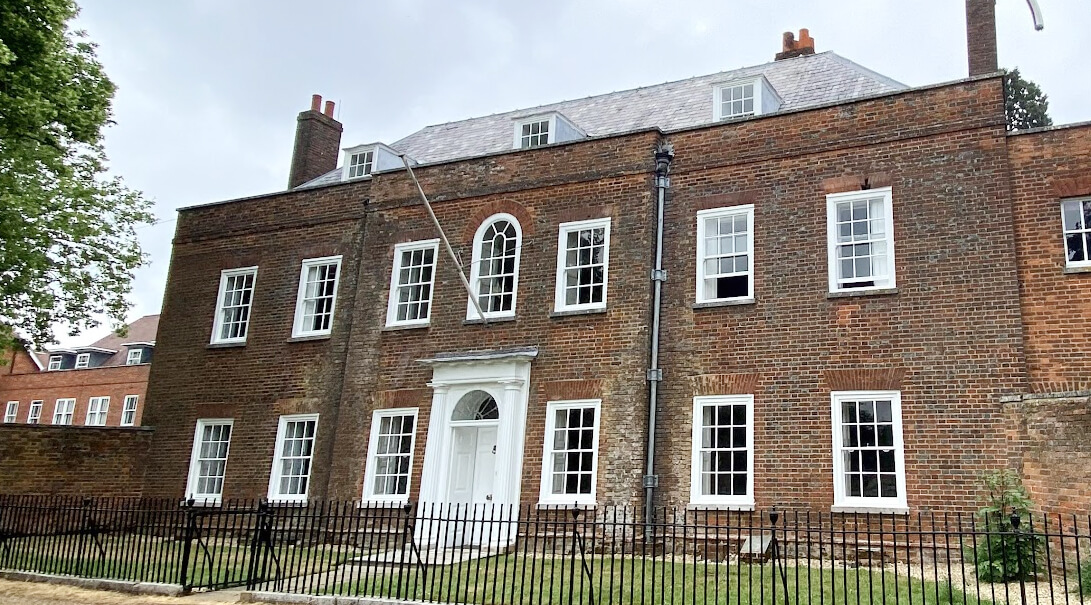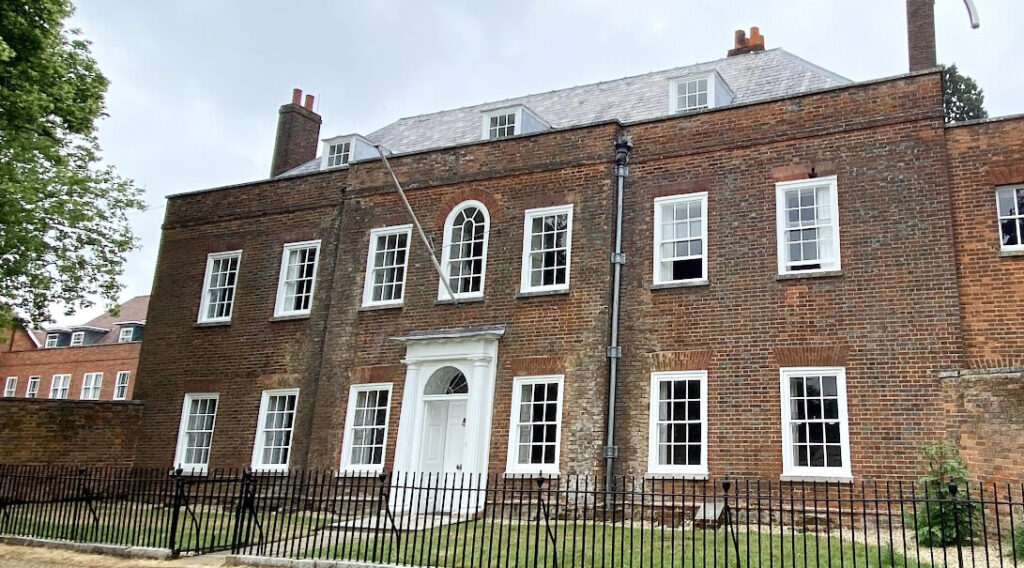 Let's explore the various sash window refurbishment options available in order to identify the most cost-effective solutions:
Decorating route — Quick repairs and a new layer of paint
For decades, homeowners have relied on the services of painters and decorators to paint and repair their timber windows. However, the expectations for such work, as well as the standards themselves, have never been particularly high.
In fact, it has become a standard practice for timber windows to be repainted every three years in order to keep them looking their best. However, as the photos below demonstrate, the underlying issue of hidden rot can still persist despite the fresh layer of paint.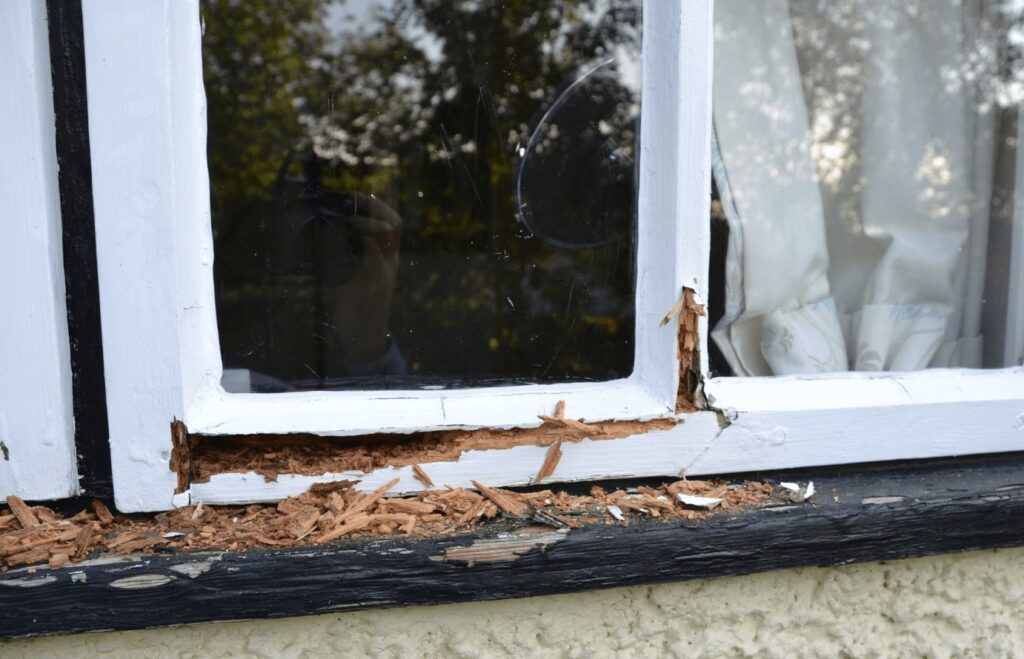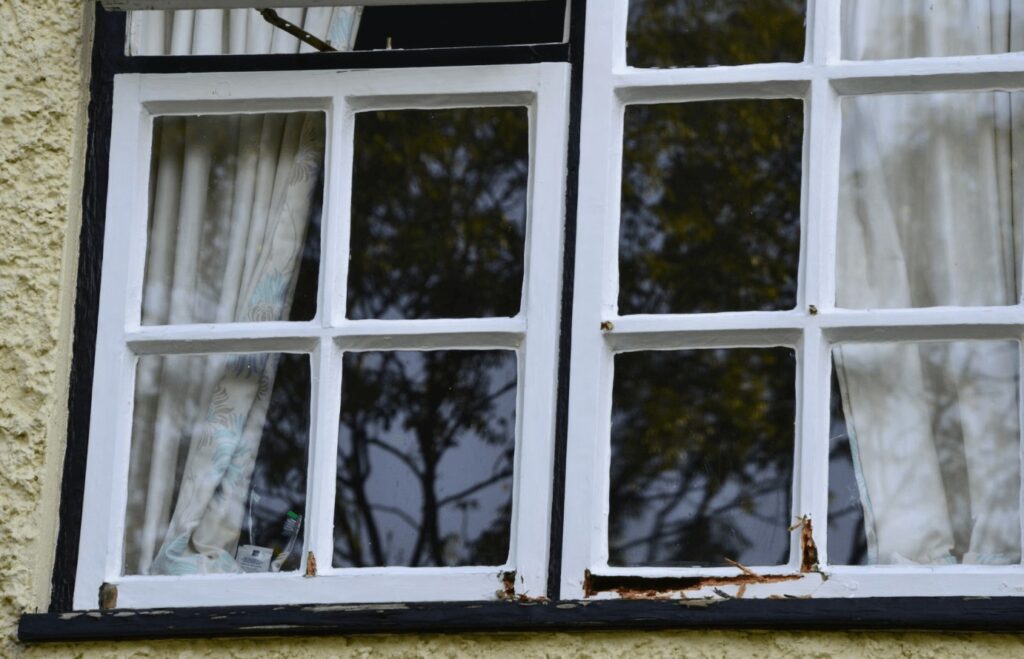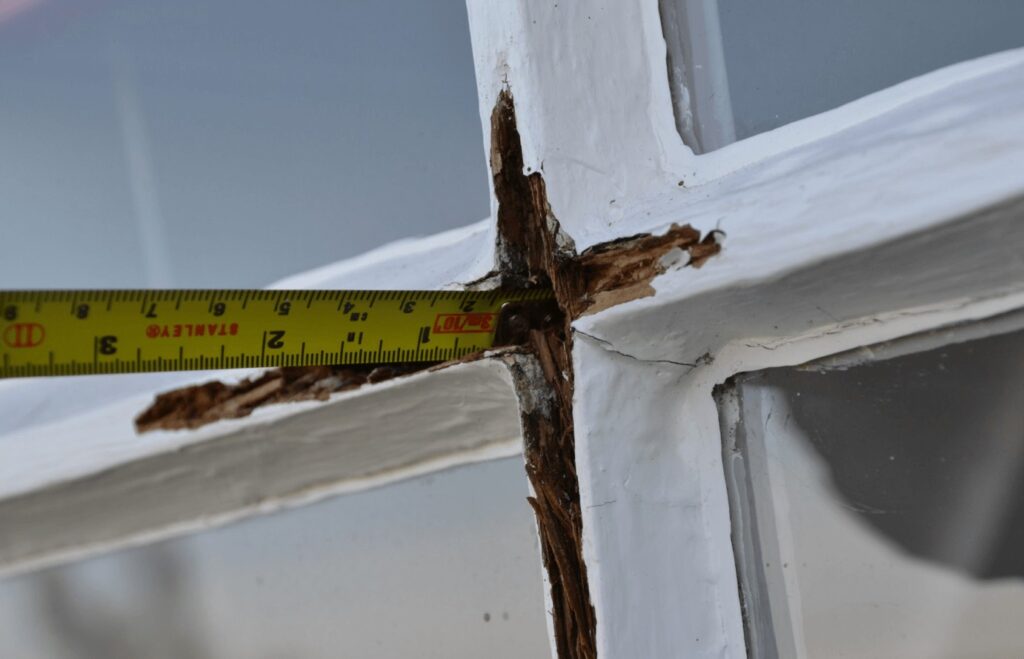 What price do decorators charge to paint the window
The average cost for repainting a single sash window typically ranges between £250-350, without taking into account any necessary repairs. In cases where minor repairs are needed for a timber window, the price for both repairs and exterior painting can run between £370-£450.
It's no secret that many homeowners are often drawn to the affordability of hiring decorators who offer window repair services that use wood fillers as a low-cost option. Frame repairs may also be rushed by decorators who offer lower pricing in order to still make a profit.
However, it's crucial to bear in mind that such repairs are not a permanent solution and will only provide a temporary fix at best, with a lifespan of no longer than two to three years. This is because wood filler tends to shrink and crack over time, making it prone to falling out and exposing the window to further damage.
Short maintenance cycle of old sash windows
A typical 3-bedroom house contains ten windows, and homeowners must pay approximately £4000-5500 every three years for window maintenance.
This does not account for the time-consuming process of finding decorators, collecting quotes, scheduling work, and dealing with inevitable disruptions to daily life from tradesmen coming in and out of the home.
Unfortunately, this is still a reality for many households in the UK.
Repairing old sash windows: Local joiners route
However, in the recent few years, a new service emerged – When people are looking for "sash window repair near me" services, they usually find a sash window restoration company.
Such companies usually originate as joiners or builders who know a thing or two about windows. They renovate wooden windows by cutting out damaged areas and replacing them with new pieces of wood screwed into frames or window sills.
Any rotten parts are removed and filled with DryFlex, a two-component wood filler. Such repairs look significantly better than simple patch repairs. However, they, too, have their flaws.

Screws will move with the timber movement (shrinking and expanding when the temperature changes), pushing the screws and fillers up, damaging paint and further wood decay when moisture gets in.
Also, these repairs are always visible when you look at a freshly repaired window. Some people accept this as an inevitable evil; others seem to accept these flaws as the character of old windows. Such sash windows renovation with or without servicing pulley and cords may cost anything between £750 and £900 per window (you need to add £250-300 for painting). This work is certainly not cheap.

Sash windows replacement route
Another more radical option is complete sash window replacement; softwood sash windows will cost you £1800 per window, and hardwood from £2500 per window.
The best thing about this solution is that the windows will look new. However, not for a long as softwood sash windows will start to rot in 5 years (look at the photo from one of our recent surveys below).
In 8-10 years, expect two maintenance cycles on this new window, one re-decoration and one re-decoration + repairs.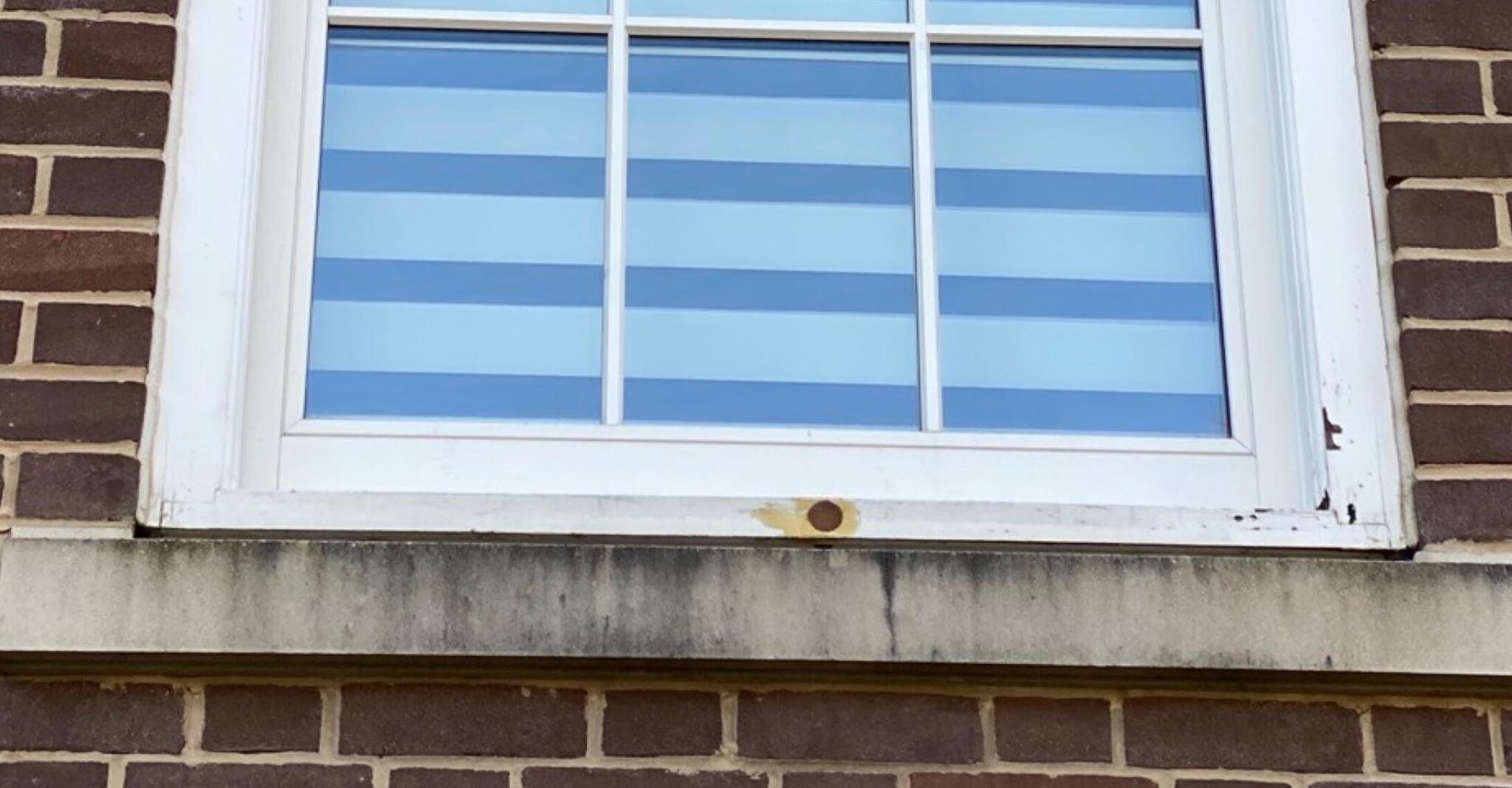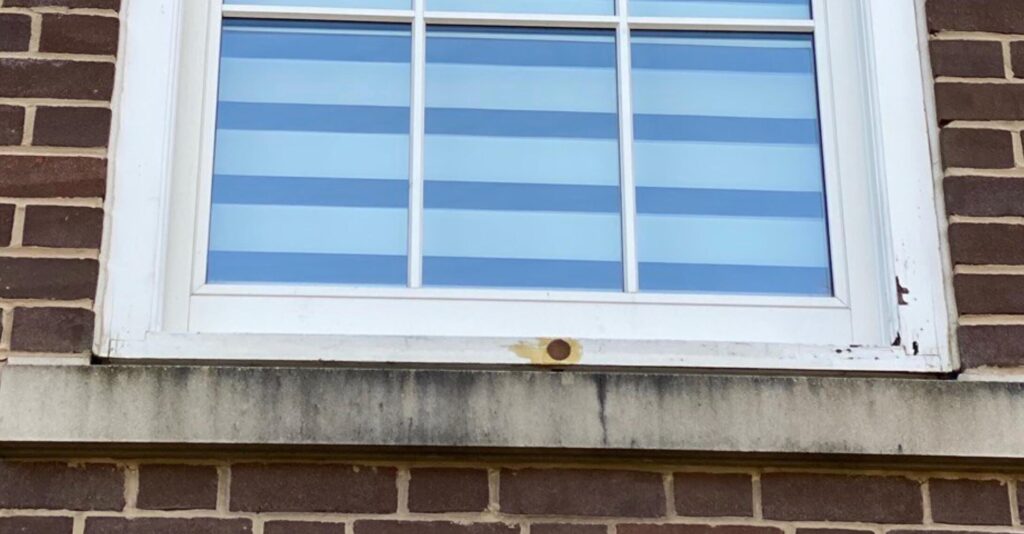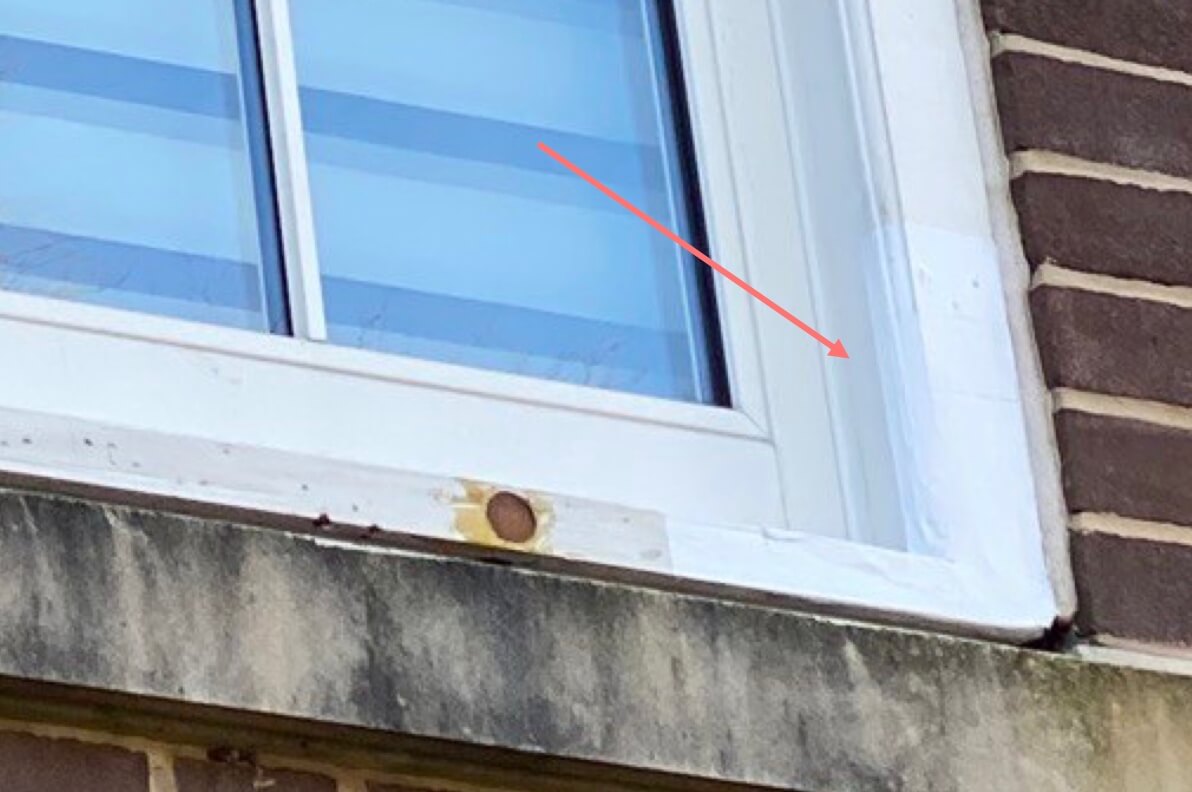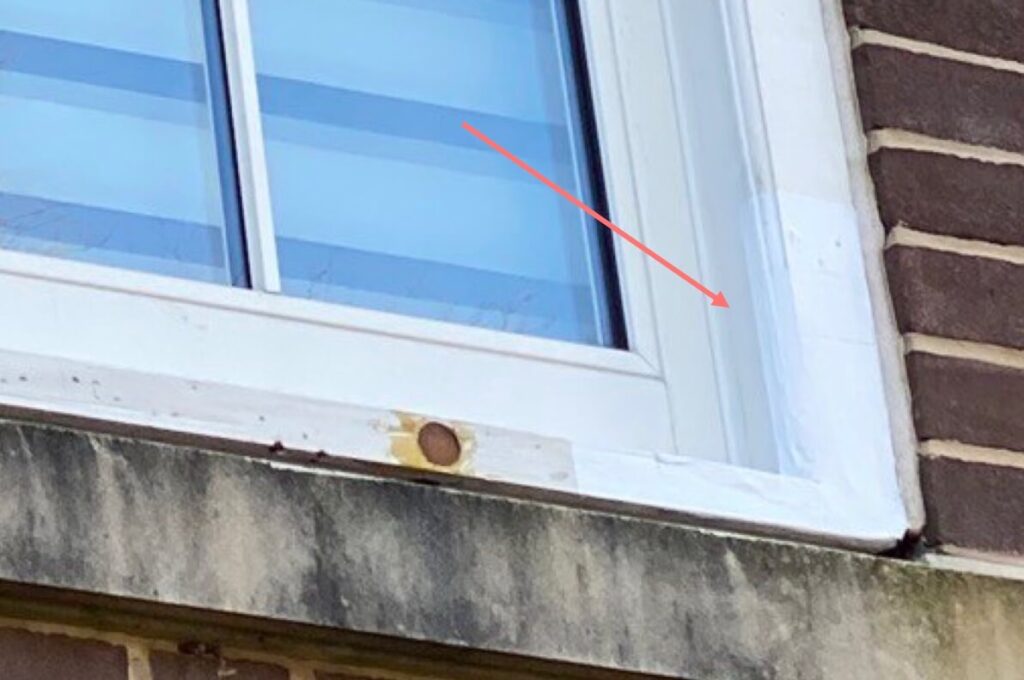 First is a huge cost, accounting for the removal and disposal of existing windows, the cost of the new windows and glass, their installation, rental of scaffolding, painting the windows inside and outside, making good and painting damaged walls.

If a house is listed or in a conservation area, a house owner would need to jump through numerous hoops to get a permit to replace it.
Our sash window refurbishment method
At Chameleon, we renovate all types of wooden windows and provide a 20-year guarantee on all repairs with Accoya/Tricoya wood and an 8-year guarantee on paintwork, which means no redecorating for the next 8-10 years after we refurbish windows.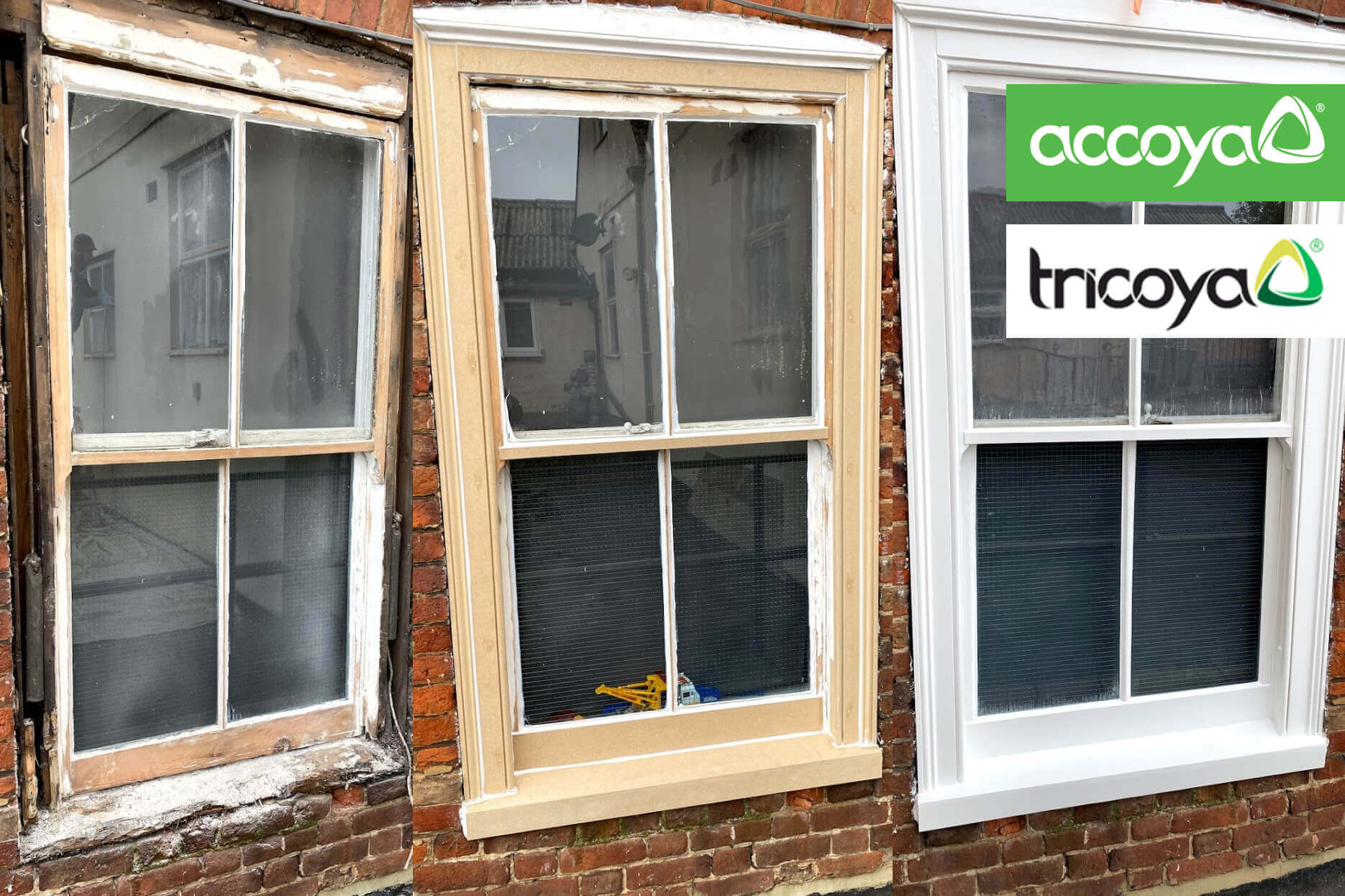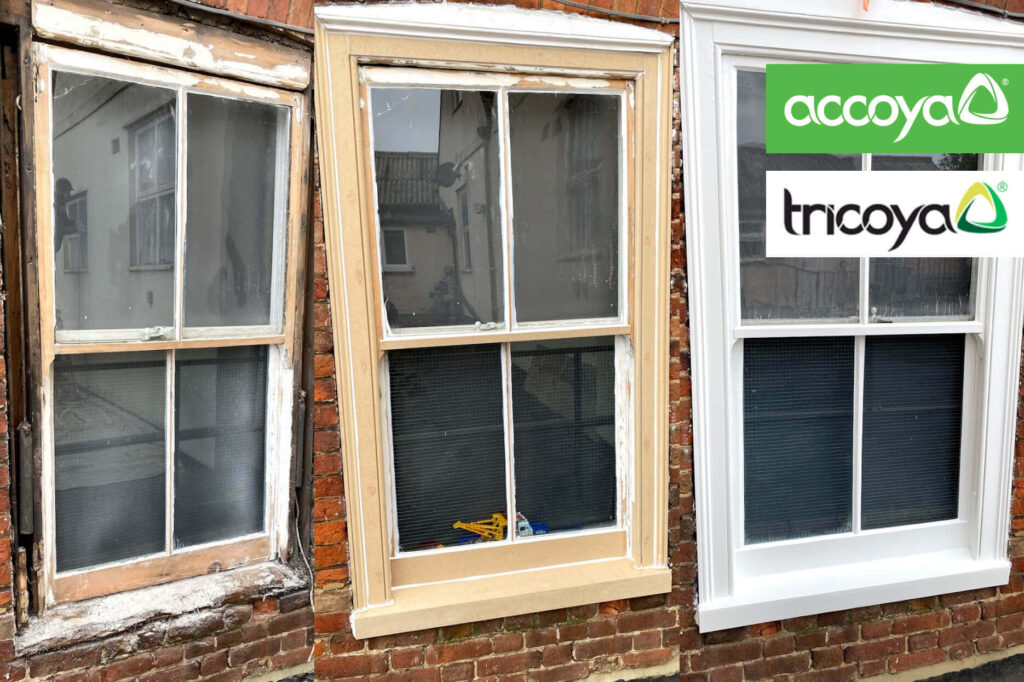 We use a combination of traditional sash window renovation with a lamination technique.
Together, they allow us to refurbish wooden windows back to their former glory without changing their look, with no patches and complete peace of mind for decades to come.
We price our timber frame refurbishment work at £689 and retrofitting at £1679 per average-size window.
You can read about what each service includes and how they differ here.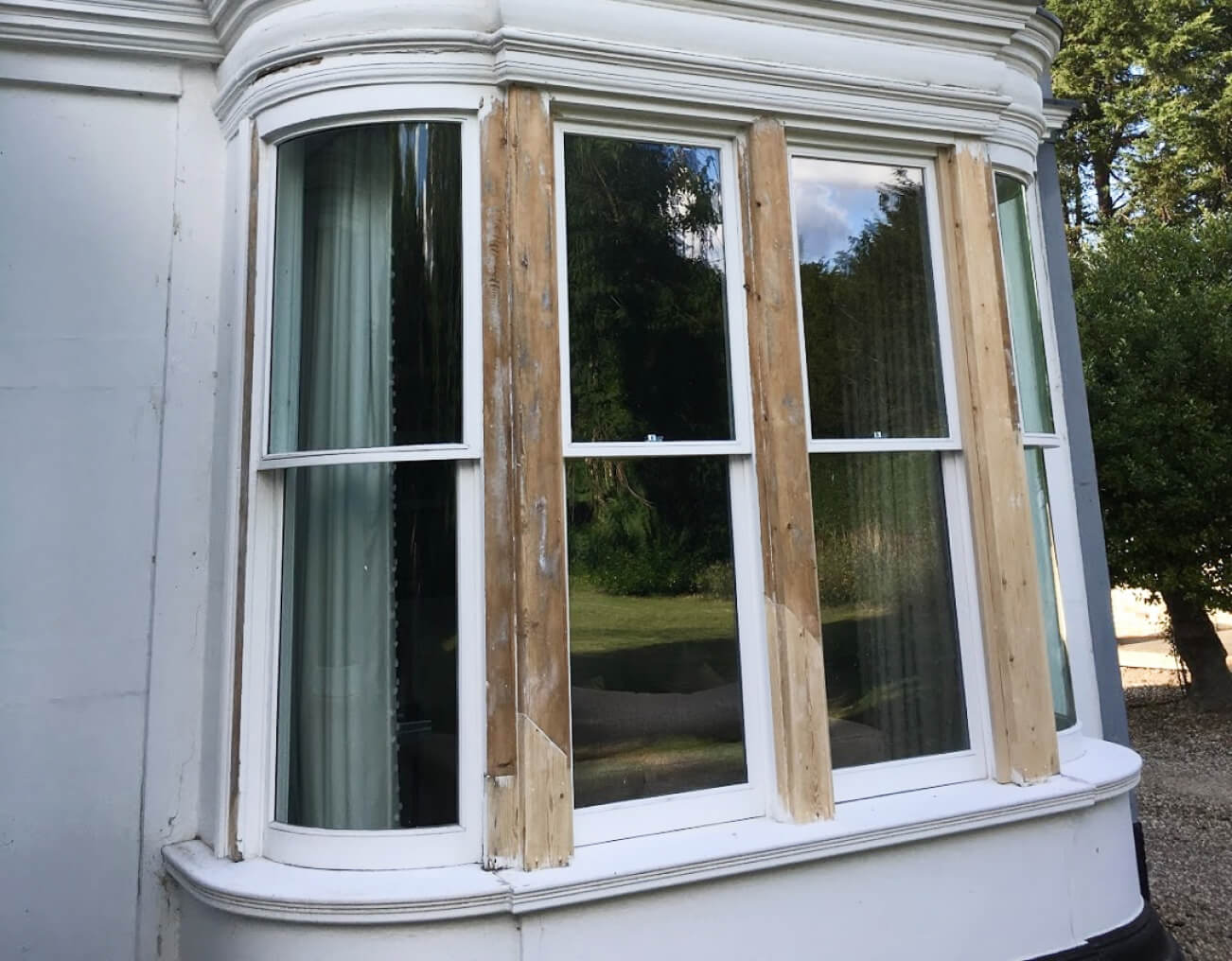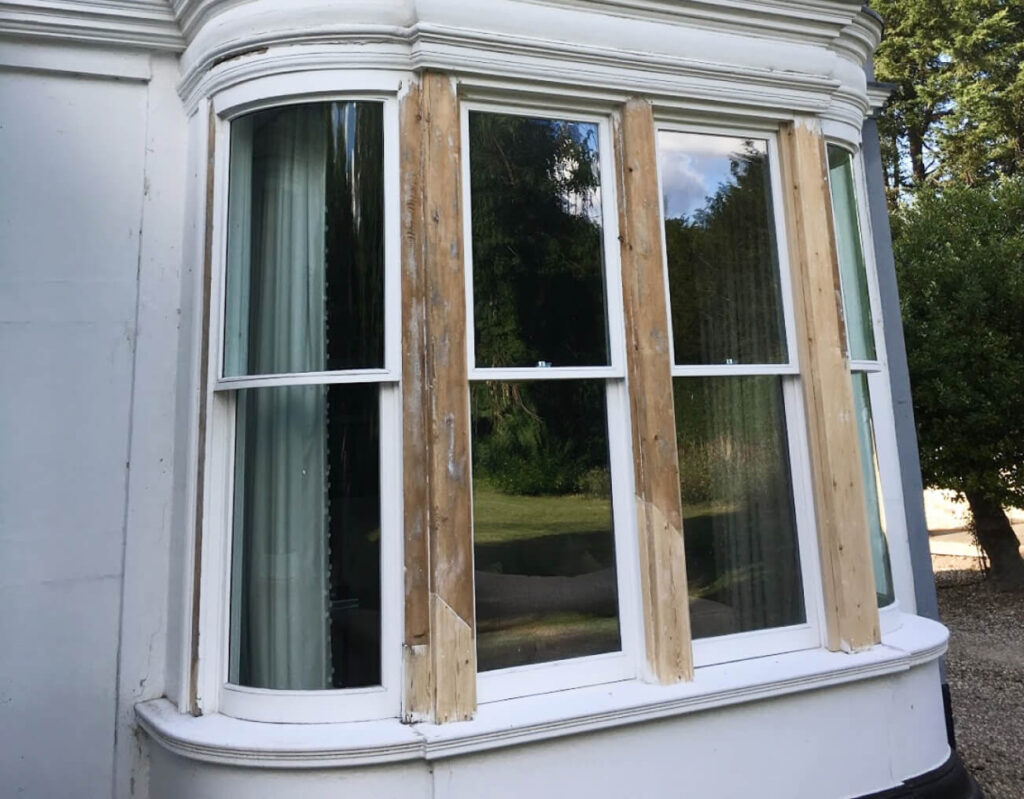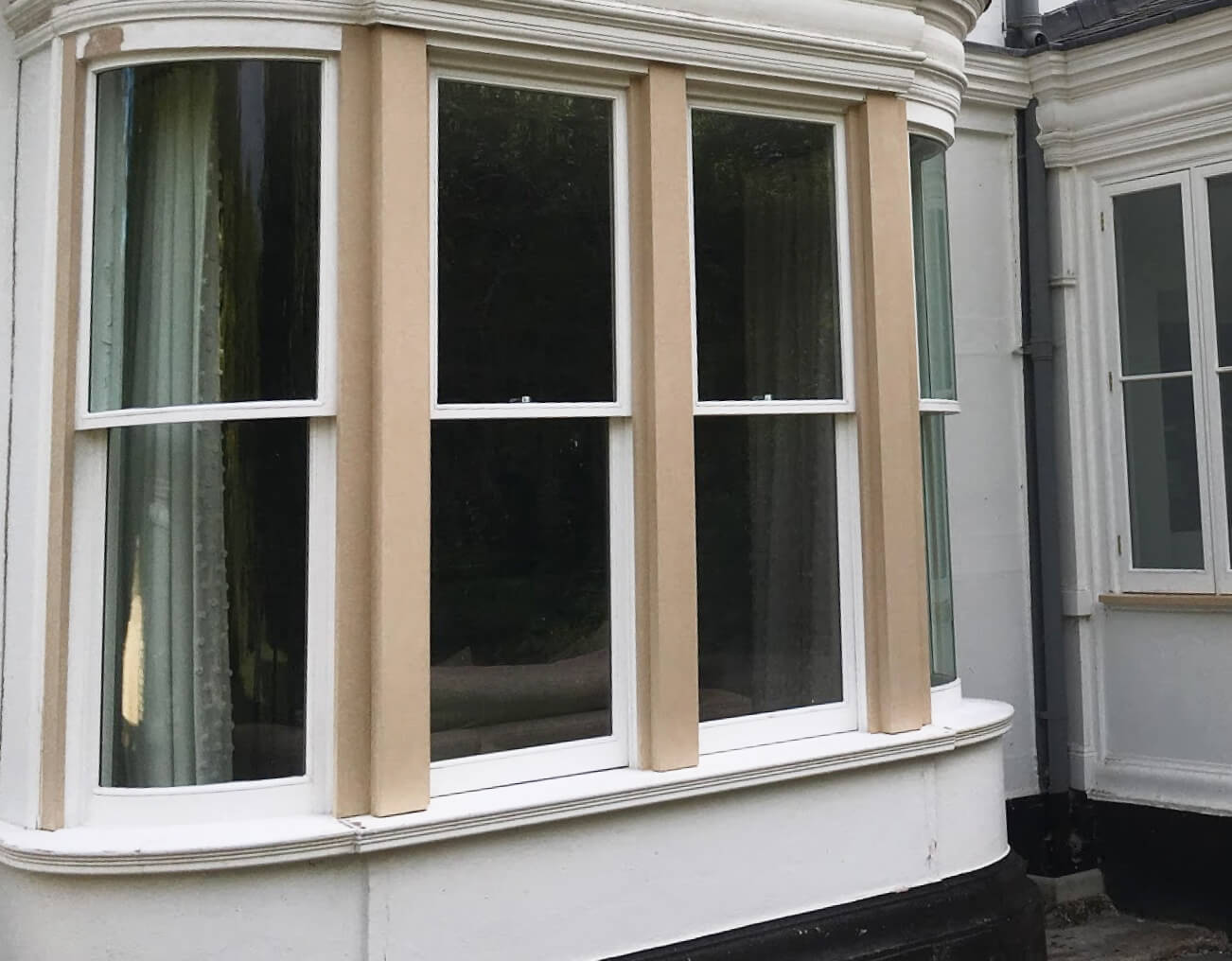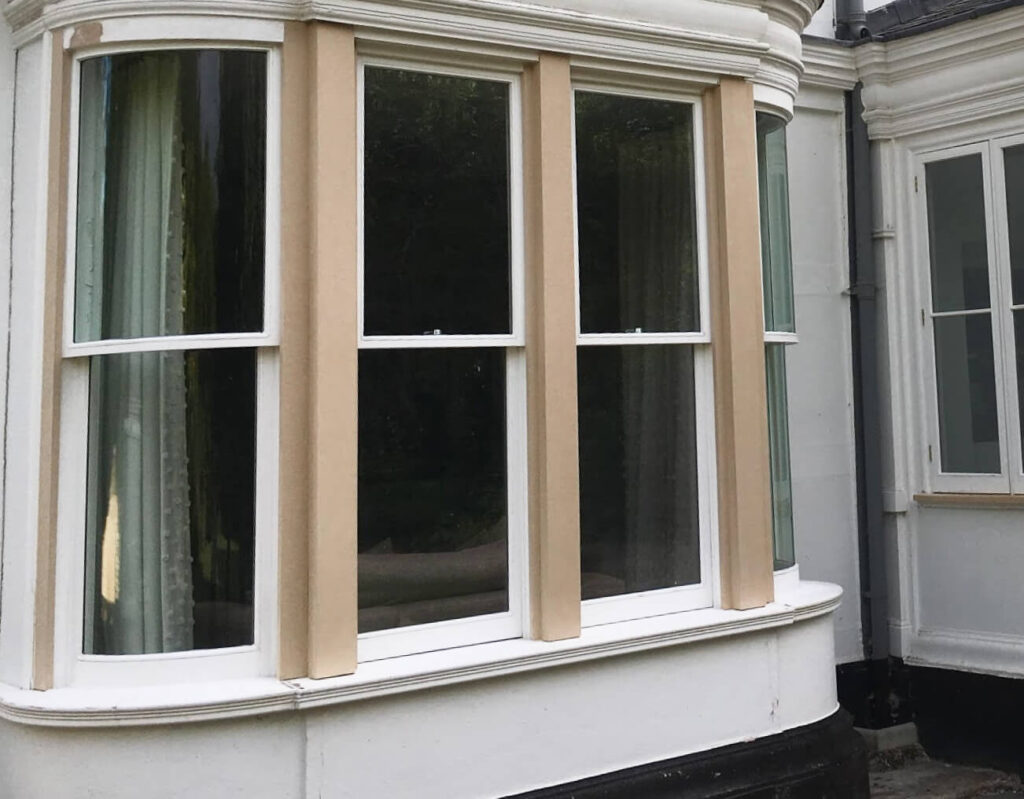 A window will look the way it was first installed – no messy and uneven old paint, no signs of repairs, just clean lines and smooth surfaces with a window that has been protected for decades.
With our lamination method we can turn your old soft or hardwood timber frame window into the window with rot resistant properties equivalent to window made of Accoya timber.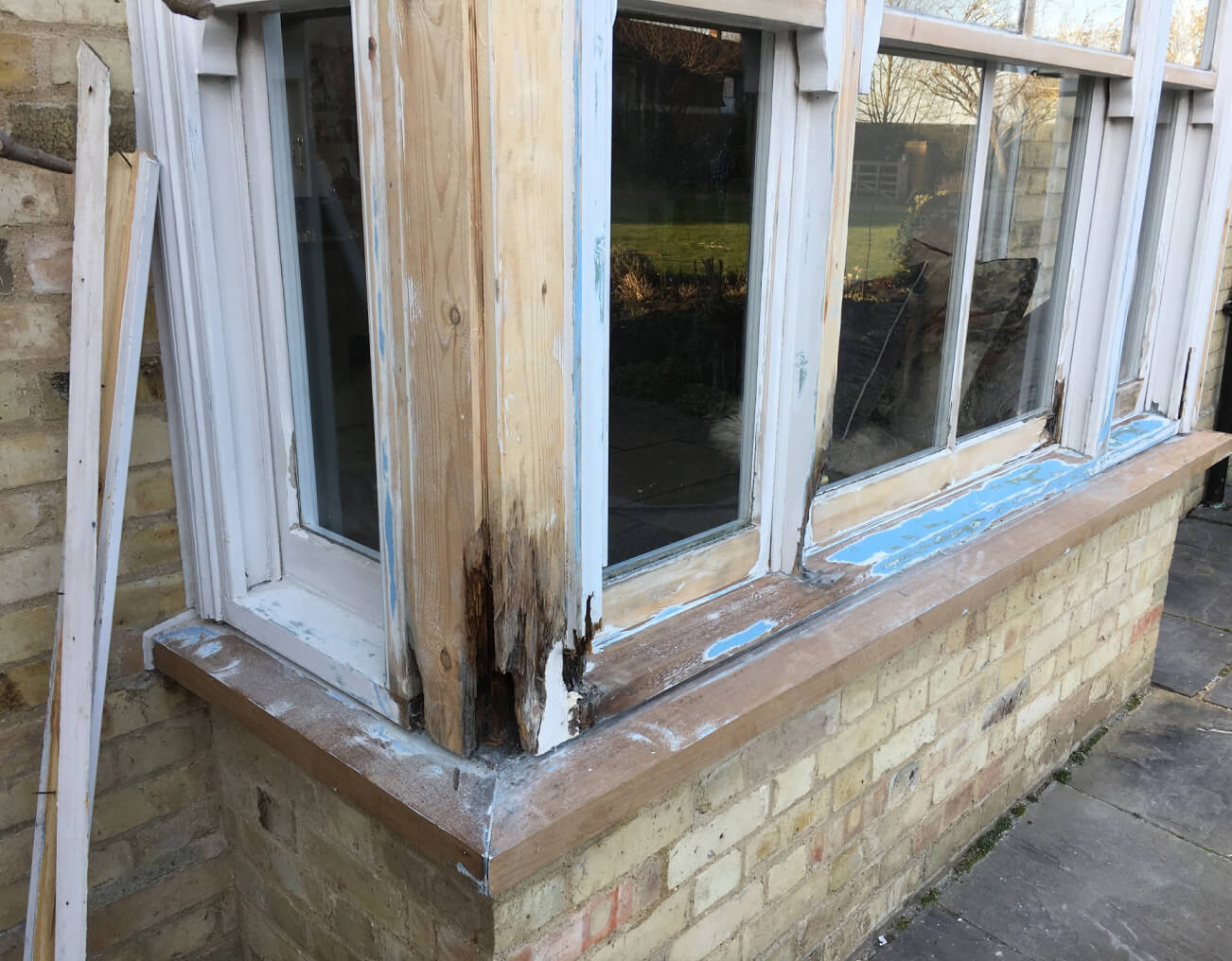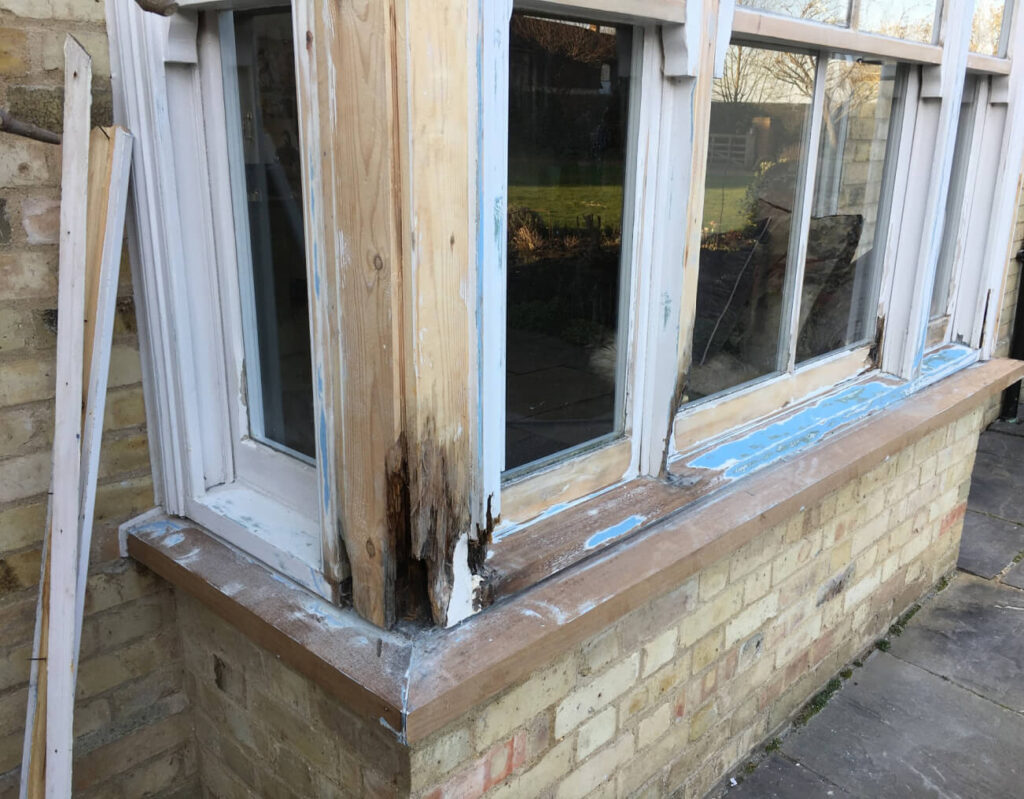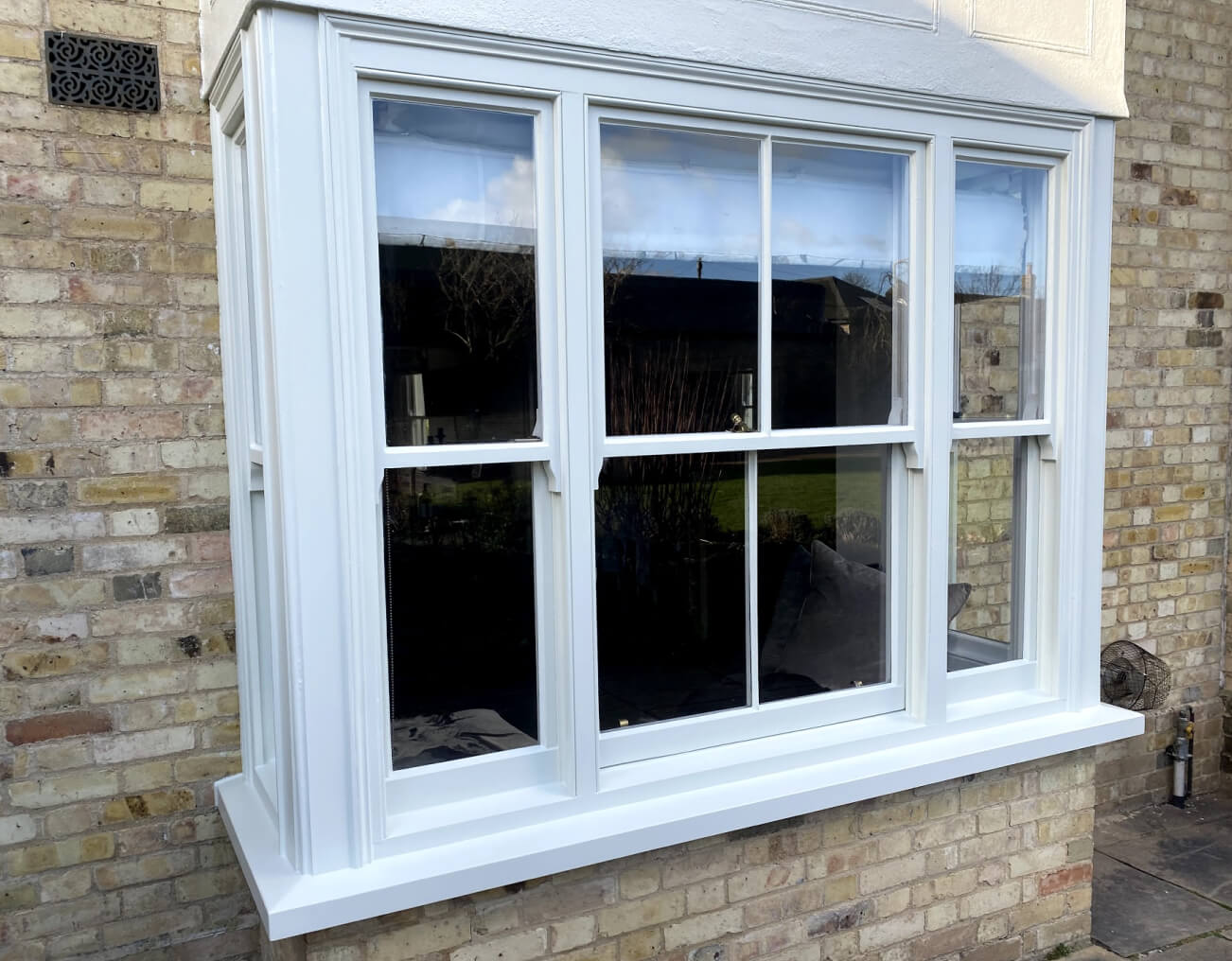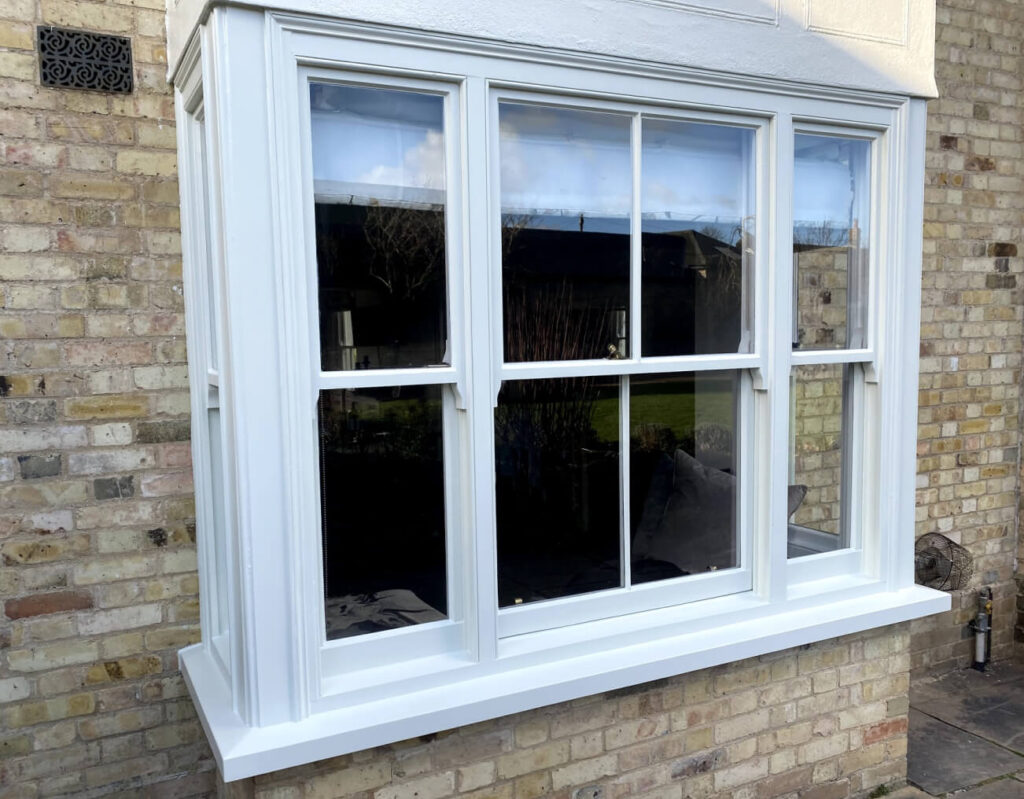 Protecting refurbished timber windows with lamination
Lamination is our ultimate method for the extreme durability of refurbished timer windows. Window frame lamination is an effective way of protecting refurbished timber windows from the elements.
Most importantly, lamination adds a protective layer to the wood, reducing the risk of damage from water, wind, and sun exposure.
The lamination also helps keep the window looking new for longer, giving your home or business a great aesthetic look.
We remove all decayed and damaged timber and most of the paintwork to bare wood and protect affected areas with wood hardener.

The bottom rail, meeting rail and window sill are then laminated with Tricoya wood.

Tricoya is guaranteed to last up to 30 years on the ground and over 50 years above ground, unprotected. When properly protected, it will last for as long as the house stands. This type of protection will withstand even the harshest rains and the most dramatic temperature changes.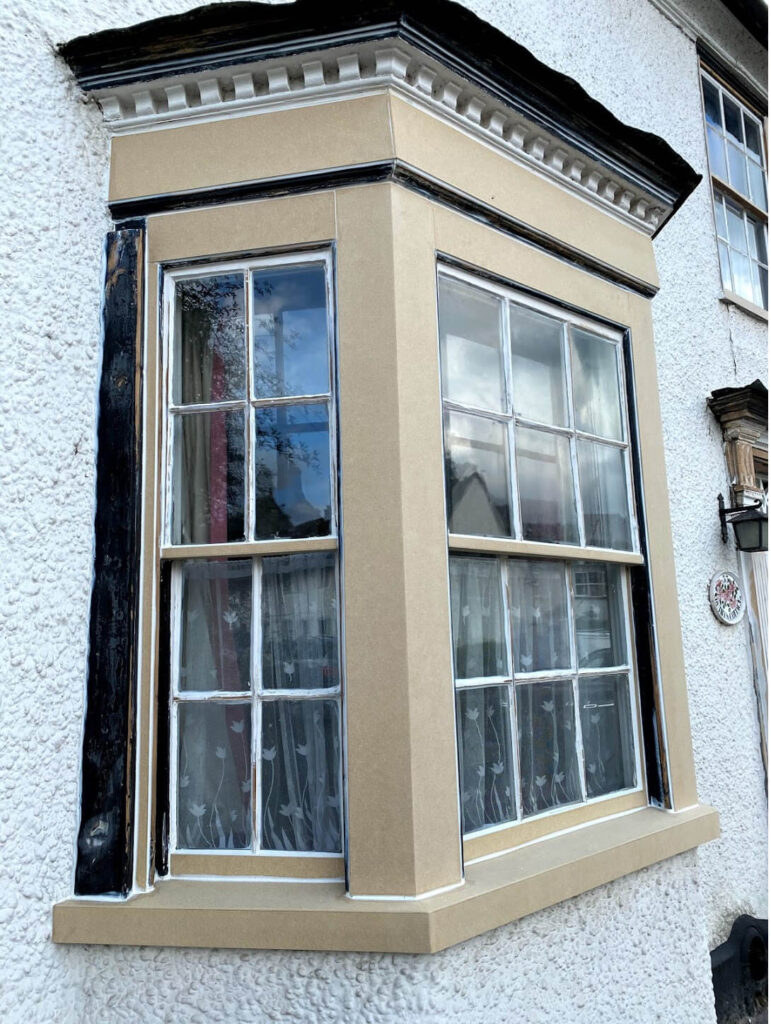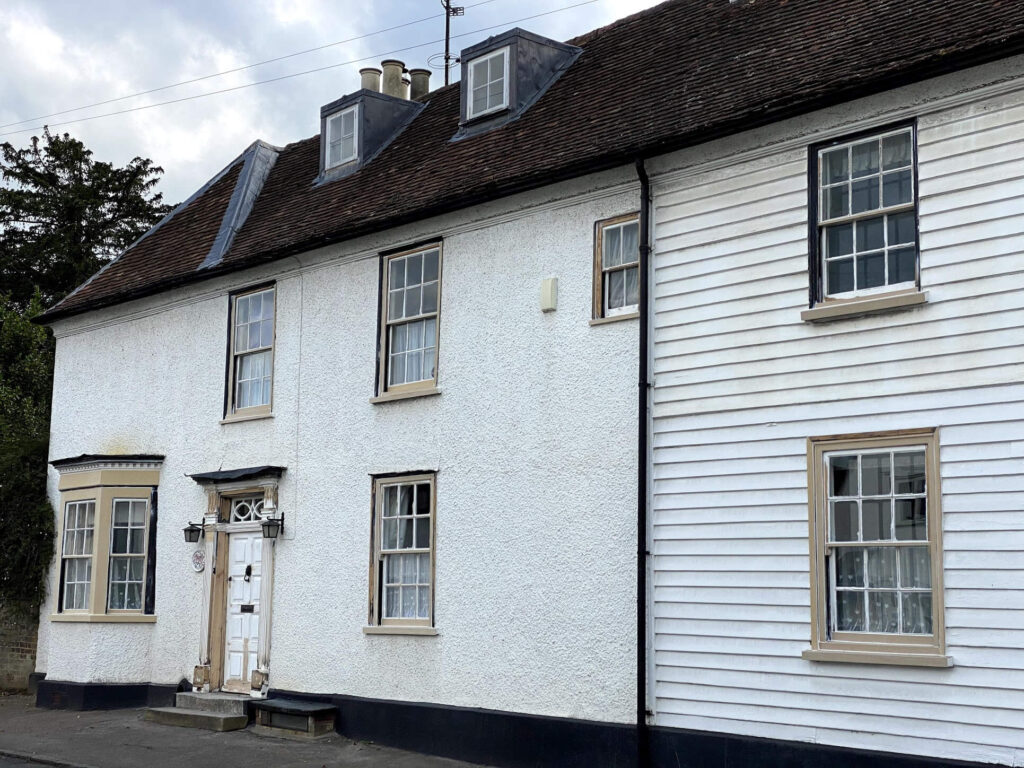 Lamination is extensively used in several industries such as construction, flooring, furniture production, car manufacturing, etc. Utilizing Tricoya in the laminating process enables us to provide excellent protection to timber at an affordable cost.
Our renovation methodology leverages our engineering expertise, joinery, carpentry, and decorating skills. Our work involves the use of self-made tools crafted from drawings and customized equipment designed specifically for the involved processes. Each repair is tailored to the individual project while strictly adhering to guidelines ensuring top-notch quality and window protection.
Sash window services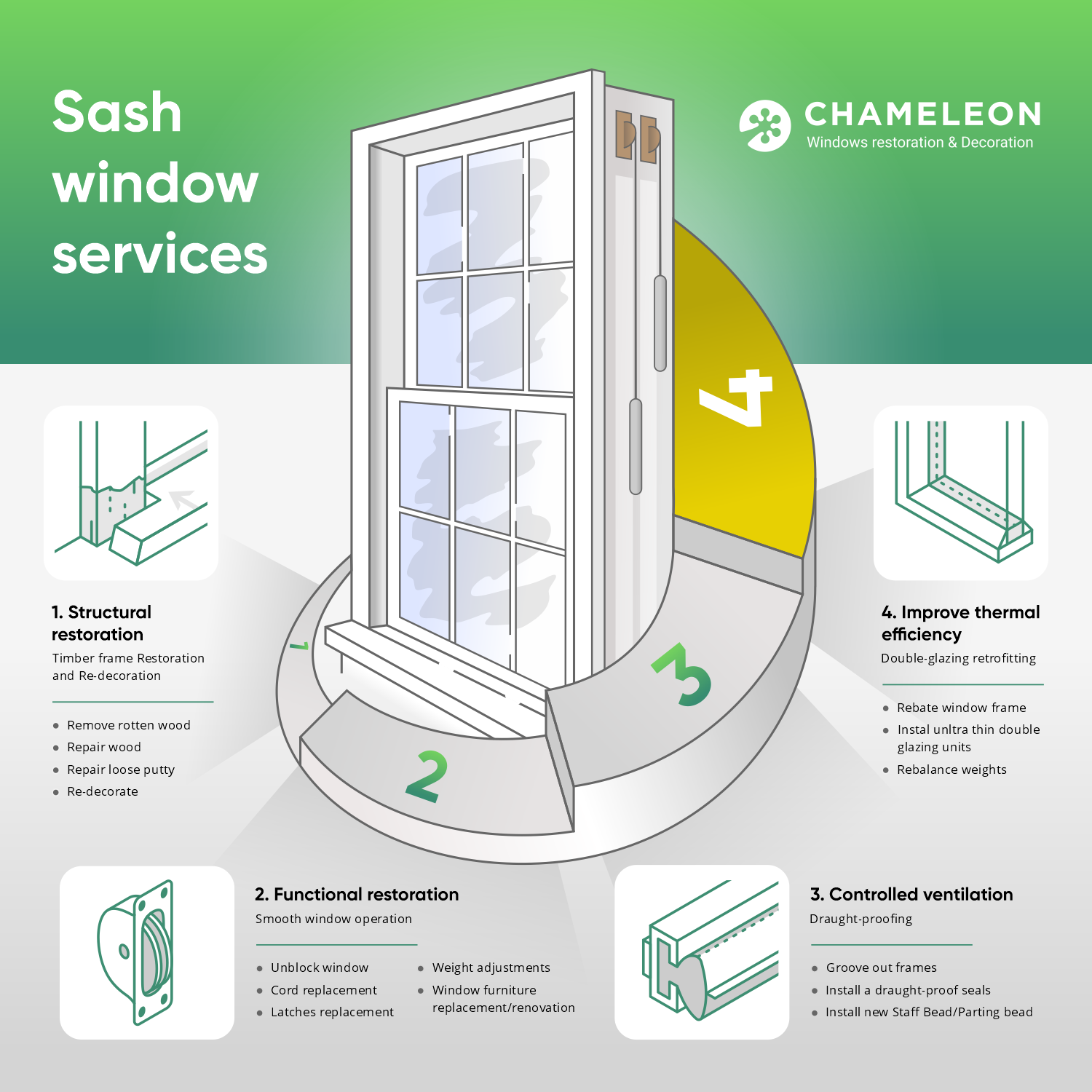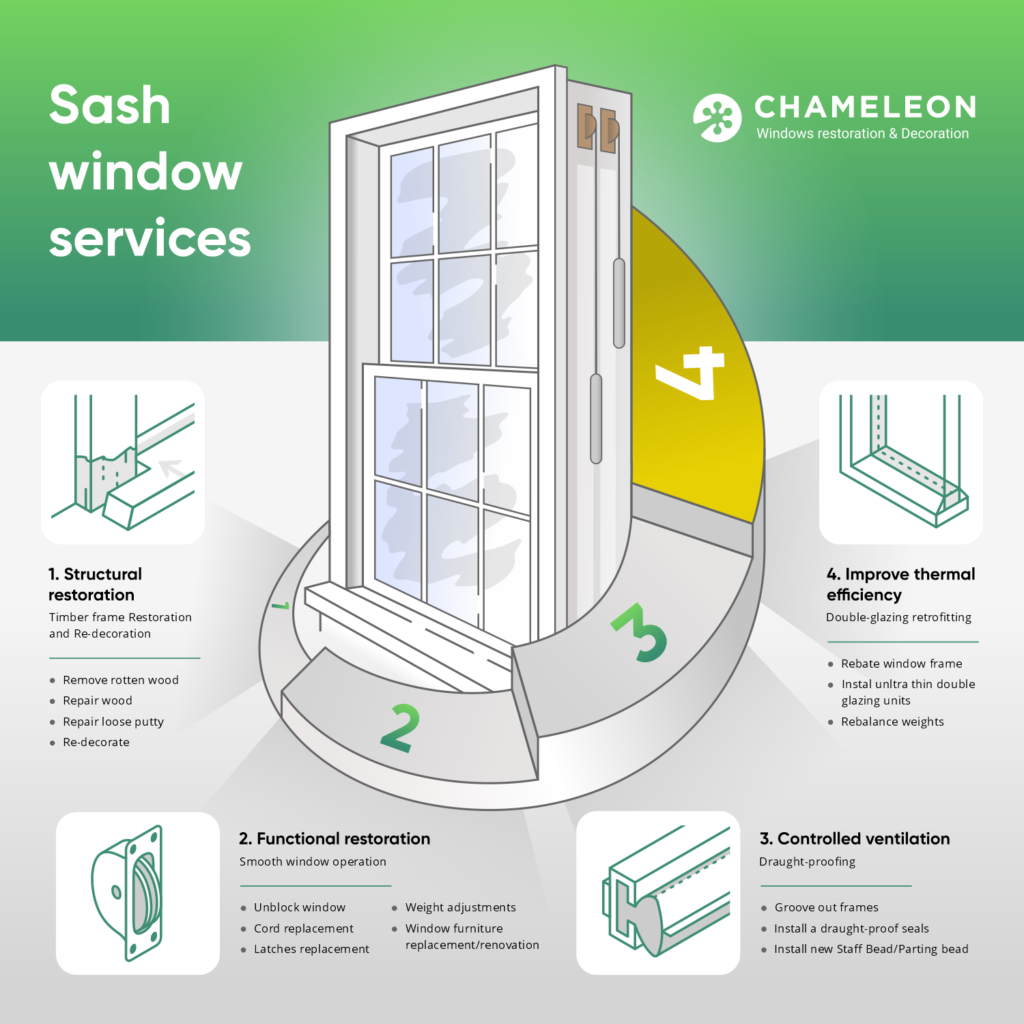 Alternative to traditional putty
We repair and replace the missing putty with epoxy sealants.
These sealants are flexible and firmly adhere to both glass and timber, providing exceptional protection against moisture. Epoxy sealants surpass traditional putty or beading in their ability to secure the glass and safeguard the woodwork.
No putty or beading could hold the glass and protect woodwork better than epoxy sealants. Under a coat of paint, they look identical to putty, keeping the historic look of the windows intact.
Listed sash windows repair
Our renovation methodology is suitable for grade 2 listed buildings and those in conservation areas
Our method of renovating historic sash and casement windows is approved by conservation officers who regularly oversee our projects. Sash window renovation does not require any permission as it preserves and protects the original features of a historic building.
At Chameleon, we do all of the above work – renovation of historic wooden windows, draught-proofing, slim double glazing and spray painting. We are a full-service company for historic wooden windows' preservation and thermal efficiency.
Double glazing original sash windows
Old wooden Sash or Casement windows are always a challenge for existing sash windows with double glazing.
Rebates (a gap where a glass pane fits into) in such windows are quite narrow. Standard double glazing would simply not fit into such rebates.
Also, frames must be strong enough to carry the extra weight of double glazing.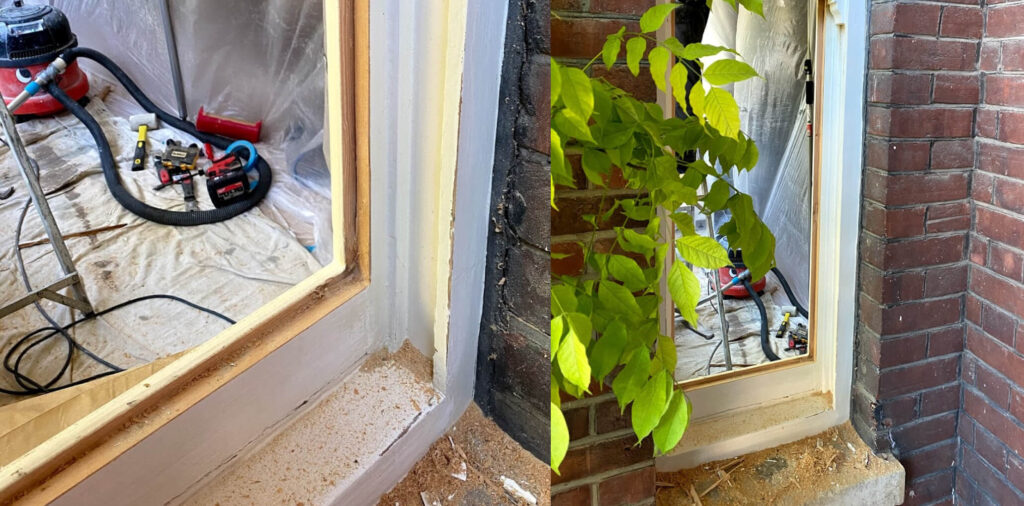 Originally they were meant to carry the weight of a single glass. Installing double glazing into such frames will make them dangerous to operate.
To make things even trickier, sash windows with a system of weights and pulleys need a competent adjustment to ensure the extra weight of double glazing does not impact their smooth operation.
Wooden window's thermal performance after vacuum double glazing retrofitting and refurbishment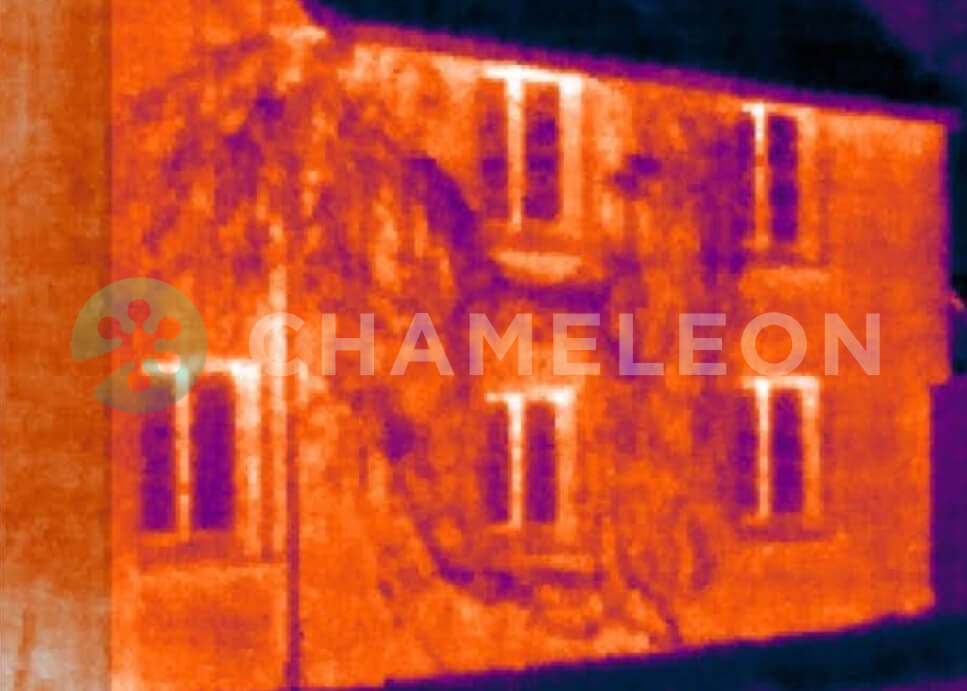 Learn more
We work with Fineo Glass. It is only 7 mm thick yet excels in the thermal performance of a standard-size triple-glazing unit.
It is an excellent choice for period properties. For windows with very narrow rebates, we have a tailor-made solution.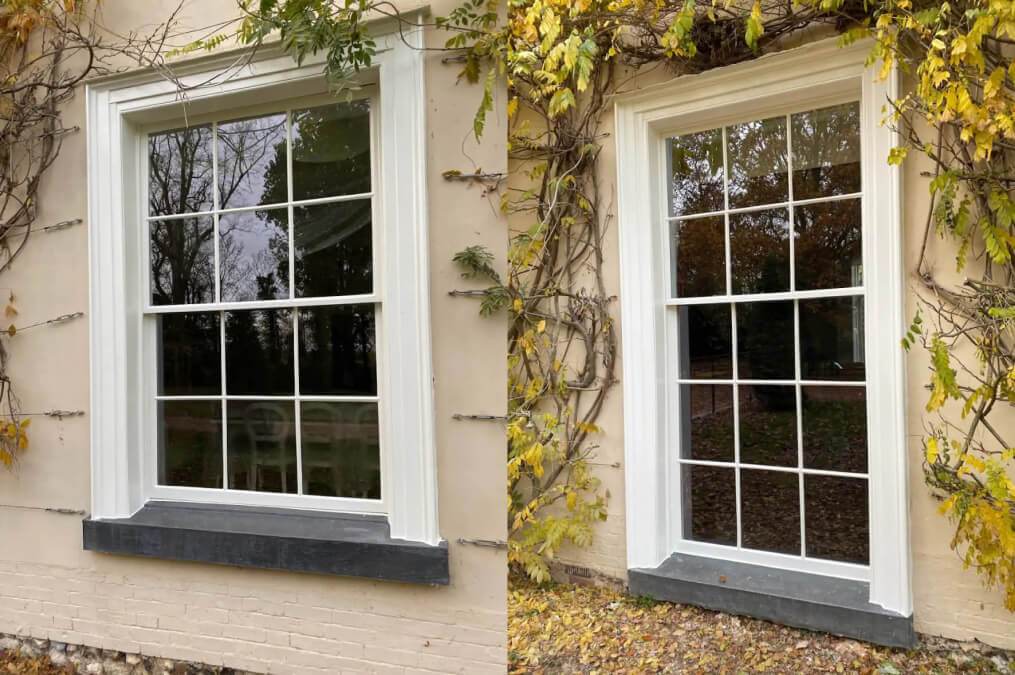 We widen such rebates and strengthen frames with slim metal frames strong enough to keep roof joists together so the windows can carry the extra weight of glass units and never again produce cracks at the joints. All these alterations are inconspicuous and will not alter the look of historic windows.
We add weights, change ropes, and replace locks to ensure the windows work in a safe and smooth manner for sash windows.
Vacuum-sealed double glazing
Fineo glass is a new product on the market. It is less than a year old but is gaining wide popularity for its slim profile and excellent thermal efficiency.
A slim-profile vacuum double-glazing unit exceeds the thermal efficiency of a standard-sized triple-glazing unit. It is manufactured by AGC in conjunction with Panasonic in Europe.

Fineo has a market-leading 15-year guarantee. Most slim double-glazing systems only have a 5-year guarantee due to their use of inert gases, which escape over time, leading to a loss of thermal efficiency.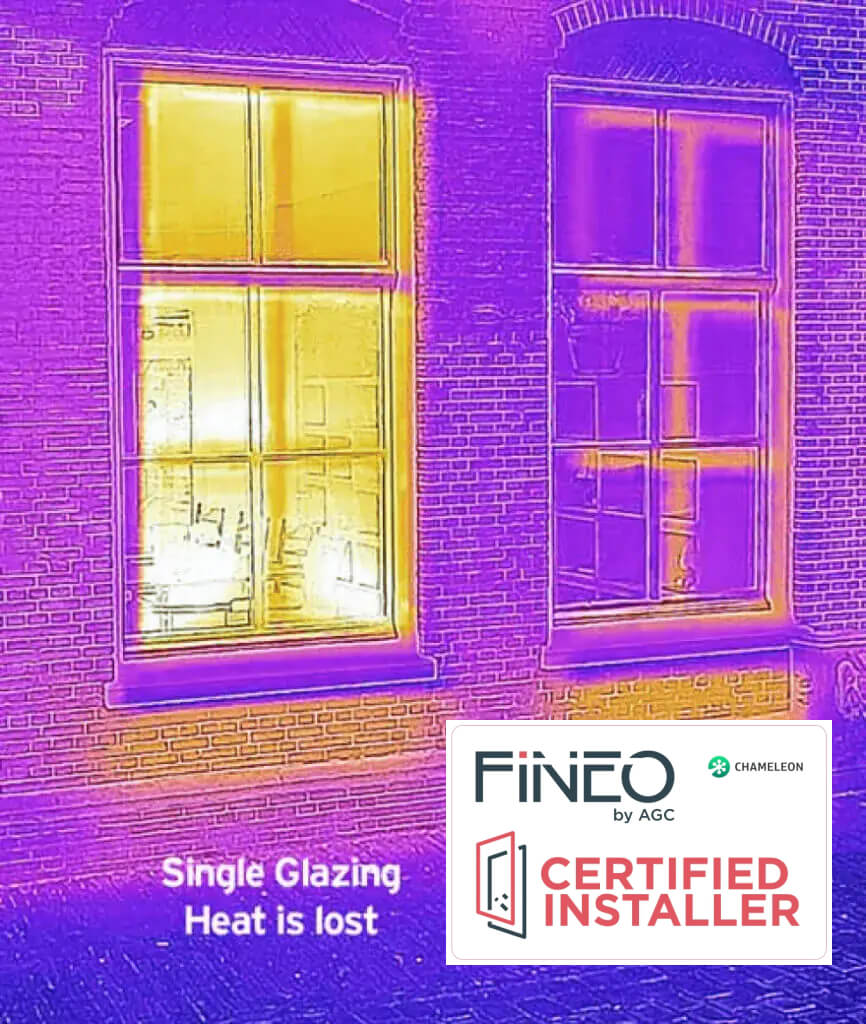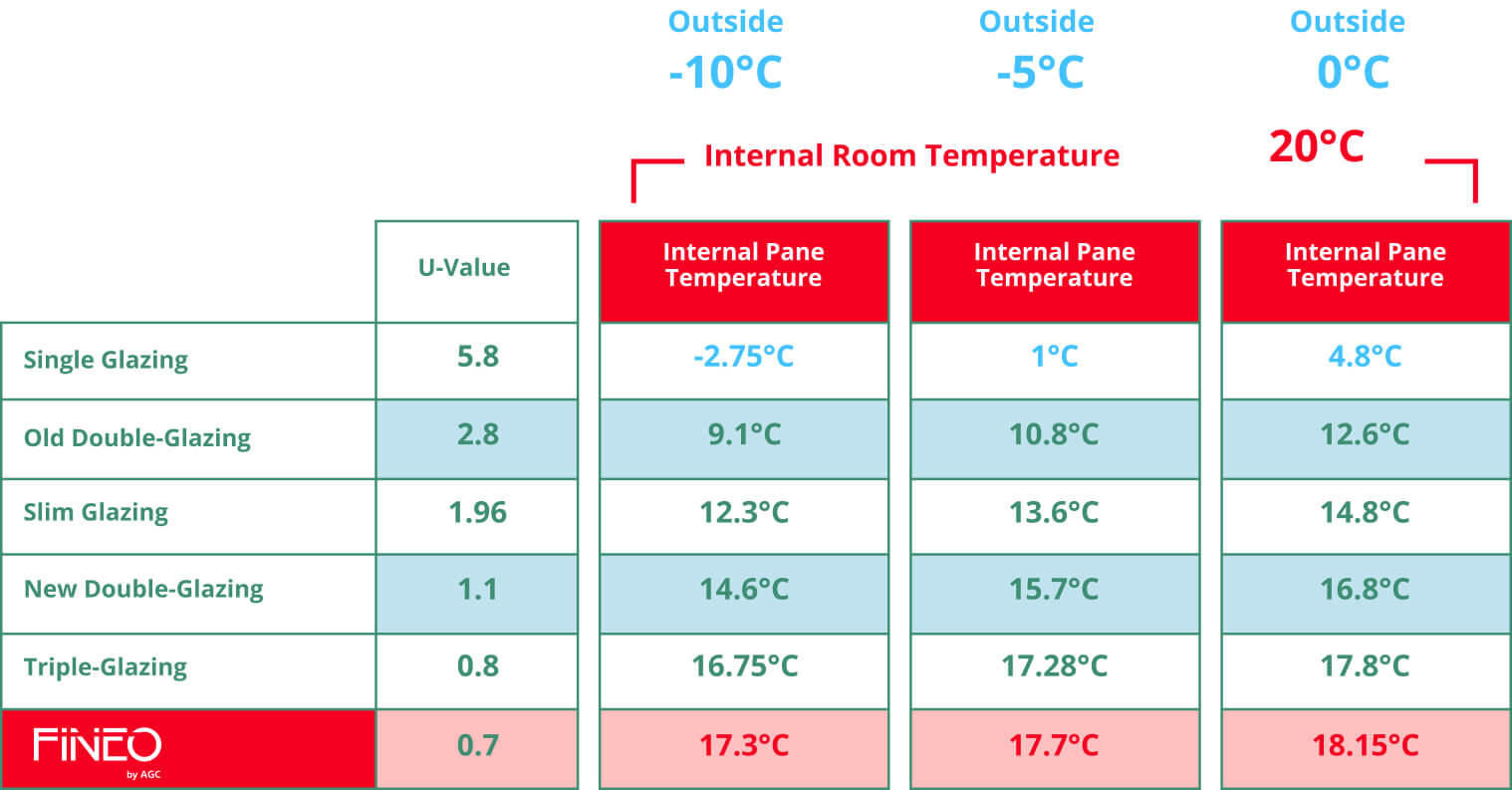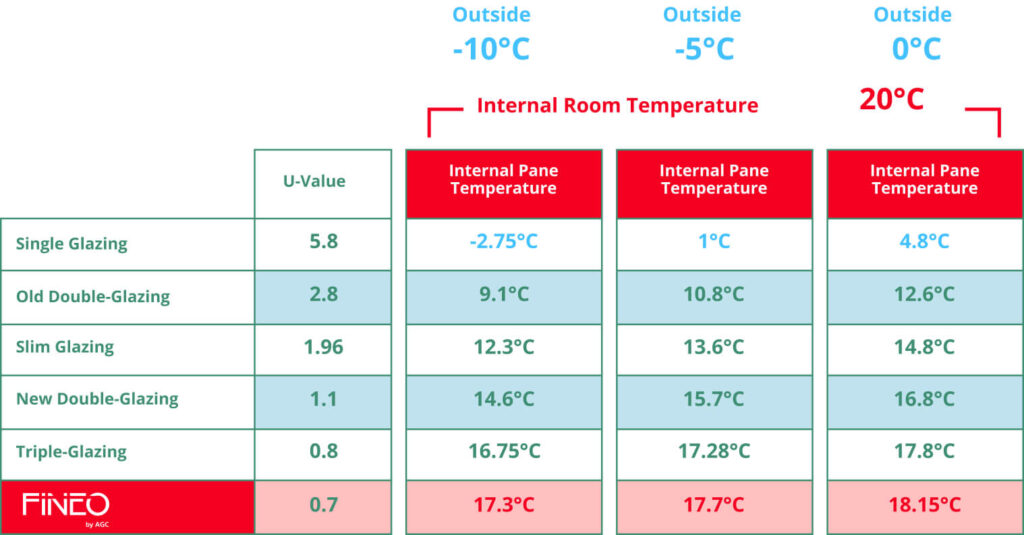 Fineo's depth of only 7 mm can be used in historic wooden windows with very slim rebates.
However, it is important to make sure that the frames are strong enough to carry the extra weight of the new glass. If the frames need strengthening, this must be done by specialists. These are rare, even among slim double-glazing companies.
We have such sash window renovation specialists at Chameleon. They will be happy to assess your double-glazing project and provide tailor-made solutions for your windows.
If you live in an area with a high rate of house break-ins, you may want to consider installing reinforced slim double glazing. Like standard slim double glazing, it will keep the historic look of the house, be equally thermally effective, and protect your house from burglars.
Listed windows double glazing retrofitting
Double glazing retrofitting for Grade 2 listed buildings
Historic wooden windows need minor but very important adjustments before slim double glazing can be installed. Widening rebates and reinforcing frames are the most important adjustments.
We do them inconspicuously to comply with current regulations. This makes it possible for historic buildings to have windows renovated, double glazed and protected for decades to come.
Sash window draught-proofing
As part of our sash windows repair and double glazing projects, we do draught-proofing. Draught-proofing is one of the most effective ways to save energy and money in any type of building.

Controlled ventilation helps reduce condensation and dampness, by letting fresh air in when needed. Comprehensive draught-proofing can save up to 10% on energy bills.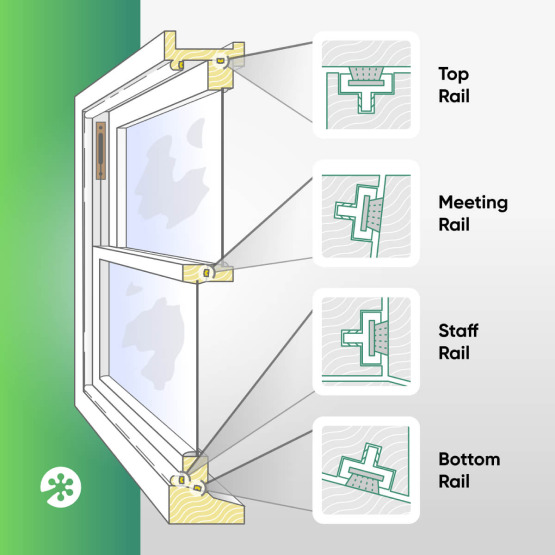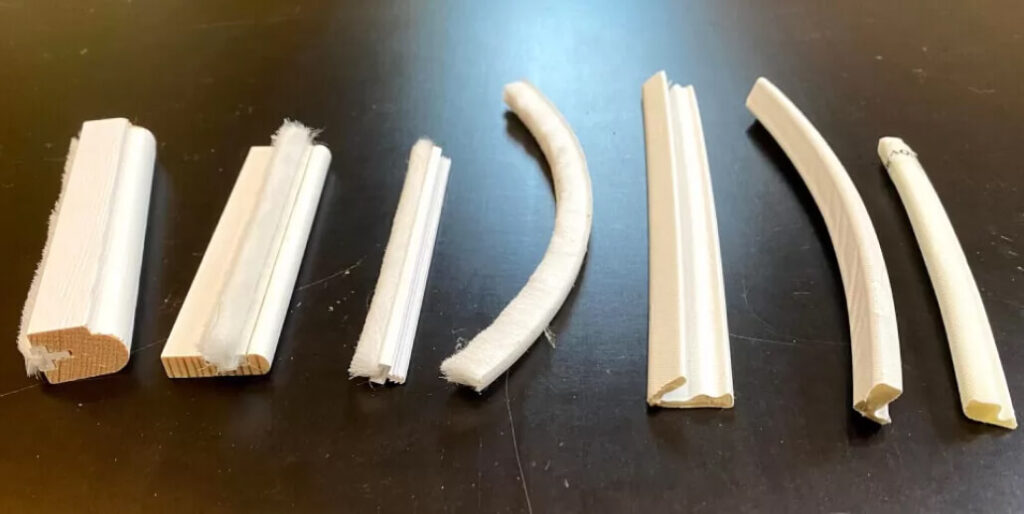 Read more
Ideally, draught-proofing should be done in conjunction with double glazing to maximize energy savings and drastically reduce house heat loss.
Doing both at the same time will cost less than undertaking them separately. Additionally, combining window renovation and double glazing with draught-proofing has the added benefit of saving significant amounts of money for homeowners, not just on their energy bills but also on the cost of the work itself.
However, if double glazing is not an option or you already have it and want to improve energy efficiency further, draught-proofing is the best solution to keep your home warm.

Sash windows paint spraying
Once all surfaces are properly protected and prepared for painting we then use paint sprayers. Paint sprayers apply an equivalent of up to 8 coats of paint when applied by brush. Here is the detailed guide to our exterior window painting.

The paint coat is thick and even, as the paint we use is flexible and allows for timber movement. The paint itself and the thickness of the coat applied thoroughly protect the woodwork from any possible natural damage.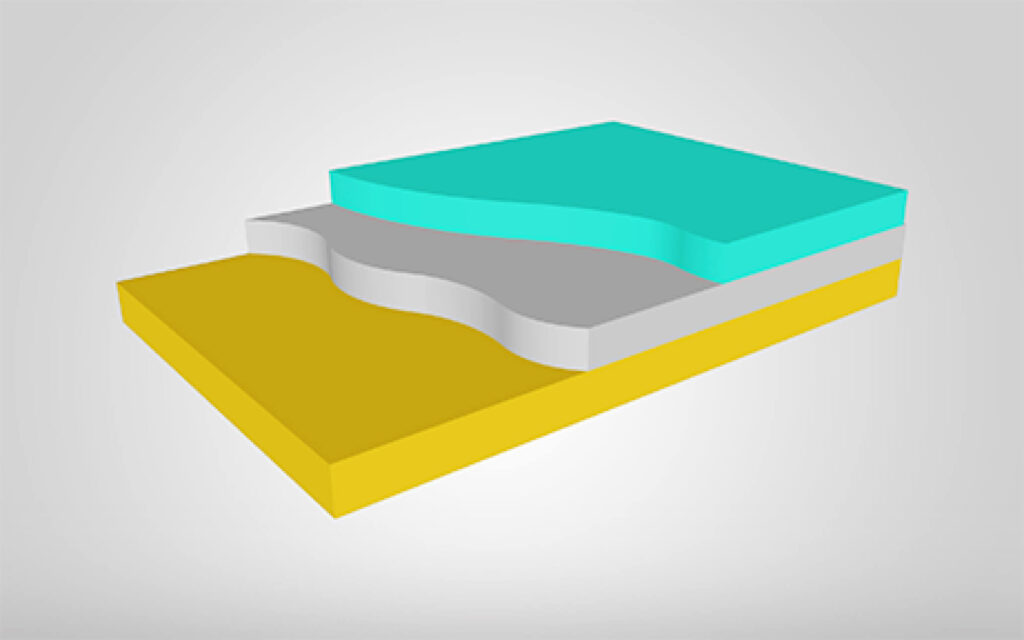 Also, when applied by a paint sprayer, the paint dries fast, and the windows can be shut the same day, making the inconvenience of keeping all doors and windows open all day and night a thing of the past.