Perfect Glass for listed buildings, conservation properties & window refurbishment projects
Fineo glass double glazing is a market leader when it comes to upgrading single-glazed windows to double-glazing. It's the perfect double glazing for Grade II listed buildings or homes where owners would like to keep old window frames in place to retain the charm of their house.
With many benefits, Fineo has not only become the chosen product for homeowners, but it's easily the top-recommended product here at Chameleon. Let's take a closer look at the product, its benefits and how it compares to other double-glazing units.
Heat loss of single-glazed windows and windows with FINEO glass
Below is a thermal snapshot of a recent Fineo retro glazing project. The window at the top has Fineo glass. The bottom window still has single glazing and leaks a substantial amount of heat.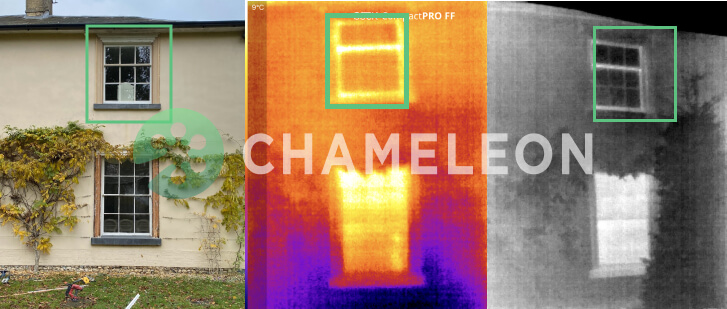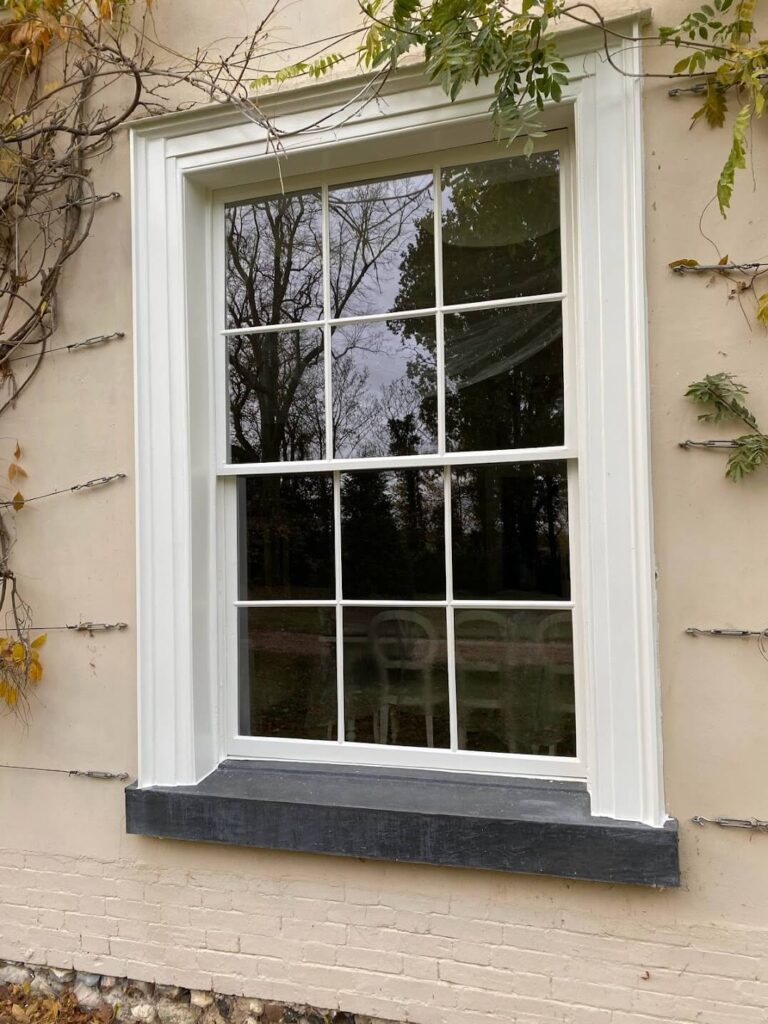 Read more
FINEO glass properties
| | | | | |
| --- | --- | --- | --- | --- |
| | U-Value | Outside °C | Room °C | Internal Pane °C |
| Single Glazing | 5.8 | -5°C | 20°C | 1°C |
| FINEO | 0.7 | -5°C | 20°C | 17.7°C |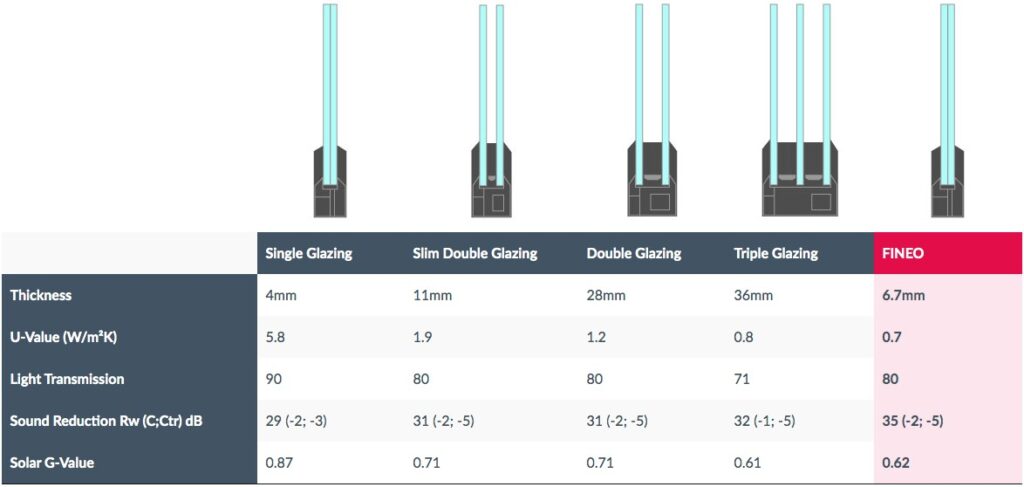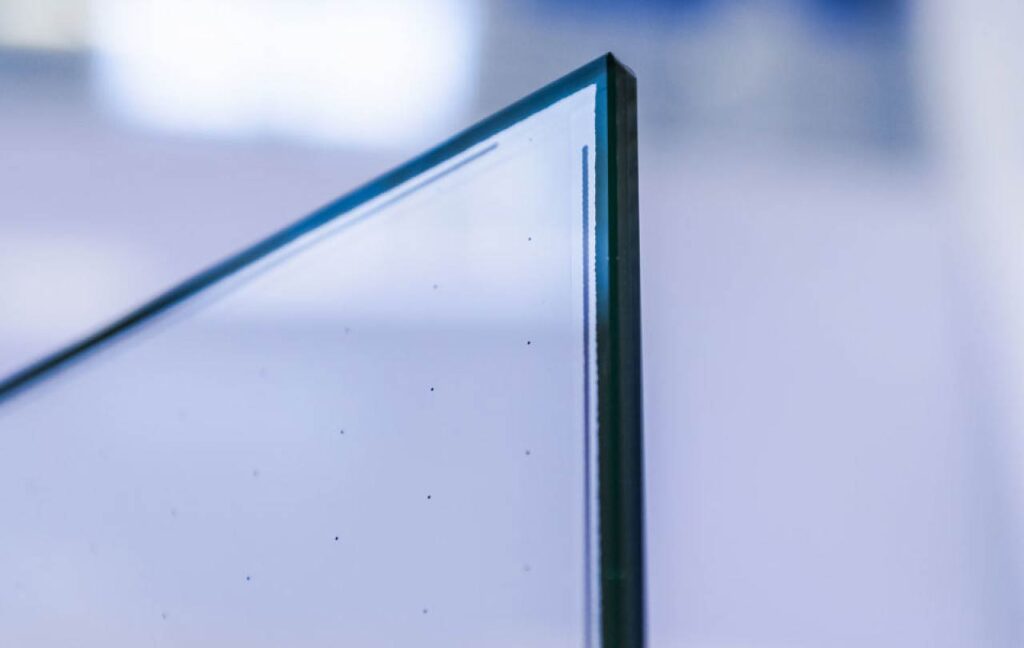 What is Fineo glass?
Fineo is quite simply the latest generation of vacuum-insulated glazing options. With the same thermal value as triple glazing, but without exceeding 6.7mm, these units are incredibly lightweight and discreet.
Never changing the look of your windows, it's the perfect solution for the refurbishment of sash windows that might not be able to support the weight of regular double or triple glazing, or a perfect option when considering glazing units in a new build.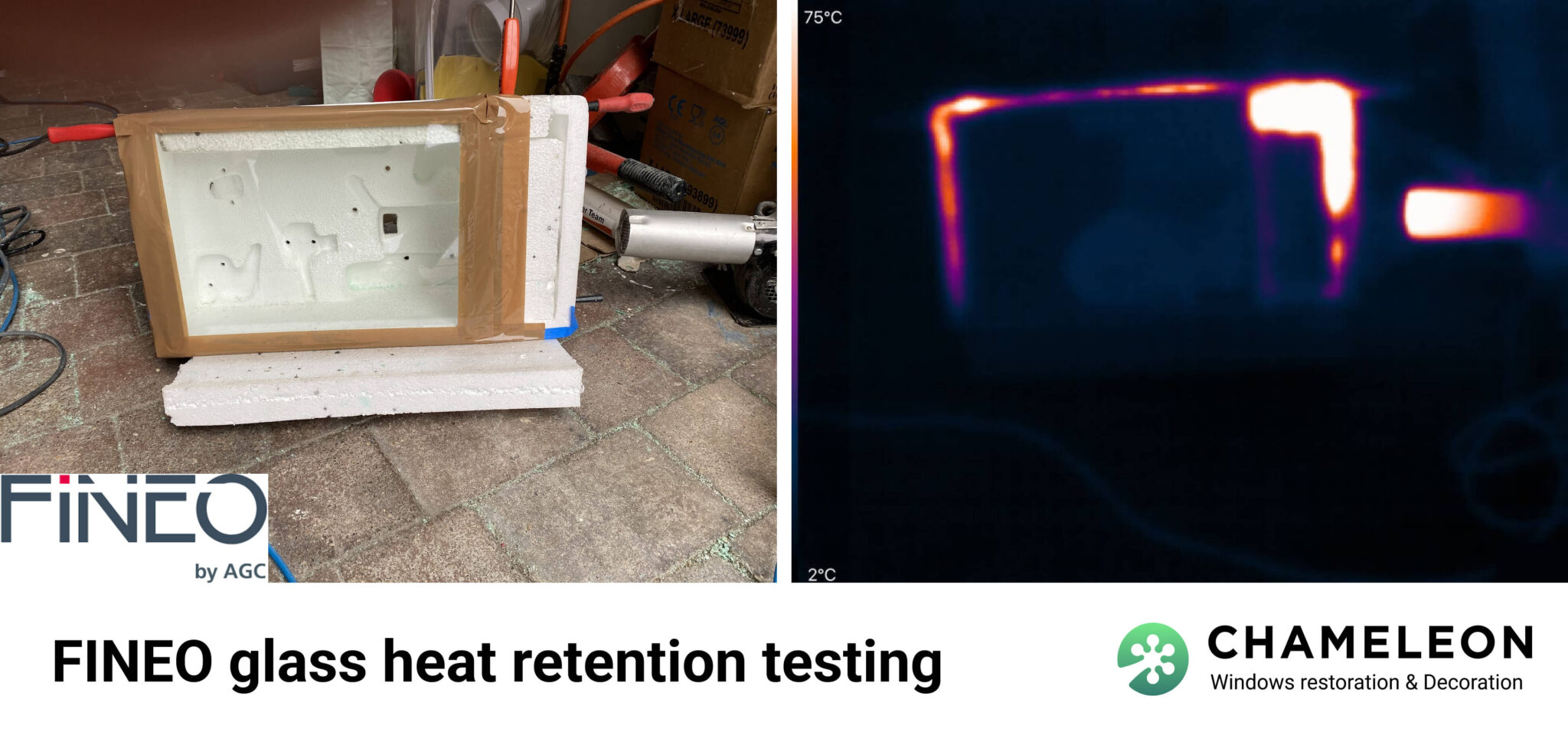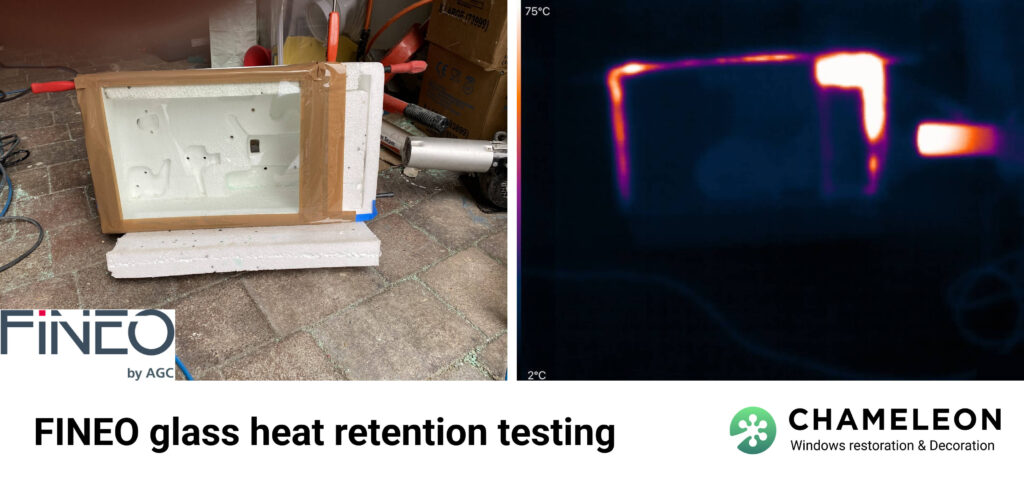 How does Fineo glass compare to other glazings?
With superior glass technology, Fineo removed the air between the glass panes to create a vacuum instead of filling the space with gas, as is standard double-glazed units.
Although this vacuum does the same job as the gas by keeping the heat inside your home, it can not evaporate and totally disappear after about five years as gas normally does.
This is what makes Fineo a more reliable option and a long-term investment when it comes to retrofitting your windows with heritage double glazing.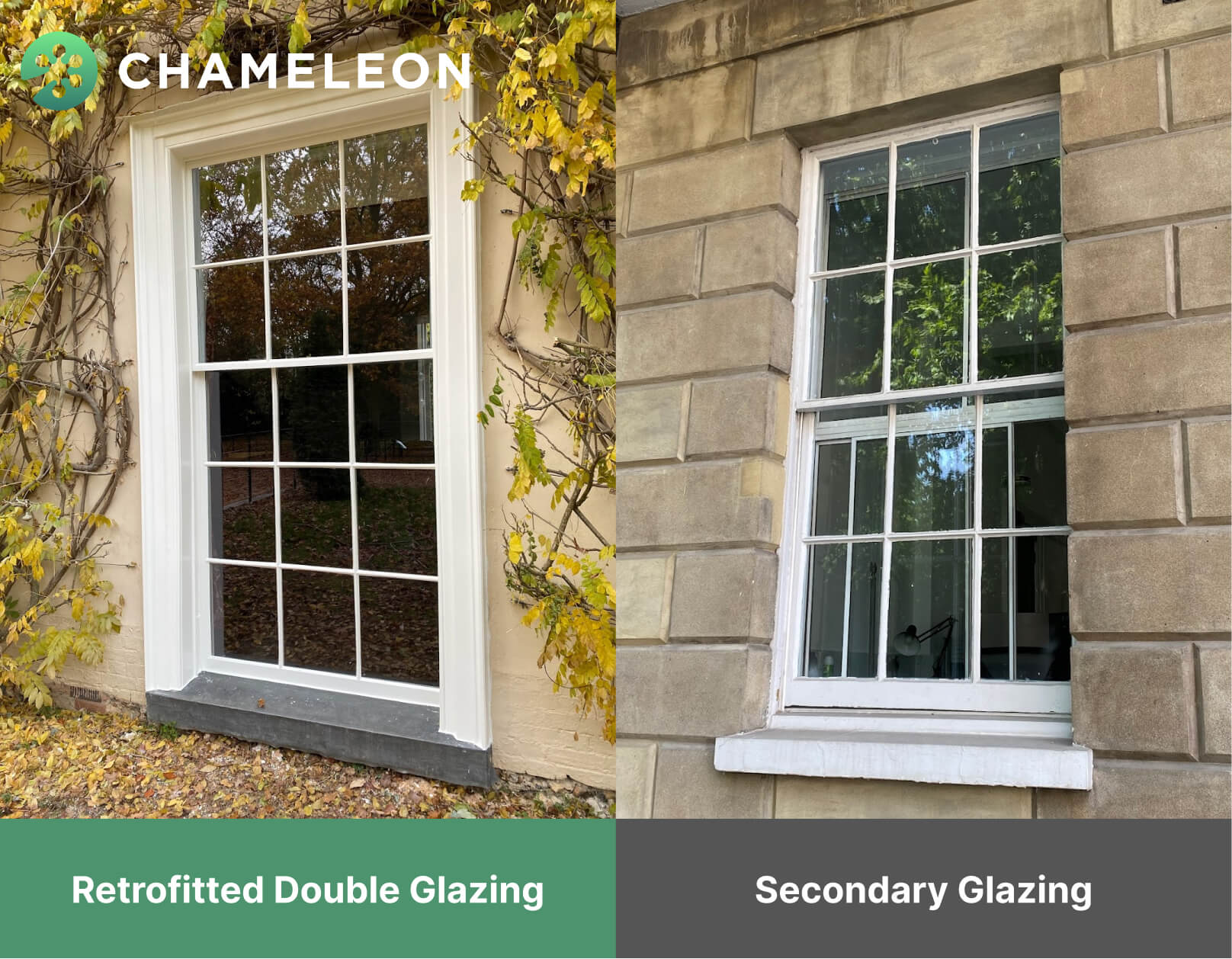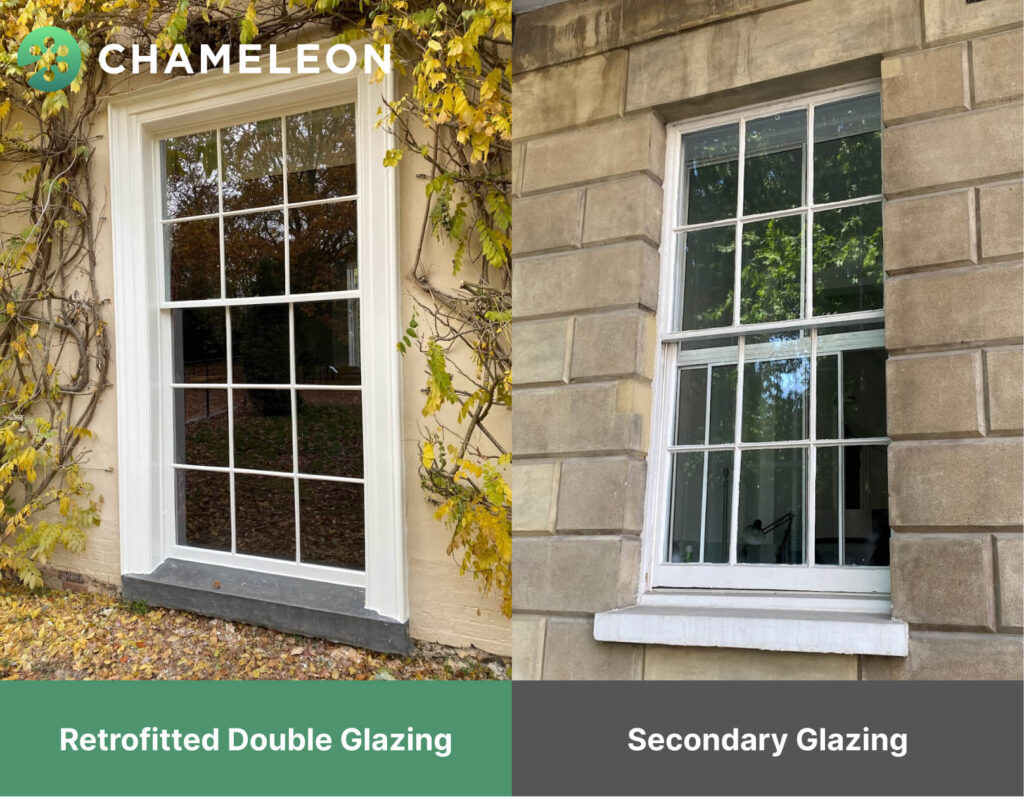 FINEO properties table vs Slimline double glazing
We have also written a full article about the difference between slimline double glazing and vacuum FINEO glass; it covers key issues with slim double glazing, which FINEO does not have.
Overall
Thickness
Glass
Thickness
Cavity
Gas
U-Value
Guarantee
FINEO
FINEO Vacuum Glazing
6.7mm
3mm
0.1mm
NONE
0.7
15 Yrs
Efficiency
Improvement
Other Slim Double-Glazing
11mm
3mm
4mm
Krypton
1.9
5 Yrs
63%
12mm
4mm
4mm
Krypton
1.9
5 Yrs
63%
13mm
4mm
5mm
Krypton
1.7
5 Yrs
59%
14mm
4mm
6mm
Krypton
1.5
5 Yrs
53%
16mm
4mm
8mm
Krypton
1.3
5 Yrs
46%
FINEO glass benefits

Testimonial — Trevor and Dee
Equivalent to triple glazing, and up to 8 times better than single glazing
Ultra-slim FINEO glass has a low U-value of 0.7 W/(m².K), which is equivalent to triple glazing, and up to 8 times better than single glazing. What does that mean for your home? Not only will your house better store heat during the cold winter months with a Fineo insulated window, making it more comfortable and cosy, but you'll benefit from a significant reduction in your energy bills.
Recent FINEO double glazing retrofitting projects
It makes your home brighter
By letting in 15% more natural light into your home, Fineo brightens up rooms in your home to allow you and your plants to thrive. However, light isn't the only thing it lets in; as an added bonus, you'll find the sun penetrating your rooms, which should, again, help with reducing your energy consumption.
Improved noise reduction
An especially useful feature if you're in an area with traffic or a higher footfall. With FINEO glass, you can soundproof your old windows and shut out most of your neighbourhood noise, as these units outperform most other insulated glass options by reducing noise anywhere up to 12db.
Think Fineo glass is the product for you?
As an official FINEO installer, we're able to come to your home to assess your windows. We usually repair the frame and install draught-proof systems alongside the FINEO installation, so you can rest assured that your timber-frame windows are in their best possible state without ever changing the character of your home.