Are single glazed windows energy efficient?
Single glazed windows have a low level of insulation which leads to poor heat retention and solar control properties. Single glazed windows only have one pane of glass so the heat can escape through the glass very quickly.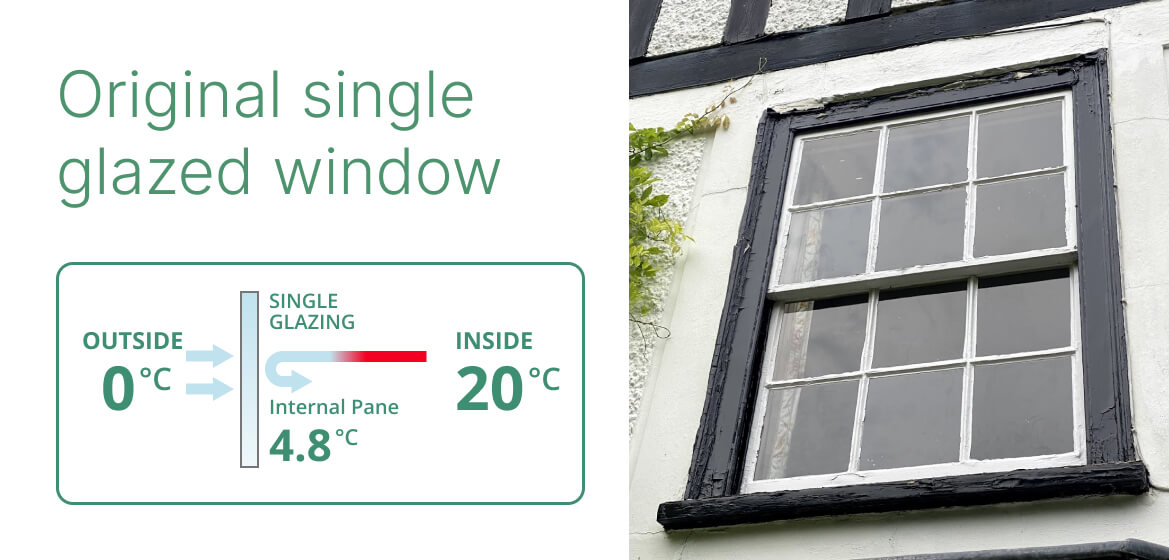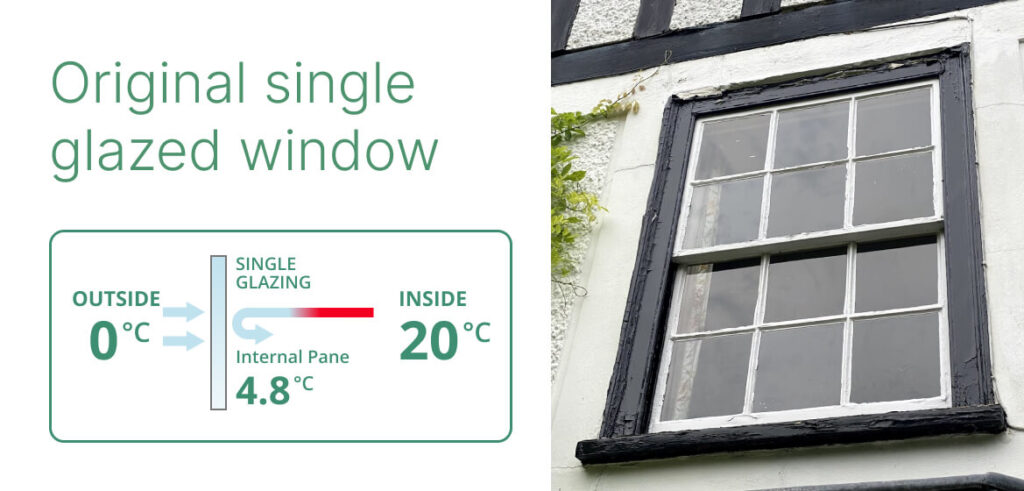 The quick answer is no, single glazed windows are not energy efficient
Double glazed windows have two panes of glass with a layer of air or vacuum in between which does not transmit heat so your property is warmer in the winter. The vacuum creates a barrier that helps to keep heat in and cold out.
How do you make single-glazed windows more efficient?
Improving a home's thermal efficiency is a key concern for owners, both in terms of reducing heating bills and comfort. In these times of ever-increasing energy costs, this is only becoming more important.
The retrofitting of existing single glazing windows with double glazing offers homeowners a great means to both improve the energy efficiency of their windows as well as receive a range of other benefits.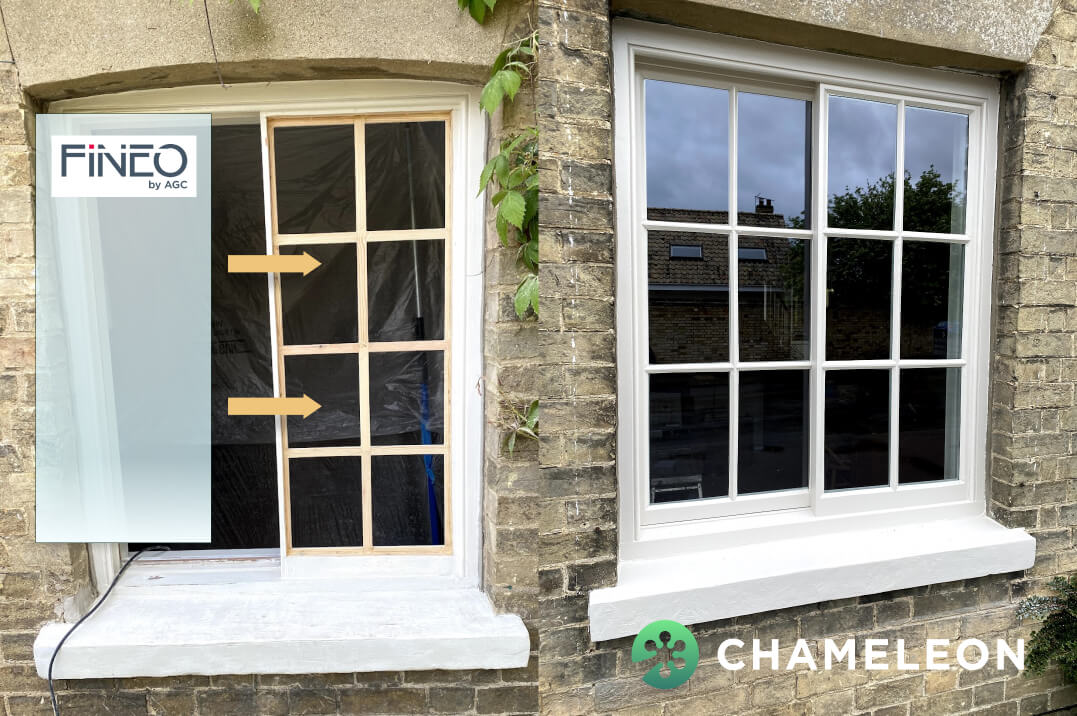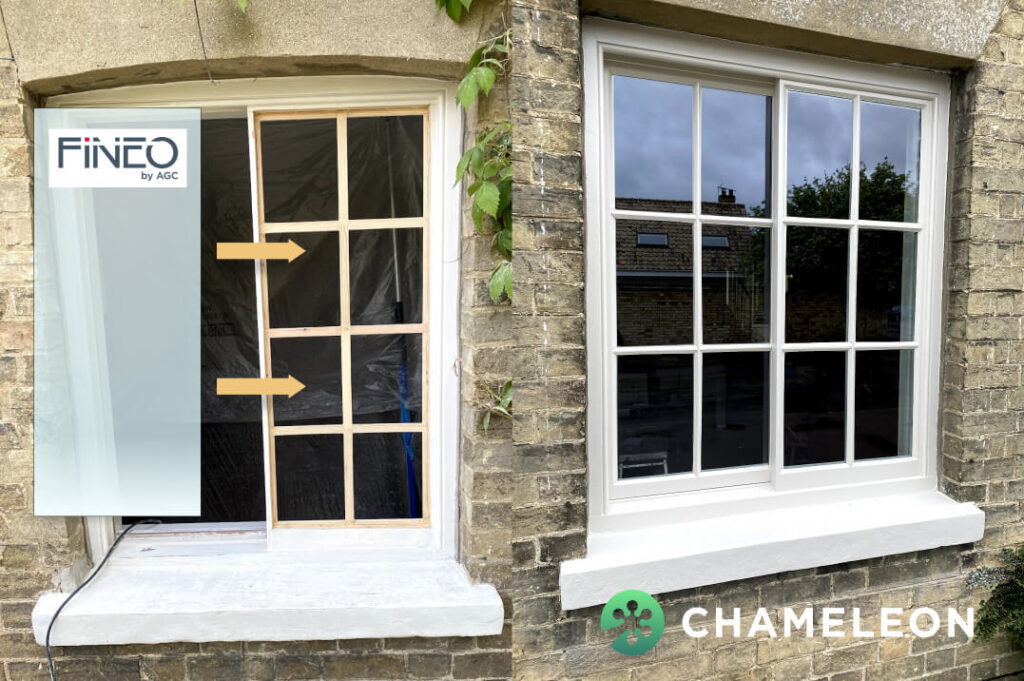 Remove single glazing and fit vacuum glazing into existing window frames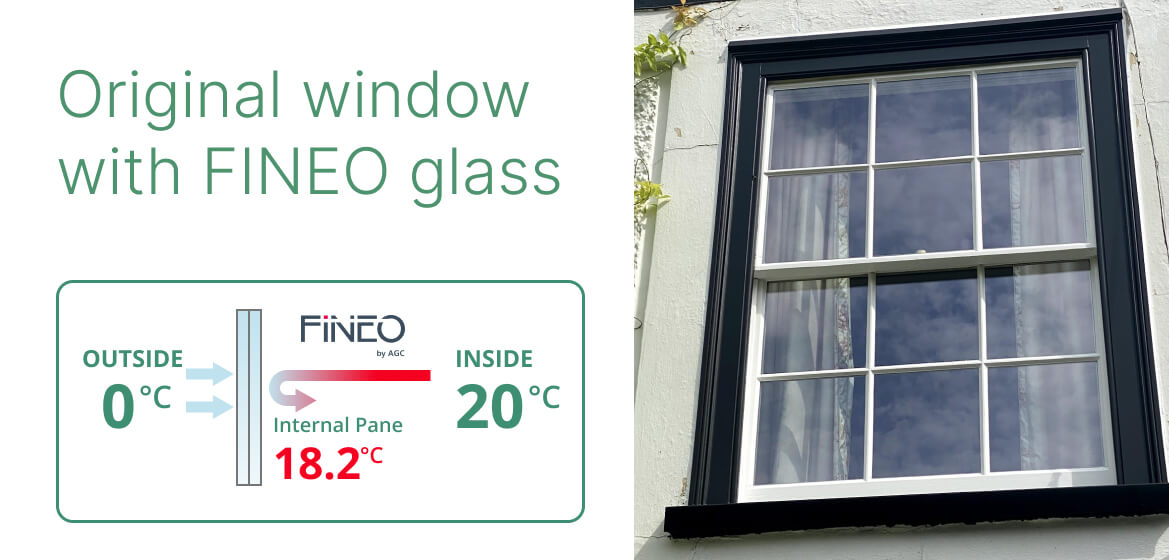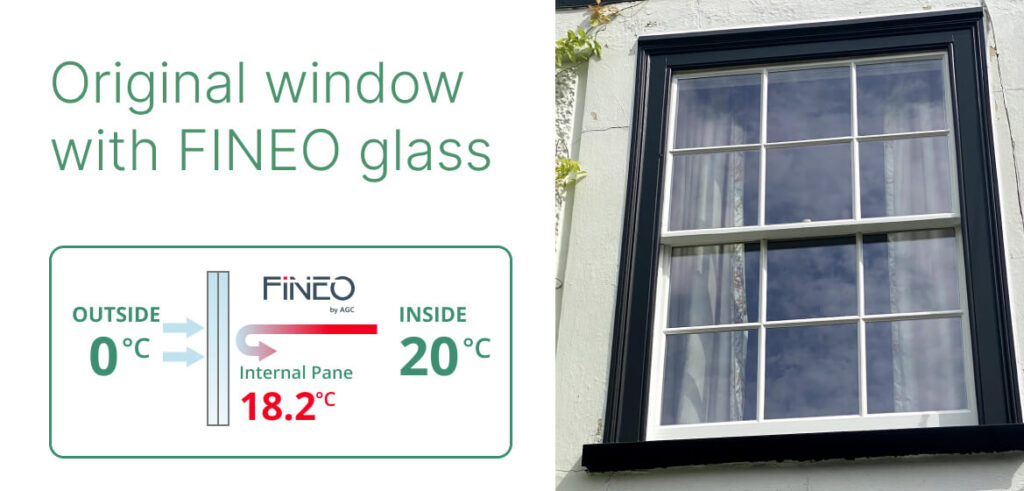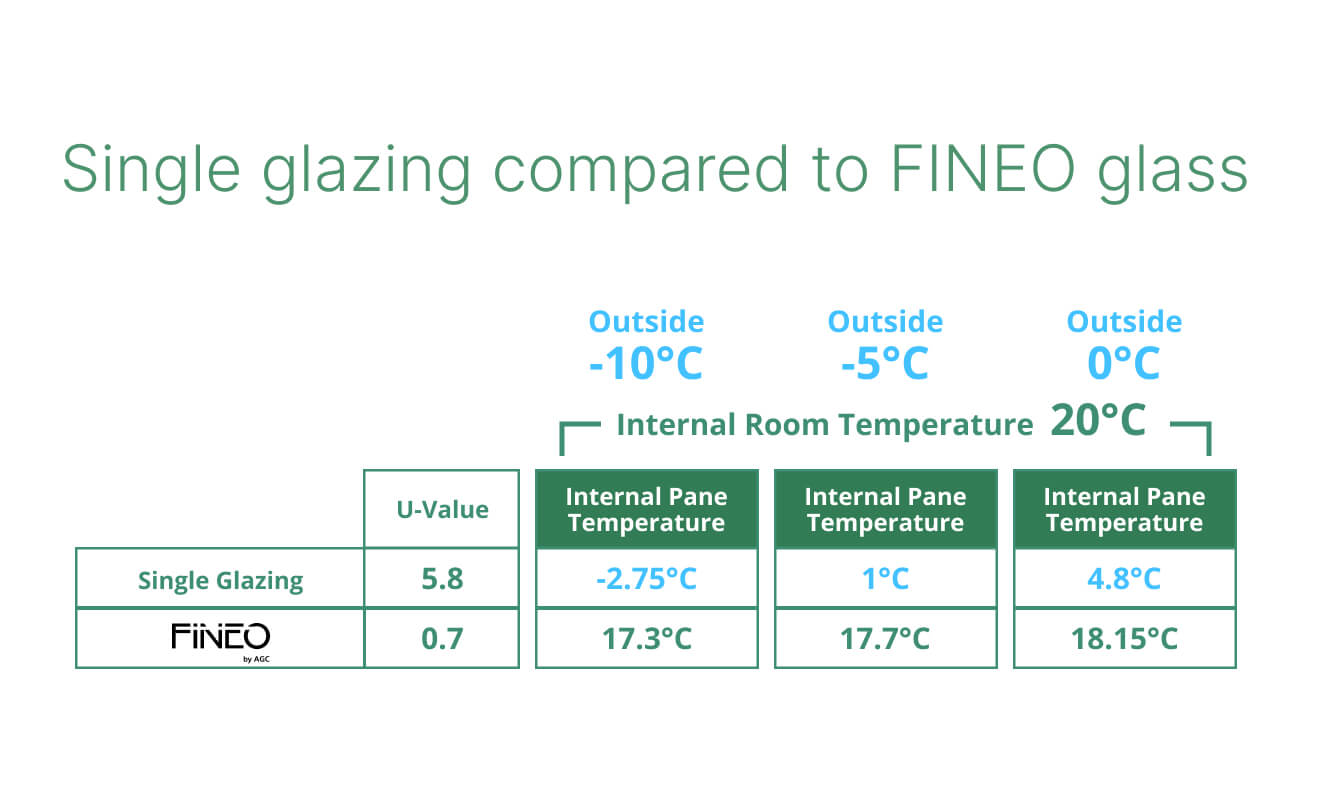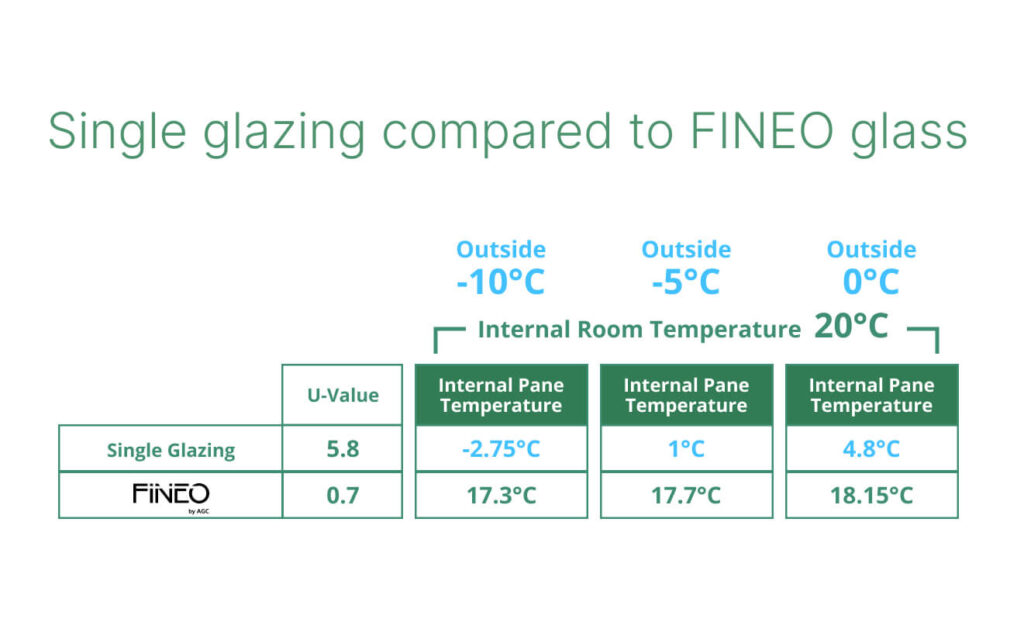 Replace single with double glazed windows
Here at Chameleon retrofit double glazing is a key service we offer alongside our sash window restoration.
Single glazed windows are affected by a range of issues, all of which can be addressed by our retrofit package.
Some of the most common problems homeowners are seeking to address include:
Rot on timber frame areas or window sill
Damage to single glazed panes of glass over time (cracks, loose, missing entirely)
Damage to the paintwork on the frames
Loosely fitting window frame allowing drafts to pass-through
Gaps between the edge of the frame and wall
Low soundproofing properties of single glazed windows
Low insulation and heat retention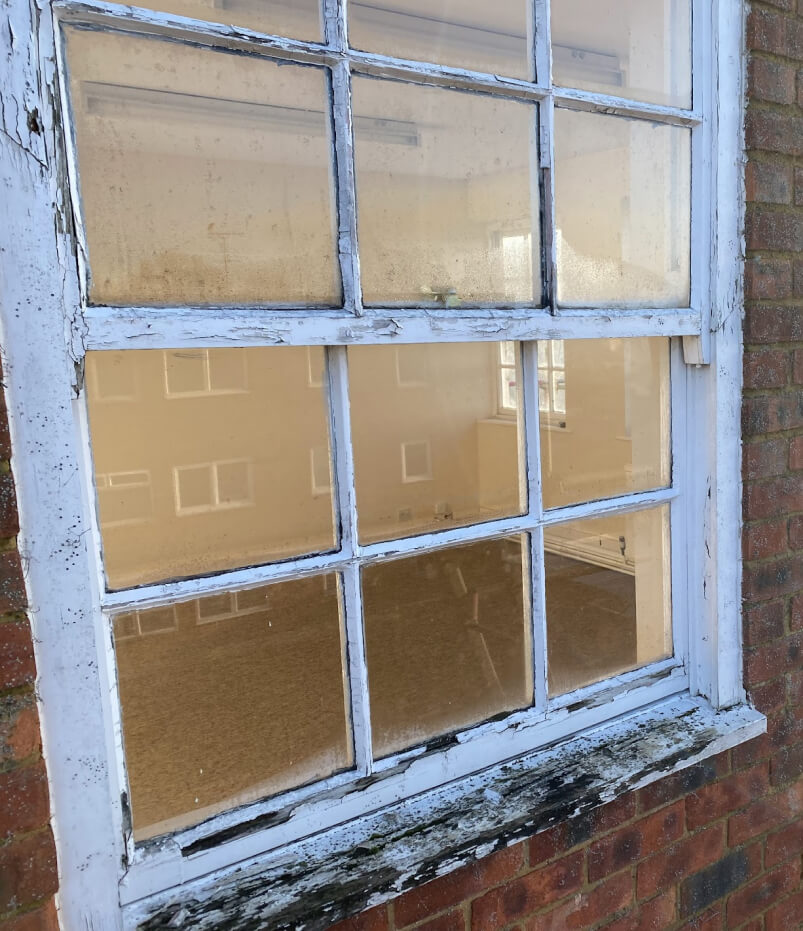 Old single glazed windows can be fully renovated and double glazed, so do not hush replacing them
Examples of single glazed windows that now have double glazing and solid refurbished timber frames
As you can see from the below examples, original single glazed windows can be upgraded with new vacuum glazing, and insulated with draught-proofing seals.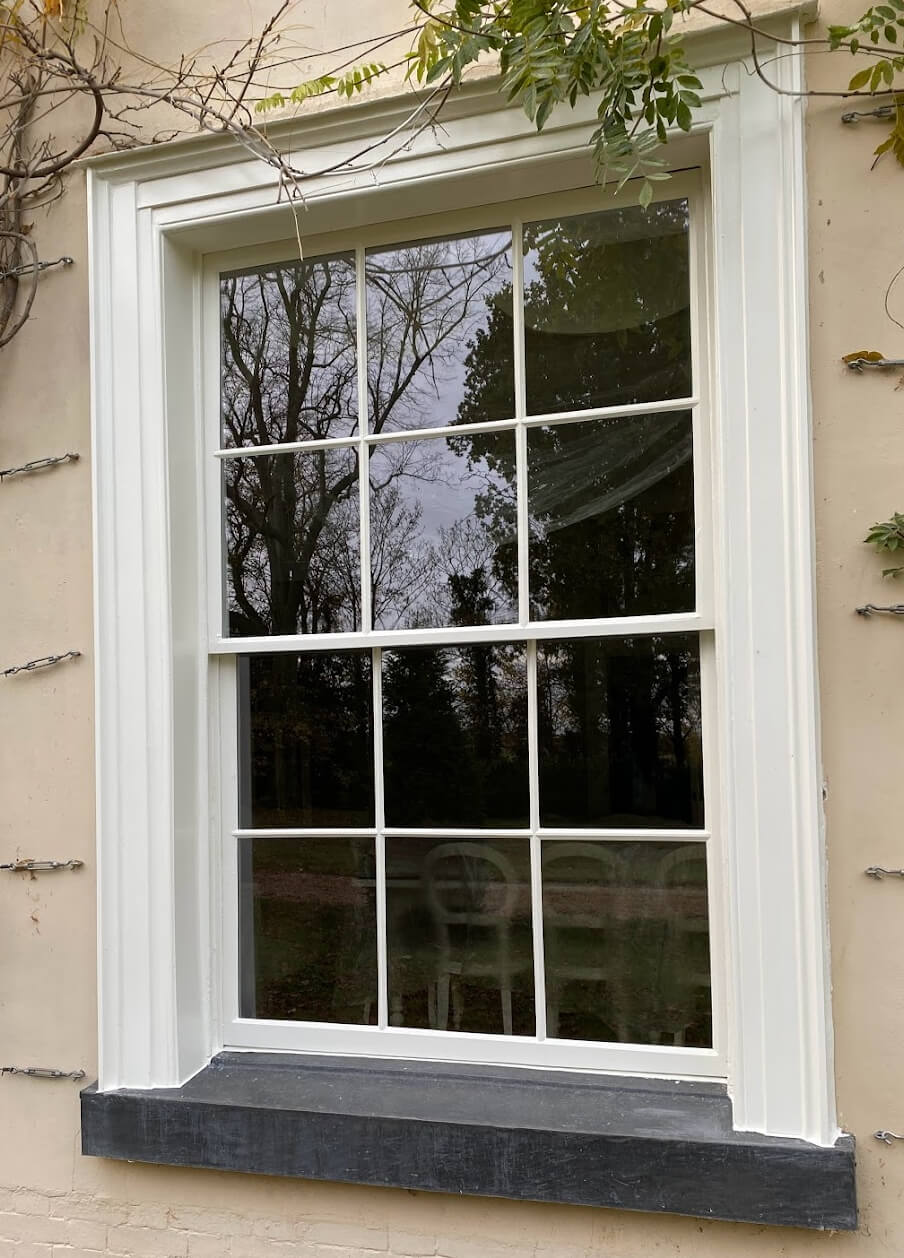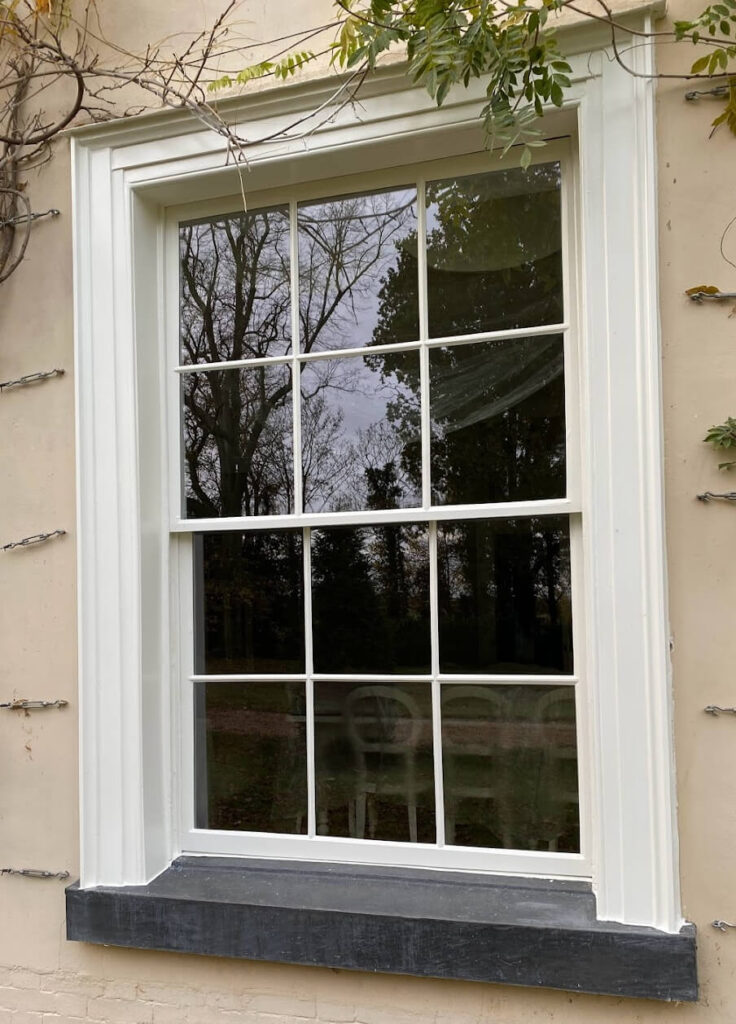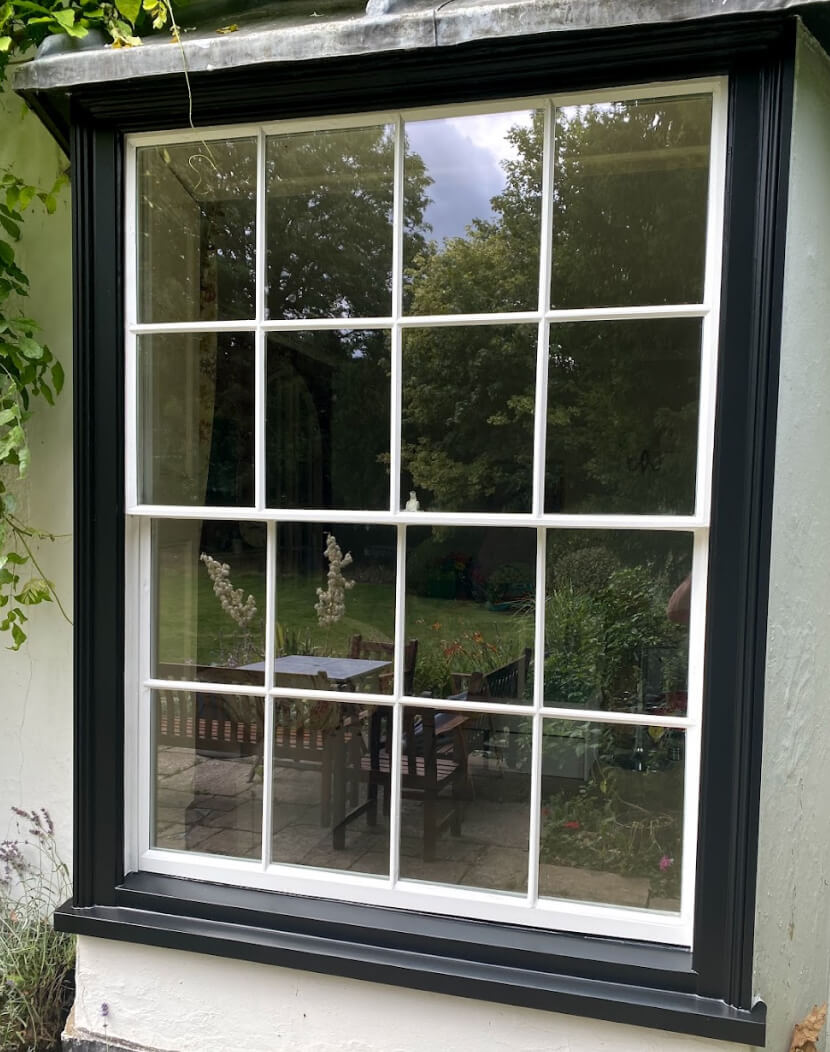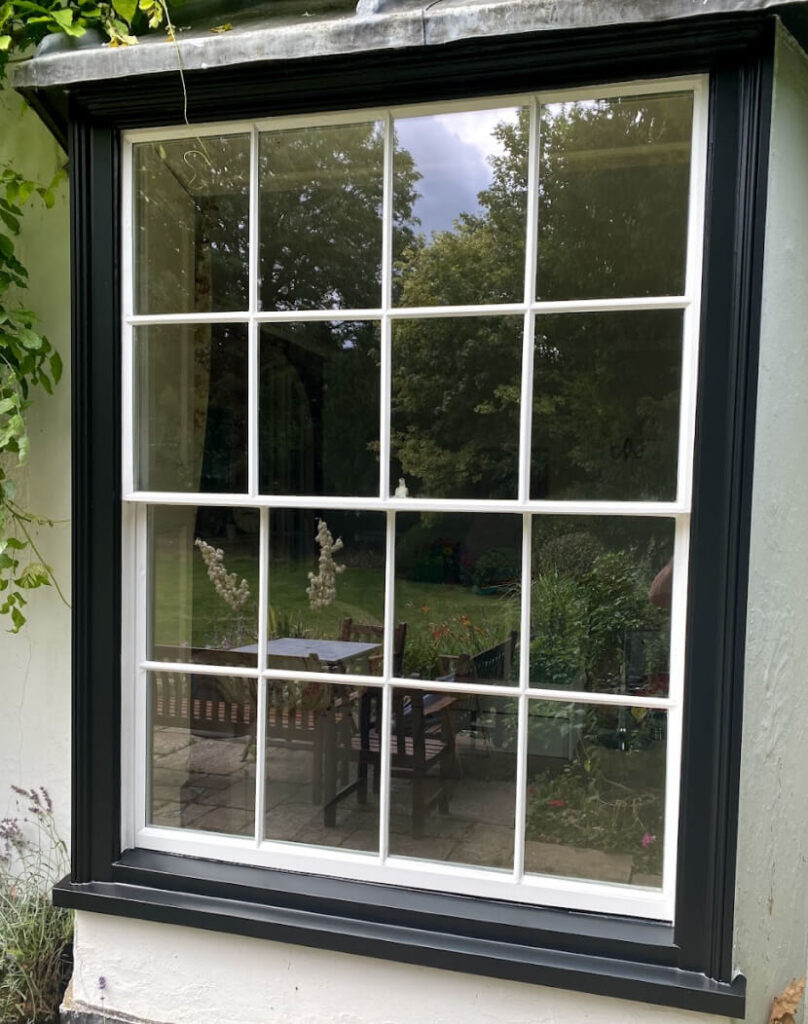 What are the benefits of retrofit double glazing?
With our sash window double glazing service, the original aesthetic of the original windows is preserved, something crucial to many homeowners in Grade 2 listed buildings.
Alongside this, other positives include:
Decreased heat loss through the windows meaning reduced energy bills
Reduction in outside noise penetrating the property and your comfort
Security benefits to the property (The double glazing can also be made using tempered, safety glass)
Saves money on the new window joinery and installation.
Reduction in waste of disposing of all the window frame material for a modern PVC equivalent unit
A full selection of completed retrofit glazing work can be found on the portfolio page, below are a few images showing newly installed retrofit glazing in window units:
Projects where we retrofitted single glazed windows with double glazing
Chameleon has carried out an extensive range of sash window double glazing and full window frame refurbishment projects over our 14 years of operation.
From Georgian sash windows to 1960's casement windows, we apply the same high quality, detail-oriented approach to all our jobs.
Modern vacuum double glazing is as efficient as triple glazing
Our glass of choice for the retrofit service is always Fineo's vacuum-sealed glass. With the same thermal value as triple glazing, and up to 8 x more efficient than single glazing, it goes against the common belief that 'more is better when it comes to insulation. Vacuum double glazing is the perfect glass to replace a single glazing pane in old single glazed windows.
Moder vacuum double glazing is thin and efficient as old triple glazing
Fineo glass measures only 7 mm in thickness, almost half the width of another slim double glazing, making it ideal for use in historic properties where the original window depth is less than that of modern timber windows.
Single glazing compared to other glazing options
In the picture below, we have compared single glazing to double glazing, triple glazing, slimline double glazing and vacuum double glazing. As you can see vacuum double glazing is the best glazing option for retrofitting in terms of thickness and thermal efficiency. Single glazing is the least efficient option you can have.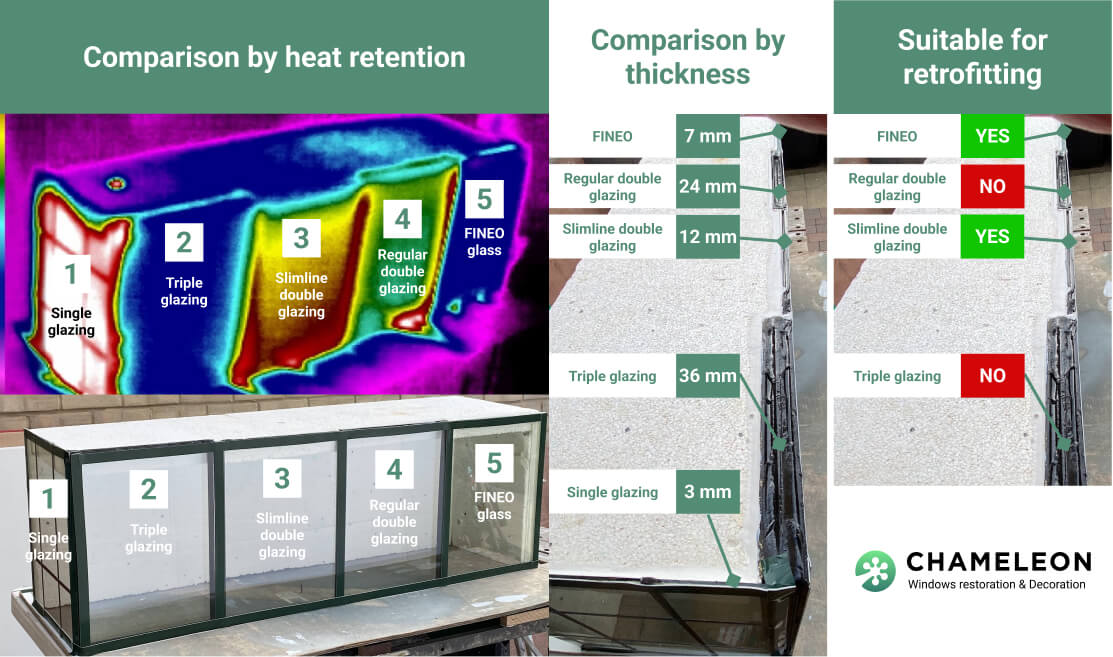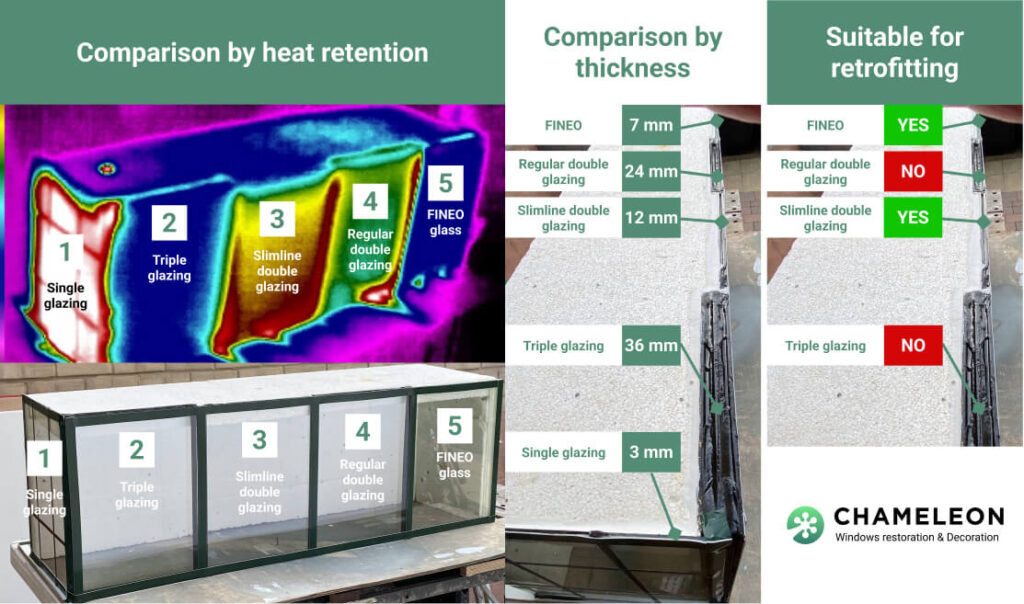 Using thermal imaging as hard evidence
Given the importance, we place as a company on the efficacy of our products we undertook a series of tests with a high spec thermal camera to gather evidence ourselves of the differences between our installed retrofit vacuum double glazing and other competitors on the market, as well as the original single glaze.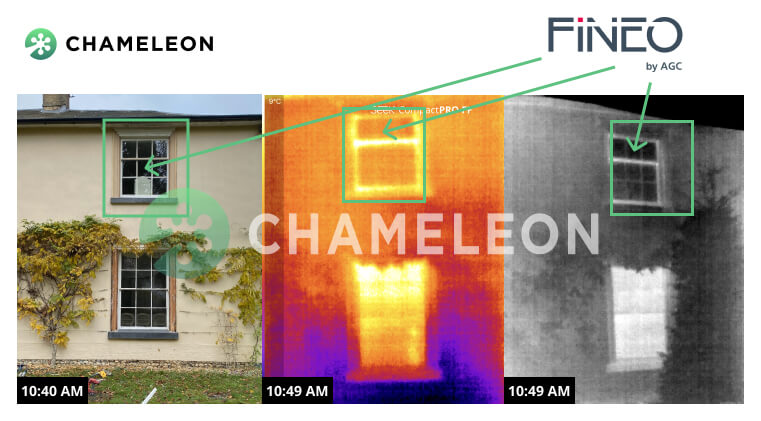 Below an image from a completed retrofit glazing project in Cambridge gives a good contrast point between the Fineo installed glass on all ground and first-floor windows against the single-pane windows on the door which glows intensely red showing a strong heat loss signature: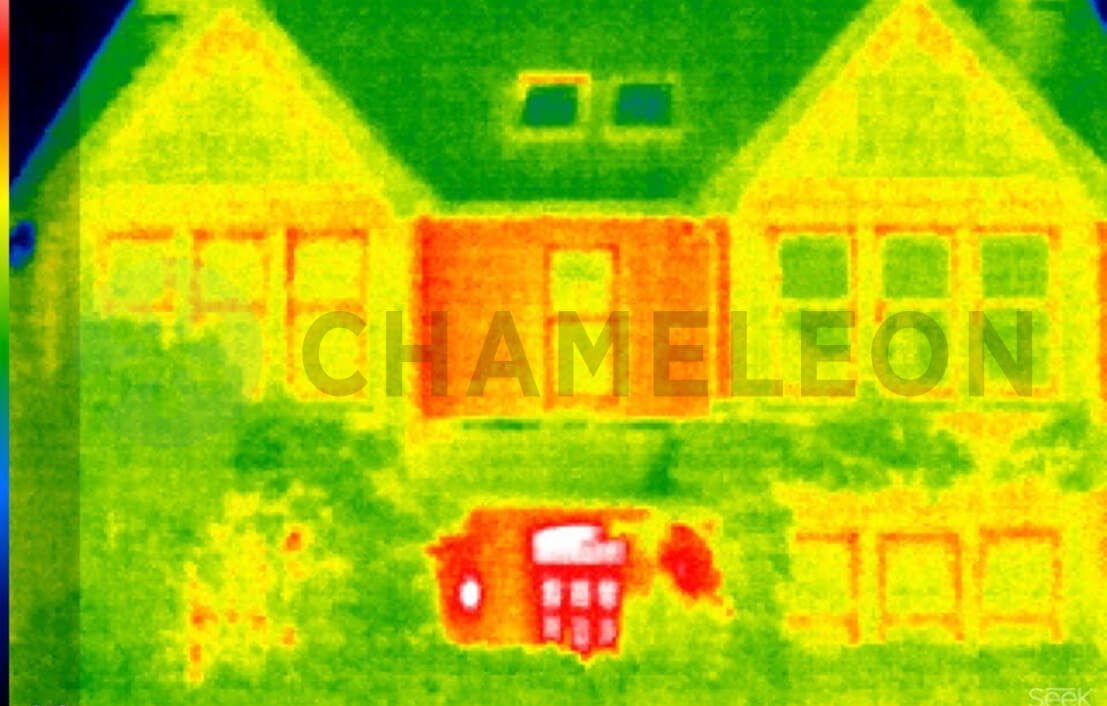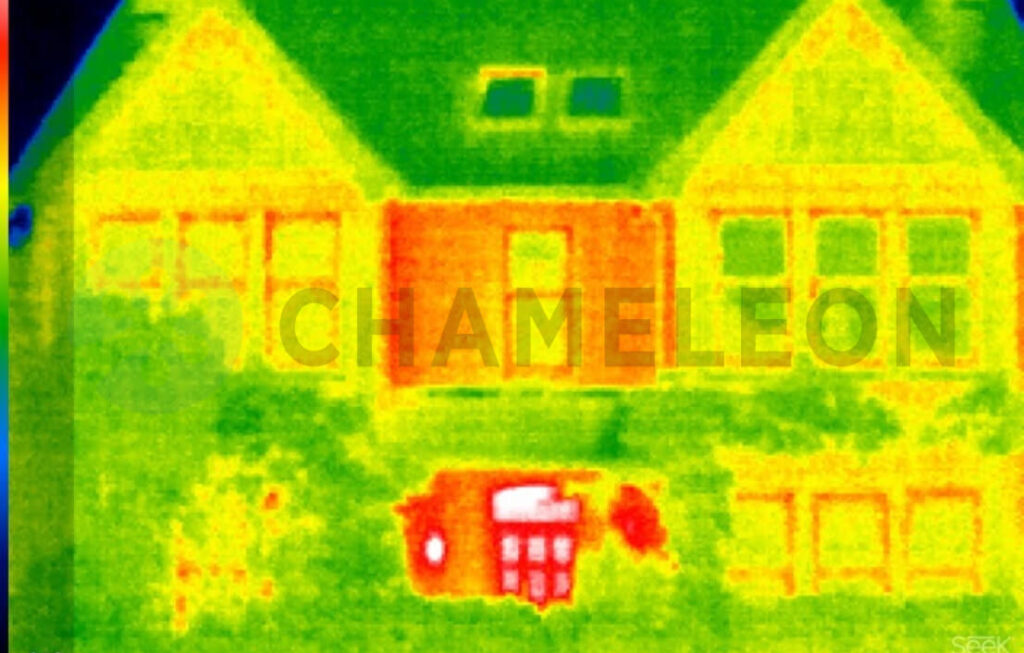 Below the property on the left's single glazed windows shows a strong contrast against 1st-floor windows of the property on the right which we carried out retrofit double glazing for.
As you can see the heat signature is markedly different, with the dark purples to blacks on the right indicating minimal loss of heat through the newly installed glazing vs bright glowing orange from the property on the right:
New double glazed windows or retrofitting of existing single glazed windows?
Above, we have explored a number of advantages to choosing retrofit of existing single glazed window frames over the purchase of completely new units.
Something else which is difficult to argue with is the cost savings of going the retrofit route. Not only are original window aesthetics maintained by keeping original frames in place but, more often than not, significant cost savings are also available with the retrofit route as compared to overhaul.
More information on our double glazing installation costs can be seen here, as well as information on the long warranties offered on repairs done with Accoya/Tricoya wood, as well as the minimum number of window units we work on.
How do you make single-pane windows warmer?
The absolutely best but not the cheapest way to keep the old window frame and make a single glazed window warmer is to replace single panes of glass with vacuum double glazing units.
Alternatively, there are cheap DIY options to add a layer of clear plastic film to the inside of the window. Window film is not a very efficient way to prevent heat from escaping through your single glazed windows.
The secondary glazing is also an option but it is not much cheaper compared to sash window retrofitting cost and looks bulky.
FAQs
Will my house feel warmer with retrofit double glazing?
Yes. Cold penetration into the building and heat loss out through the window will be reduced, increasing the temperature inside.
Will double glazing save money in the long term?
With heat loss reduced in a home, retrofitting single glazed windows with double glazing means heating bills also come down as less energy output is required to achieve the same temperatures.
Will retrofitting affect the look of my historic windows?
No, here at Chameleon we pride ourselves on the ability to maintain the original aesthetics of old timber windows.
Am I protected by guarantees?
Yes. The vacuum double glazing is covered by 15 years manufacture guarantee.
What does a single glazed window mean?
Single glazing is a window with a single sheet of glass. It is the most basic type of window and is usually found in older homes. Single glazing is not as energy-efficient as double, triple glazing or vacuum double glazing and does not provide as much sound insulation as any of the more modern types of glazing. However, it is cheaper than more modern types of windows and can be easier and quicker to repair the single glazing sheets of glass are widely available and can be quickly cut to measure unlike double glazing, which required specialized materials, equipment and skills.
VIEW ALL QUESTIONS