Chameleon is a sash windows specialist at listed buildings' windows restoration and double glazing period windows by reglazing single glazing with double-glazed units.
Original windows in listed buildings, due to age, often require some level of care and maintenance. If you call a listed building home, you know this can be difficult.
It is important to protect our architectural history. Heritage England and the planning restrictions exist for this reason. Our country is rich with history; it is right we preserve what we can.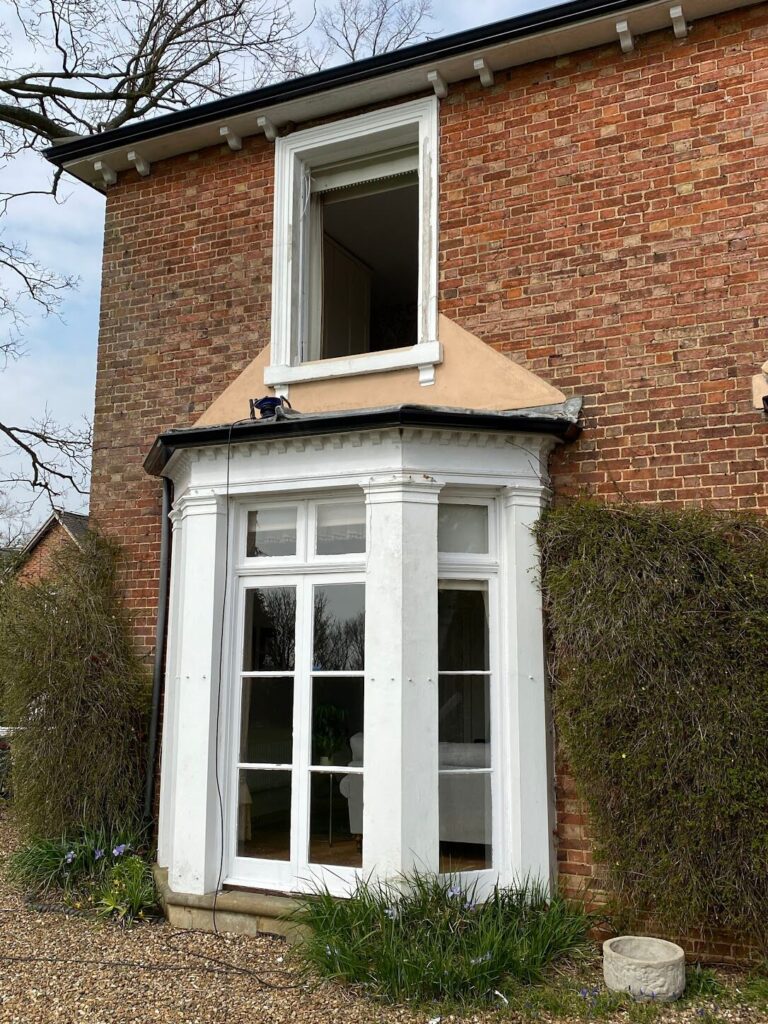 Luckily, listed properties, as well as beautiful pieces of architecture, were made from a quality, long-lasting materials. This applies to windows. Often this means we can repair, not replace, and easily maintain character.
Planning work on listed buildings is complicated. And regulations do the tough reading. Some work causes headaches and delays. But you might be surprised how much work's possible without permission. We've included information as a guide to help decide.
What Are Listed Buildings And Conservation Areas?
Listed buildings have a special historical or architectural interest. Owners must be sympathetic when repairing sash windows. Listed buildings have many restrictions. You must check planning with your local authority before beginning work.
Listed building criteria:
Built between 1700 and 1850.

Built after 1945 but of significant architectural interest.
Grade 1 buildings, like St Paul's Cathedral, are of significant historical interest. Grade II* accounts for 5.5% and is of particular interest. The remaining 92% are grade 2. We repair windows on Grade 2 and conservation area properties.
Conservation areas are zones where buildings' characters must be preserved. An Article 4 direction may apply to homes in conservation zones. Article 4 directions require owners to seek permission for some works.
Planning Permission – Repairing Or Maintaining Windows On Grade 2 Listed Building
Some work requires no permission. Always check before planning work. Replacing parts or entire fittings will need approval. The property's historic style must be preserved, and a council official will decide. New parts and windows can be fitted in these circumstances.
The Local Authority
If planning listed windows restoration work on Listed or Conservation Zone properties, you should approach your local authority before starting work. Conservation officers check proposals and assess if permission is required.
The conservation officer can also offer invaluable advice on putting together an application for planning permission. Saving the expense and hassle of reapplying if rejected.
Which Window Repairs Are OK For Listed Buildings?
Most minor repairs in listed windows restoration should be allowed without permission. Painting frames, draught sealing and overhauling shouldn't require planning permission. Timber frames can be repaired if no parts need major work or replacement. New glazing can be fitted, if of similar thickness to the original glass.
In general, work with the purpose of restoring, not altering, the building is OK. Permission is required for extensive work. Ask your council before proceeding.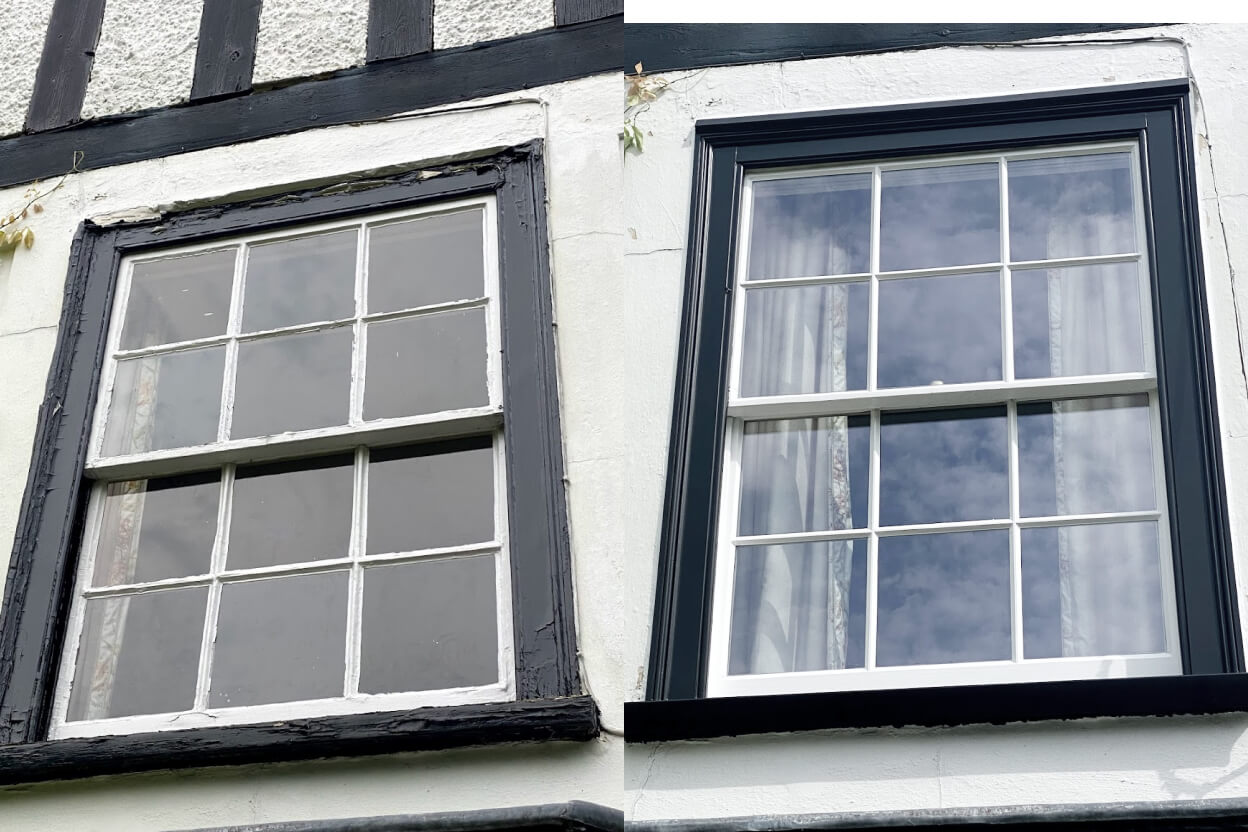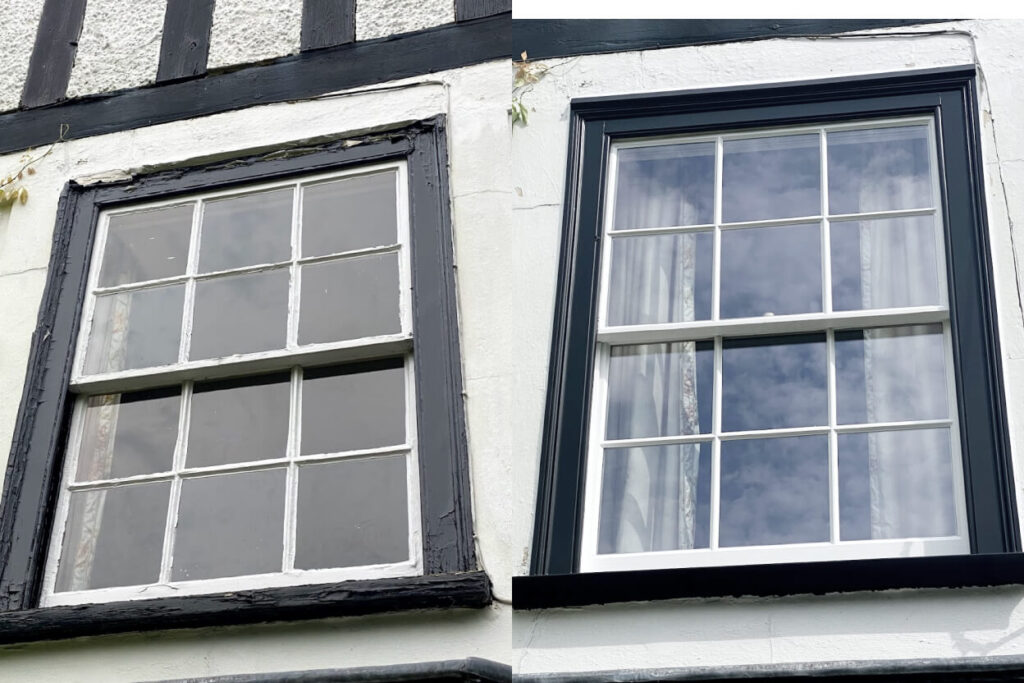 When do I need the listed windows restored? 
There are warning signs you can spot. Listed below are things to watch for. Small problems develop into larger ones. Rot will spread once set in. Early detection is key. Spotting issues and performing proper maintenance will extend your window's useful life.
Check for Structural Movement
Movement in the window needs addressing. Windows that don't open or close properly cause frame damage. Older properties though may already have adequate repairs.
Inspect your Pointing
Check your pointing regularly. Pointing failure allows moisture into window frames. Bad pointing allows draughts and lowers energy efficiency. Cracks, loose pointing, or missing pointing need addressing. Early intervention will save money long term.
Wet Rot
Wet rot can cause severe problems. Identifying the signs of wet rot early is crucial.
Check regularly for:
Flaking and bubbling paint. Condensation can cause this. The Interior and exterior need checking.
Standing water on sills can seep into the wood.
Improperly applied or failing putty allowing water to enter.
Gaps in the joints. Check for openings.
Wooden surfaces appear dirty or degraded, with peeling paint or depressions.
When To Repair a Sash Window?
As sash windows incorporate a mechanism, this can often cause issues. Often sash windows move improperly or seize. This makes them hard to operate.
Causes:
Seized pulleys – require lubrication.
Cords in disrepair.
Irregular glass from repairs. Glass that's too heavy can make the window inoperable.
Broken Hinges on casements.
Swollen frames caused by water entering.
Overhauling Windows in Listed Buildings
Windows suffer from wear and tear, and an overhaul can fix minor faults. Overhauls will not require permission.
Replacing broken glass.
Fitting new sash cords (sash windows).
Repointing and replacing the putty.
Lubricating stiff windows, including hinges and pulleys (sash windows).
Repainting surfaces is crucial to prevent moisture from entering.
Do I need Planning permission To Replace Windows in Grade II Listed Building?
Replacements require planning permission. They must be deemed suitable by conservation or planning officials. Work carried out without permission will have to be replaced. Councils have the authority to enforce this, so always check.
In cases where existing fittings are beyond repair, your planning officer will allow sympathetic replacements. Materials and style must match the originals.
You should consult your local council. If deemed the window is repairable, you will be obliged to repair it, not replace it.
Should I Replace Or Repair My Listed Windows?
Older window timbers are of superior quality. Repair and maintenance is the best option. Pressure on homeowners to replace often forces the wrong choice. Many replacements take place where in fact, repairs produce better results.
The timber used to make windows pre-1919 is high quality and cut from older trees. This lowers the percentage of sapwood present. Baltic pine was used extensively during this period. Sapwood is moister and nutrient-rich: perfect conditions for fungus. Newer timbers are prone to wood rot. Older timbers, even if showing signs of rot, can repair easily.
Listed windows restoration, rejoining, and overhauling are cheaper than replacement.
PVCu double glazing should be avoided. They will not be permissible in Grade II buildings. In conservation areas, maybe, but they alter the appearance of older buildings. Long-term, repaired timber windows normally outlast PVCu replacements.
Double Glazing for Listed buildings
Windows in Grade 2 listed properties are mostly single-glazed, and no wonder house owners are looking for an option to make single-glazed windows more energy efficient. Double glazing retrofitting offers just that, but it can be tricky in listed buildings.
Negotiating the various regulations and directives can be difficult. If your plans are designed to retain the character, with proper research and consultation it is often possible. If normal double glazing is not appropriate, there are options. Work that excludes drafts and boosts your window's thermal performance can help keep you warm and lower energy costs.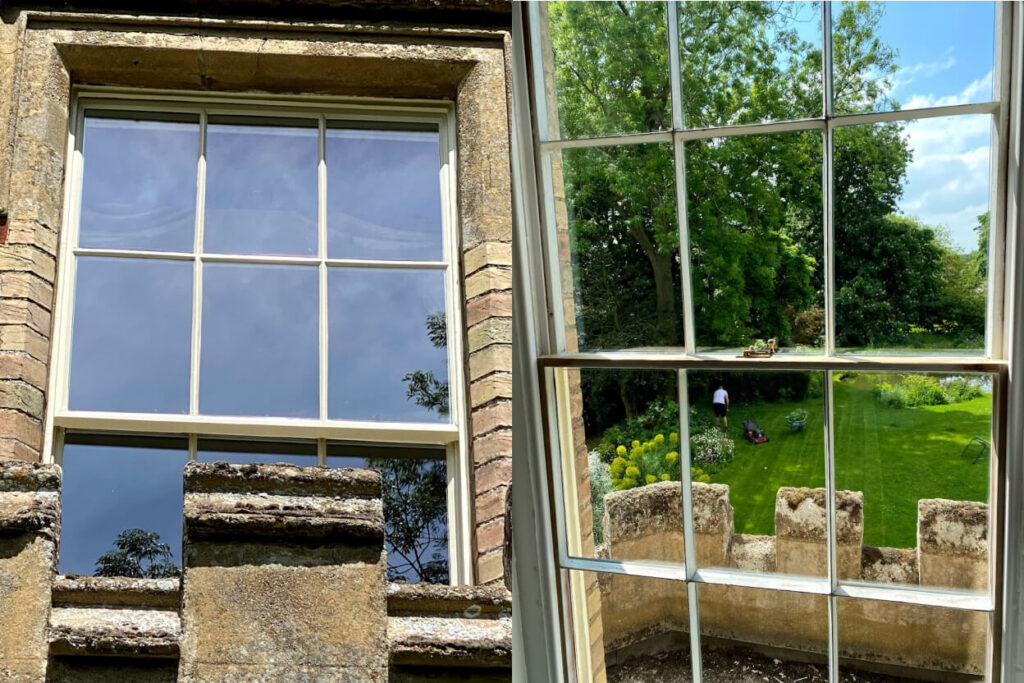 Can I Double Glaze My Listed Property?
There are several options available for double glazing. In a listed property, often a heritage style slim profile double glazed unit can be fitted, sympathetic to original styling. This will keep the property warm whilst retaining its original character. You cannot fit modern PCVu windows on listed properties. Luckily, nowadays, technology exists such as slim profile windows in heritage style that can be produced. Many are appropriate for listed properties. For double glazing and retrofitting, we use Fineo Glass.
You will often need to submit detailed drawings so the council can assess if your windows will match the originals. Regulations can be complicated, but choosing a company that has real experience in working with listed properties will help.
Sash window's thermal efficiency after vacuum double glazing retrofitting.
All original windows in this period property were single-glazed. Our team removed single glazing and changed it to vacuum double glazing. As you can see on the thermal imaging, the windows with vacuum double glazing retain heat better than the walls and a single glazed casement window on the ground floor on the left.


What Is Secondary Glazing?
Secondary glazing is an option where building regulations prohibit larger work from being carried out. Rather than re-fit your window, a second frame and window are constructed. This is permissible normally for two reasons:
Does not affect the outside appearance of listed buildings.
Can be removed – is often considered a temporary structure.
Secondary glazing can be openable or fixed. Normally openable is appropriate to allow ventilation and cleaning. Secondary glazing can have huge energy-saving benefits and is often cheaper than window replacements.
Secondary glazing can increase heat conservation by 60%. It's an effective energy-saving measure. It can often work out cheaper than reglazing windows.
Can I Double Glaze In A Conservation Area?
Properties in conservation areas are easier. Double glazing in conservation areas does not require slim profile glazing. A single, double-glazed unit can be fitted. If the property is subject to an Article 4 Direction or above a shop, you might need permission.
If the work will isn't street-facing, (ie the back wall or hidden on the side), permission might not be required.
Draught Proofing
In cases where the age or status of the building means work is hard to get permission for, you might be surprised by how effective fitting sash window draught-proofing could be! This can be added as part of an overhaul or repair.
The window should first be repaired to ensure there is no airflow through the frame due to rot or wear and tear. Then the draught-proofing can be applied.
Depending on the type of window we are working on, either wiper or compression seals will be fitted, which will ensure there are no gaps when the window is closed.
Grade 2 listed window replacement
Permissions needed for window replacement
All window replacements require permission on grade 2 listed buildings. So, before you plan any window replacements or repairs, you need to check. Your local council office will have the final say.
Speaking with experience, our customers are more likely to get permission for repair work carried out, rather than replacements. This is because repairs to your windows won't change the look of your property at all, but replacements can.
The process of replacing windows
Replacing any windows in a home is a big job, but in Grade 2 listed building, it requires a lot of work.
To start with, the window openings in grade 2 listed buildings may need custom-fitted window frames due to the building techniques used. Even with wooden window frames, this can be a very costly task, but with aluminium or uPVC, the costs and the labour are much higher.
Repairing your existing windows is a lot cheaper, as the existing window frames are used. So, while we may need to replace a lot of wood in the frame and the window itself, we don't need to remove anything, and custom fit everything to original specs, so this saves us a lot of time and you a lot of money.
How long will it take?
The time it takes to replace a window greatly depends on the work needed to remove the window (this is dictated by the condition of your window) and the work needed to install the new window. We can't give an exact time, but repairs to a window and frame are almost always quicker than replacements.
Grade 2 listed window replacement cost.
Again, costs are difficult to give an exact amount. However, a custom-made average-size sash window made to match an old window will cost around £2500-3000 per window. Replacing a window is always more expensive than repairing an existing one; for example, we price our sash window refurbishment at around £600 per window.
In conclusion
Renovating windows in Grade 2 listed buildings is always cheaper than replacing them.
The time needed is shorter, and less material is required. Replacing windows in an older property can cost a lot of money and greatly change the appearance of the building forever.
Refurbishment is always a better choice for old windows in Grade 2 listed properties.