Please Note:
Please kindly note that due to high set-up costs per window, our minimum order quantity for most regions is 15 windows.
You can check the minimum order quantity for your region on our service area locator page.
Why do we offer an estimate, and how accurate is it?
A virtual estimate may deviate up to 15% from a final quoted price and can be used for quote comparison purposes.
It saves your time and reduces your carbon footprint.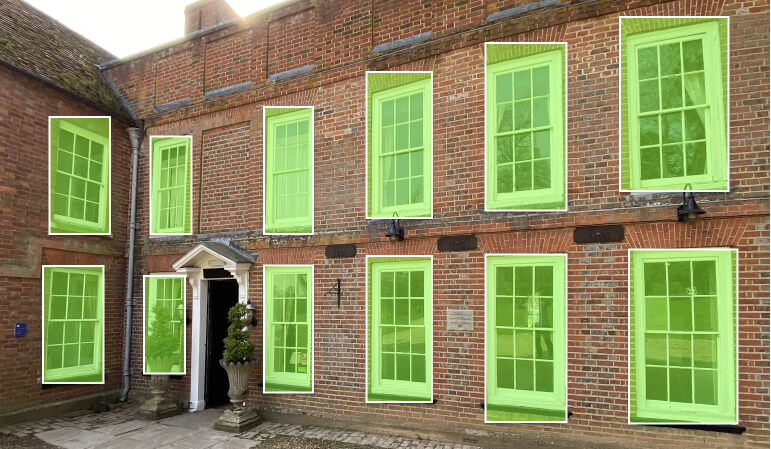 What information do I need to e-mail you to get an estimate? 
Just take photos of all sides of the property and send them to:
Our email: office@chameleon-decorators.co.uk
In-person meeting and final quote
If you are happy with our estimated price and T's&C's, we can book an in-person quote meeting with one of our window renovation specialists, not a salesperson.
He will bring samples of our work – a refurbished window with retrofitted Fineo glass. This will give you a good idea of what your windows will look like after the refurbishment and/or glazing with Fineo glass.
Within three days of the quote meeting, we will e-mail you our quote with the final price.
We can offer a one-window trial if your property has over 30 windows. This trial service is only available for our window restoration service.
How does the current condition of the windows affect the pricing?
If you take a close-up photo of your best and worst decayed windows, this will give us an understanding of your other windows' current condition.
However, the condition of the windows does not affect the pricing much due to our window restoration techniques.
We laminate most of the vulnerable parts of the windows with Accoya or Tricoya wood, the most rot-resistant timber available on the market. After rot repairs, all windows will go through the lamination process. Therefore, the actual amount of rot does not affect the cost.
Guarantees
We are not just repairing your windows but improving their durability by laminating the most exposed to weather parts.
This reduces your maintenance cost in the long run and enables us to offer your a market-leading guarantee –  20 years on repairs and 8 years on paintwork.