What is Heritage double glazing?
Heritage double glazing is ultra-slim, low-profile double glazing with an overall thickness of 6-11 mm. It is either filled with krypton gas or vacuum-sealed. Both can be retrofitted into narrow rebates of original sash or casement wooden window frames.
With new glazing systems such as slim double-glazed units, historic buildings can now improve energy efficiency without needing to install bulky secondary glazing or replace the original windows for new double-glazed windows.
Supply and installation service
We are an official installer of FINEO heritage double glazing, which is suitable for Grade 2 listed buildings. It is 8 times more energy efficient compared to single glazing and as efficient as 32 mm standard triple glazed units used in modern window units.
We supply and retrofit slim vacuum double-glazed units in East Anglia and South East of England for residential and commercial clients.
Our team only work with existing timber frame sashes. The glass is retrofitted into existing sashes.
Timber frames refurbishment included
When our team changes window glazing, it also adjusts the weights, so the sash window can operate with heavier glass. Add draught-proofing seals to the sashes and the frame.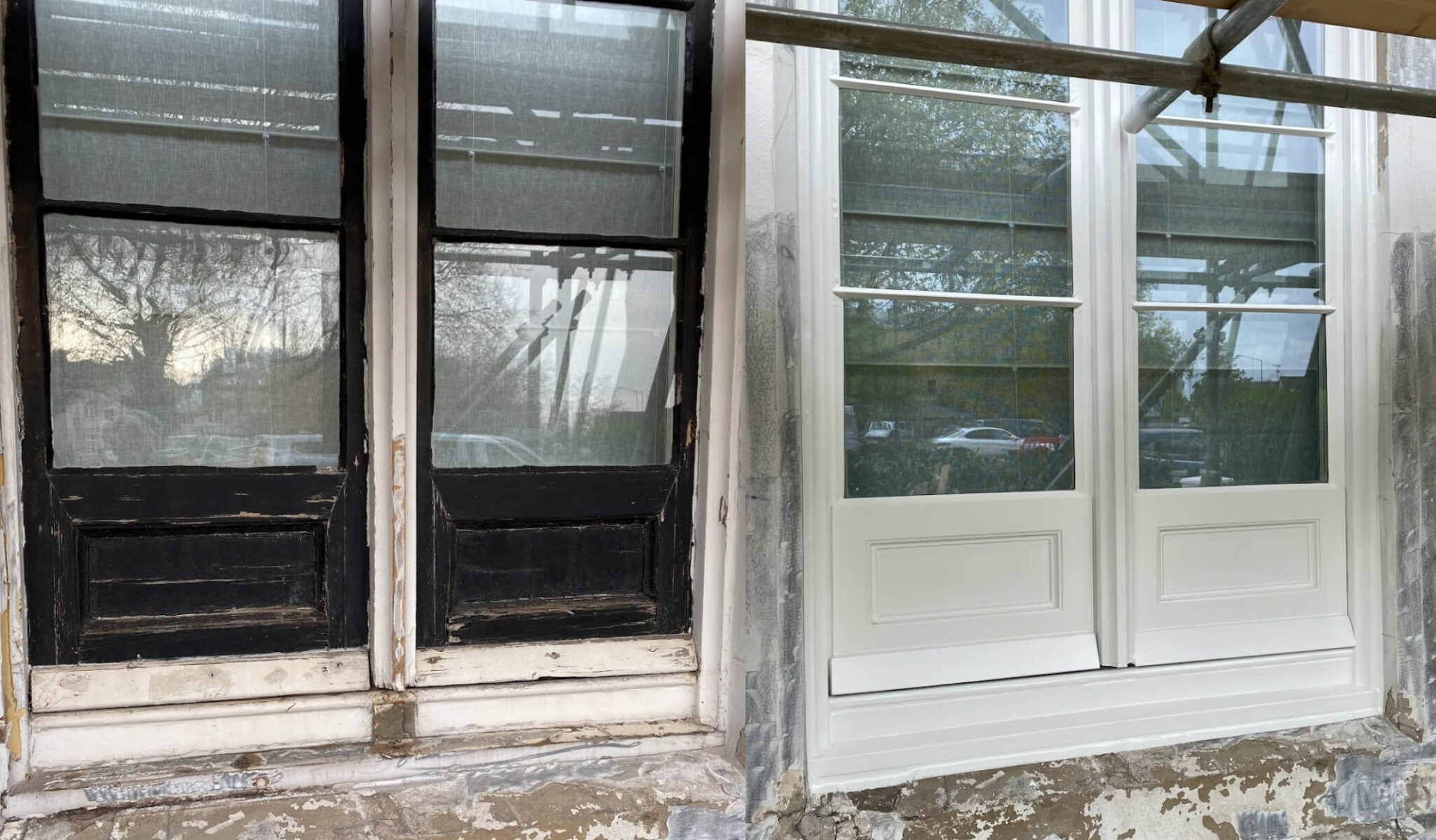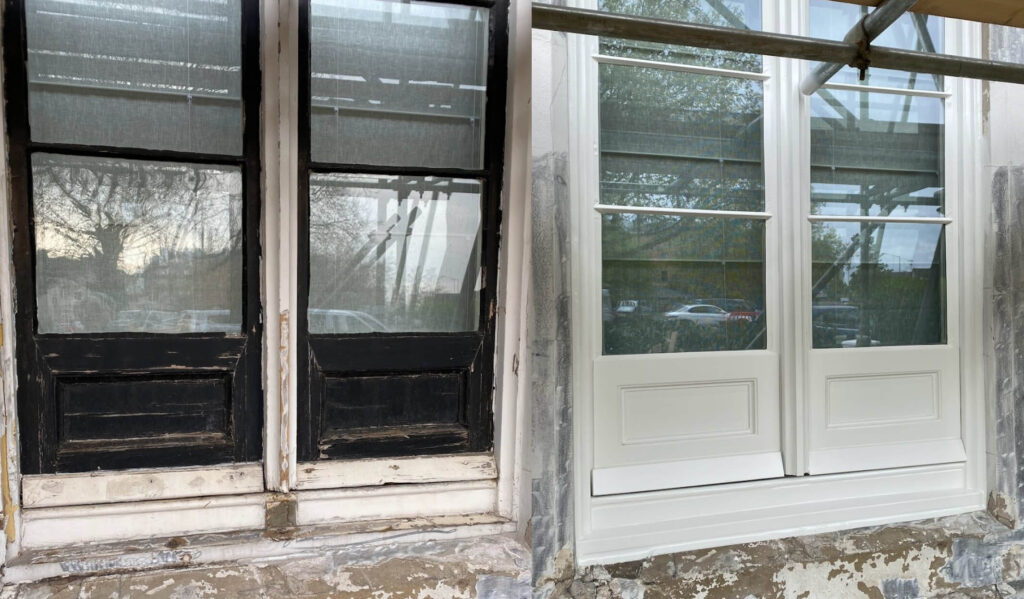 The timber frame is restored, any rot is replaced with new solid timber and re-decoration of the windows is included and done by our in-house team.
Technical Information 6.7mm vacuum glass
6.7 mm depth (outer pane 3.2, inner pane 3.2)
Slim Sightlines
0.7 U-Values (Vacuum offer improved u Values)
Microspacers which support the glass
Glass Light transmission 80 (single glazing 90)
Solar G-value 0.62
Sound reduction RW (C;Ctr) dB 35 (-2;-5)
Available in custom shapes; Arches, curved, full-curved
Cavity 0.1mm (vacuum)
The almost invisible Cavity and soldered glass edge mean no spacer bar
Can be fitted to narrow glazing bars
Guarantee 15 years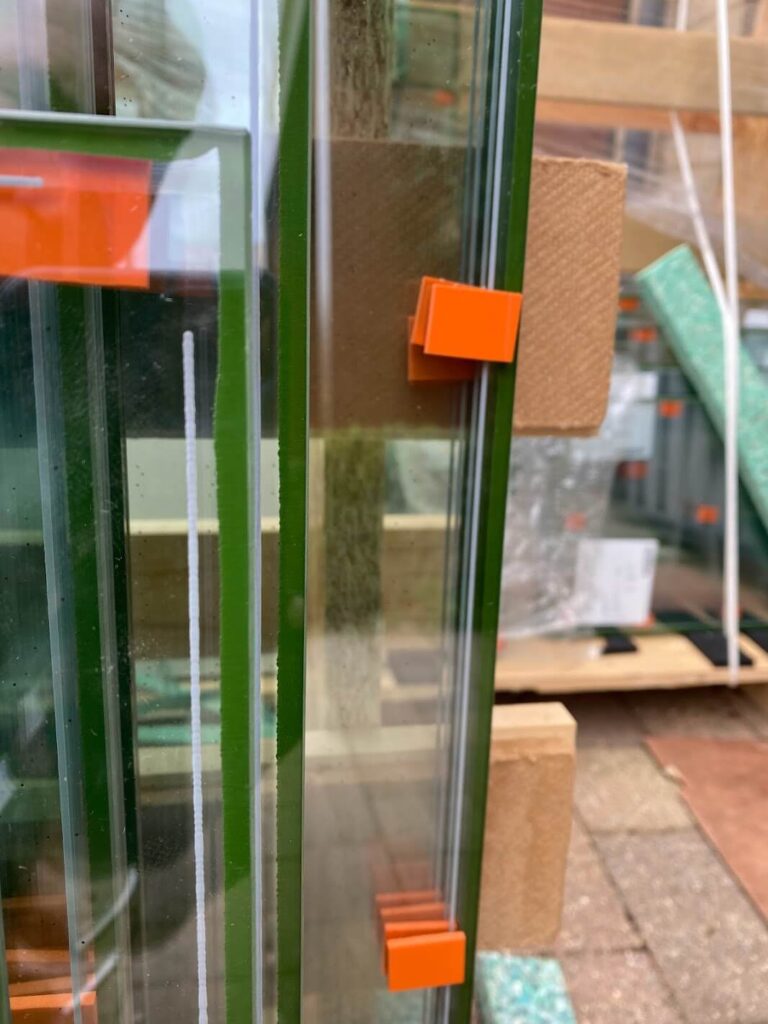 Gallery
As you can see from the photos below, Georgian glazing bars are not altered, and the window style and original features are retained. Our team have not just changed the glass but also renovated the timber frames.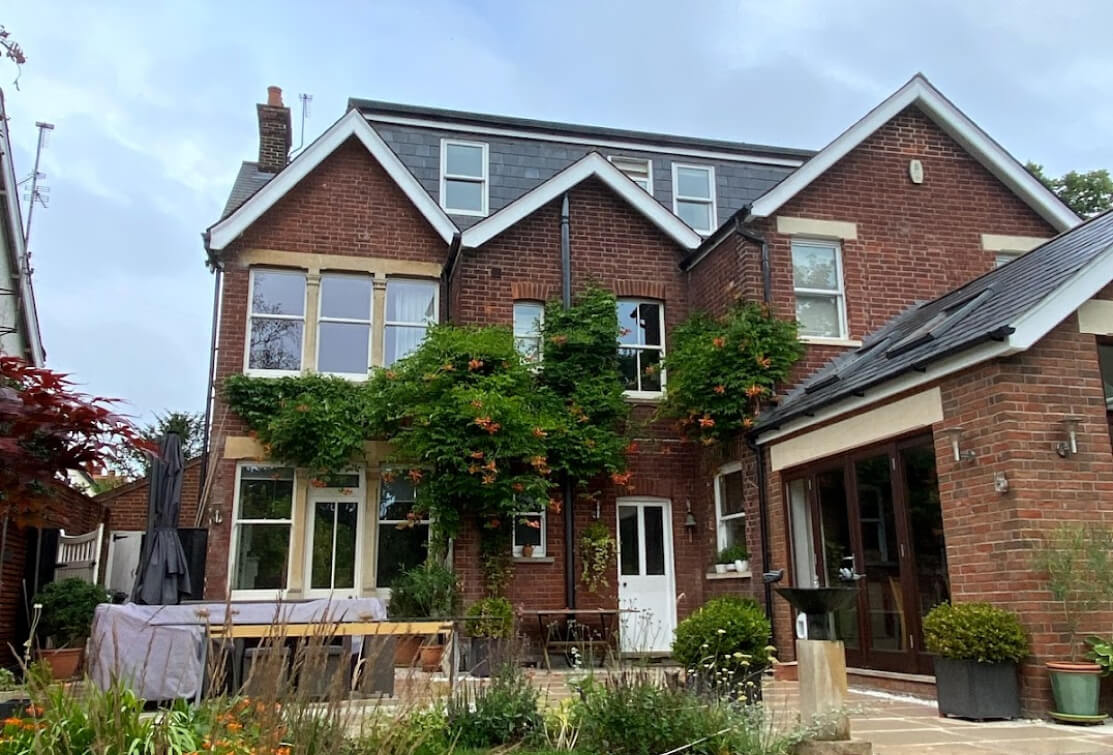 Slimline double glazing use-cases
There are three main use cases for slim double-glazed units.
Conservation areas / Grade 2 listed buildings
Heritage double glazing is specially designed to make period single glazed windows more energy efficient without replacing the original joinery or altering the look of the window.
Used in projects where heritage windows can not be replaced.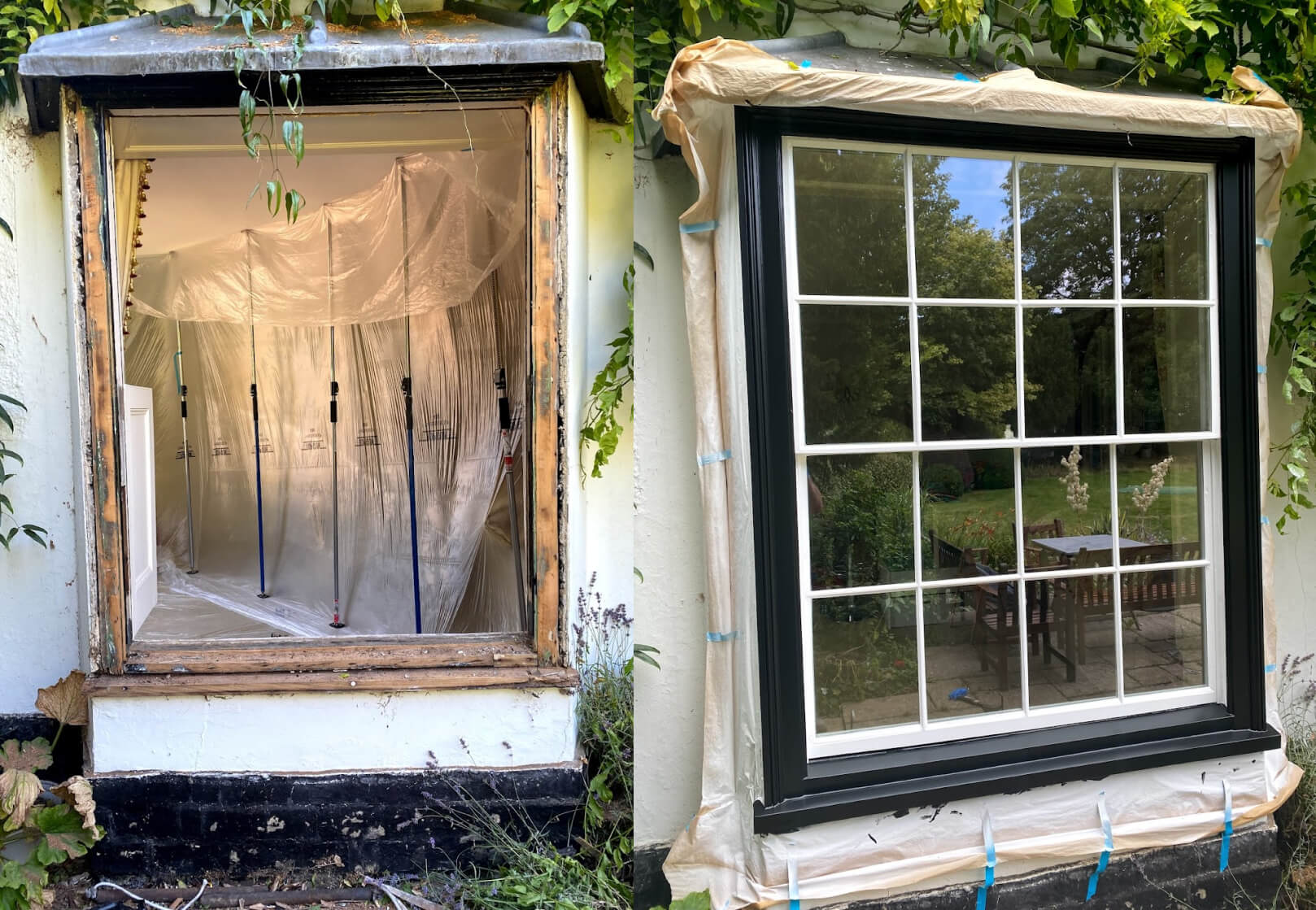 Retrofitting costs less than new timber windows
It is cheaper to retrofit glazing panes than replace the whole window. Vacuum-sealed double-glazed units are more efficient than standard double-glazing used in new replacement windows.
You can check our pricing page to get an idea of how much retrofit double glazing cost and compare it to what new timber windows costs.
Retain the original window frame
Some people want to retain as many of the original features of their houses as possible, which is their primary reason for choosing the retrofitting over the replacement windows option.
Standard vs vacuum
Currently, two options of heritage glass are available on the market.
The standard slimline double-glazed united, filled with krypton inert gas and vacuum double glazing units.
Both are reduced sightline double glazing products that offer improved thermal performance and better u-values compared to single glazing.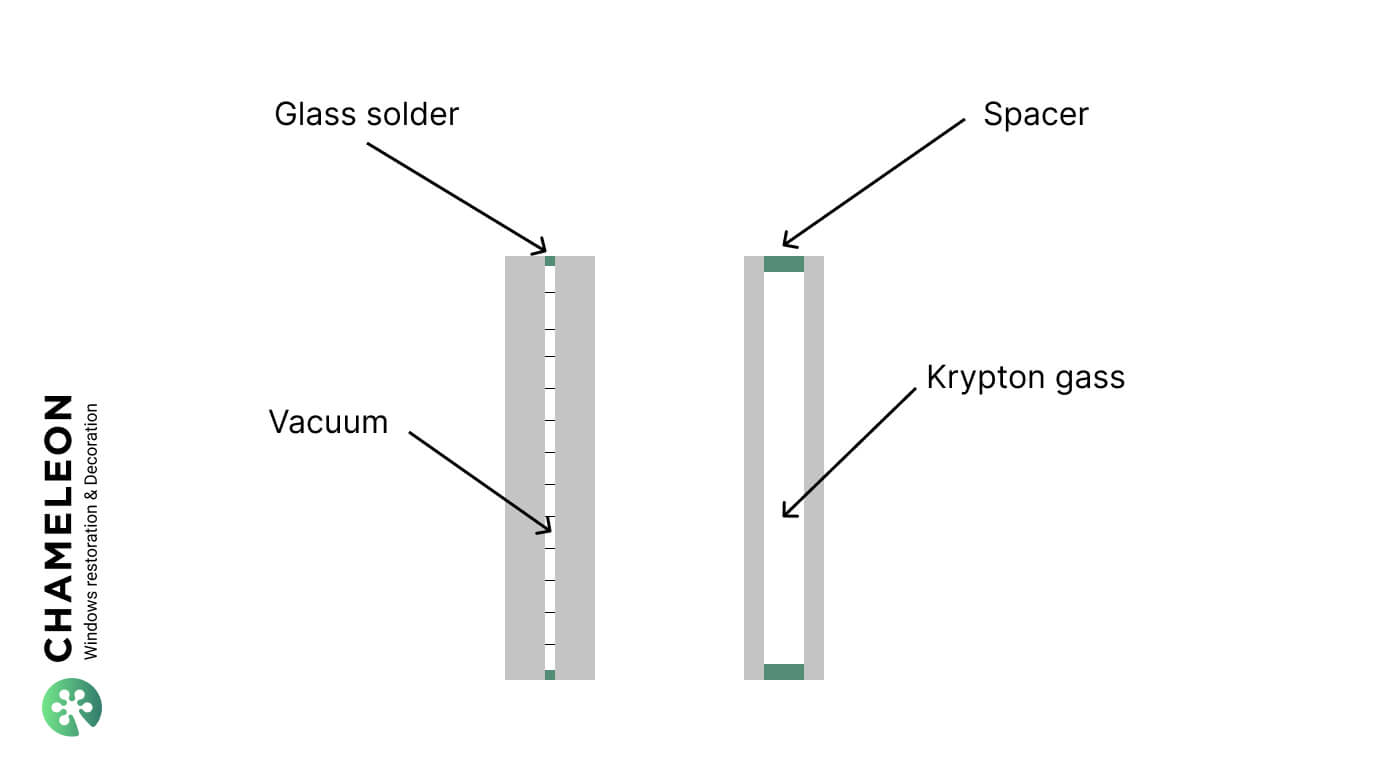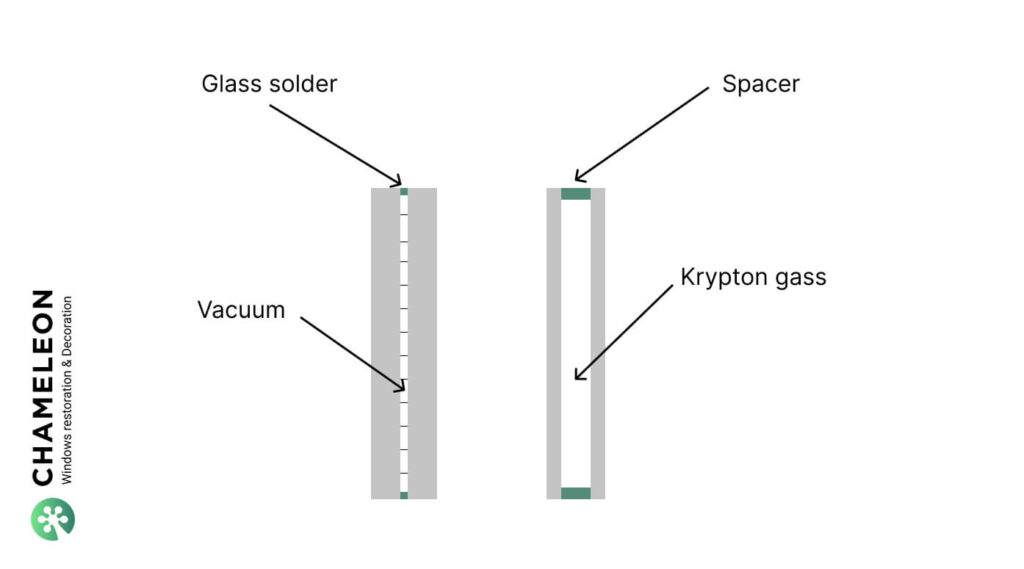 Both types come in different configurations of cavity thickness, spacer bars, and glass pane thickness but in general, thicker glass has a lower u-value which corresponds to the better thermal performance of the window glazing.
Compare heat loss
Please note that many glass types shown below can not be used in period buildings as they will simply not fit or are too heavy. We have included triple-glazed units just to compare them to slim vacuum glass.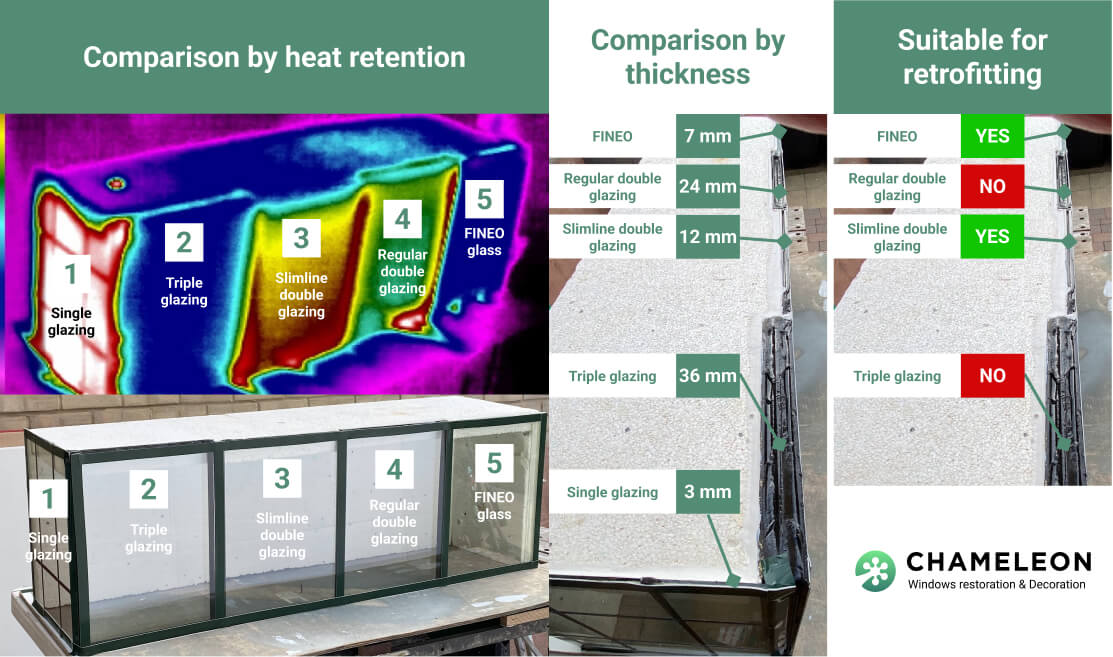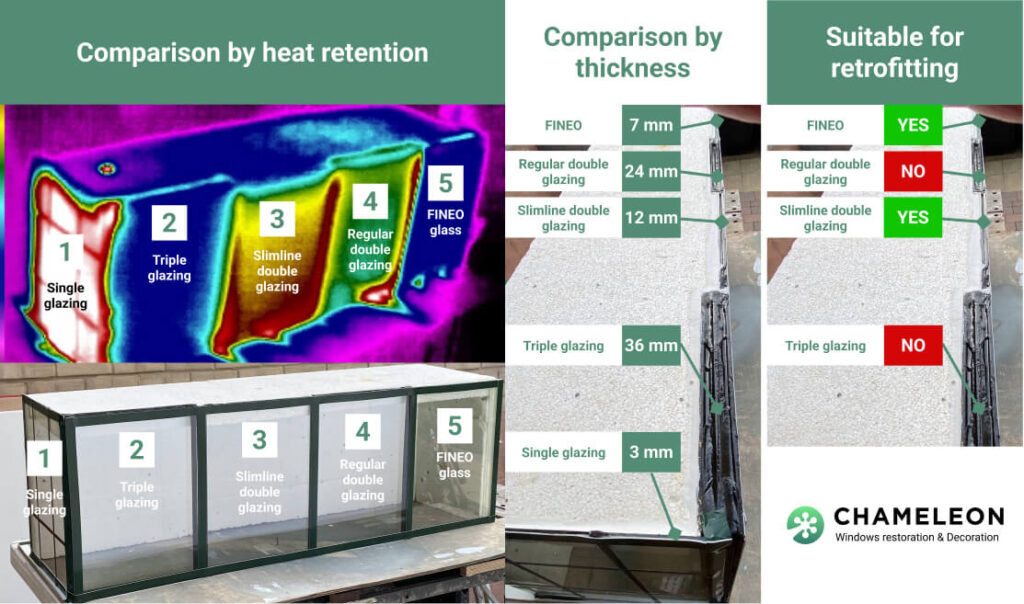 Slim double-glazed units filled with gases
Slim double-glazed units filled with inert gases such as Krypton, xenon or argon. Ultra-thin double glazing is manufactured locally in the UK as standard double-glazed units.
The U-value of the slime double-glazed unit is 1.9, compared to the 0.7 U-value of FINEO glass; it is almost 3x lower energy efficiency.
Heat-loss imaging of slim double glazing and single glazing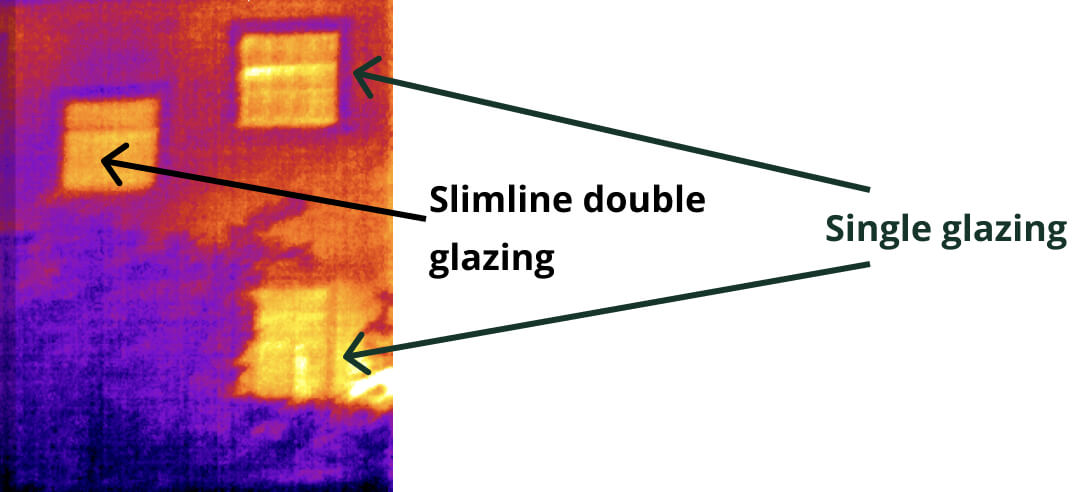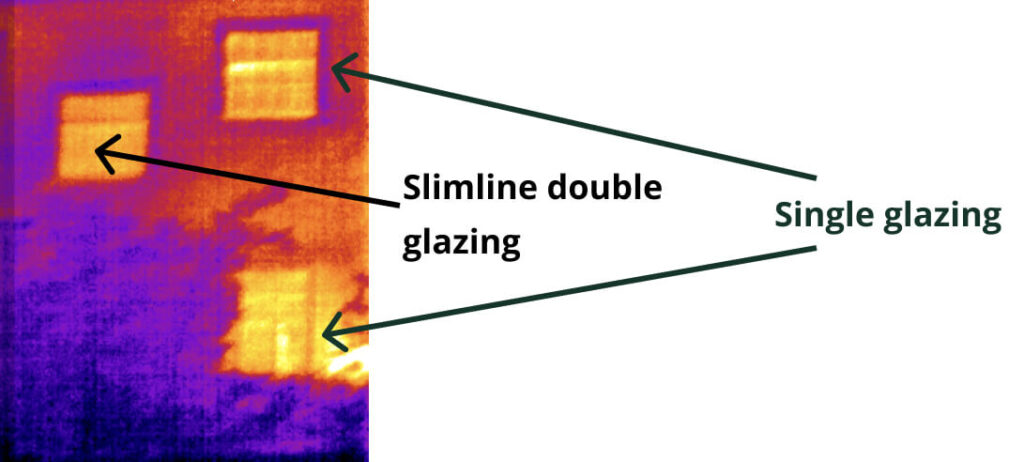 The sealed units also have a thin layer of metal oxide coating on the glass's inner surface, reflecting heat back into the room.
This double-glazed unit is used to improve the thermal performance of existing windows and provide solar control and noise reduction benefits.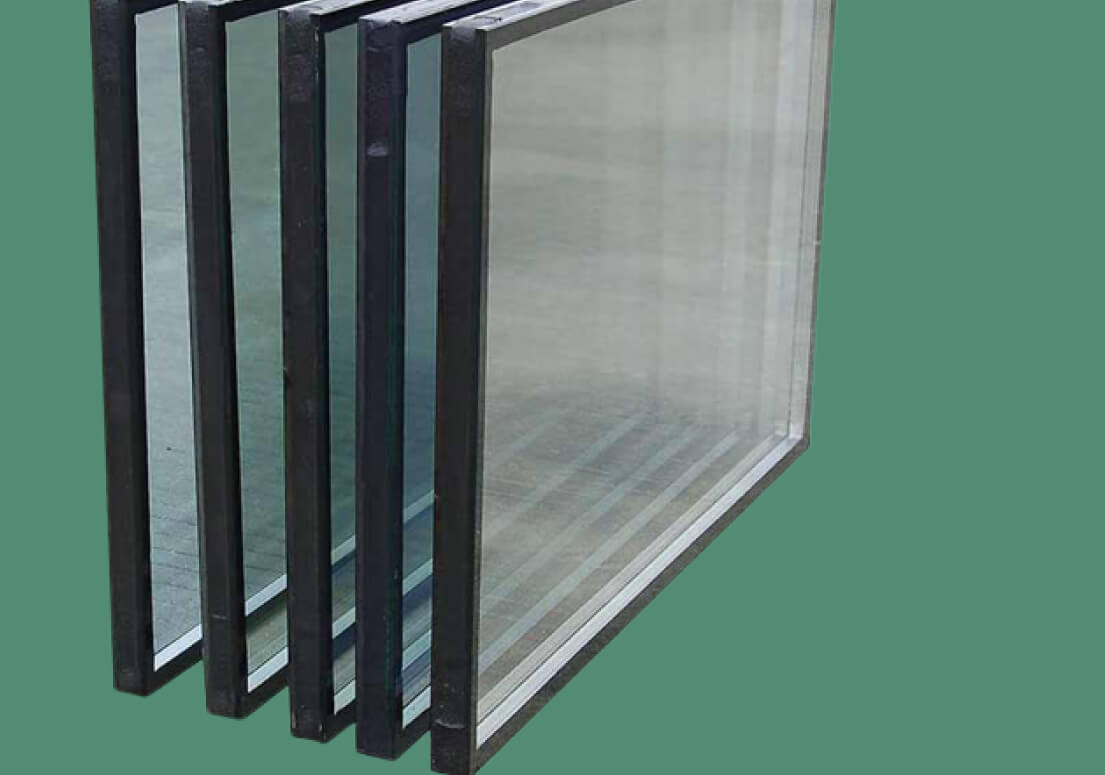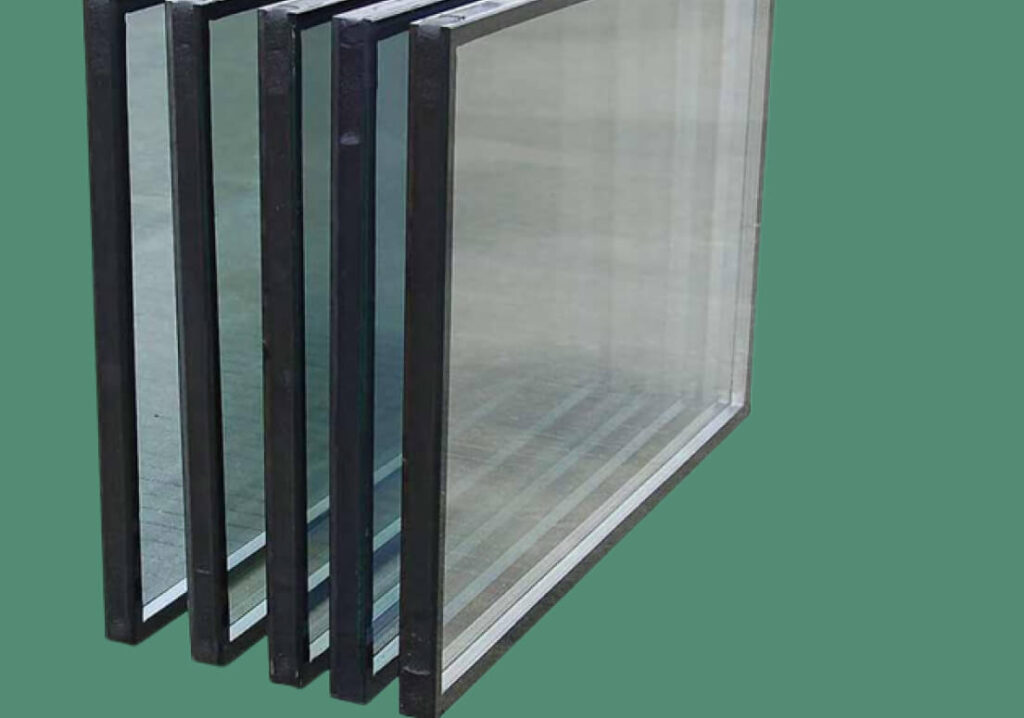 We do not work with slimline double glazing because it loses its insulation properties sooner than vacuum double glazing, you can read more about this problem of gas-filled double-glazed units in our other article, which covers this issue in depth.
Vacuum-sealed double-glazed units
The second option is vacuum double glazing units guaranteed by the manufacturer to last for at least 15 years but will probably last longer due to fundamentally different physics that stands behind VIG technology.
Heat-loss imaging of vacuum double-glazed units and single glazing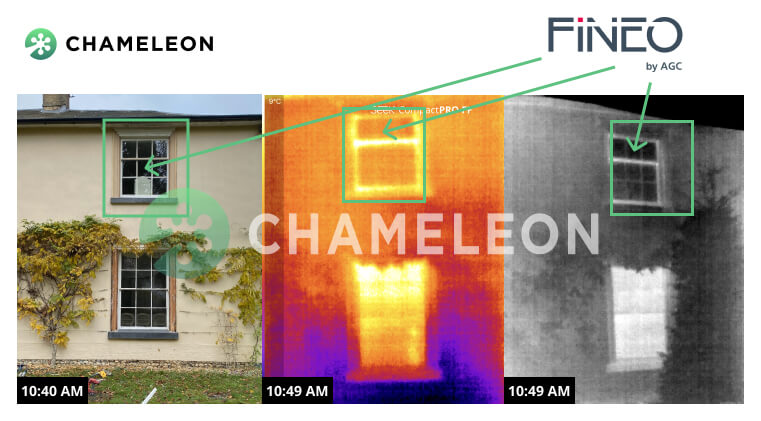 The VIG glass requires more advanced manufacturing equipment than regular double glazing and there are only a few companies and countries which manufacture it.
The FINEO glass that we use is manufactured in the EU, unlike other vacuum double glazing brands which are manufactured in China and Japan.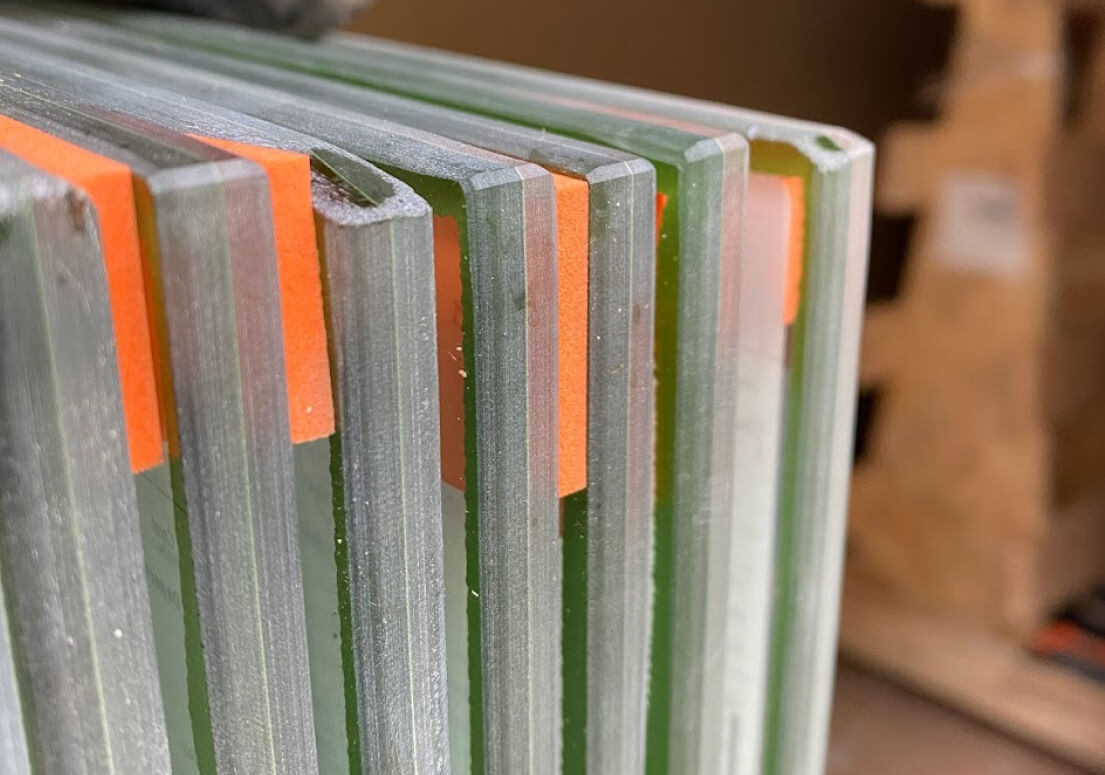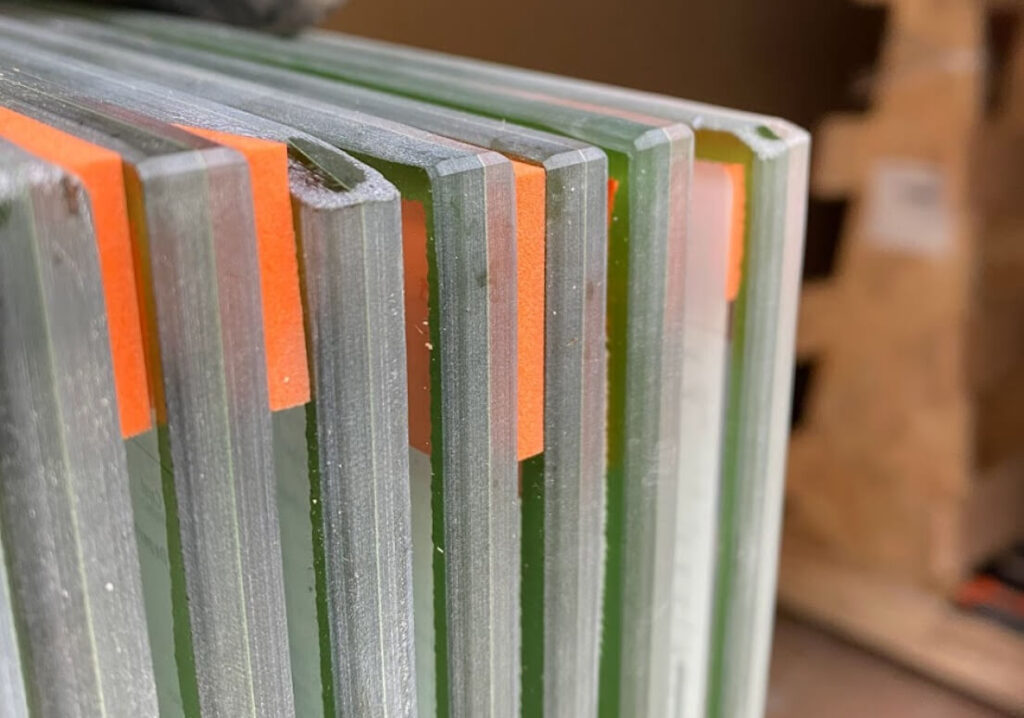 Why FINEO glass?
There are now many brands which offer slim double-glazed units, but not all of these are suitable for windows in Grade 2 listed properties due to visible evacuation ports and visible supportive pillars/Microspacers.
As of May 2022, FINEO has the best double-glazed units for heritage windows as FINEO glass does not have an evacuation port/cap; almost no cavity or supportive pillars are visible from a distance of a few meters or even closer if you are not looking to find them there. It is also suitable for listed buildings.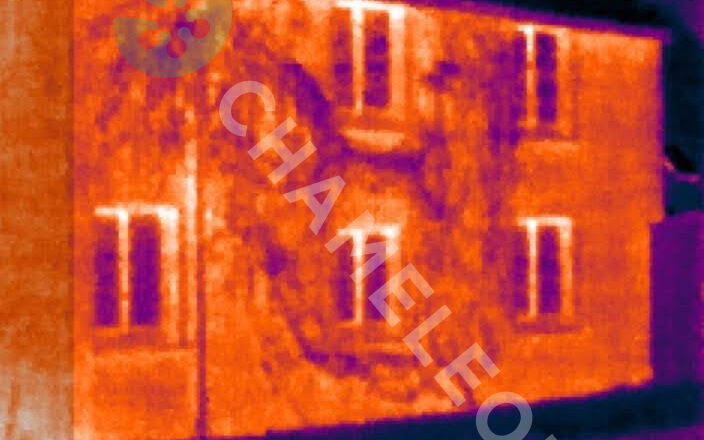 Do I need permission to install slim double-glazed units?
Yes, you will need to contact your local conservation officer and submit an application, as a change of window glass to double-glazed units in a historic building significantly alters the original window features.
In general, we now see the trend that local authorities grant more permissions for this type of work as, in the end, retrofitting does not affect the style or the look of the historic buildings if installed correctly and, most importantly, improves windows' energy efficiency.
If you live in a listed building, you should definitely consider slim double glazing prior to window replacement.