Repair traditional front doors instead of replacing them
Here at Chameleon, we have years of experience restoring traditional sash windows and front doors in period homes. It is a great way of putting life back into a period home without changing your home's traditional look and its entranceway.
Our front door restoration services will make your front door look new again. But not 21st century new; it will look like it did when it was first installed into your home decades ago!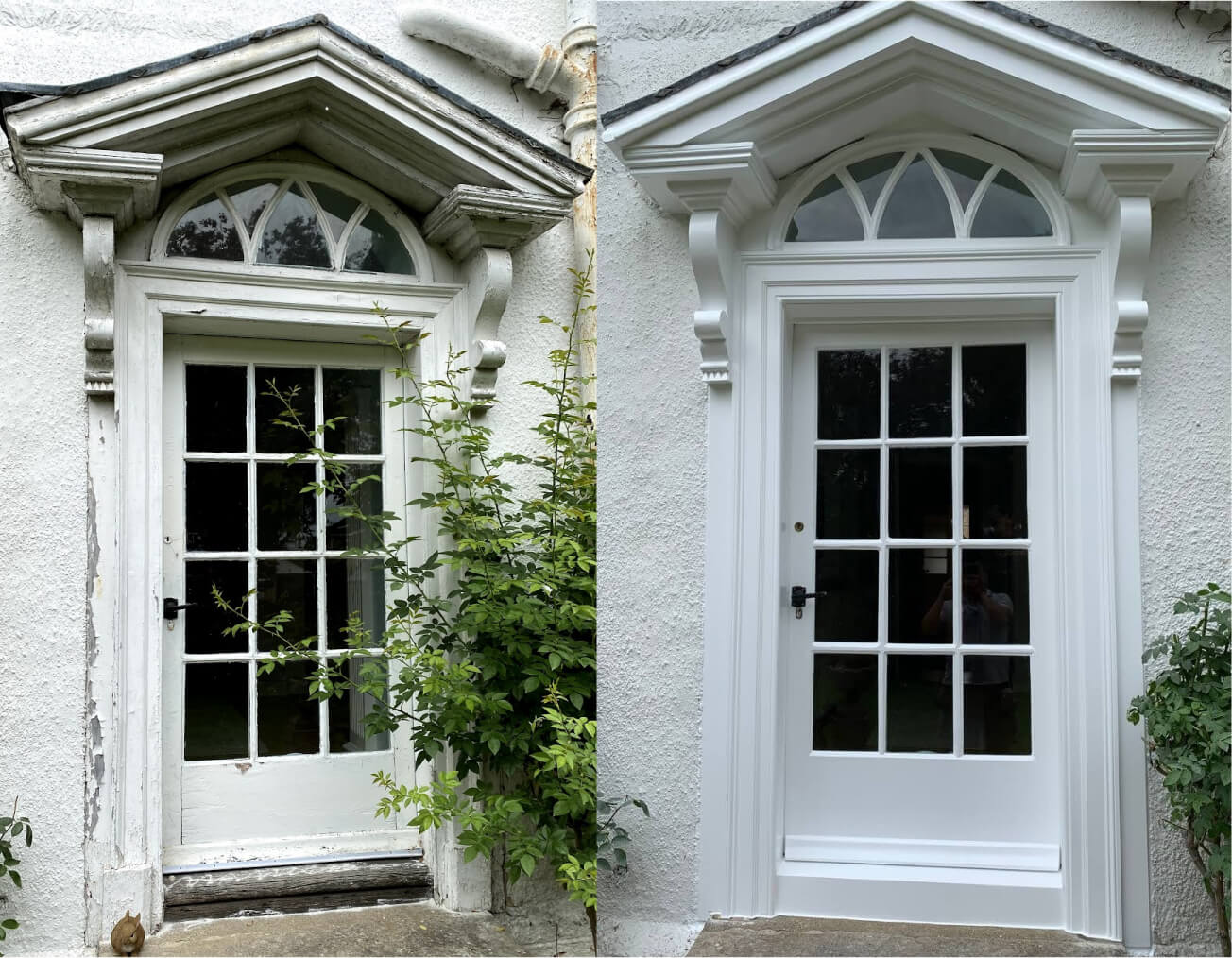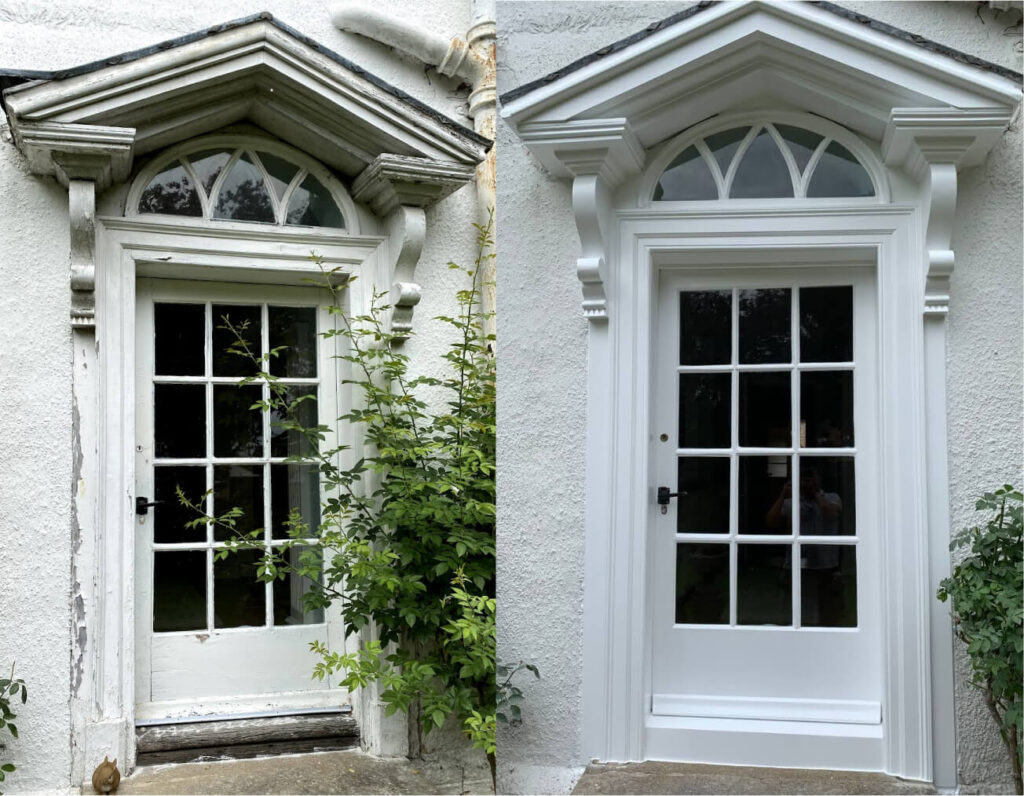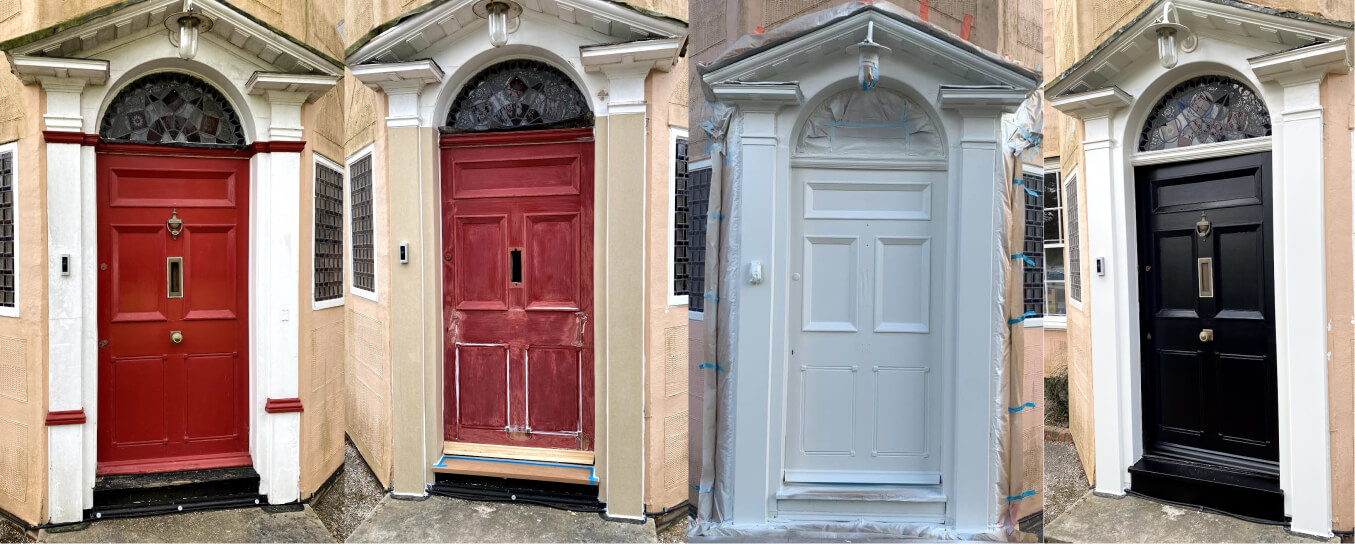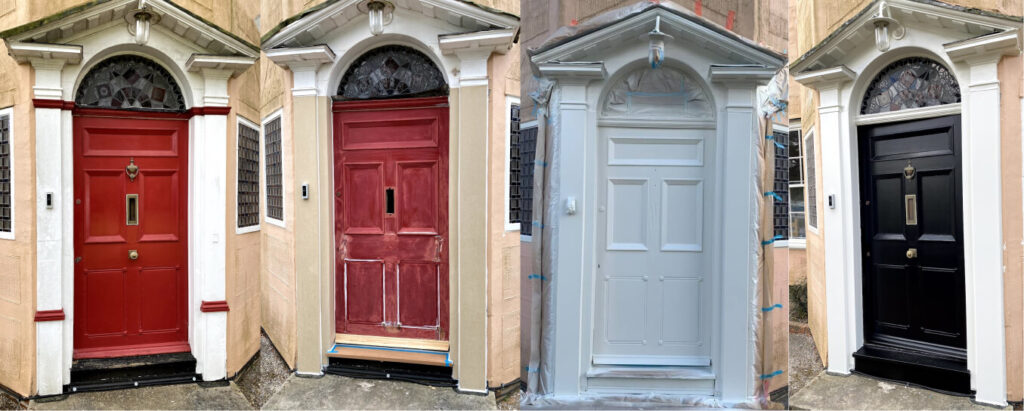 Period wooden door restoration
On the face of it, this lovely front door looks great. Sadly, the paint was hiding a few things that our team of restoration specialists needed to repair and replace. A lot of the wood around this door needed to be replaced because of rot damage, and the cross members of the door also needed some attention.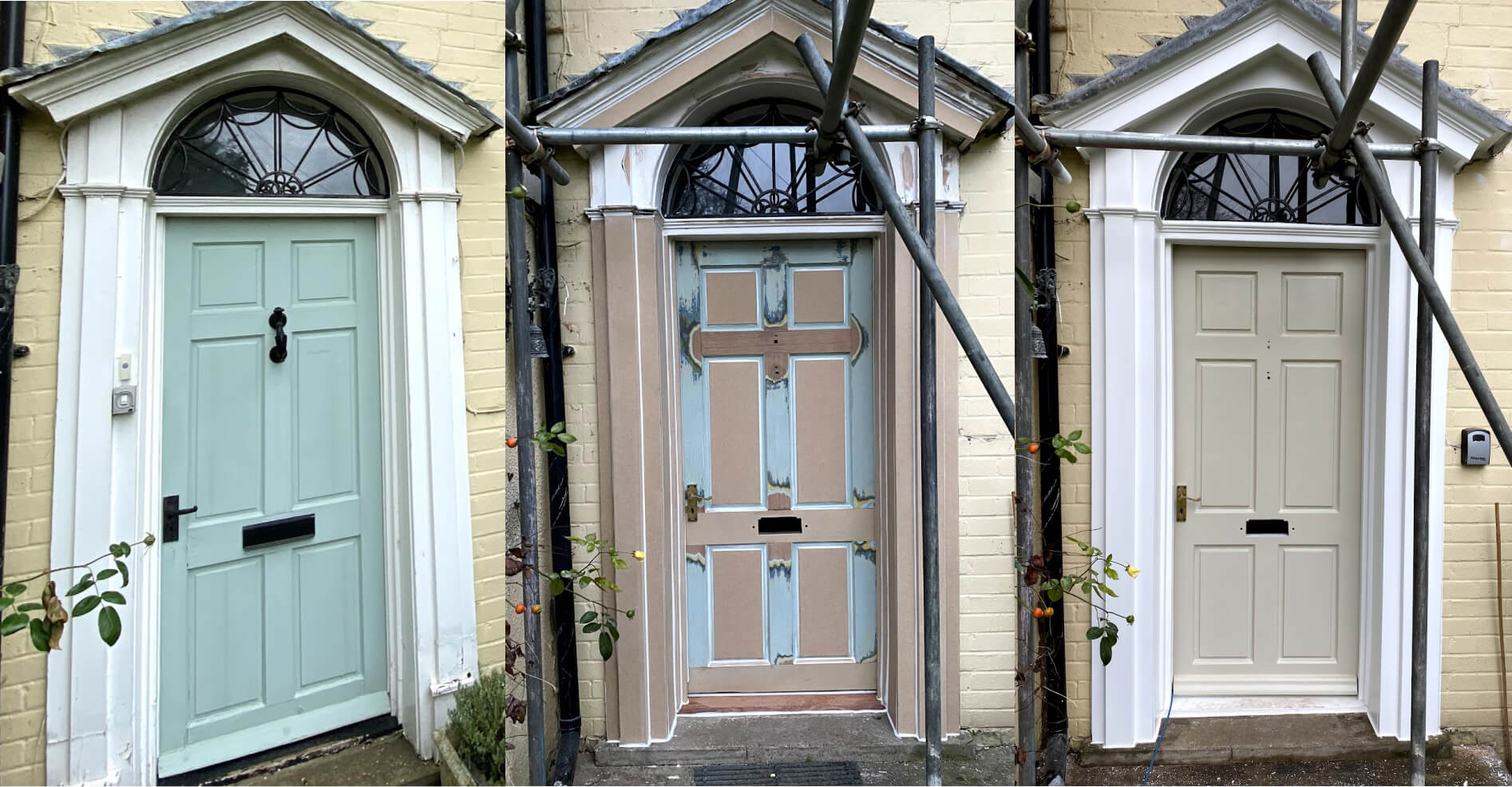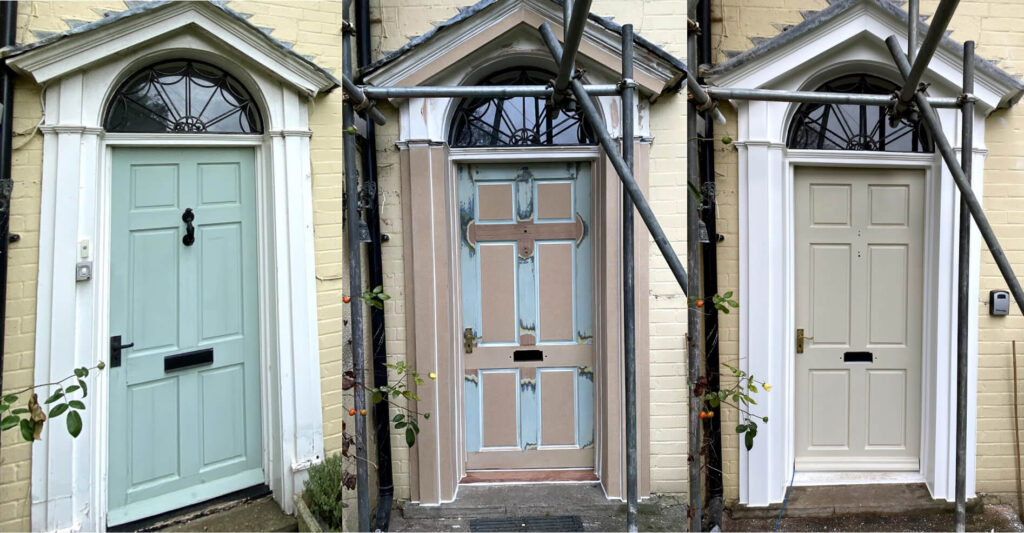 However, instead of ripping out all of the elements that gave this wood door its charm in the first place, our team replicated all of the old pieces to ensure the look didn't change at all. What the customer is left with is a period feature that is solid and beautiful, yet the style of the door looks exactly as it did when it was first installed; we just gave it a new lease of life.
Replace door frame sill
A door sill can be one of the first to show rot and damp issues. This is because the sill is on the floor. Any rain that hits the door will flow down on the sill and can even pool near the sill, depending on the grading of the floor.
Replacing the door frame sill is a great way of protecting your home from water and mould issues but also makes the entrance of your home look incredible again.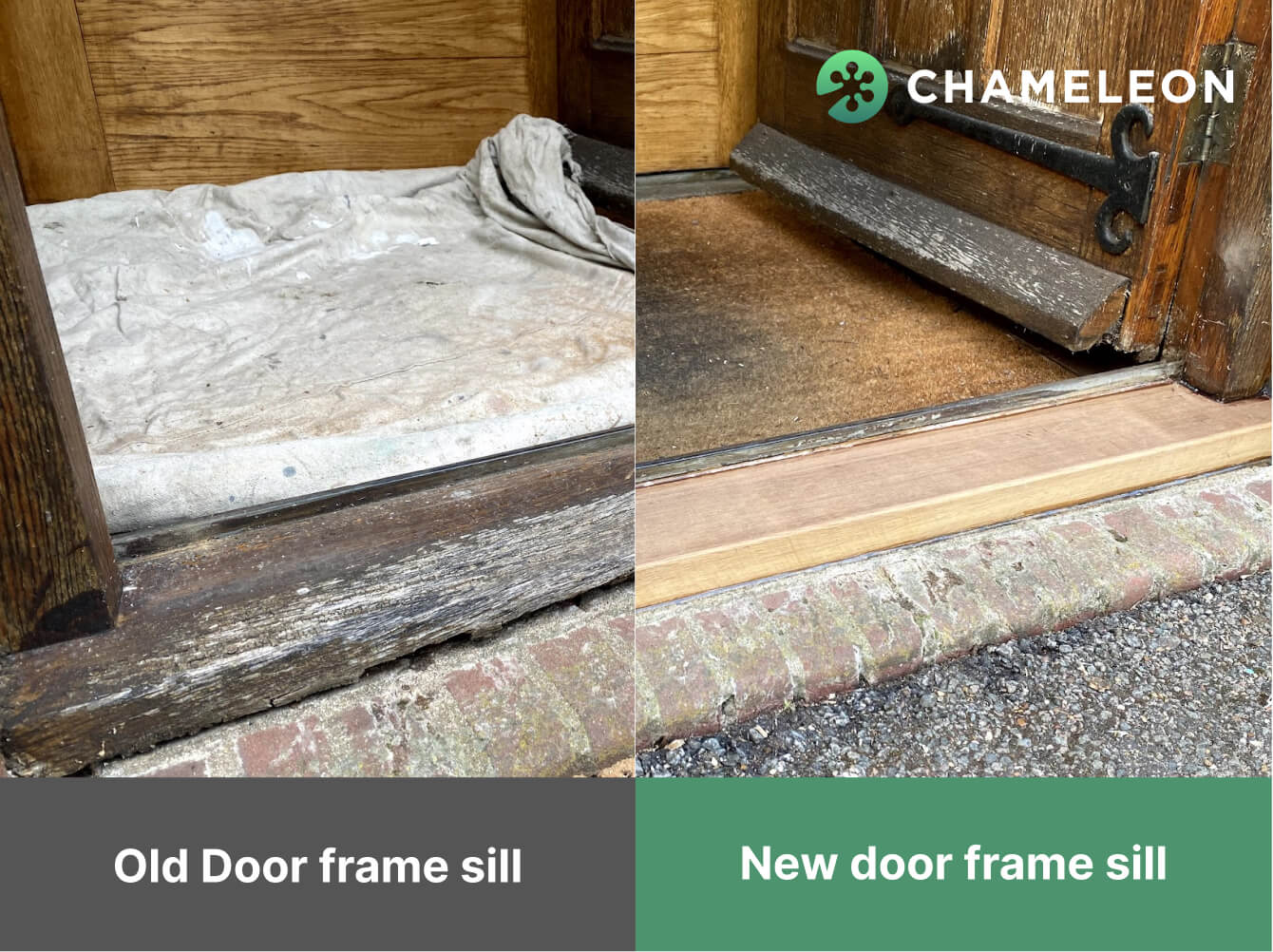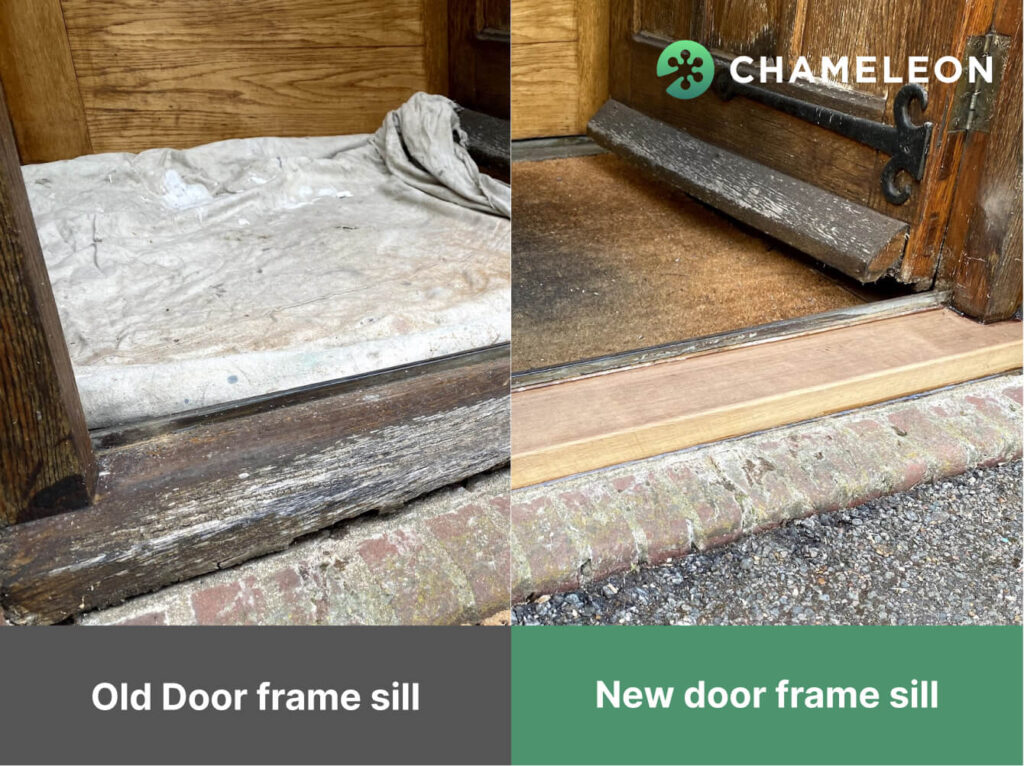 The door sill is something everyone that enters your home will look at. A new hardwood window sill ensures your front door looks beautiful and is the welcome all your guests deserve.
We usually replace door sills as a part of wooden windows restoration projects; however, we do not replace window or door sills as a service.
Our specialist wrote an article about replacing a wooden door sill, which you can read and do this job yourself and save money on professional services.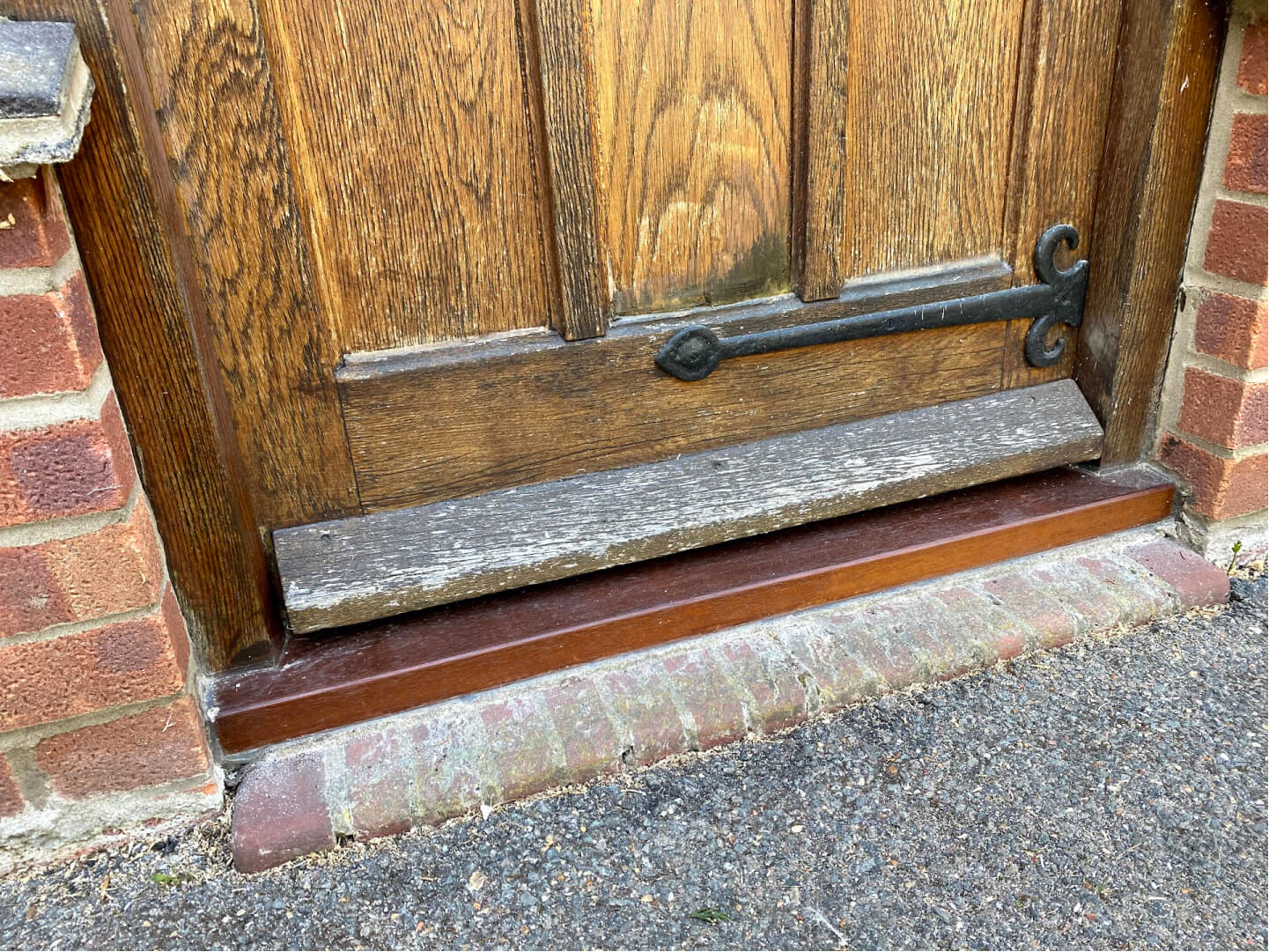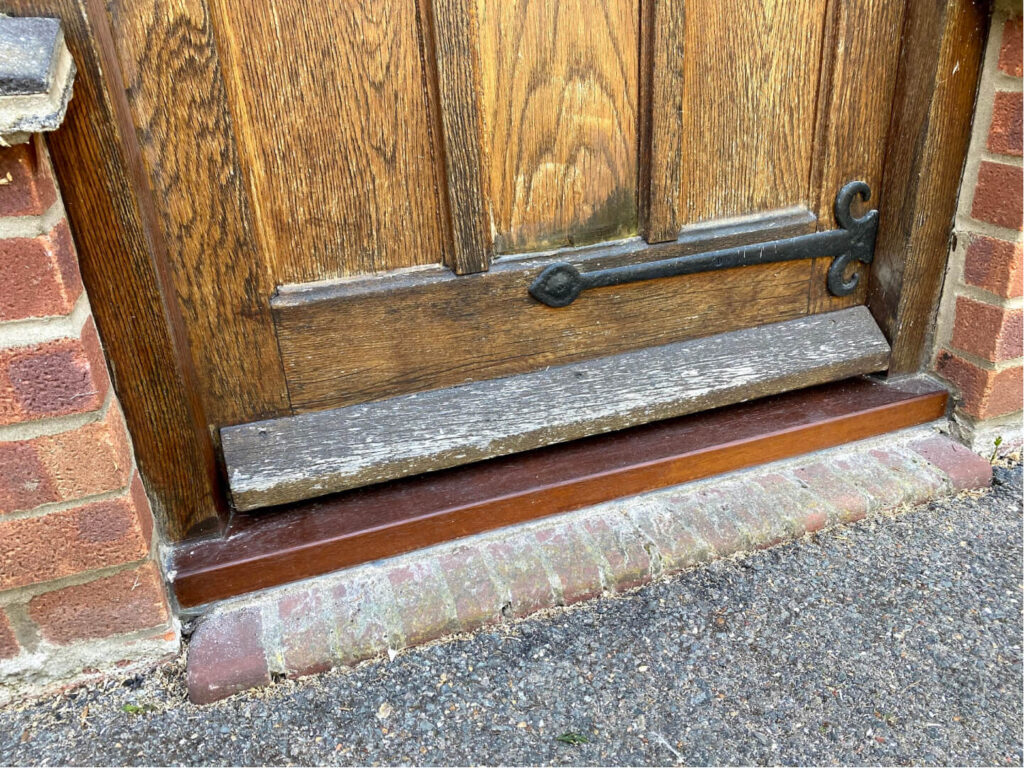 Door case restoration
The images below show the process of door casement repair.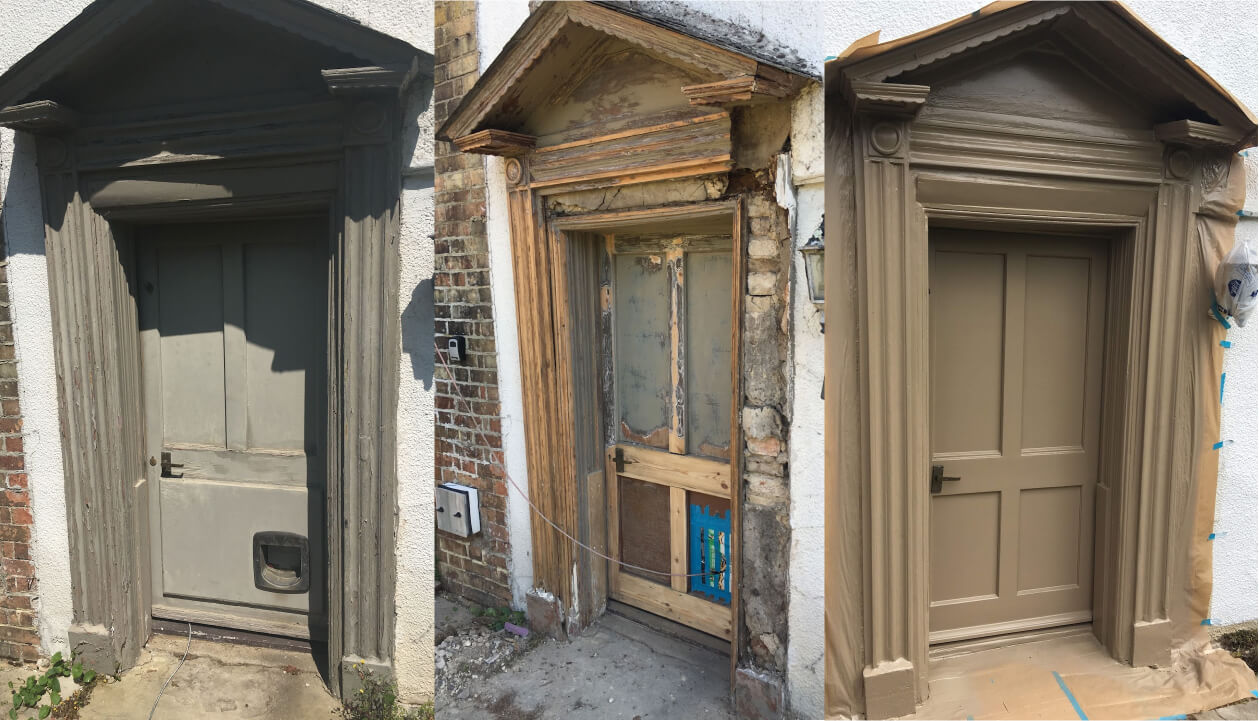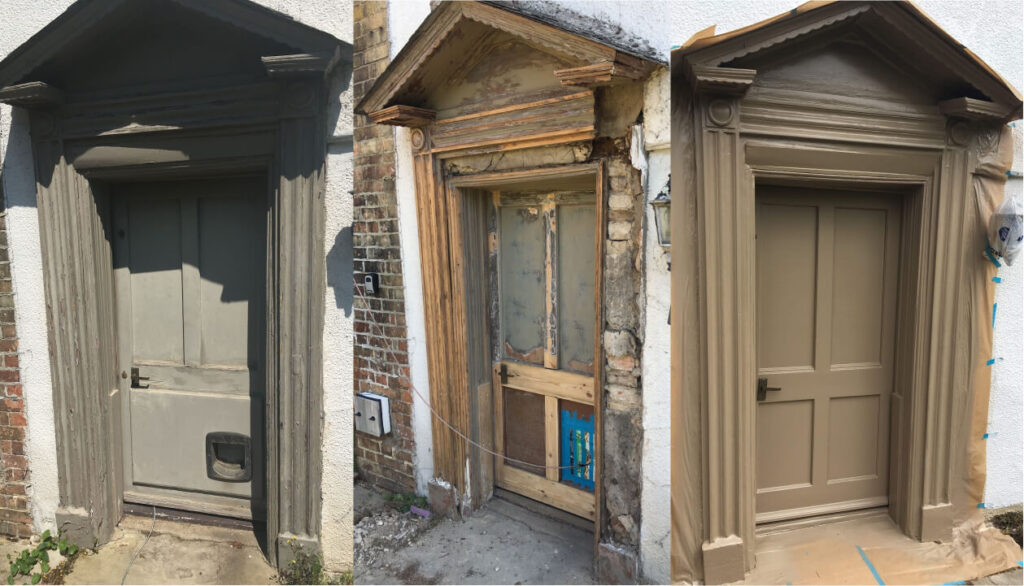 Once all the moulding and decorations were perfectly recreated, they were installed onto the brickwork, and the door was draught-proofed.
Any smaller areas of rot in the existing frame were treated, and then the entire doorcase and door were sanded, primed and painted. Now the team at Chameleon and the house owners could finally see how beautiful this door used to be. Our team didn't change the style of the door at all.
Draught-proofing front doors
Replacing rotten wood on a beautiful front door is a great way of bringing it back to life. Just by replacing any damaged wood, you can see how the door was supposed to look when it was first installed, and it can set the entrance to your home off nicely, ready to welcome guests.
However, draught-proofing a wooden front door is just as important. It ensures that air and water won't get into the wood and your home.
This is why all of the front door restorations include draught-proofing. It is a vital part of the restoration work that protects the door and the home for many years.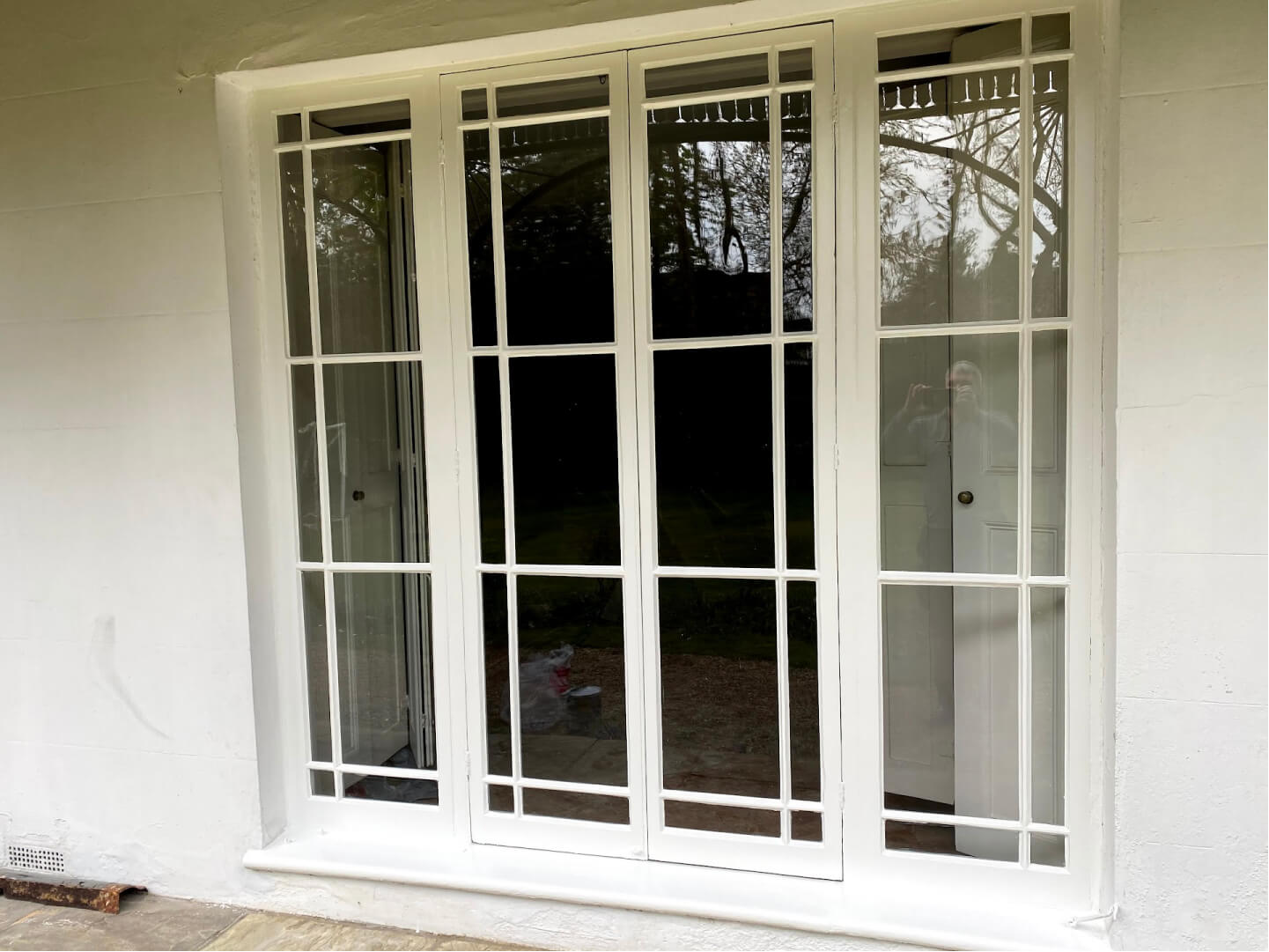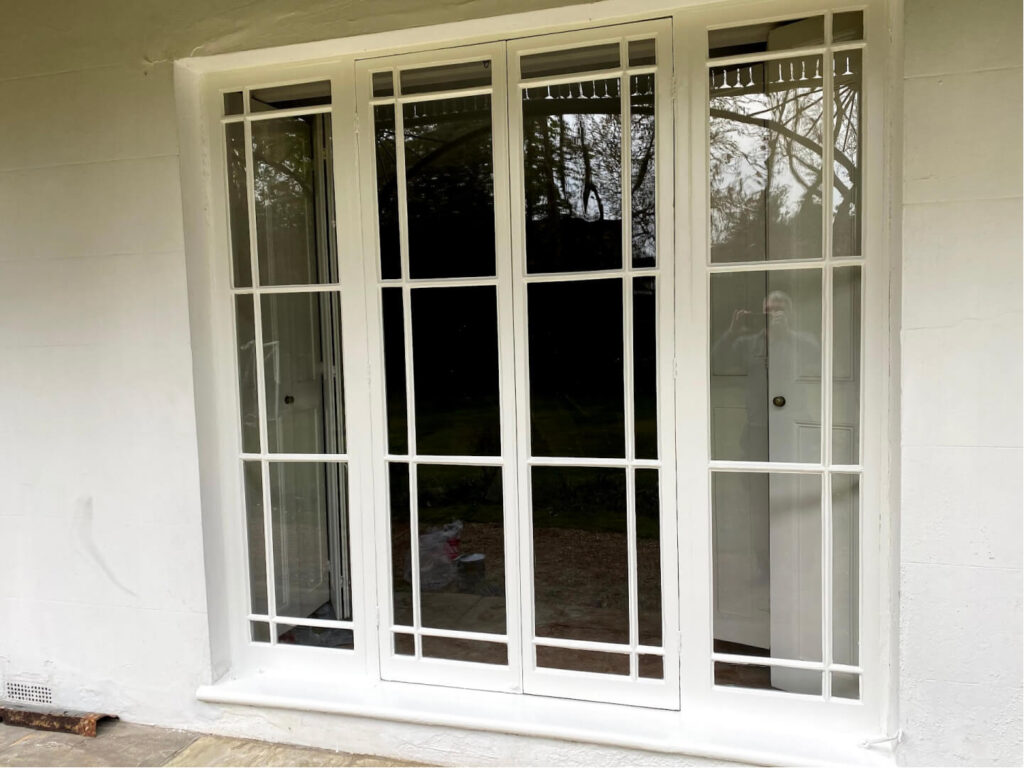 Double gazing existing French doors – improve the efficiency of existing doors
By fitting double-glazed units into your existing French doors, you can greatly improve the energy efficiency of your doors.
Chameleon uses FINEO glass in all of our double glazing work to ensure that our customer's doors and windows have the best energy efficiency possible without changing the wonderful style.
Rather than ripping out your old French doors and replacing them with uPVC alternatives that never look as good, FINEO glass allows us to fit double glazing directly into the existing wooden frames. So, your French doors won't look any different because they are the same frame. However, they will now have double glazing that is just as effective as triple glazing.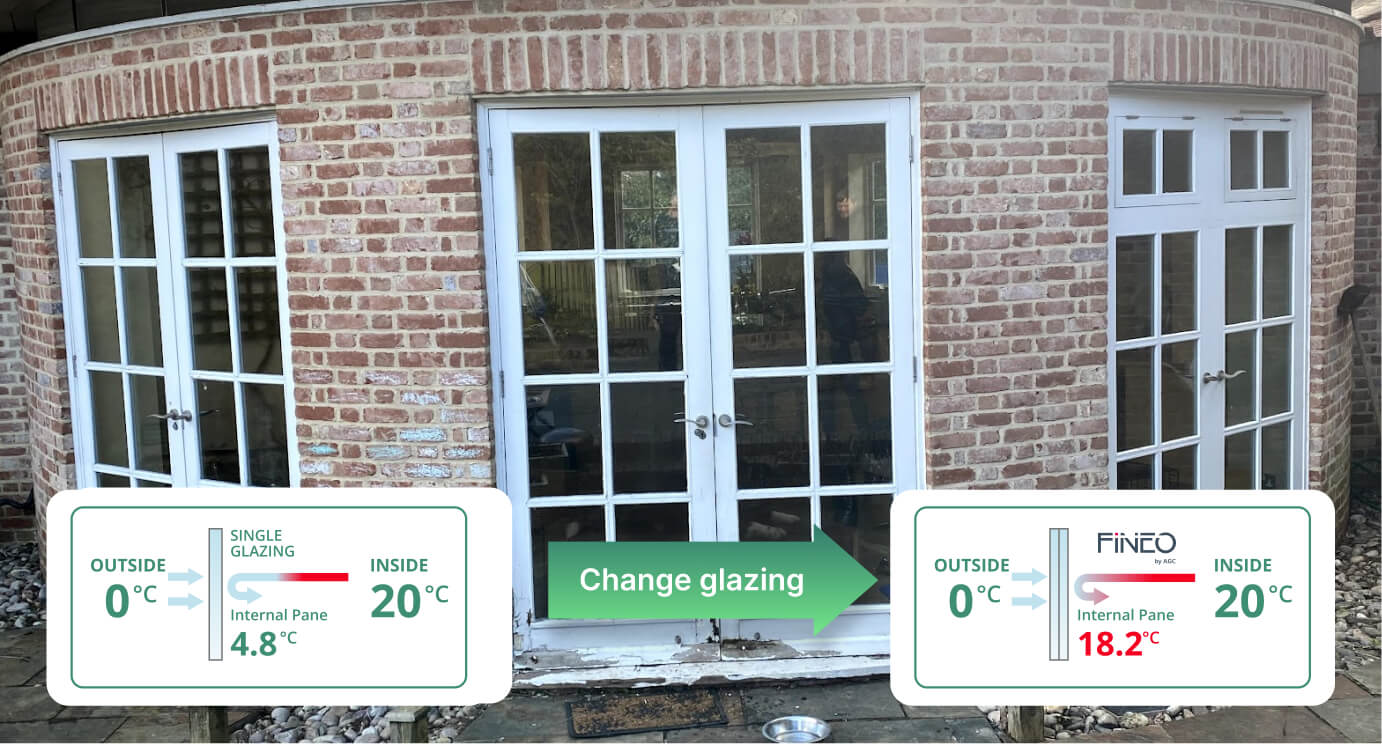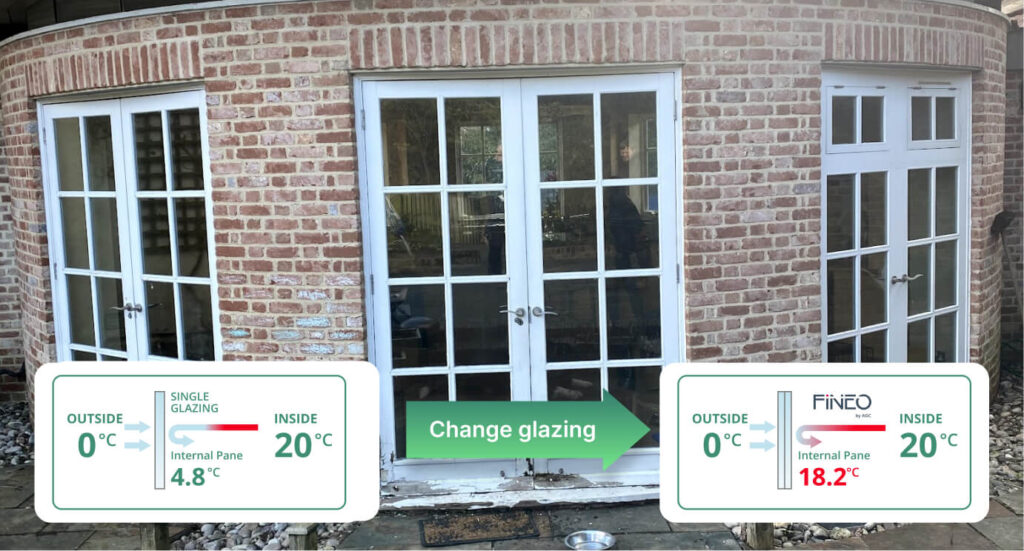 FINEO double glazing is just 7 mm thick. It is vacuum-sealed and has a vacuum between the panes of glass which does not transmit energy. This means the glass panes can be very close together and still have high energy performance. This makes FINEO perfect for reglazing period French doors and windows.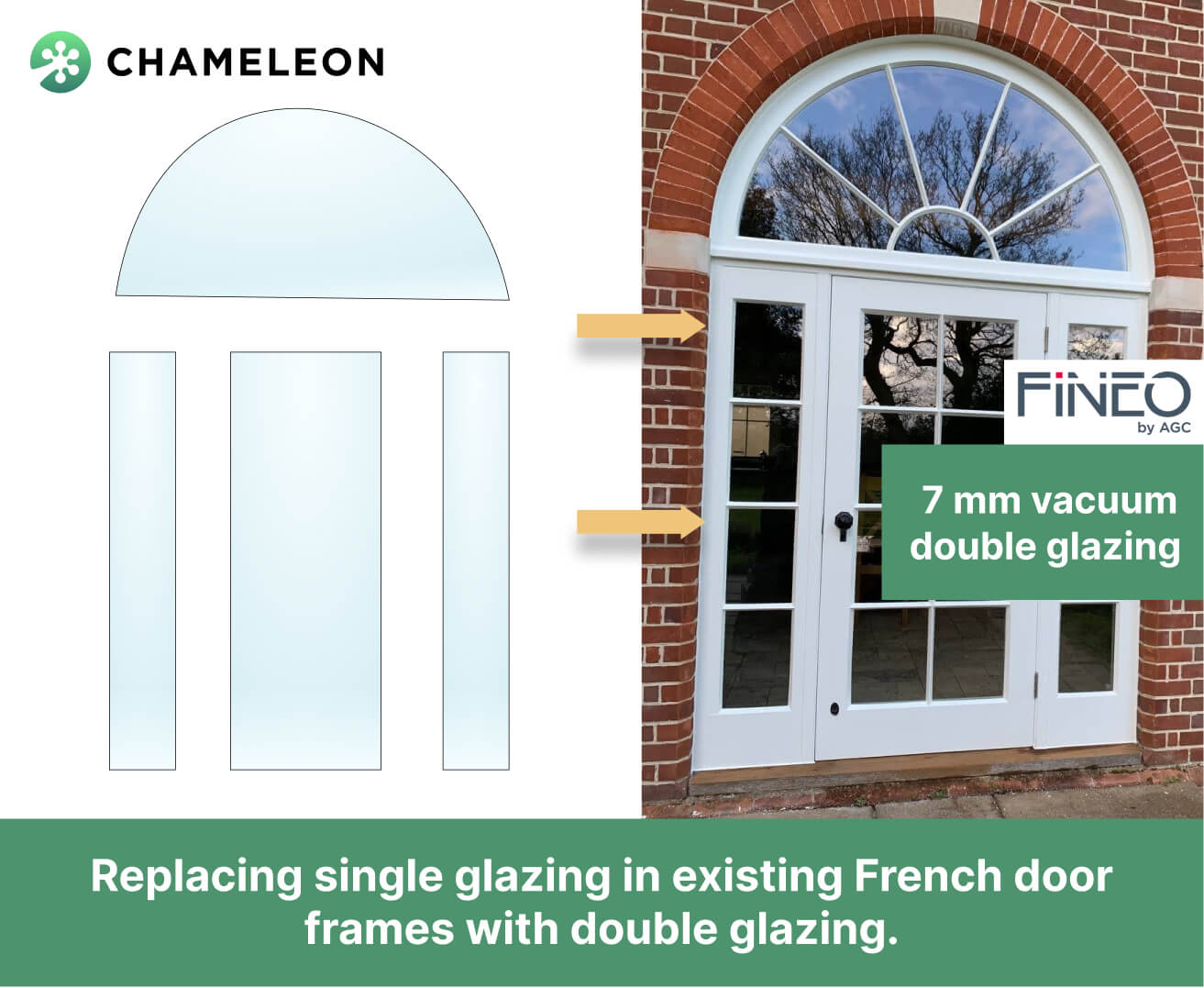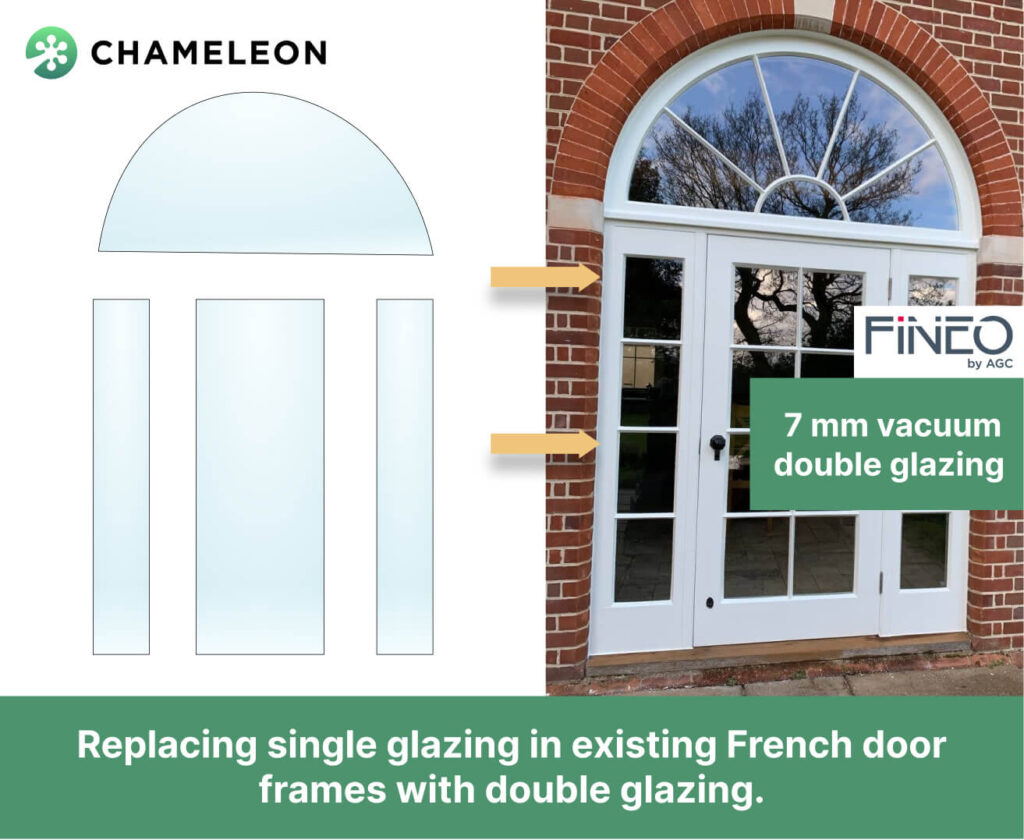 How much does it cost to replace glass in a French door?
The cost of replacing glass in French doors varies depending on the door's style and how many panes of glass the door has. Sadly, it's difficult for us to provide a quote for restoration and retrofitting double glazing into an existing French door without first seeing the door.
However, get in touch if you have windows and doors that you'd like Chameleon to restore. We can provide a detailed quote for our restoration services after a site visit.
Paint sprayer finish
Paint spraying is the last step of front door restoration. To complement our joinery and refurbishment work, all of our restoration work is finished by spraying renovated surfaces. We spray the paint onto wooden doors and windows for various reasons.
Firstly, spraying the paint ensures a consistent and smooth coat of paint is applied. If we use a brush to apply the paint, brush strokes may be visible and small areas may be missed. The brush strokes will look unsightly, which we always like to avoid. If any areas of paint are missed, this will cause a problem in the future.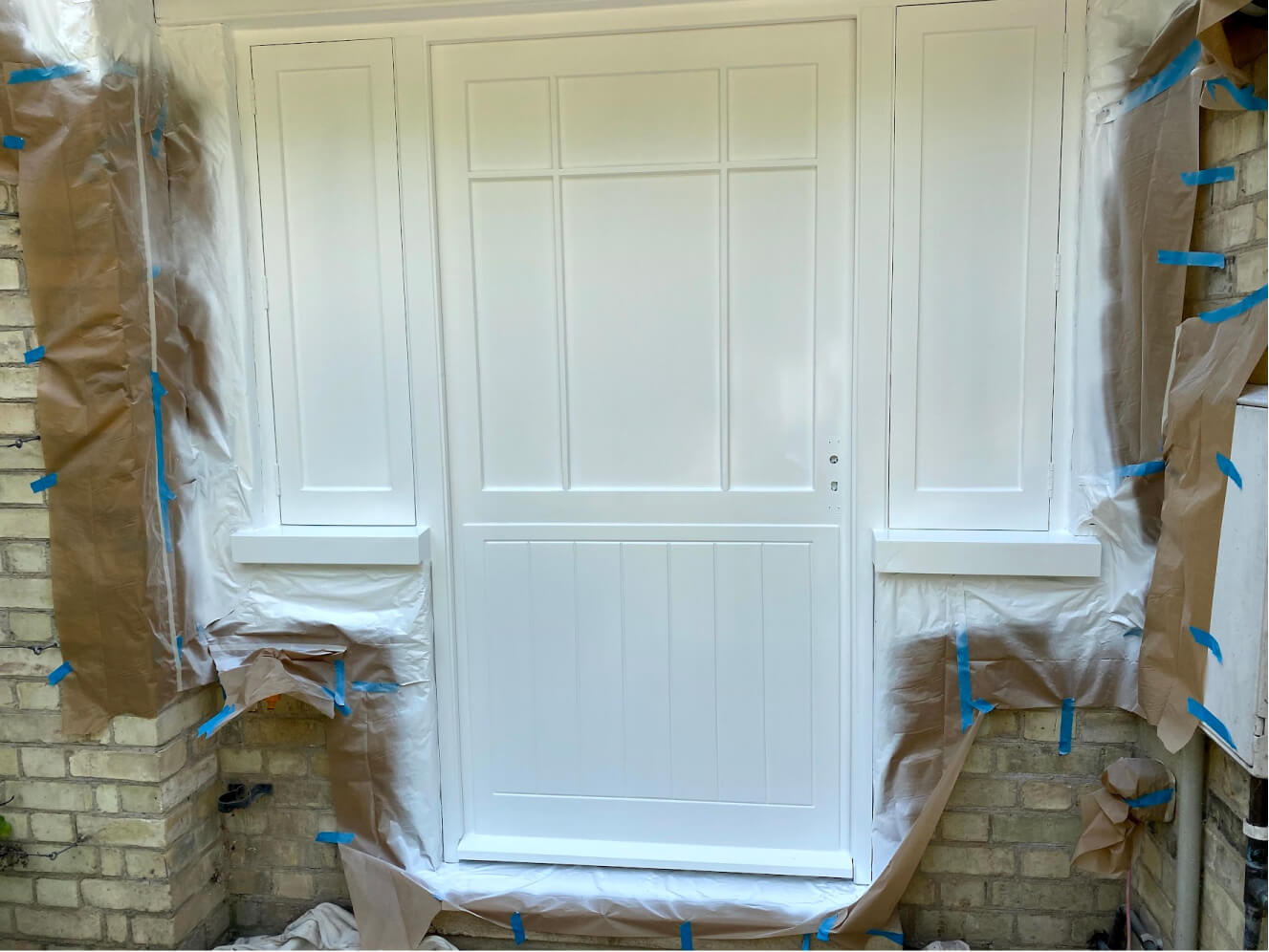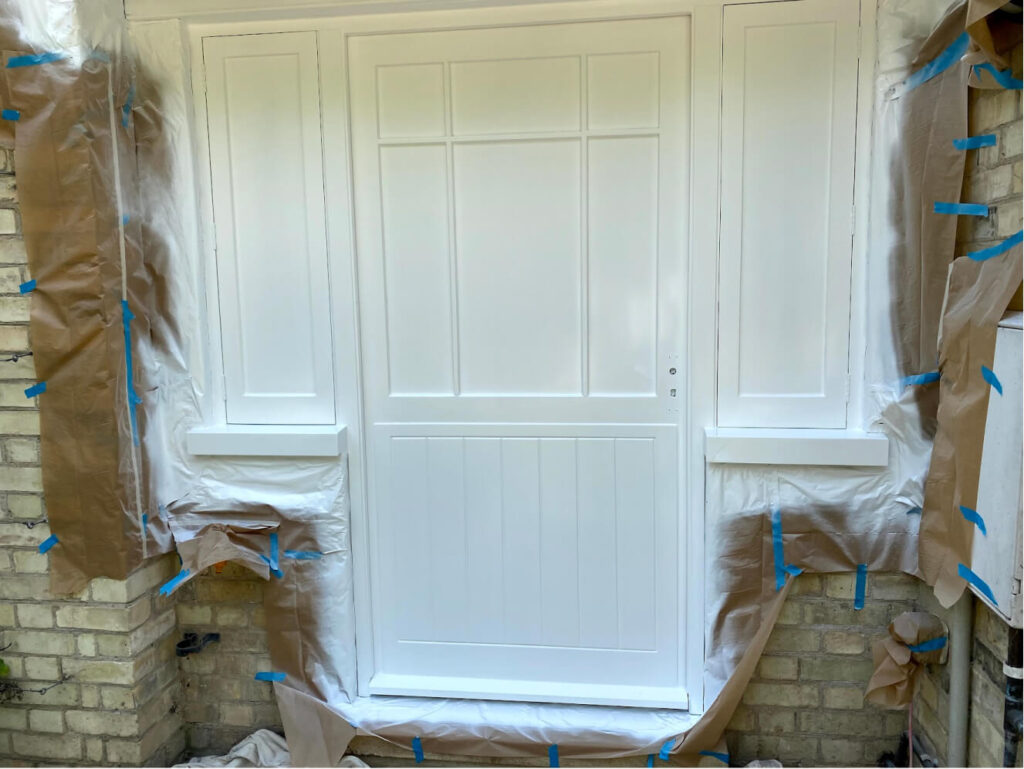 Exterior wood needs to be protected from the elements. So, while the paint is decorative in many ways, it is also the first line of defence that protects your front doors and windows from rotting.