External door sill replacement
In older buildings, external door thresholds are usually placed directly on the building's foundation. Their timber is highly exposed to weather conditions and daily use, causing them to deteriorate faster than any other part of the doorframe.
To preserve the door, frame, and threshold from weathering, adding a porch or a visor above the front door is a recommended option.
However, this can be an expensive option, and if you live in a Grade 2 listed property, obtaining permission to add such an improvement to your home is unlikely.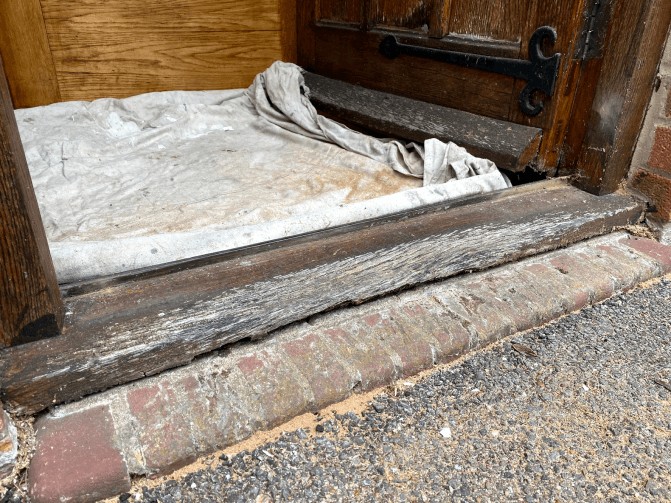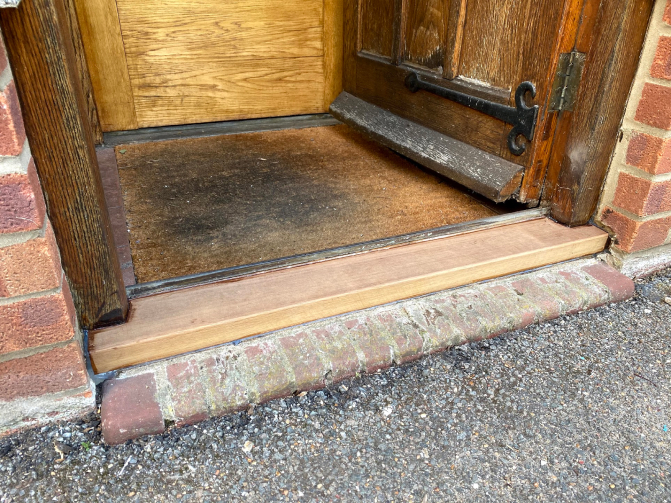 Project: Rotten casement windows restoration
Threshold replacement is a very straight forward process. Unlike sash window sill replacement, it is a much easier job.
Where to buy timber for a new door sill?
Despite the threshold's simple design, you may find it hard to buy a ready to install plank.

You are most likely to find a more or less similar profile and will need to adjust it slightly to your door frame.
Here is a list of shops where you can purchase timber for a door threshold:
Travis Perkins
Ridgeons
Wickes
Homebase
B&Q
There are also a few online shops with a number of standard profiles which can be cut to your desired width if you have time to wait for the delivery. The latter option is more expensive but it reduces the number of tools required for the replacement.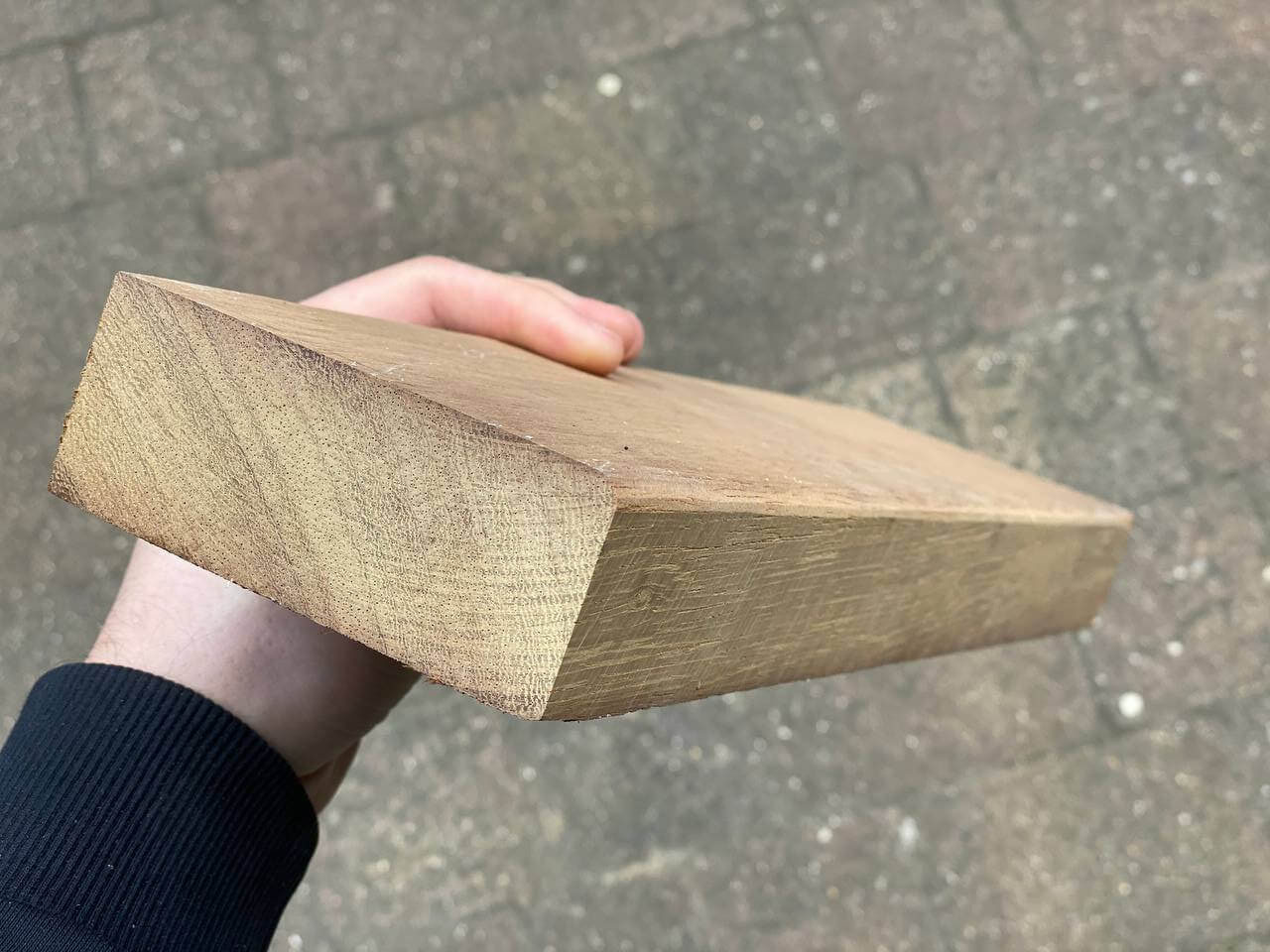 It all depends on what wooden plank you have chosen. If you purchased an exact match of your original threshold that was cut to the required length, you will only need a few basic tools to help you remove the old door threshold and a few basic tools to seal the edges of the newly installed door threshold.

If you purchased a simple wooden plank, you will need to do a couple of extra alterations, so a slightly longer list of tools will be needed. A handheld circular saw, portable saw, a track and a Fein multi-tool saw will be on it.
Please see below for the full list of tools required for external door threshold replacement. Some of them you may probably already own, so if you need to get a few additional ones, that should not be a problem as you are likely to reuse them on a number of jobs around the house.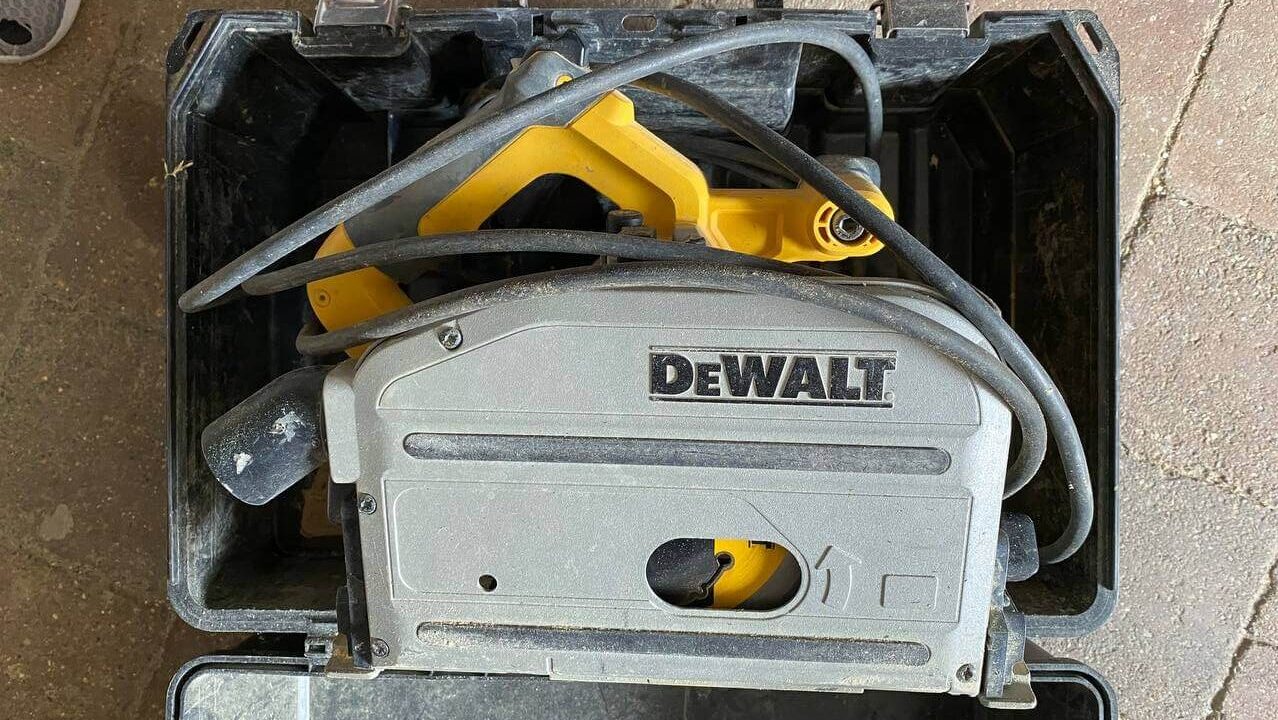 Handheld circular saw
We use DeWalt portable saw with a saw track. They'll help you precisely cut any timber to any length and width.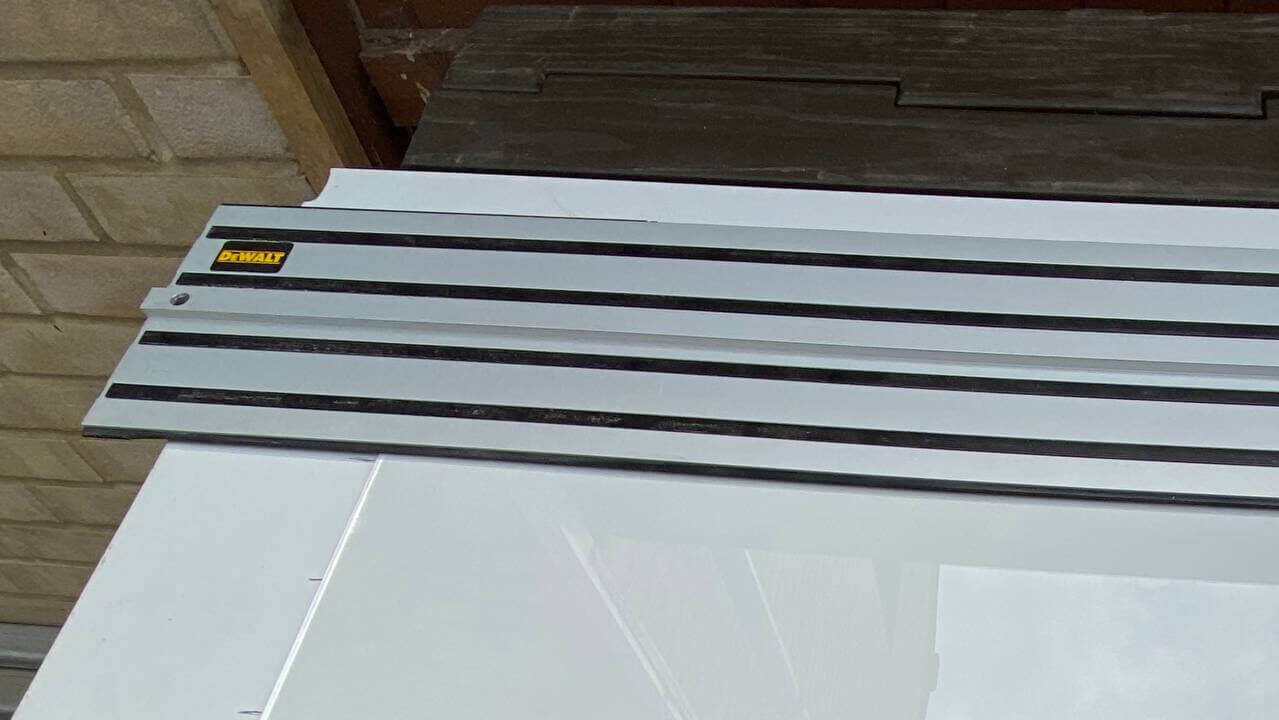 Portable saw track
Please note that the portable saw track should match the brand of your portable saw as track and saw from different brands are likely to be incompatible.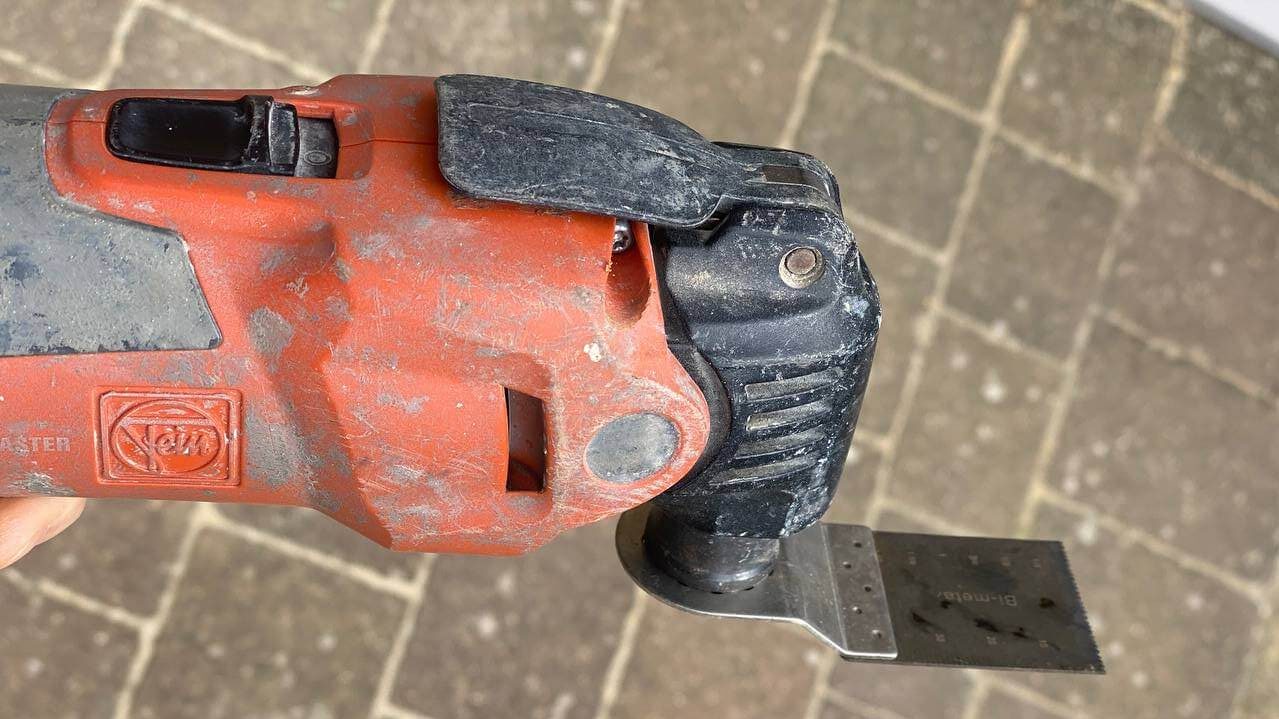 This tool should help you with cutting and removing the old door threshold. It is a useful piece of tooling but not the cheapest. See below for a cheaper alternative.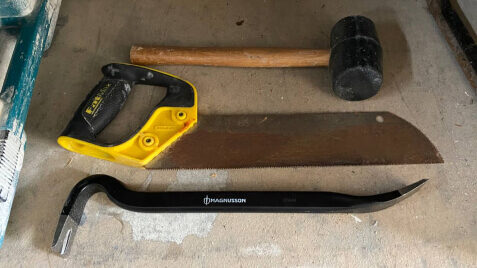 Сrowbar, hammer and hand saw
A hand saw is a budget alternative for Fein multi-tool saw. Hammer and crowbar can help you remove an old threshold. If you do not have a crowbar, you can replace it with a chisel.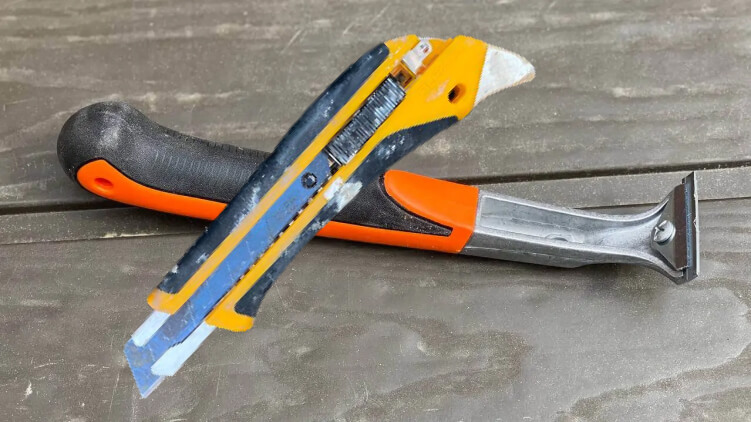 Scraper and stanley knife
These two basic tools will help you remove old sealant or leftovers of old glue.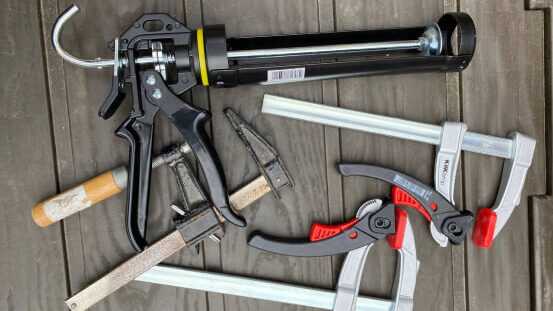 Clamps and sealant gun
You will need a couple of long clamps and a sealant gun to fix the new door threshold and seal joints.
How to remove an old wooden door sill
Cut the old door threshold sill in the middle and around the edges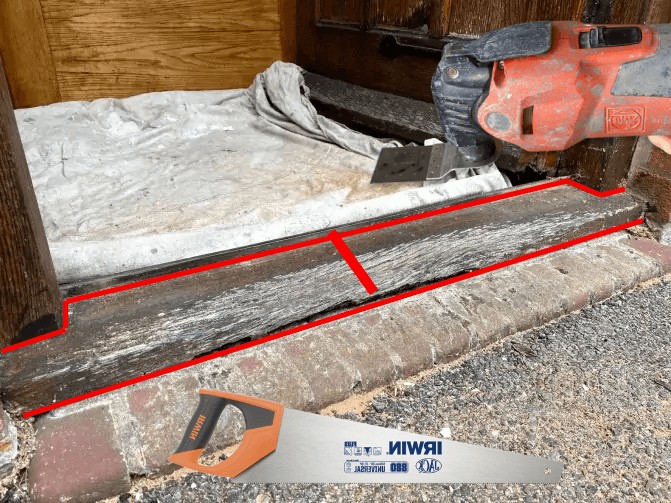 For this step, you will need a Fein multi-tool saw or crowbar, hammer and hand saw or a combination of all of the above.
You can also use a Stanley knife to cut off the old sealant.
Remove leftovers of old sealant and glue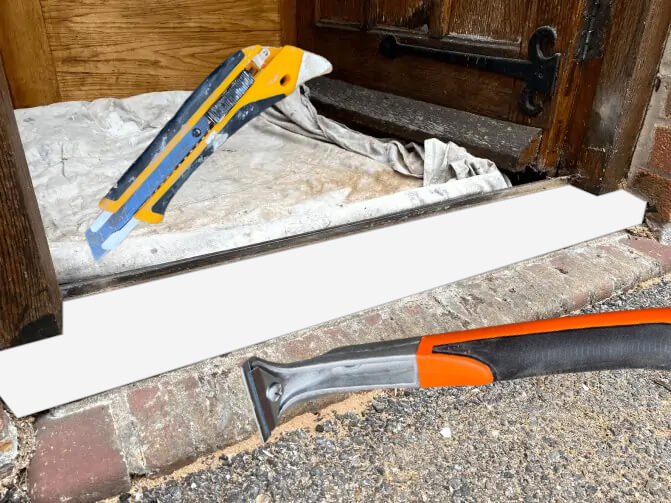 Use scraper and Stanley knife to scrape and cut off all of the old sealant and glue.
How to protect the new wooden door sill?
There are a number of ways you can preserve a wooden door threshold before and after installation.
The first step is to apply wood preservative to all sides of the door sill before the installation.
This should help to protect wood against mould, fungus and rot. All wood preservative treatments are colourless, so you can later apply any coloured stain of your choice. We tested a countless number of wood preservatives, please see below the ones we use and are happy to recommend: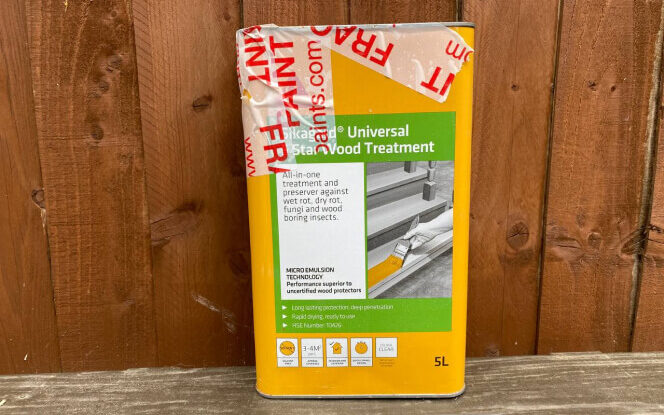 SIKA Sikagard wood treatment
Universal 5 star wood Treatment Protects against wet and dry rot as well as fungi, making it an ideal solution for both interior and exterior woodwork. This product is amongst one of the best five wood preservatives in the UK. You can apply this treatment using a brush or sprayer, and it will dry quickly while being VOC-free and almost odourless. Whether you're looking to protect your wooden fence, decking, or furniture, this treatment will provide long-lasting protection against rot and fungi, keeping your wood looking beautiful and natural for years to come.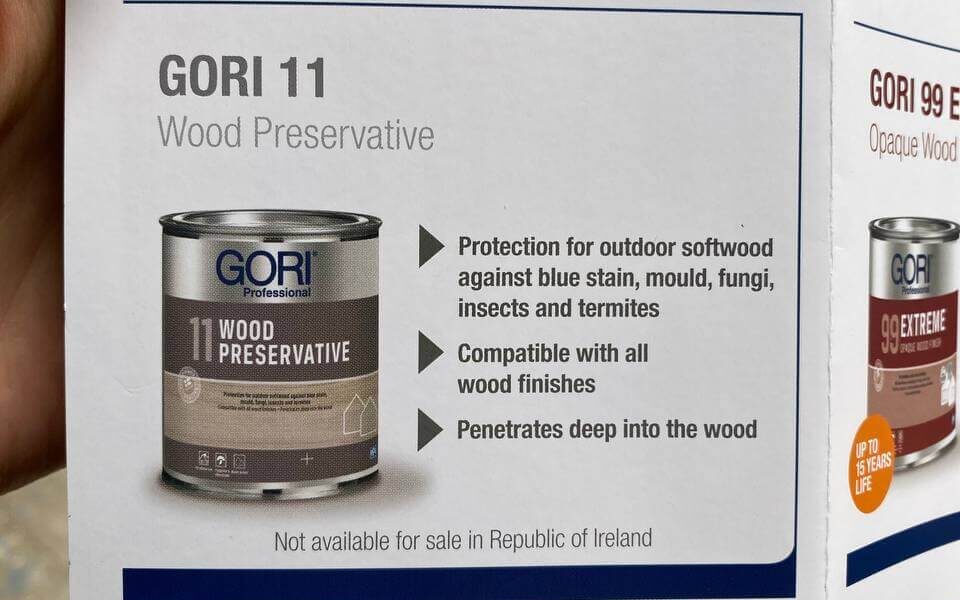 Gori 11 Wood Preservative
This product has outstanding protective properties. Can be sprayed and applied by brush.
Apply wood preservative to all sides of the wooden door sill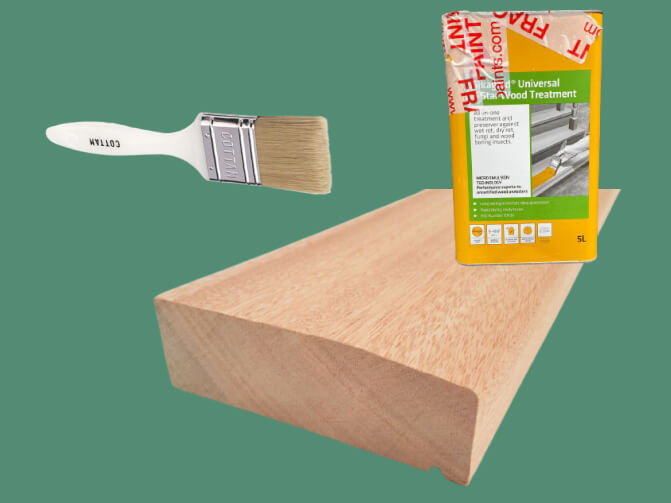 Using a brush, apply wood preservative to all parts of your door threshold
Apply wood adhesive and fix the wood tight to the frame with clamps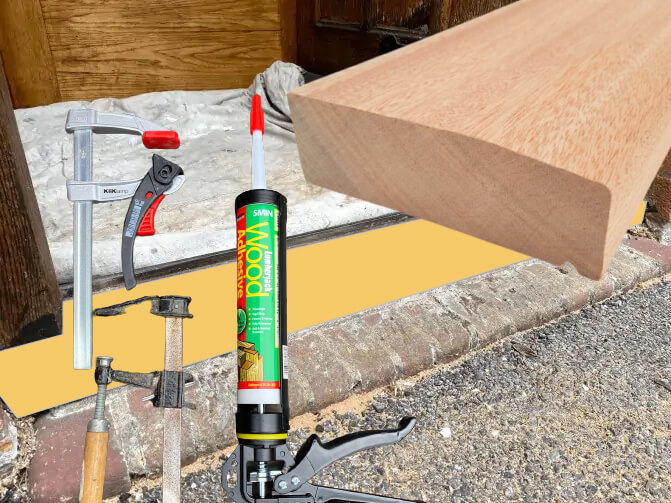 Apply wood adhesive to the door threshold and attach it to the desired place. Alternatively, you can use any "no more nails" products for this job. Clamps should help you to keep the plank in the correct position.
Once the new door threshold is affixed to the door frame, it is time for the finishing coat
For the final coat, you have two options. You can either apply wood dye and clear varnish or wood stain. We will discuss both options in more details.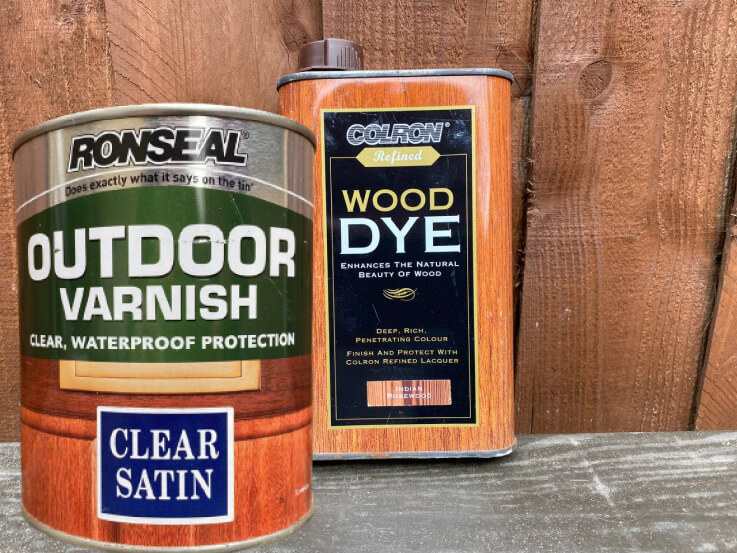 Option 1: Wood dye + clear exterior varnish
This option is perfect if you need to precisely match the colour of the door frame or you just want your new threshold in a particular colour.

First, you need to apply wood dye, which sole purpose is to add colour to the timber. Secondly, apply exterior varnish to protect the wood.
We highly recommend this option as it gives maximum protection to the new timber which will endure heavy use.
Because dye penetrates the wood deeper, there will be fewer visible scratches on the surface of the threshold.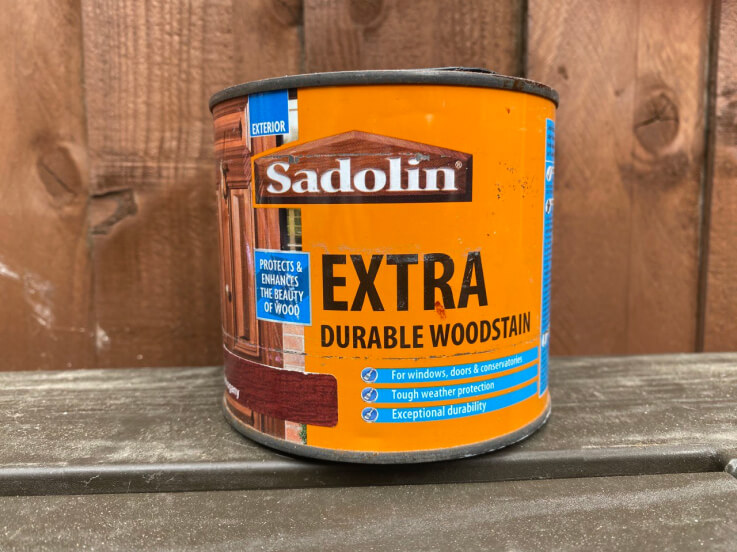 Option 2: Woodstain
Extra durable wood stain can also be used as a final touch for the door threshold.
Apply Wood DYE + Clear Satin Varnish to wooden door sill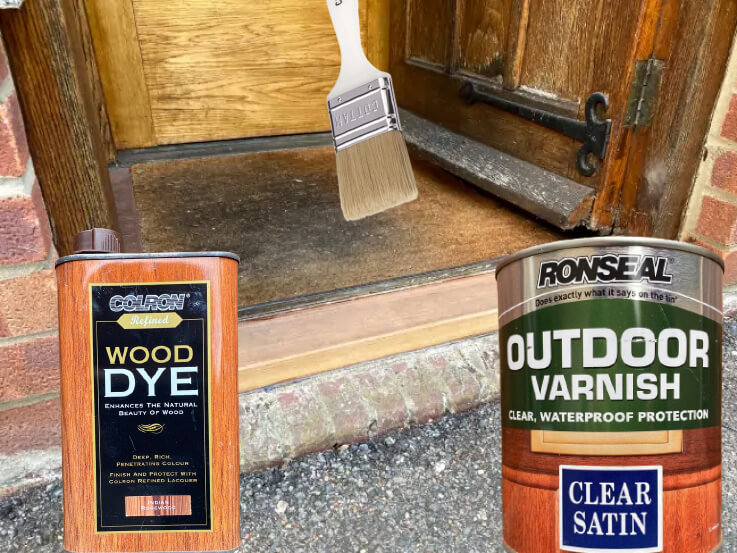 Using a brush, apply wood preservative to all sides of the door threshold
Seal all joints around the newly replaced door sill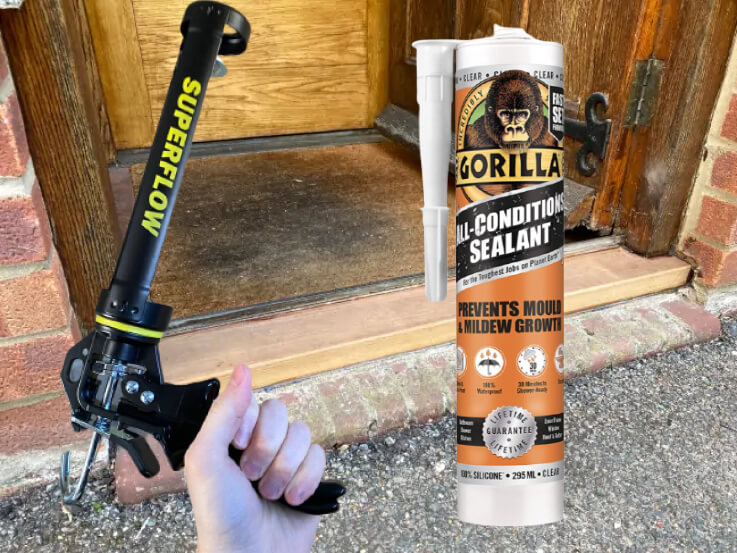 Use some clear heavy-duty exterior sealant and sealant gun to seal all areas where the timber threshold joins architrave and brickwork.
Can you leave wooden door sill age naturally?
A simple answer is yes, you can. Sometimes it is just better to let the timber age naturally.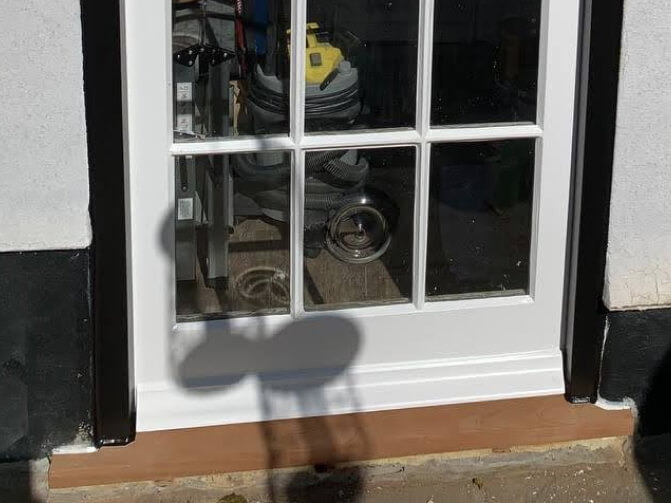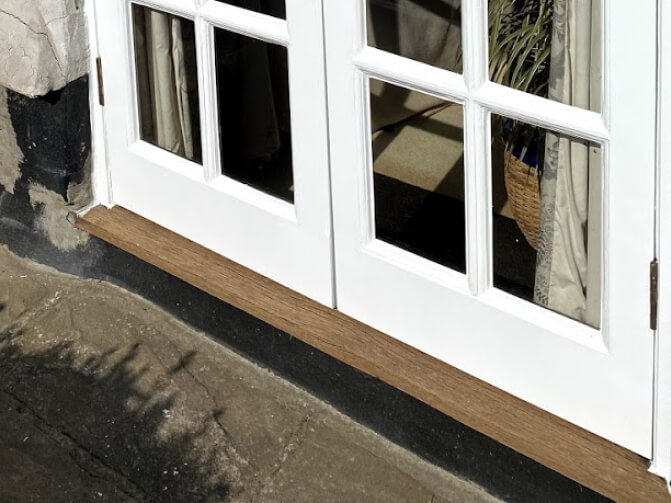 What timber should I use for a wooden door sill replacement?
The exterior door sill is probably the only place where we would use hardwood Mahogany or Oak.

In other instances such as sash window repairs, we would only recommend using Accoya, as it is more longer-lasting.

Despite being a softwood, Accoya has excellent resilience to moisture, pests and general weathering. For such cases as exterior door threshold replacement, hardwood Mahogany will perform better against daily physical wear and tear.