Whether you are looking to protect a fence, shed or any other exterior wood, wood preservative is the best thing to use. There are loads of wood preservatives available, from clear coats that won't change the colour or natural beauty of the wood at all to stained wood preservatives that offer an attractive way of sprucing up fences, sheds and wooden garden furniture.
We're diving deep into wood preservatives below. We're going to show you the best wood preservatives available in the UK right now and help you achieve the best finish possible on all your exterior wood projects. Let's first take a quick look at what wood preservatives are, though, shall we?
What is a wood preservative? 
Wood preservers, sometimes called wood protectors, are treatments that can be used to protect raw wood from the elements. They prevent exterior wooden surfaces from deteriorating and rotting, as well as protect against wood-boring insects.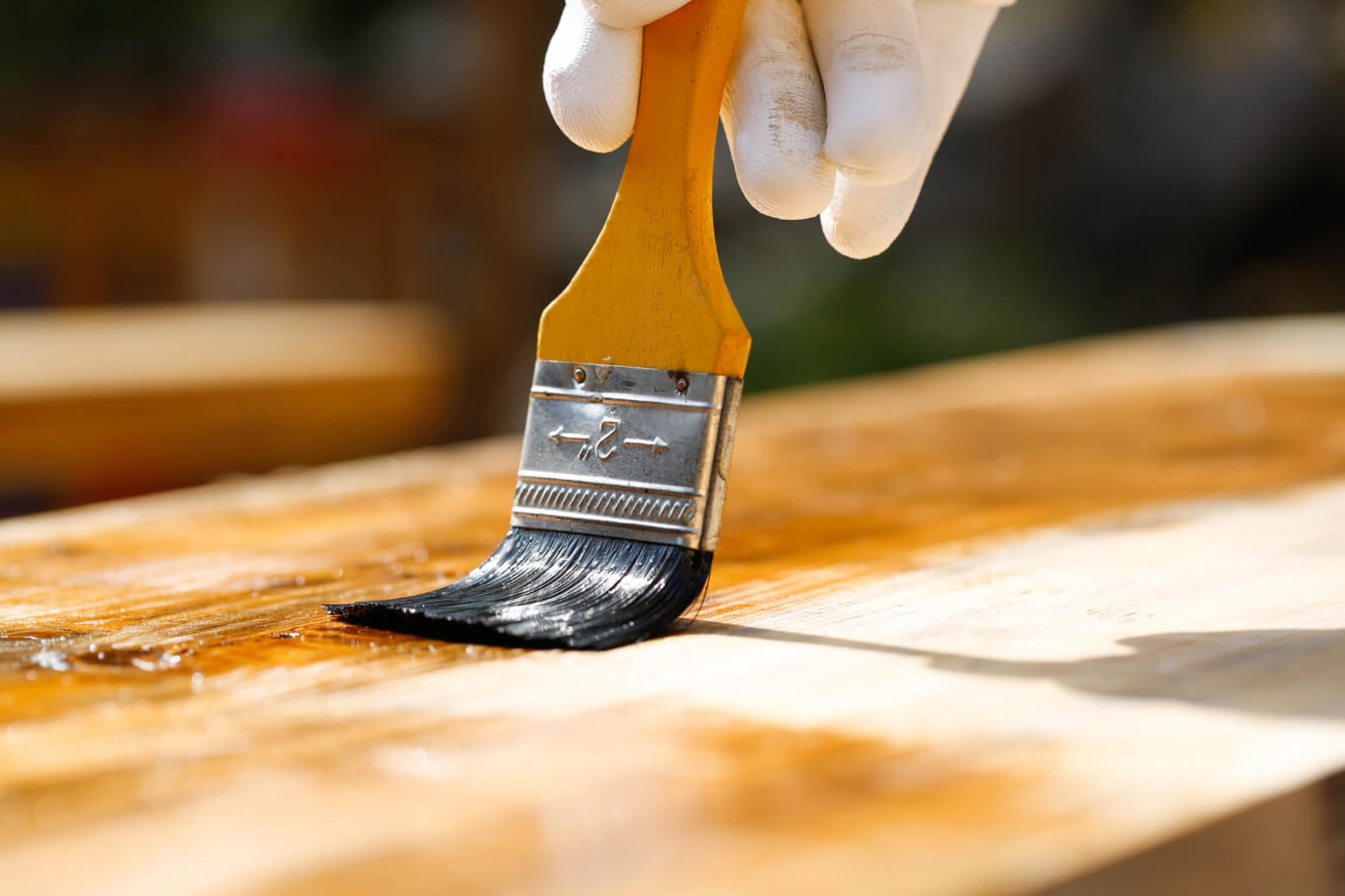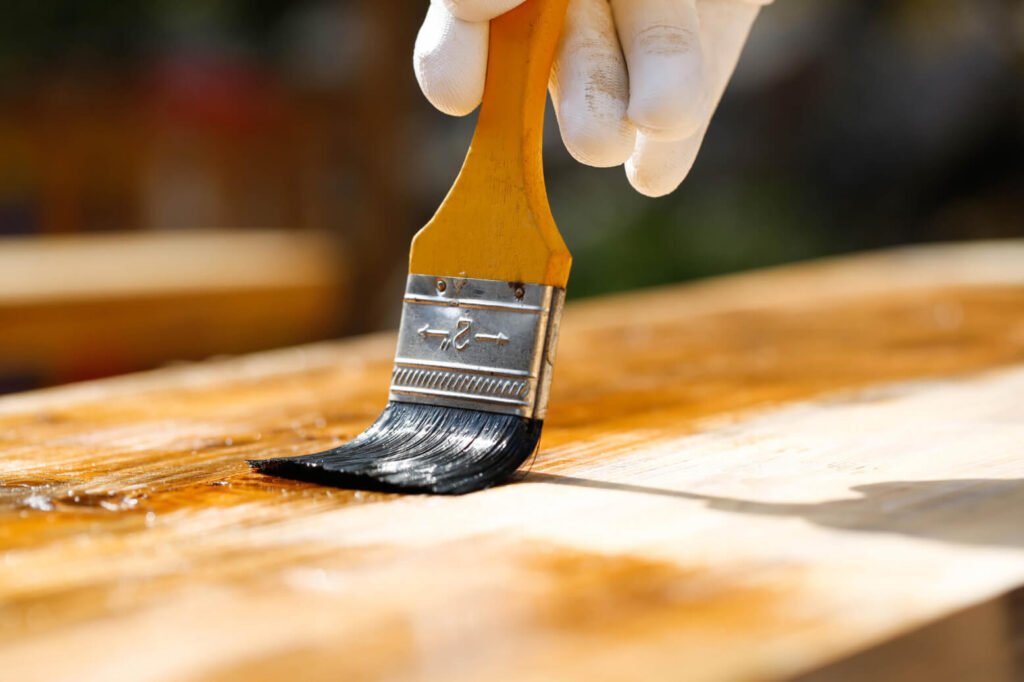 How wood preservers work
Wood preservers create a barrier between the wood and the air that prevents mold, moss, fungi, etc. from growing on the wood itself. This significantly increases the lifespan of exterior wood.
Wood preservers can be used as a base coat prior to paint or as standalone protection for any exterior wood. There are both solvent-based and water-based options available.
Types of wood preservatives
There are two main types of wood preservers:
Solvent-based – Made with petroleum solvents like mineral spirits
Water-based – Use water as the solvent
Later in this article, we'll discuss which type you should use for your specific project. First, let's look at some of the best wood preservatives available in the UK.
The best wood preservatives in 2023
Everbuild Wood Preserver – 1L
This Everbuild wood preserver protects wood for years. It has micro-fine active technology that penetrates deep into the wood, which offers lasting protection on all exterior wood, but thanks to the low VOCs, it can also be used inside as well. 
This is a water-based wood preserver, so it is safe to use in gardens with pets or children, and there is hardly any odour while using it or once it has dried. It dries fast as well. In 48 hours, your wood will be dry and fully protected. A 1L can of this stuff is enough to cover 3-4m2, and there are also 5L cans available, as well as stained wood preservers with the same formula as well.
For the protection this provides, how easy it is to apply, and the excellent finish that the clear and coloured options provide, this is an excellent wood preserver to use, and for the price, you can't really go wrong.
Roxil Waterproofing Wood Preserver – 5L
If the type of wood you intend to use is known for warping, this is a brilliant preserver to use. It can be used on just about all wood types common in the garden, though. From oak and red cedar to pine and larch, this wood preserver protects them all.
Roxil ensures all hardwoods and softwoods are waterproof for ten years, and even weathered wood experiences the same level of protection. This 5L bottle of wood protector is perfect if you have a lot of wood to cover, as it can be used on smooth timber and rough-sawn or weather wood. It can also be sprayed or painted on for ease.
Roxil has over 35 years in the wood protection business and has developed some of the best wood protection for exterior woods during this time. The bottle has clear instructions as well, ensuring that this wood treatment is as easy to apply as it can be.
Cuprinol Wood Preserver – 1L
If you'd like a wood preserver to use before varnishing or painting, this one is a solid choice. It is clear, so it won't affect the colour of the wood at all, and it can be used on just about any garden wood, including pressure-treated wood.
A 1L can of this wood protection is enough to cover 5m2 with two coats, and two coats are plenty. While Cuprinol state that this wood protector is to be used as a based coat prior to painting, many users have noted that they have simply applied this as a final finish and that there has been no blue stain or grey staining at all.
Of course, we'd recommend following the instructions on the tin, but it's nice to know that you can leave the wood untreated once this has been applied. The drying time of this wood preserver does state that it can take up to 5 days for this to dry, depending on the weather condition and the wooden structure it is applied to. So, if you'd like something faster drying than this, perhaps look at the other examples on our list.
Timbashield Solvent-based Wood Protector – 5L
This is a solvent-based exterior wood preservative with loads of different wood stains to choose from. From dark brown to clear and everything in between, there is a beautiful colour of this wood protection that will match your garden perfectly.
This is designed as an exterior wood stain and protector. As a result, it offers a barrier from fungal growth, moss and insects. It is also a UV-resistant finish, so it won't discolour over time. You can use this protection on untreated wood or top up the protection on wood already preserved.
If you came here looking for coloured wood preservatives, we would recommend this one. It has a wide range of colours. It can be used on all types of exterior wood and is so easy to apply. Plus, the 5L bottle is plenty big enough to cover your entire fence and the shed.
Sika Wood Preserver – 5L
This water-based product from Sika is a fast-drying and deep-penetrating wood preserver that offers an exceptional layer of protection while ensuring the natural colour of the wood goes unchanged. We use this product in sash windows refurbishment projects to provide long-lasting protection of frames that previously were exposed to rot. You can apply for this protection prior to using good quality wood paint or simply leave the wood natural and beautiful, as a couple of coats of this preservative will ensure the wood is protected for years to come.
This has been designed with a microemulsion technology that makes the preservative nice and thin. This allows it to dry quickly but also penetrate deep into the wood grain. If you have a lot of end grain to protect, this product is ideal, particularly on the top of the fences and the edges of the decking.
This fantastic wood preserver from Sika can also be used on all interior wood, from planed and smooth timber to rough-sawn. So, there is a wide range of uses for this, and it is well worth having a tin of it around for all wooden projects. It offers a protective shield on the wooden fence, outdoor furniture and even interior beams.
The different types of preservatives for wood
As we briefly mentioned earlier, there are a couple of types of wood preservatives available. There are solvent-based and water-based. Which you choose greatly depends on the protection you are after and whether you are going to paint the surface afterwards.
Solvent-based wood preserver
Solvent-based protection is ideal if you intend to leave the wood without exterior wood oil or paint. These offer an excellent layer of protection, and many (including the one we included above) protect against UV. This means that you'll have maximum protection for your wood for years, and the colour will look just as good as it did when you first applied it.
Now, you can also use solvent-based wood protection under the paint. However, to ensure that the paint adheres well to the protected wood, you should use solvent-based paint as well. This ensures nothing strange happens between the coats of protection and the paint and provides a really nice finish to your wood. 
Pros
Provides an excellent protective layer for wood
Many options protect against UV rays to prevent fading and damage
Can be used under paint if using a solvent-based paint as well for good adhesion
Colour looks freshly applied for years with just the preserver.
Cons
Needs reapplication every few years for continued protection
Solvent-based, so higher VOC levels than water-based options
Not as environmentally-friendly as water-based options
Need to use solvent-based paint on top for proper adhesion
Water-based wood preservatives
There are plenty of examples of people using water-based preservatives as a standalone finish for their exterior and interior wood, and it does work great for this. You may need to reapply it quicker than stated on the can, but otherwise, it does hold up nicely and protects the wood very well.
However, in some cases, water-based wood preservatives are not designed to be used as a final coat of protection. They seal the bare wood and get it ready for paint or stain. So, if you do want to use a water-based preservative as your final coat, ensure you buy one that states it can be used for this application. Otherwise, you'll want to treat the wood afterwards with paint or exterior wood oil.
Why would you choose water-based over solvent-based? Well, water-based preservatives, just like paints, have lower VOCs and are not as harmful to the environment. They are kinder to plant life and animals in your garden while offering a very good amount of protection. In general, they are also easier to apply in most cases. 
Pros
Water-based preservatives are more eco-friendly than their oil-based counterparts.
They often contain fewer toxic ingredients.
They generally promote better adhesion of paint, as they keep the wood surface more porous.
They dry quicker, speeding up project completion.
Cleaning up after using them is simpler, with no need for harsh solvents for brushes and equipment.
They are less prone to peeling or blistering due to better penetration into the wood.
Cons
They don't seep as deeply into the wood as oil-based preservatives, leading to potentially more frequent reapplications.
They aren't as water-resistant; the wood may absorb moisture more readily.
They might not have as potent insecticides or fungicides, meaning they might not offer the same level of protection.
They can cause the wood grain to rise more, necessitating extra sanding.
For extreme outdoor conditions and resistance to wood rot, they might not perform as well as oil-based preservatives.
There are fewer color choices; most water-based preservatives dry clear or transparent.
FAQ
Can I use clear or coloured wood preserver?
You can use either for your project. It just depends on the finish you'd like to achieve. If you are planning on painting over the preserver, though, a clear coat will ensure that painting can be done quickly and the stain in the preserver won't mix with the paint. 
Is it possible to use a wood preserver on old wood?
Yes, it is. Just ensure you buy a wood preserver that states it can be used for old or weathered wood. The Timbasheild wood protector we mentioned above is an excellent choice for this. 
Should I use a wood preservative before painting? 
If you intend on painting exterior wood, then using a wood preservative first offers an additional layer of protection for the wood. So, for any exterior wood that you want to last a long time, you should use a wood preservative prior to painting. 
If you liked these wood preservatives for your next garden project, you might love our other articles too. We have lists of the best paint sprayers for all budgets (that can also be used for wood preservers) and a great deal more!
VIEW ALL QUESTIONS