Today, we're looking at fence paint. We're going to explore the best fence paints in the UK right now. The best colour to paint a fence in a small garden is to make it feel bigger.
And finally, we're going to explain how to paint a fence with different equipment too.
So, if you're about to paint your fence, this is the article for you. If you also have a plan on your list to paint your sash or casement windows, our team have written a review about the best paint for exterior woodwork that might also be useful for you and will save you time on research.
Let's first look at the best fence paints in the UK right now, shall we?
Best UK fence paints and Wood Protection treatment
Cuprinol Ducksback 5-Year Waterproof for Sheds and Fences, 5 L
Cuprinol's Ducksback gets its name from its exceptional ability to repel water while preserving its vibrant colour for up to 5 years. This water-based fence paint is enriched with wax, which imparts its remarkable water-repellent property.
Upon application, the water-based formula anchors the color into the wood, while the wax creates a safeguarding barrier on the fence that inhibits rainwater penetration.
For this endeavor, we have selected the captivating harvest brown shade from the Ducksback collection.
Despite the availability of three additional colors, the harvest brown distinguishes itself with its vibrant yet moderate tone. If your garden encounters regular precipitation year-round, choosing Ducksback in harvest brown is a prudent decision for your fence. It delivers a combination of resilience and visual charm, while guaranteeing your fence's water resistance for the long haul.
RONSEAL RSLOCFLMO5L One Coat Fence Life, Medium Oak, 5 Litre
Ronseal fence paint has long been a preferred option for numerous UK garden enthusiasts, and its appeal is easy to understand. The brand offers an extensive array of both traditional and unconventional shades, making it simple to discover the ideal hue for any garden. However, it's not just the impressive colour range that contributes to Ronseal fence paint's popularity; it also possesses exceptional protective features.
The medium oak fence paint, specifically, is highly favoured by homeowners because it imparts an air of sophistication to any fence while ensuring dependable protection. Moreover, this water-based fence paint is free of harsh chemicals, rendering it safe for use around pets and plants. You can even apply this paint to wooden planters for a revitalized appearance.
This awesome medium oak fence paint is rich and dark, enhancing the style and colour of any fence. Plus, its water-based formula ensures that it's eco-friendly, easy to clean up, and dries quickly. So, if you're looking for a safe and reliable fence paint that provides both protection and aesthetic appeal, Ronseal fence paint is a top choice.
Johnstones Woodcare One Coat Shed & Fence Paint
If a classic shade for your fences is what you're after, the Johnstone's Woodcare range is an outstanding option. But if you desire something more unique, fret not, as Johnstone's also provides a wide assortment of other paint choices. This specific fence paint not only dries rapidly but also delivers enduring protection against water and UV rays. In fact, it can shield your fence for up to 3 years, warding off decay and preventing colour fading.
An additional benefit of this paint is that it is available in 9-litre containers, making it ideal for expansive gardens or larger projects. This wax-fortified paint works wonders on any fence, furnishing excellent protection while simultaneously enhancing its overall aesthetics. Moreover, it comes in a range of striking colours, ensuring that your garden remains both safeguarded and visually stunning.
Johnstone's Woodcare range is known for its exceptional quality and performance, and this fence paint is no exception. So, whether you're looking to give your fence a classic touch or want to explore new colours, Johnstone's has got you covered.
Johnstone's – Garden Colours – Exterior Paint – Fade Resisting
As we mentioned in the last Johnstone's paint description, Johnstone's makes some very awesome colours of garden paint, and this is the range to look for if you want to experiment with your fence. We have chosen the Botanical Retreat colour, which is a baby blue coloured fence paint, but there are loads of beautiful fence paints to choose from.
These fence paints dry in two hours and will keep your fence protected for up to four years. Plus, just like the Johnstone's fence paint above, this stuff is fade-resistant and water-resistant too. If you want to add some funky colours to your garden, this is the paint for you.
Roxil Wood Protection Cream
Although many fence paints on this list may be recognizable, this particular one could be new to you. It's a wood protection cream that leaves the colour and appearance of your fence unaltered. Instead, it forms a weather-resistant shield on the fence that endures for a decade. This protective barrier minimizes warping, mould, and damp-related problems.
This wood protection cream is designed for all outside wood. You can use it on soft and hardwoods, and it provides breathable protection for decks, fences, sheds and a great deal more. If you love the look of your fence but want to protect it, this is the best option for you.
Roxil 100 Green Mould, Algae & Lichen Killer
Roxil is renowned for producing some of the finest fence protection products on the market today. Essentially, this patio and fence cleaner is designed to eliminate various elements that contribute to the aging and potential rotting of your fence. It effectively eradicates algae, mould, and lichen while simultaneously removing them from the fence surface. As a result, your fence will appear rejuvenated after utilizing this remarkable product.
Although this article focuses on fence paint, using this Roxil cleaner prior to painting can provide unparalleled protection for your fence. It serves as an excellent preparatory step, ensuring your fence is in optimal condition before applying paint for ultimate durability and longevity.
Cuprinol CUPGSFR25L 2.5 Litre Garden Shades Paint
While we mentioned earlier that Johnstone's fence paint is exceptional for adding colour to your garden, you might not have found the ideal shade for your outdoor space there. In that case, Cuprinol's extensive range could be the answer. This collection features numerous impressive colours, ranging from delightful pastel shades to strikingly bold hues.
What sets this range apart, however, is that these fantastic colours offer six years of protection for your garden wood. Furthermore, the paint is suitable for application on stone, brick, and terracotta surfaces, allowing you to incorporate an abundance of colour throughout your garden using this versatile paint. By choosing Cuprinol, you can achieve both long-lasting protection and a vibrant, refreshed appearance for your outdoor space.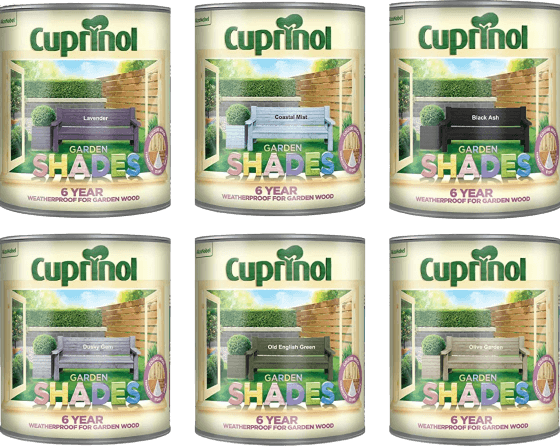 View product
Nourish & Protect PTRC005 Red Cedar 5 L Wood Protective Treatment
Up until now, all the fence paints on this list have been water-based, which is suitable for most gardens. However, if you seek the highest level of protection and wish to prolong the life of your fence as much as possible, an oil-based protective layer is the way to go. This wood protective treatment features an oil-based formula, which offers deep penetration into the wood of your fence, ensuring its durability for many years to come.
In addition to safeguarding the interior of the wood, it also protects the fence's surface from mould and water damage.
For the ultimate combination of maximum protection and appealing colour, this oil-based wood protective treatment is undoubtedly your top choice. Its superior performance and longevity make it an excellent investment for preserving your fence's beauty and structural integrity.
Everbuild EVBLJCR05 Quick Drying, Long Lasting, Wood Preserver, Clear, 5 Litre
Introducing another high-quality wood preserver that boasts quick-drying and long-lasting properties. This product deeply penetrates the wood to provide the most comprehensive protection possible. It safeguards against rot, moisture, decay, and fungal growth, ensuring the longevity of your fence.
You can apply this preservative before painting your fence—simply allow a 48-hour drying period. By taking this extra step, you can be confident that your fence panels will remain protected for an extended period. However, you can also use this preservative on its own if you prefer. It is available in a clear formula as well as a wide variety of other colours, giving you the flexibility to choose the best option for your fence and overall garden aesthetic.
Water-Based Shed and Fence Paint – Dark Grey – One Coat – 20 Litre
We are particularly fond of dark grey fence paint, as it infuses a garden with a stylish touch and is ideal for creating a modern outdoor space that remains well-protected. This fence paint is a no-frills option that delivers maximum protection, ensuring a fantastic appearance for years to come. While the packaging may be basic, the paint itself is far from ordinary.
You can expect this paint to provide lasting protection, as it is both water-resistant and UV-resistant. Offered in a generous 20-litre can, it is perfect for larger gardens that you want to imbue with an abundance of style.
Despite its straightforward presentation, this dark grey fence paint promises excellent performance and durability, making it an outstanding choice for any garden transformation.
How To Paint A Wooden Fence?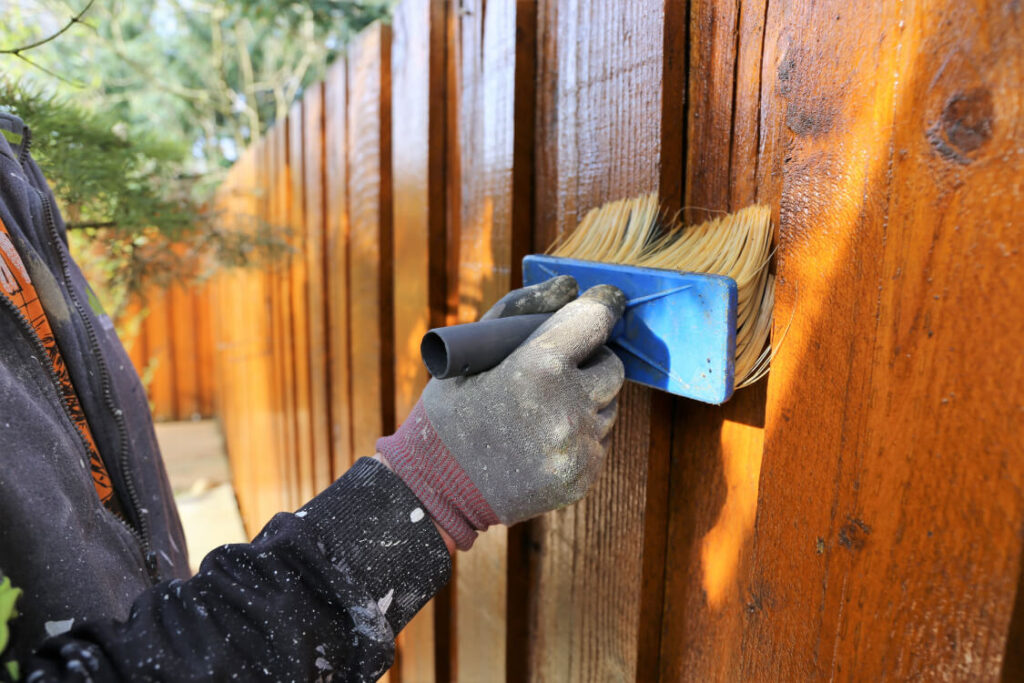 We won't be covering how to paint a fence with brushes here as it is as simple as grabbing your paint, giving it a mix and getting to work. We will, however, be looking at spraying and rolling a fence.
Best way to paint a fence: brush or spray
Having painted fences with brushes and with a spray gun, we can say with certainty that the best and easiest way is with a spray gun. Most water-based paints can be diluted very easily and go through paint sprayers very easily. It's also so much faster than using a paintbrush. We know that a lot of people don't have a paint sprayer, though. If you don't and you do a lot of DIY, it might be worth considering buying one. Paint sprayers are not that expensive and can be used for loads of DIY tasks. If you do prefer to use a paintbrush to paint your fence, take a look at this fence painting brush kit, it will save you some time.
2 Pieces Shed Fence Paint Brush Decking Timber Block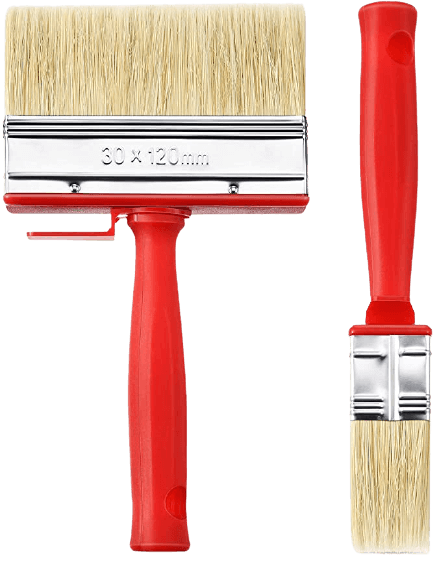 View product
COTTAM Fence Painting and Shed Painting Kit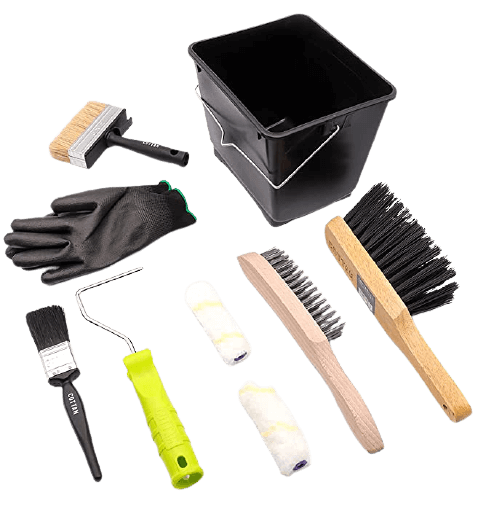 View product
How to spray-paint your fence?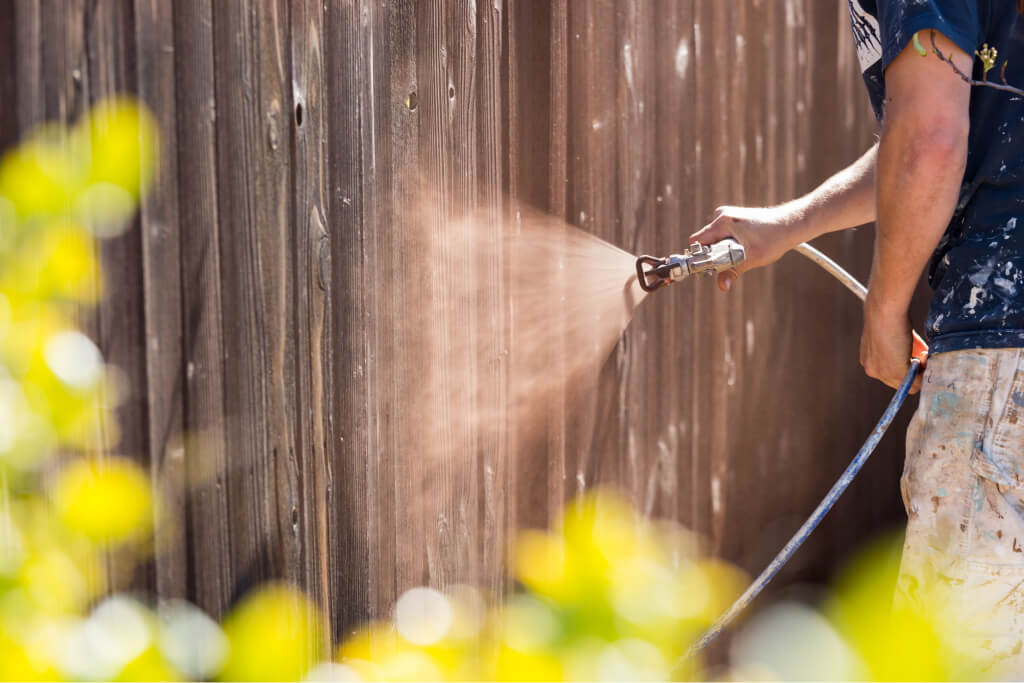 Spraying a fence is nice and simple. Firstly, you need to dilute the fence paint and give it a good stir. Then, you need to mask off any areas of the fence you don't want painting. If you have cement fence posts, for example. It is a good idea to put down some dust sheets to protect your patio and grass areas too.
Next, start painting. When you first start painting, assess how much paint is coming out of the gun. If you're getting streaks or drips, you need to reduce the amount of paint coming out. It is best to do this in an area of the garden you won't see all of the time. Once you have the settings dialled in, it is as simple as taking light passes and going along all of the fence panels. Follow the instructions on the fence paint and apply as many coats as it indicates.


Top tip: use a piece of cardboard to block any overspray from your neighbours garden. Just hold it in place over the back of the fence panel. Your neighbour will thank you!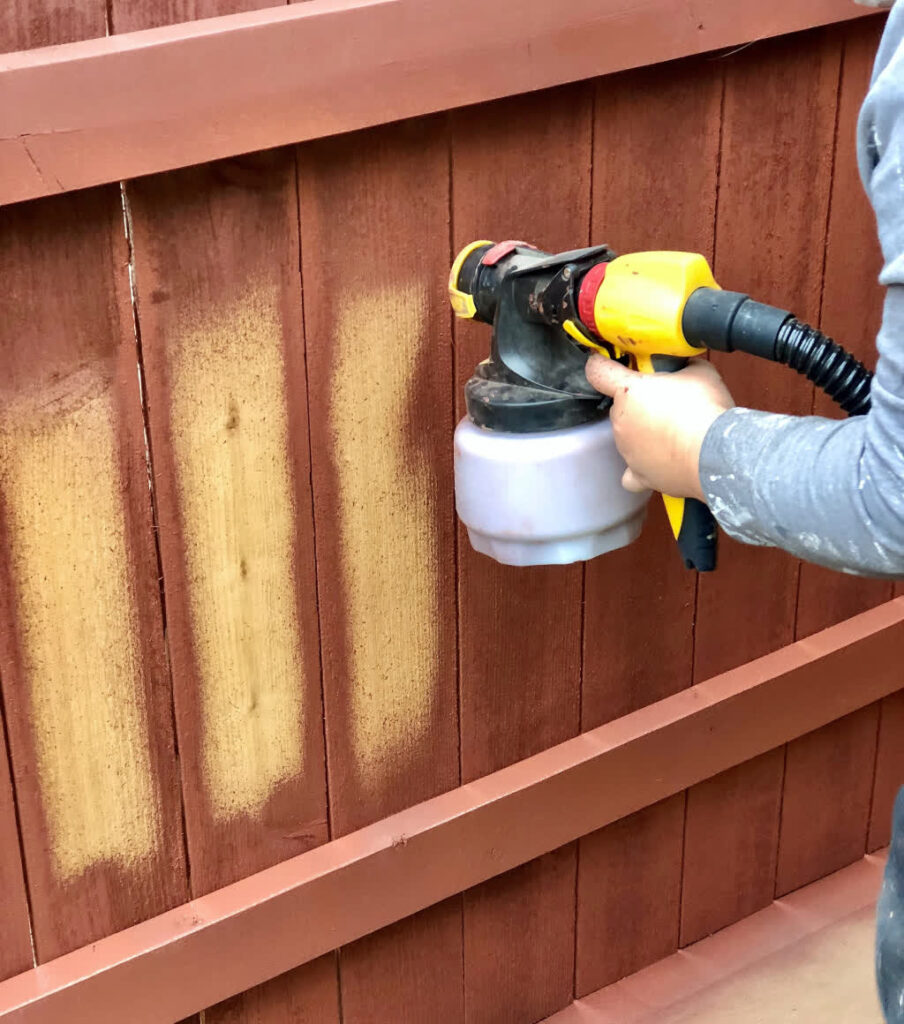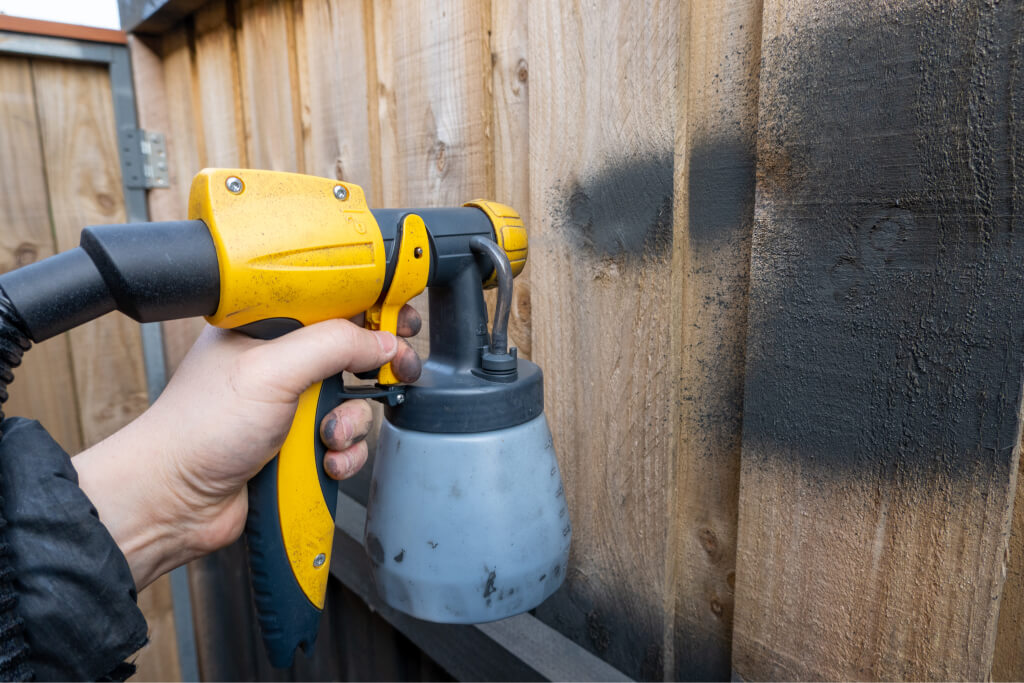 Spraying a fence is very simple. It is dialling in the settings that takes some practice.

However, just make sure to adjust the spray so that no paint is pooling on the surface or dripping. After this, paint away!
How to dilute fence paint
To spray most water-based fence paints, you only need to dilute them by about 10% with clean water. Give the paint a good mix, and then it should pass through your spray gun without issue. If you have very thick paint, you may want to add some more water. However, most fence paints are fine with 10% added water.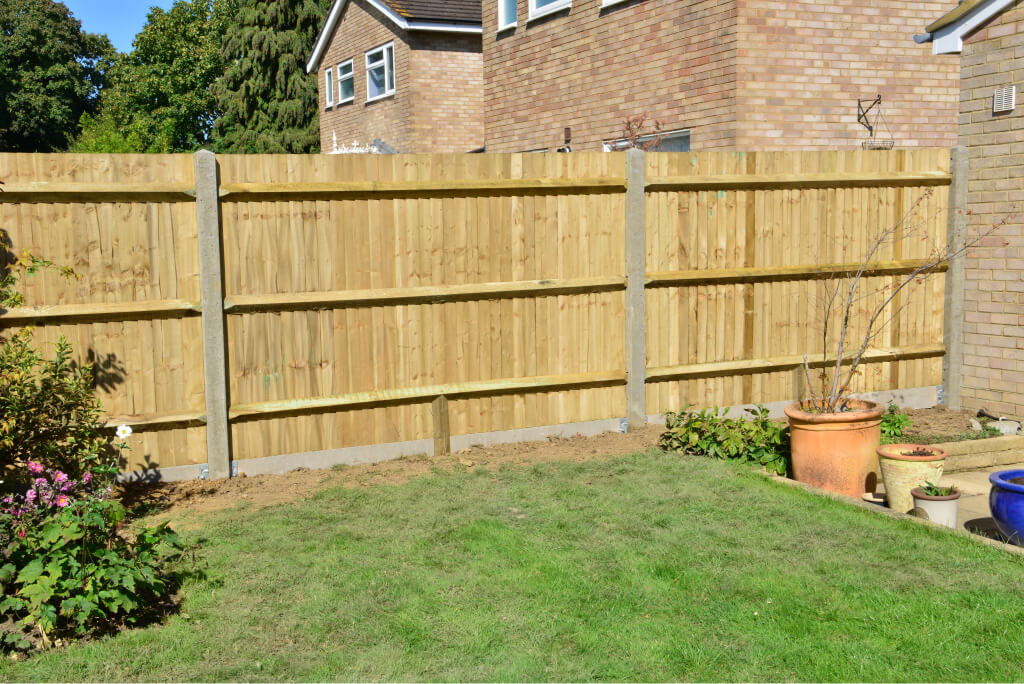 How to paint a fence with a roller?
Painting a fence with a roller can be tricky and does take a while, but it can be done. You need a special roller that you can find in this kit.
You will notice that the roller is smaller than a traditional roller. This is because you need to paint each individual fence slat as you go.
Also, if your fence panels are rough swan (most of them are), you will need a brush too. This ensures you get into every nook that is in each fence slat to ensure you have good coverage. We would say that using a roller to paint a fence isn't the longest of the three methods, but you do need to pay attention to the small details, so it can feel like the longest.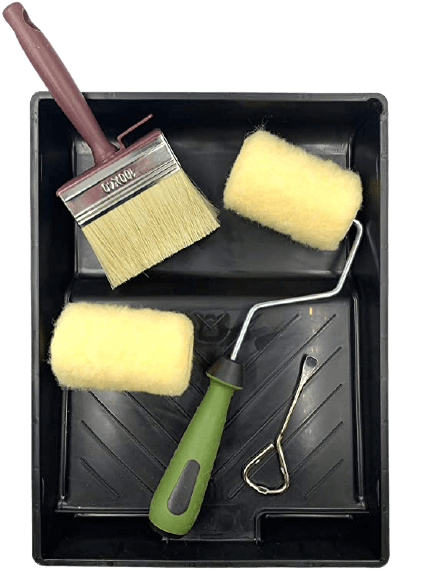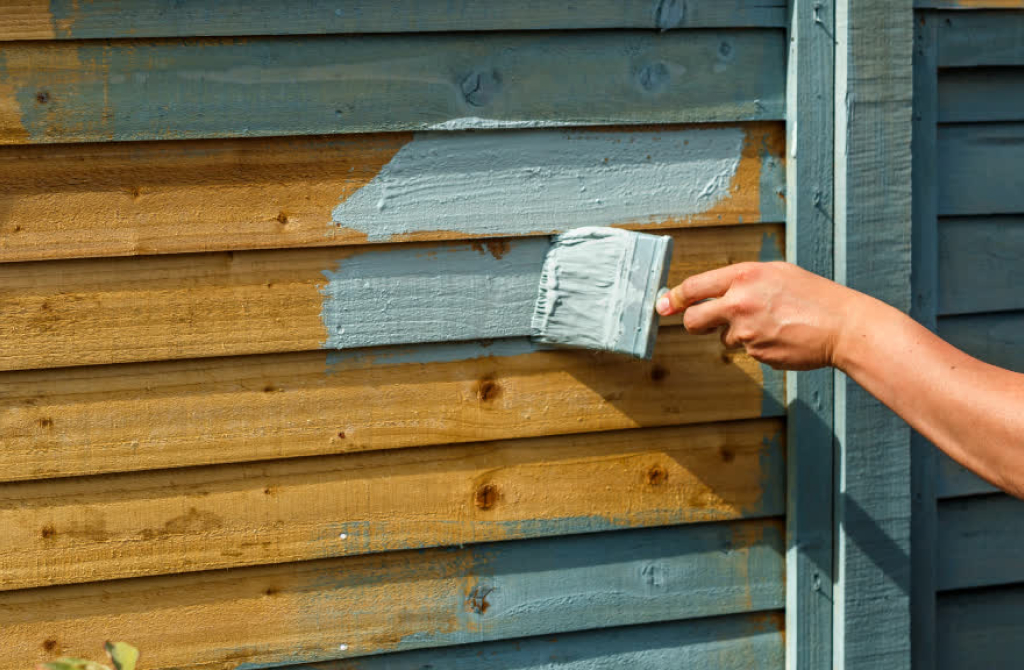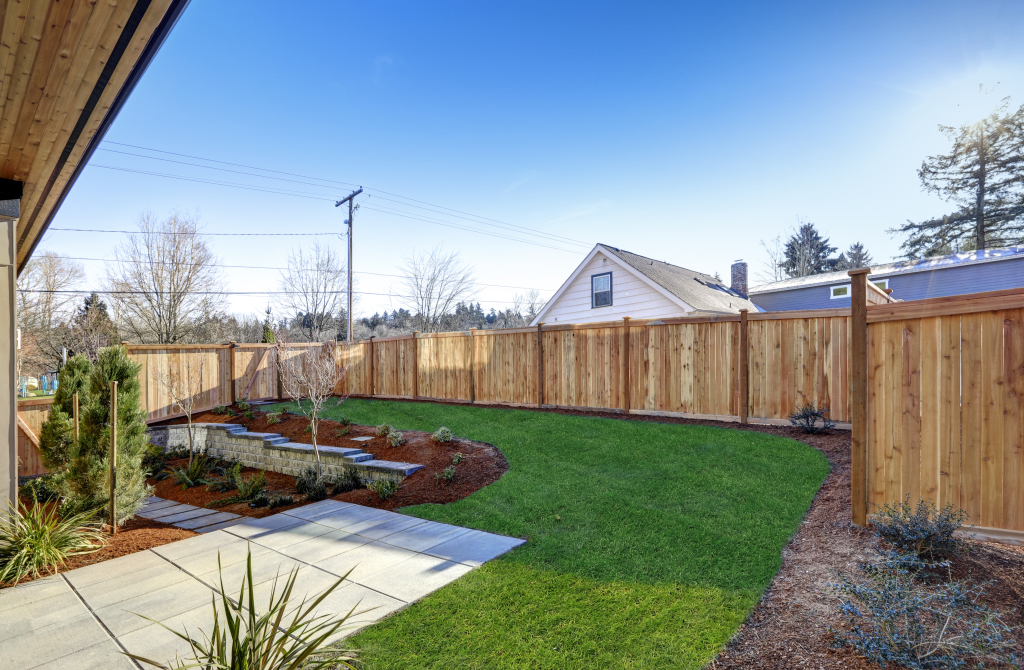 FAQ
Best fence paint colour
We love a natural colour for fences. Something that is light but brings out the wood grain of the fence panels. A light brown, or light oak is a good option for a traditional look. However, grey fence paint is very popular at the moment, and we can see why. A dark grey fence paint can really make your garden look incredibly modern and posh. Of course, the best fence paint colour is completely up to you. It is worth trying to find images of different fences with different colours on so you can really imagine what your fence will look like. You could even buy a couple of single fence slats to test some colours if you are unsure.
Best colour to paint a fence in a small garden
Lighter fence paint is usually best for smaller gardens. Darker fence paint can make a garden feel a lot smaller. So, if you'd like your garden to feel as big as possible, a light brown fence paint is a good option. If you want to use brighter fence paints, though, a lighter shade of a pastel (like pastel pink, for example) is a really good choice.
What colour fence paint makes the garden look bigger
While we love dark grey fence paint, it can make a garden feel a bit smaller than it is. This is because it is dark. So, if you want your garden to feel bigger, try to use a brighter fence paint. You can either use a traditional paint-like light oak, for example. Or a pastel colour like pastel pink, for example.
Which fence paint lasts the longest?
There are some fence paints above that will last 6 years. That is the Cuprinol garden paints. Other last three to five years. However, for the longest-lasting protection, you could consider using a wood preservative under your fence paint. This cleans the wood and penetrates deep inside. You can then use the paint to seal that layer in, and that will keep your fence looking fantastic for many years.
Is Cuprinol better than Ronseal?
Cuprinol offers a few more years of protection on some of their fence paint ranges. They also offer more colour options for fence paints too. Cuprinol has lovely pastel colours, bold, bright colours and then plenty of traditional paint colours too. Ronseal, though, is still a very good fence paint. Like a lot of painting questions, this comes down to personal preference and what colour you would like your fence to be.
How many fence panels will 5 litres cover?
Fence paints do vary, so take these figures with a grain of salt. However, Cuprinol states that 5 litres of its paint can cover 10 fence panels (one coat). Other brands may vary slightly.
Is fence paint water-based?
The majority of fence paint is water-based. There are other wood protective products on the market for fences that are not water-based, but they are also not considered paint either. Most of these are called 'protective treatments'. Some do stain your fence a nice colour; others keep the look natural. Both do offer brilliant protection for your fence, though.
How long does fence paint last?
Depending on the fence paint you use, it could last between 3-10 years. Generally, though, most fence paints that are widely available last between 3-5years.
Can I paint a fence when it is wet?
Painting a fence while it is wet isn't recommended. At best, it will water down the paint and make it less effective. At worst, the paint won't adhere to the wood, and you will need to repaint it. Let your fence dry out for a few days at least before you paint it.co
VIEW ALL QUESTIONS
We hope this look at fence paints, how to paint a fence and more has been helpful. Painting a fence is fairly straightforward, but it can add so much to your garden. If you have any other painting questions, take a look at the rest of our blog. We have years of painting and decorating experience and loads of articles that can help you paint any area of your home or garden.