The best exterior wood paint is very subjective. The best paint for your exterior wood projects greatly depends on the look, finish and protection you are after. However, you can choose from a vast array of paints to give your wood a new lease of life. There are a few excellent examples of exterior paints that we will share with you below to narrow down your search. Chameleon has years of experience using exterior wood paints on hundreds of sash windows restoration projects. Below are some of our favourites to get the job done right.
What Is The Best Paint For Exterior Wood?
Zinsser All Coat Exterior Satin Paint
Johnstone's Exterior Wood and Metal Paint
Ronseal Weatherproof Paint
Things To Consider When Buying Exterior Wood Paint
When buying paint for any exterior wood, there are some things to consider. Choosing the wrong paint can result in a bad finish and your wood does not have the protection it needs. If this happens, your wood may begin to rot a lot faster than you expect. And this will mean a lot of work in the future. So, when buying exterior wood paint, here are some things to consider.
Flexible
Exterior wood paint needs to be flexible. Well, all wood paint should be flexible, but for exterior wood, only flexible will do.
This is because wood moves throughout the year. It expands and contracts, and if the paint doesn't move with the wood, cracks can form. When cracks form in the paint, water can get into the wood. This can cause the wood to swell, and more water can get in.
Eventually, the wood may start to rot, and this can be very difficult to see with the paint in place. So, when you come to remove the paint, you'll find the wood underneath completely rotted away. Now you have to repair or replace the wood.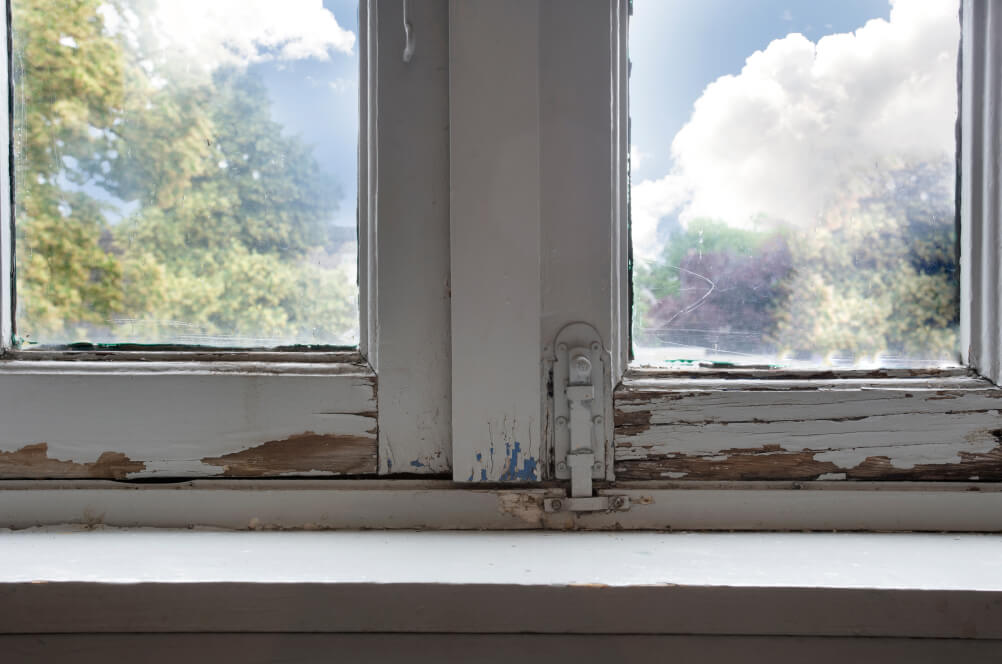 Sound like a headache? Well, it is. This is why flexible paint should always be used. Flexible paints move as the wood does throughout the year. The layer of paint stretches and protects the wood from the elements and keeps water out. So, to keep your woodwork in good condition, make sure the paint you use has some flexibility to it.
Satin or Gloss
Whether you buy satin or gloss paint for your exterior wood is up to you, of course. Many people buy satin because it gives a very professional look, and it is easier to hide brush strokes and unevenness with satin paint.
So, if you've not done much painting before or intend to use a paintbrush and want to disguise brush strokes, satin is a great choice. Satin is also a brilliant choice if you intend to spray your paint. Gloss paints can act up in a sprayer; satin paint is much more well-behaved.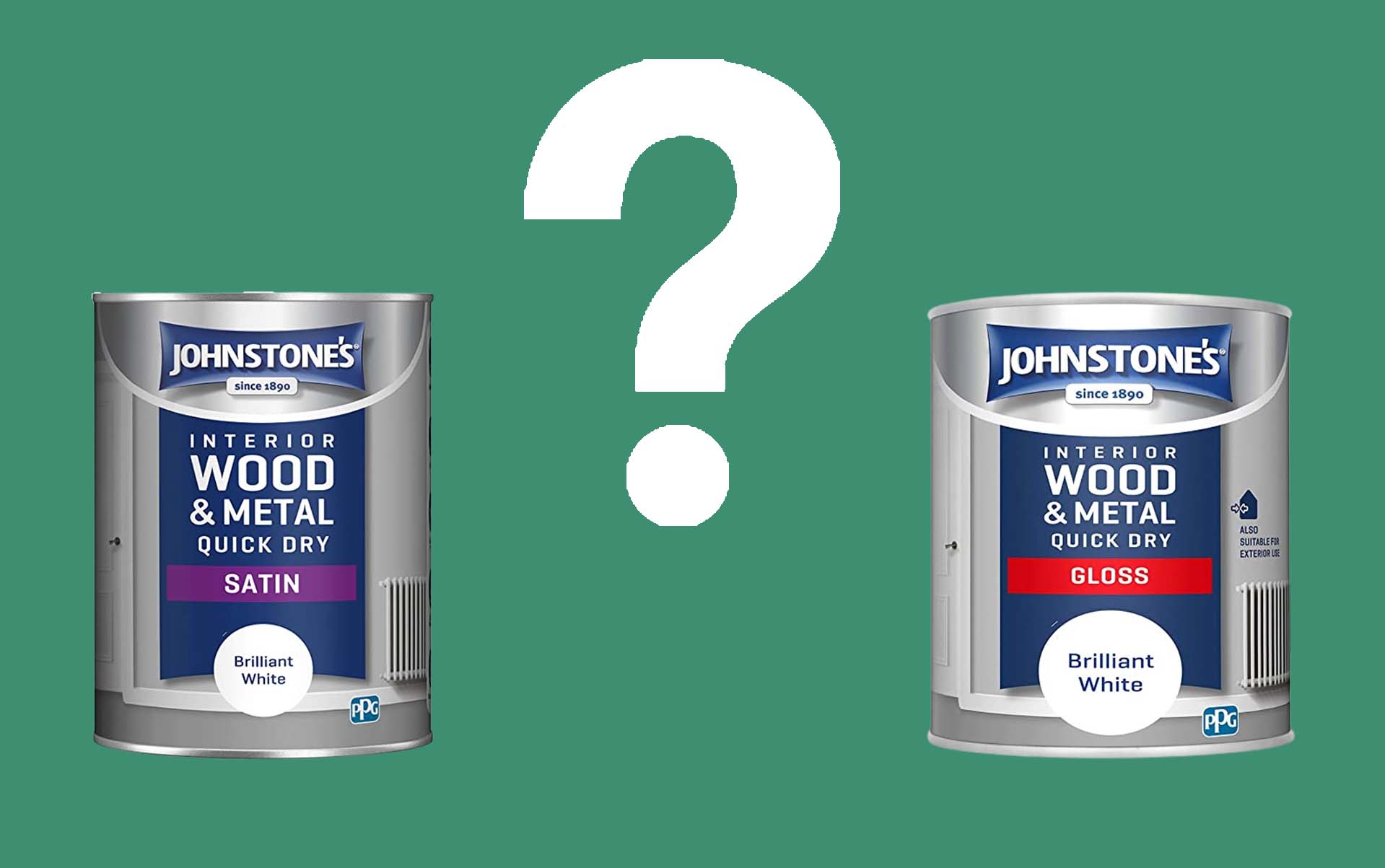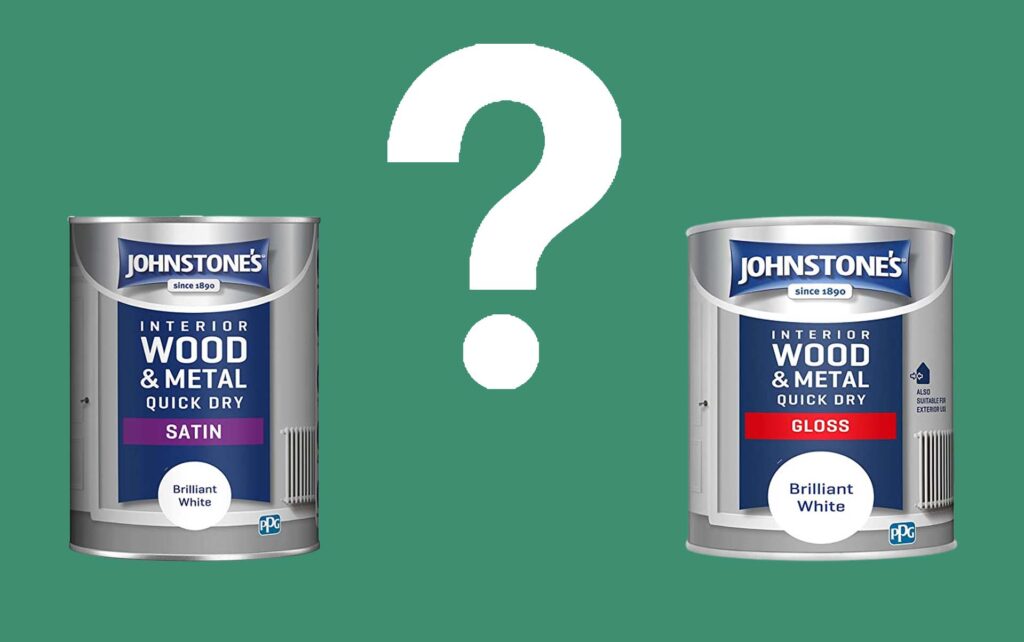 Some people prefer gloss exterior wood paints, and that is totally fine too. Gloss paints can give a glossy finish and shine to your exterior wood. However, they are not as easy to get a good finish with, and the surfaces of the wood need to be prepped really well. They need to be sanded very smooth; the wood grain must be filled and primed perfectly, and then each layer of gloss has to go on perfectly. Getting a good finish with gloss paint certainly isn't impossible. However, if you've not done too much painting before, it may be worth sticking with satin; it is much easier to use.
Weatherproof
This really goes without saying. All exterior wood paint must be weatherproof and offer a durable finish. It must seal the wood really well and give it long-lasting protection. If you use something like masonry paint that is breathable, for example, the wood isn't protected. So, the elements can get into the wood and begin rotting it.
Interior wood paints also won't work, as many interior wood paints allow the wood to breathe a bit to get rid of excess moisture. So, when you're buying exterior wood paint, always look for the words 'exterior' and 'weatherproof'. That way, you can be sure your woodwork is protected.
Oil paint or water paint?
Whether you use oil-based or water-based paints greatly depends on the look you are after and how easy you want the process to be. If you are after a high sheen, oil-based paint is the best to use.
This sheen will dull over time, but it looks amazing for a good few years.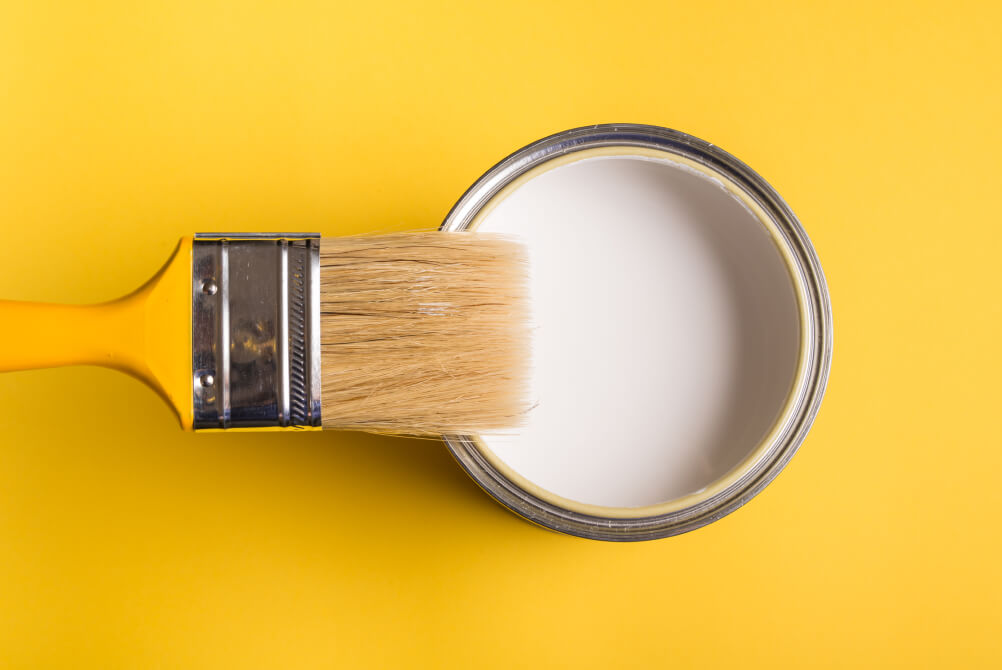 Water-based paints lack a high-quality sheen but are far easier to apply, particularly if you're spraying them. The colour also tends to last longer with water-based paints, but many feel this can be subjective and depends on the manufactures paint you choose.
We spray all of our paints, and our go-to is always water-based. It goes on smoothly, and clean-up is so easy. If you also want to speed up your paintwork and spray surfaces instead of using a roller and brush, make sure you pick the best paint sprayer equipment. Oil-based does look really good but can be a pain to master. So, if you haven't done much painting, give water-based a try unless you'd like a high-gloss finish.
Colour
Finally, we have the colour of the paint. There are plenty of exterior wood paints to choose from and many different colours to go with. We paint a lot of traditional sash and casement windows during our restoration jobs, and we always recommend a neutral and traditional colour. This is because a lot of our restoration jobs are completed on period homes and have restrictions on the paint colours that can be used.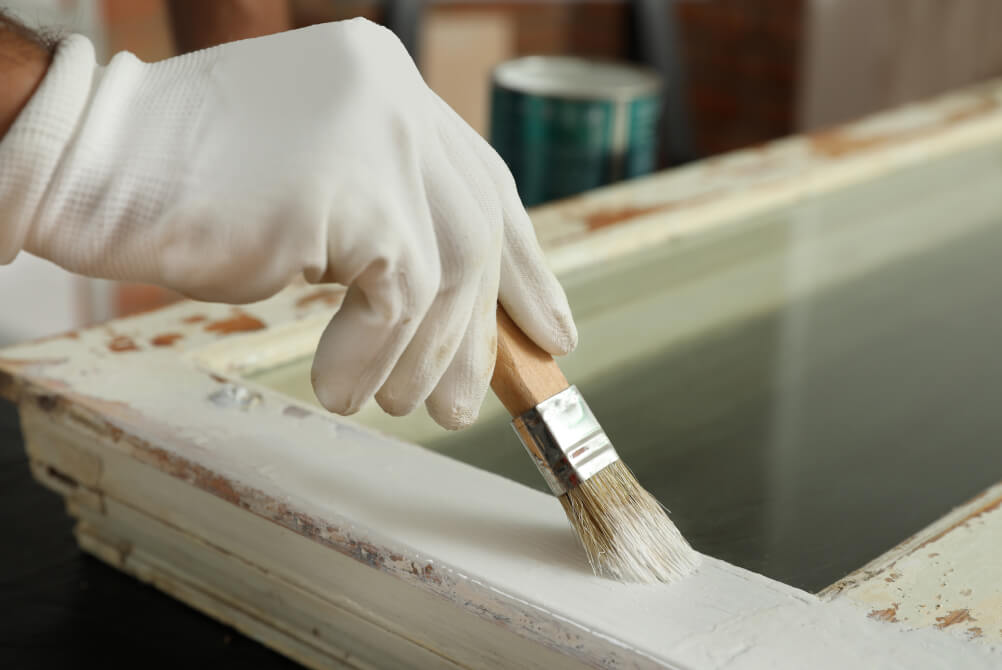 If you don't have these restrictions, though, the colour of paint you choose could be absolutely anything. There are some lovely colours of exterior wood paint to choose from. Just remember, most good-quality exterior wood paints last for 6-10 years, so you'll have to live with the colour you choose for a while and painting over bright colours can be difficult.
Best paint for exterior wooden windows and conservatory
Zinsser All Coat Exterior Satin
Our number one pick for the best exterior wood paint in the UK is All Coat from Zinsser. It is the most versatile wood paint we use, and the quality is exceptional. It is amazingly flexible and protective, which is ideal for wood. Zinsser is also straightforward to apply with any method, but spraying it is a dream come true. Plus, clean-up is effortless as it is water-based. And it is a better price than most of the exterior wood paints on the market and offers a much better finish too.
The only real downside to this exterior paint is that you are somewhat restricted on colour choices. But if you'd like a satin white finish on your exterior wood, we would always choose Zinsser. It is the easiest paint to achieve an excellent finish with.
Types of exterior wood paint
There are several types of exterior wood paint, including:

Exterior wood oil paint – provides a lovely sheen but discolours faster than some water-based paints.

Wood varnish paint – this is a coloured varnish that provides an excellent sheen and some of the best protection of any exterior paints for wood.

Exterior water-based paint – water-based exterior paints are the easiest to use. They won't discolour very quickly and offer a lot of protection. Water-based paints are considered the go-to for exterior wood for most people in the industry.
FAQ
What kind of paint do you use on outdoor wood?
Chameleon uses water-based exterior wood paint on all of our window restoration projects. We do a lot of work on exterior woodwork from windows and doors to trim, door and window sills and even siding, and always choose water-based. This is large because we spray our paint, and water-based is much easier to spray even with professional paint spraying equipment. It's better for the environment and also makes it easier to clean up.
VIEW ALL QUESTIONS