In this project, our team worked on double glazing retrofit of timber windows in Cambridge. This type of window provided different requirements than those for mainstream sash window double glazing.
This project was unusual for us. The property was not Listed or in a conservation area where homeowners are more inclined to reglazing and restoration.
More often than sash windows, casement windows are replaced with cheap timber from Europe rather than restored and retrofitted with new glazing.
Perhaps this project could begin a new trend as the UK is now out of the EU. Timber is becoming more expensive globally, and high fuel costs make delivery from the EU more expensive.
It also may be that the homeowners of this property are environmentally conscious and consider the environmental impact of window replacement when making their choice.
We don't know, as we are craftsmen, not economists or telepaths. But we're glad to have the opportunity to work on this project and hope to have more similar projects in the future.
Cambridge is a city that leads the way in adopting energy-efficiency technologies
The city of Cambridge is increasingly becoming an advocate for energy-efficient solutions. Double glazing retrofit of timber windows in Cambridge is one such solution that can help local homeowners save money on their energy bills and complete window replacement.
Not only does this significantly reduce the heat loss through window glass, it also reduces sound pollution from outside. This is especially beneficial in residential areas close to main traffic roads in Cambridge, such as Long road. Furthermore, special double glazing coating also helps protect furniture and fittings from fading due to UV ray exposure.
Replacing the existing single-pane glass or standard double glazing with vacuum-sealed FINEO glass can also significantly affect your property's overall EPC rating.
As a local sash windows restoration company in Cambridge, we take pride in being part of the effort to make the city more energy efficient.
Low performance of standard double glazing
The homeowner of this beautiful detached property in Cambridge has single-glazed windows at the front of the building and double-glazed windows at the back. The timber windows at the back of the property had standard double glazing installed. The efficiency of this glazing is shown in the thermal photo below.
This type of double-glazed unit is usually insulated with inert gases that escape over time, and you end up having just two layers of glass with an air gap in between. The air itself is not an efficient insulator. It transmits heat quite well, so it's no surprise that the photo shows a high heat loss.
The standard double-glazed units or low-e units can perform well when newly installed. However, this type of glazing loses its efficiency over time, and to maintain the same level of insulation, homeowners will need to replace the glazing units.
Standard double glazing usually has a warranty of around five years. Compared to vacuum-insulated double glazing with a 15-year manufacturer's warranty. It's no wonder that this new type of window glazing is gaining popularity despite its higher initial cost.
We subtly mentioned that the cost of vacuum glazing is only higher if you don't consider replacing standard double glazing every ten years or losing the insulation efficiency and paying more for heating over time as standard glazing slowly loses its efficiency.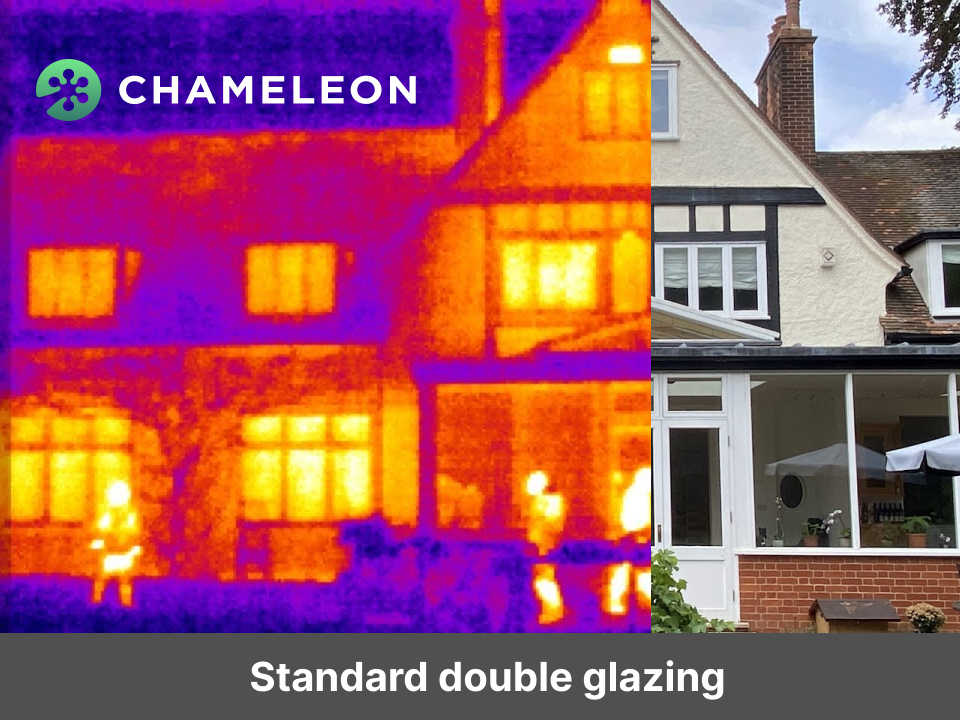 Performance of vacuum-insulated double glazing
Opposite of standard double glazing. Vacuum-insulated glazing is more durable as a vacuum (the same vacuum as in space) and has a very low energy transmission value.
The thermal photo shows the windows after double-glazing retrofitting. There was a few days' difference between the two photos. Probably outside temperatures were slightly different during each day. But still, the difference is substantial enough to conclude which glazing solution is more efficient.
This is not the only case where vacuum glazing has outperformed standard double glazing. Suppose you are interested in exploring this subject further. You might find our report, "Thermal Imaging of Double Glazing Retrofitting Projects," interesting.
Here is a selection of other articles from our windows restoration blog. Those articles might also help you to understand the principal differences between glazing technologies in comparison to one another.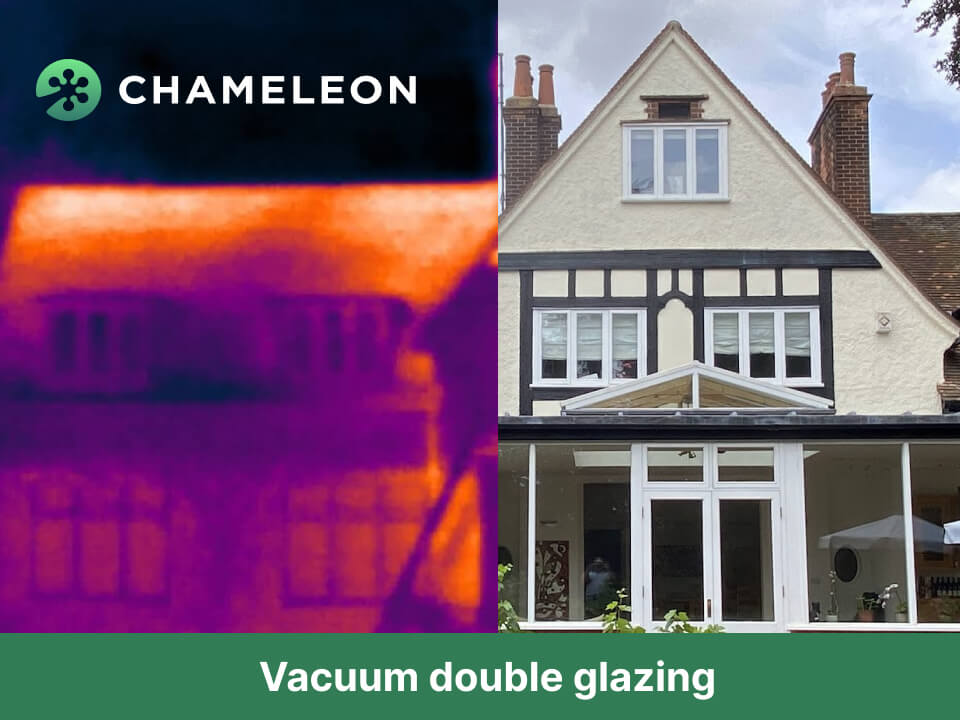 The condition of window timber frames before re-glazing
The condition of the timber frame can be seen in the photo below. All frames underwent our standard window refurbishment process, and the frames' durability was enhanced with acetylated wood.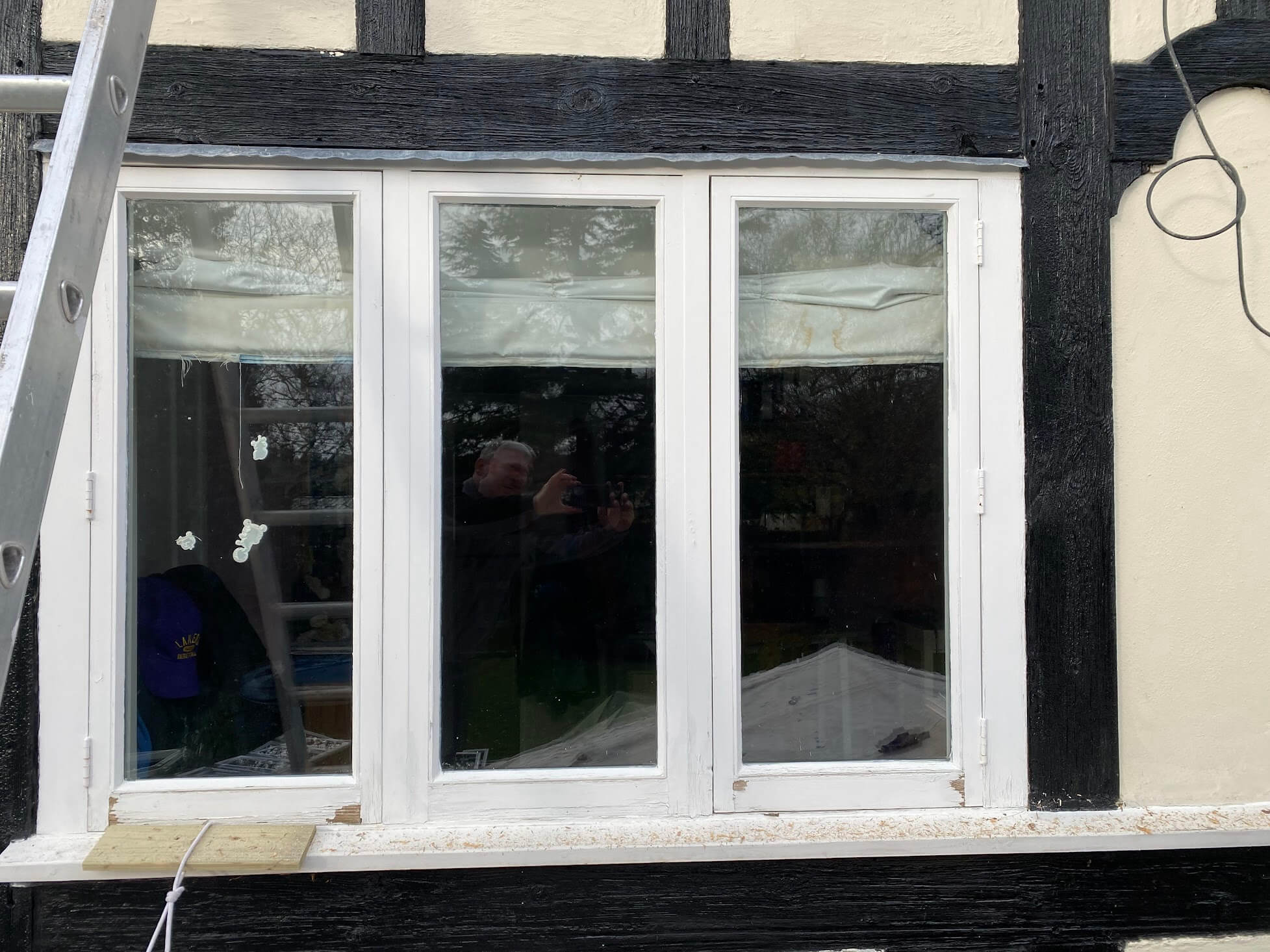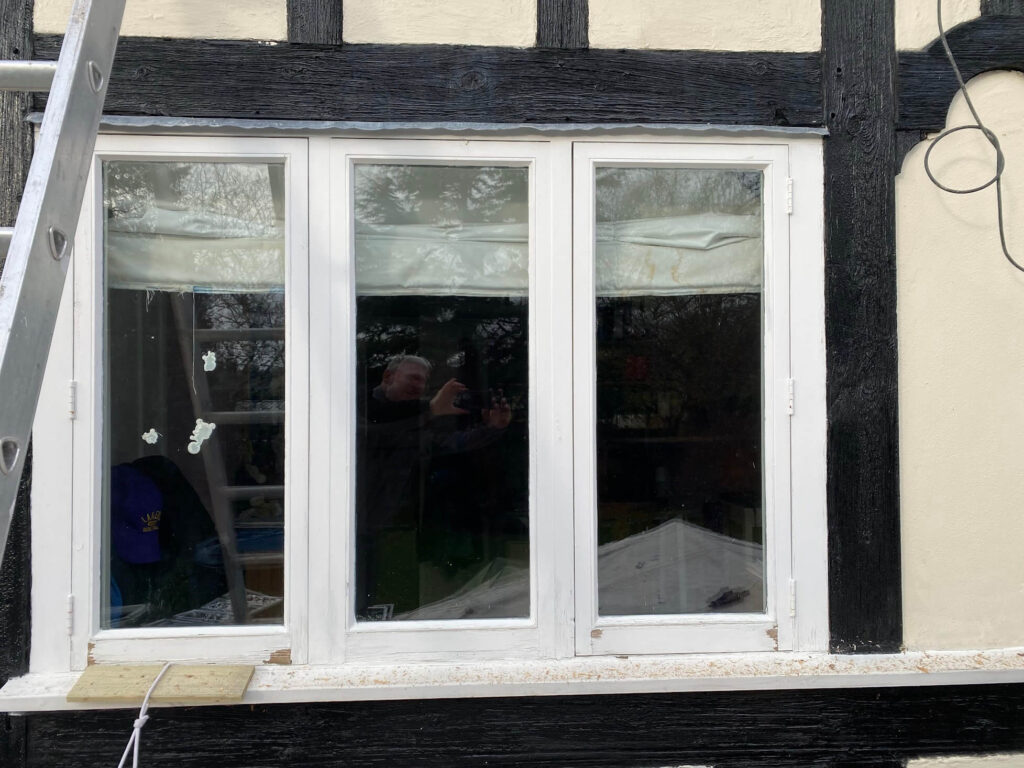 Window sill extension
Before beginning the project, an architect requested that we extend the existing window sills to accommodate a thicker exterior wall due to new insulation.
Could you please let Alex know that the external wall insulation and brick slips at the ground floor and render? The first floor will add 195mm to the face of the existing bricks and render. We want cills to project 30mm from the refurbished finish face. So the sills will be 225mm from the existing bricks and render.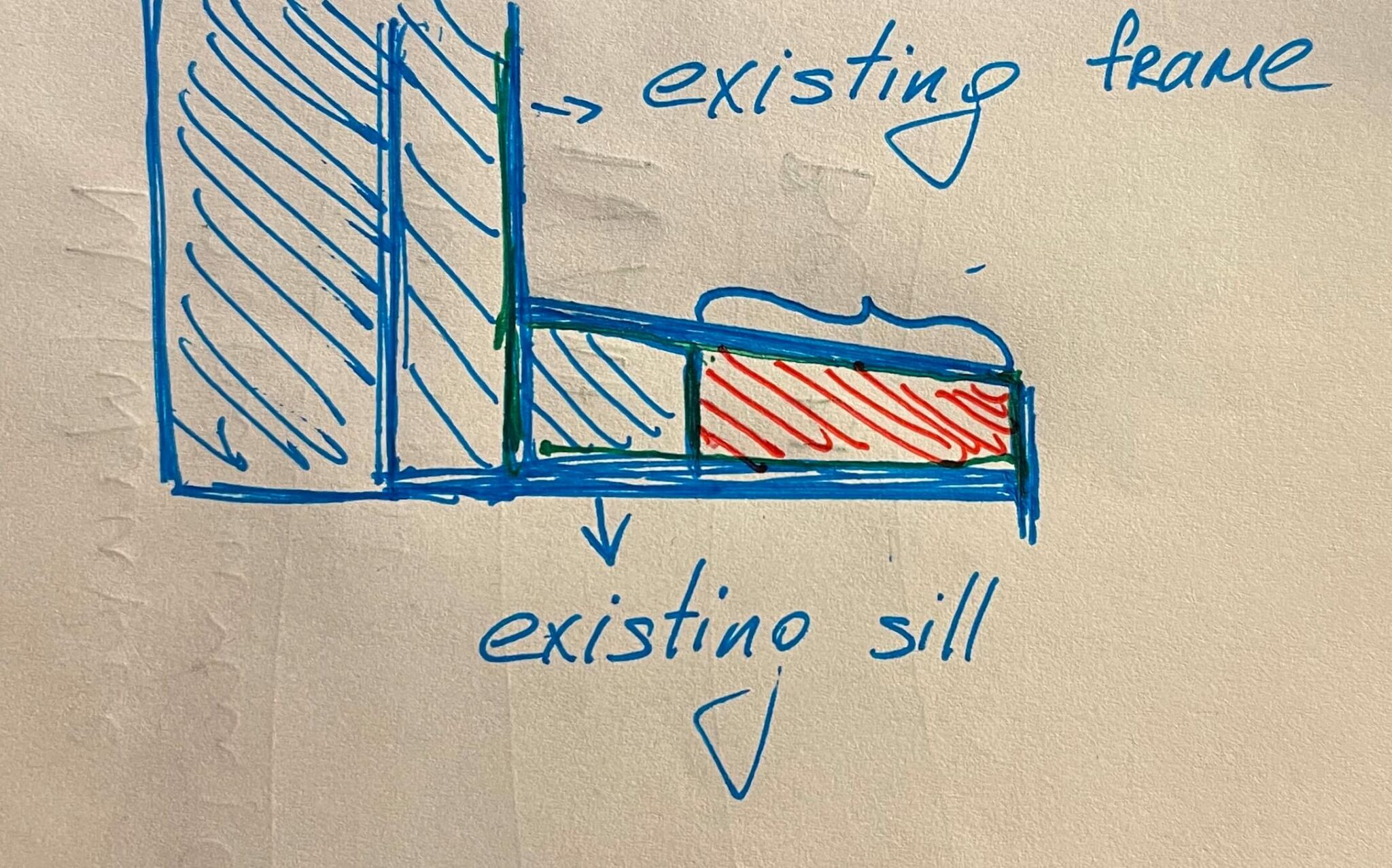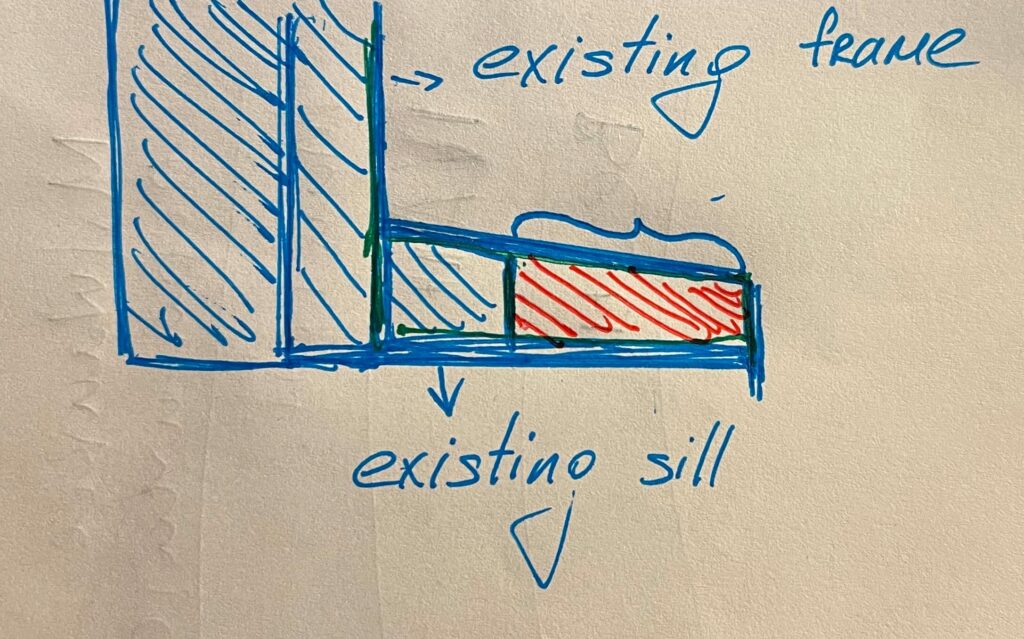 Architects
For the insulation to fit correctly and prevent water from getting in between the insulation and the existing wall. The sill must be adjusted accordingly to the thickness of the new insulation.
Here are the photos of the completed glazing retrofitting work with an extended sill. As you can see in the images below, all timber frames were renovated during the double-glazing process.