Our sash windows restoration projects in Bluntisham. In 2015 Chameleon completed a large sash windows restoration project in Bluntisham. A truly stunning Grade 2 Listed Georgian property, this heritage jewel presented around 60 single glazed sash windows needing restoration, including on outbuildings, with a large conservatory.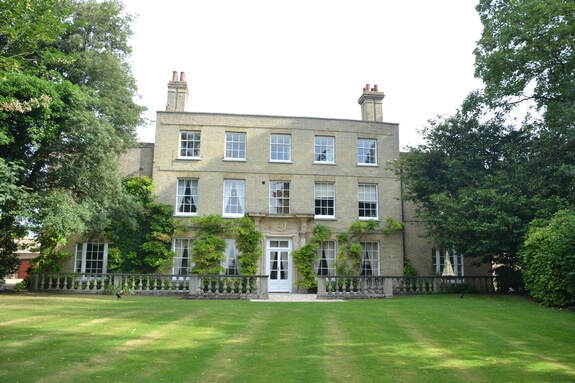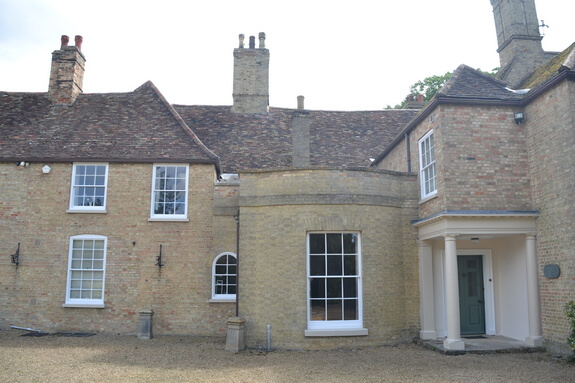 Built-in the 1720s, with later additions added in the 18th and 19th centuries, Bluntisham House is a stunning example of early Georgian architecture. The property displays Georgian windows with classic period proportions and a range of sashes, including, most commonly, 6 over 6 units but also unique curved sashes.
We completed work on the property over a two-week period while the owners were away on holiday. Our efficient and bespoke spray painting system enabled us to meet this tight deadline whilst maintaining our high standards. This was one of our larger-scale heritage sash window refurbishment projects, and we were proud to be a part of this property's rich history.
Windows restoration process
We began preparation work with the graduated sanding and filling of all wooden window surrounds and other decorative woodwork. For the filling, we use two-compound resinous fillers ideally suited to exterior use.
For any wood repairs, we use Accoya wood that is tested to last at least 50 years above ground and pairs extremely well with old frames on heritage properties such as these leaving an indispensable footprint on the original window.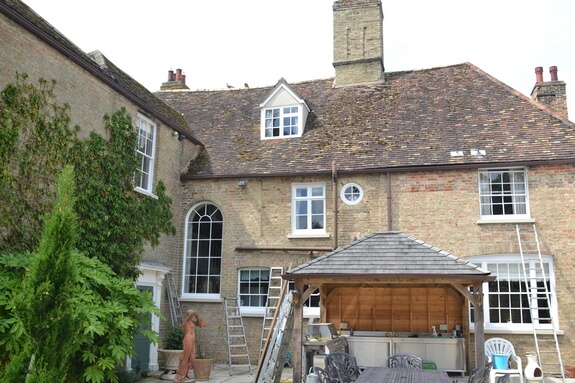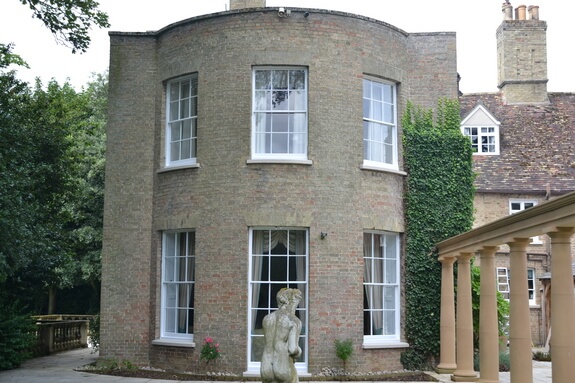 Following the above preparation, we are ready to begin spray painting. First, however, we thoroughly protect the area by taping up and hanging protective sheets to contain the decorated areas from the rest of the property and minimise any possible risk of spray-over.
Paint application is then begun built up in layers. Combined with our high-quality imported American paints, the finish is extremely smooth and durable- exhibiting an almost glass-like sheen.
We were happy to get the owner's full approval, who also had an independent inspection of the work due to the historic nature of this property. We left with satisfied clients and a beautifully restored period Georgian property with its windows well-protected for future generations.
Project gallery