Edwardian timber casement windows with a couple of french doors in this period property in Bedford required some attention from Chameleon's sash windows specialists.
When our specialist looked at the window during the quotation appointment, the timber window frames were in very bad condition due to pure and irregular maintenance by the previous owner.
The building previously had HMO (House in multiple occupations) status. With the new owner, the building becomes a Residential Dwelling and, with the change of use, an approach to maintenance also changed.
Original timber casement windows
The key characteristic of Edwardian architecture is a more custom, unique wooden window design. Wide range of glazing bar sizes and designs. The wealthy middle glass was moving away from mass-produced window styles that dominated the Georgian and Victorian eras. Custom window styles give a unique, one-of-a-kind appearance to the property, but it comes with the cost of windows becoming very expensive to replace.
As you would expect from the property from the Edwardian era, all timber casement windows were single-glazed with low energy efficiency. Single glazing has many disadvantages. It causes condensation issues; it does not reduce outside noise, and the energy bills are higher with this type of glazing.
The high cost of bespoke replacement windows and the need to improve existing windows' energy efficiency are two key factors driving demand for our double glazing retrofitting service.
The timber casement windows assessment before restoration
The below photos speak for themselves. As you can see, the bay window frames were in very bad condition and required repairs and new timber parts. Our craftsman has the perfect blend of modern and traditional skills to restore those beautiful timber windows.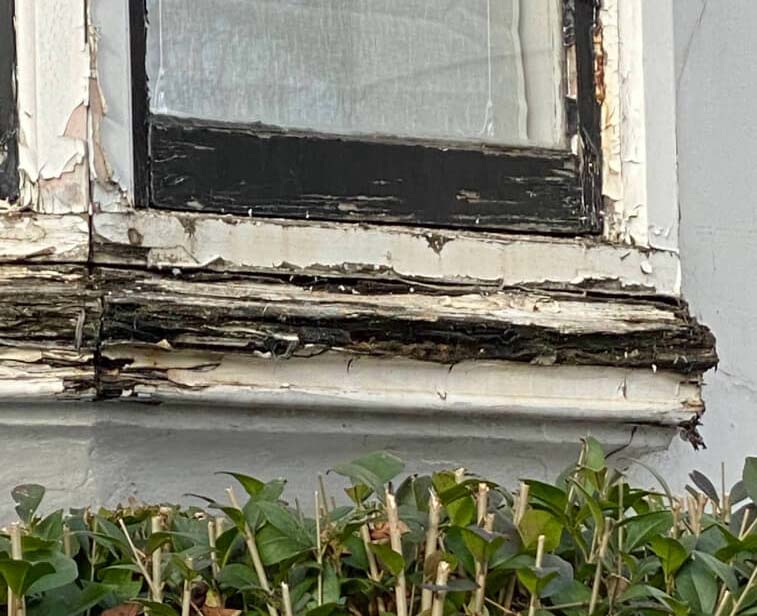 Bay windows sills have rotten badly. The paint that supposes to protect wood craked, as darker paint is more affected by the sun, no wonder it has more cracks and more decayed wood under it.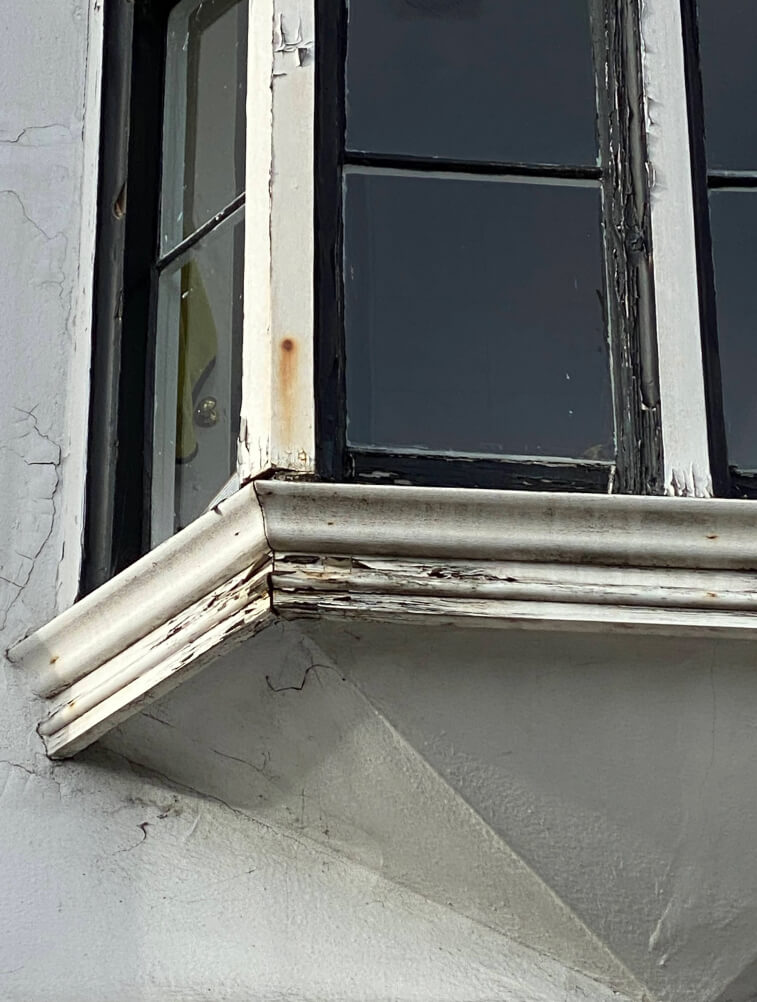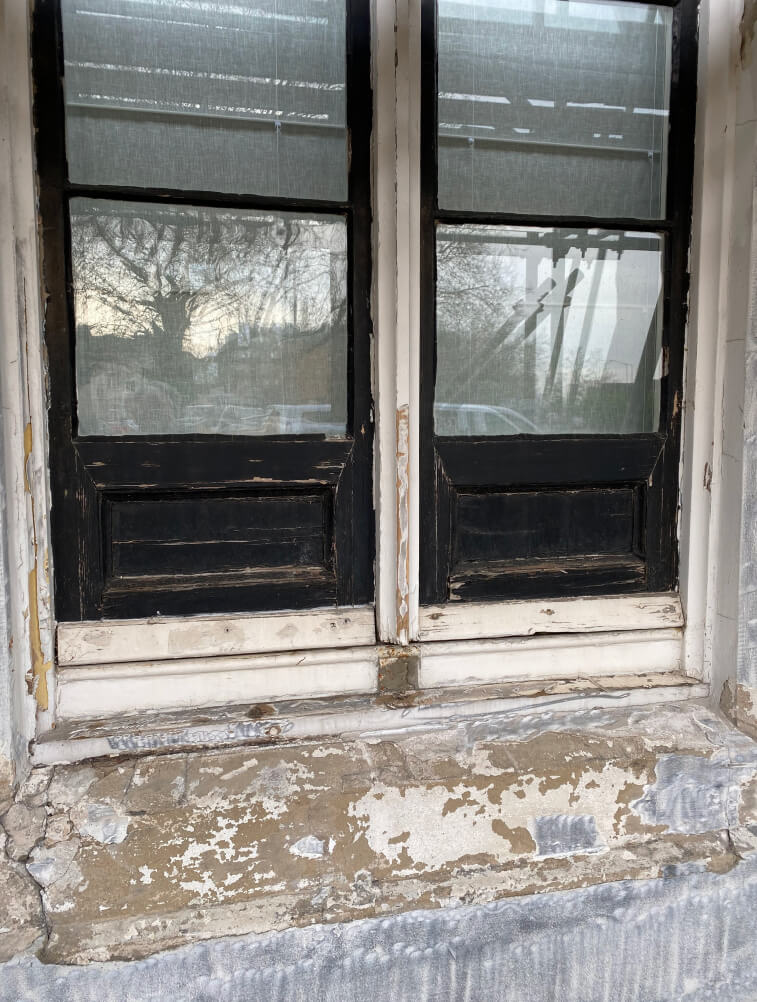 After removing old layers of paint, previous spliced repairs made to the frame become visible.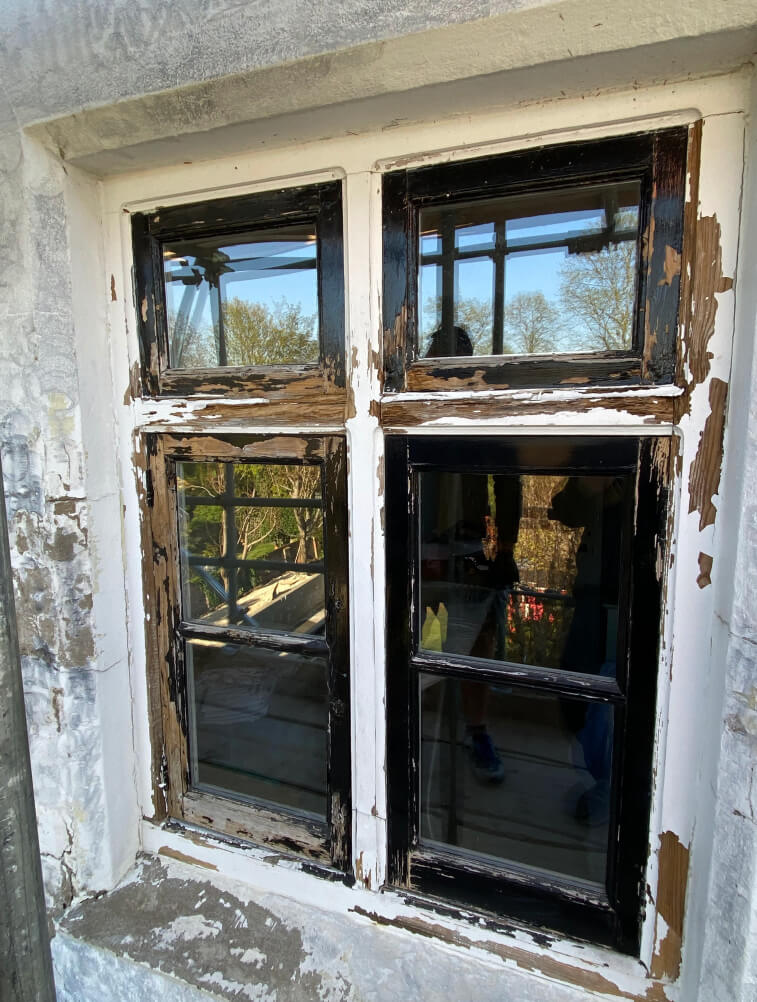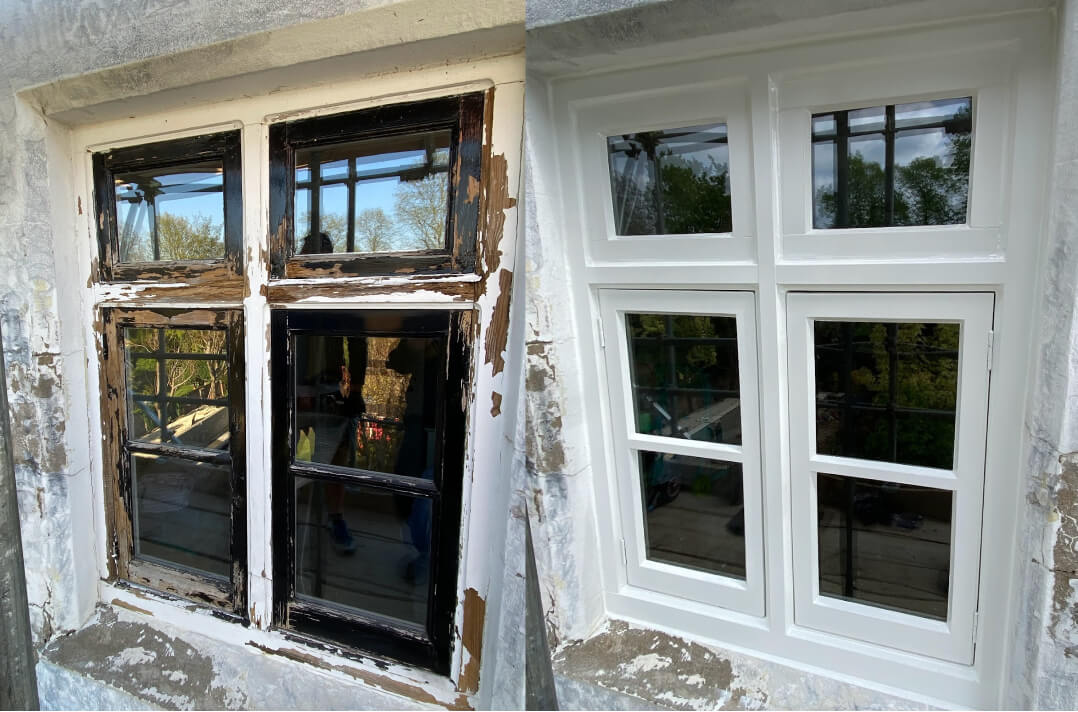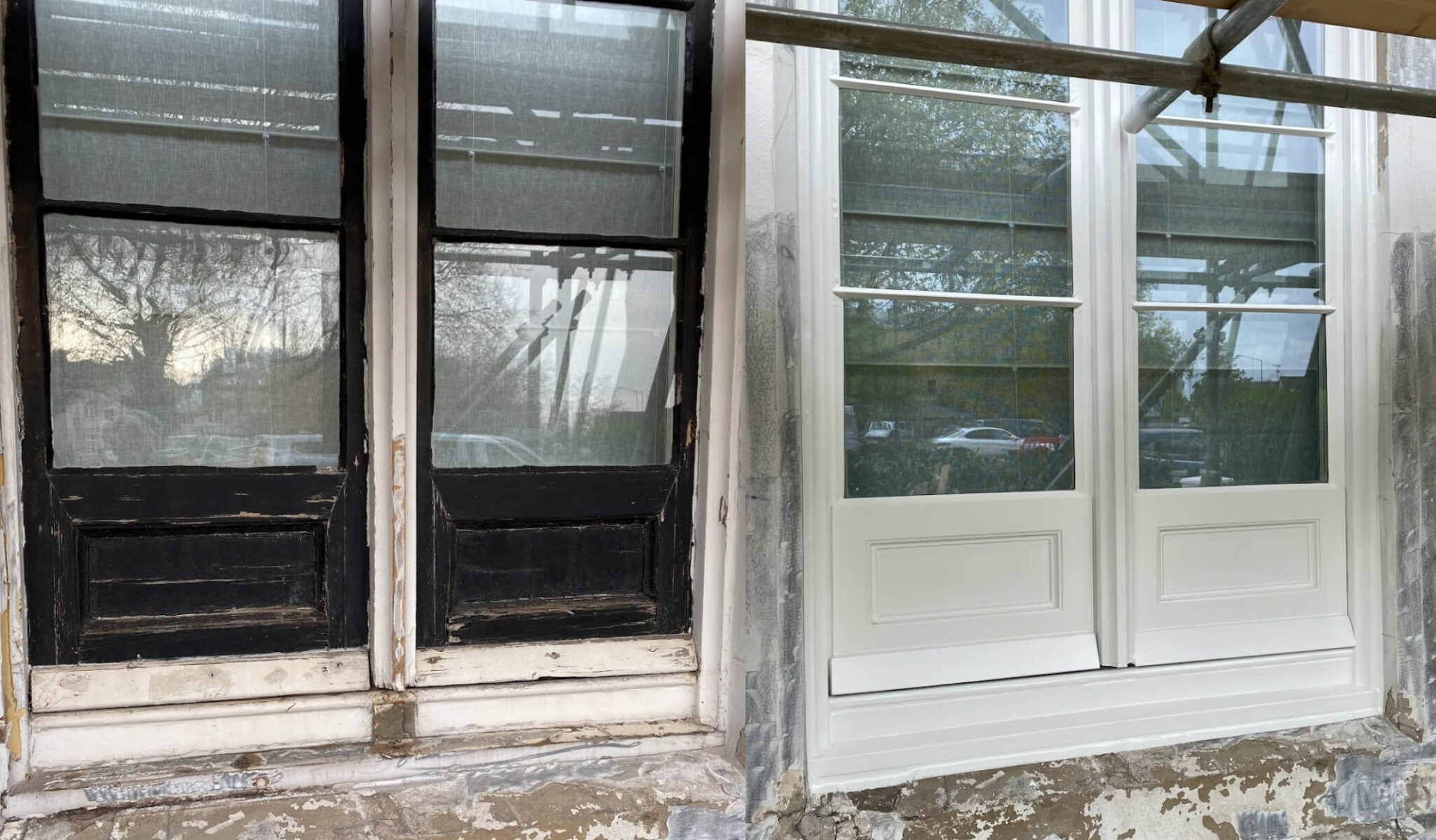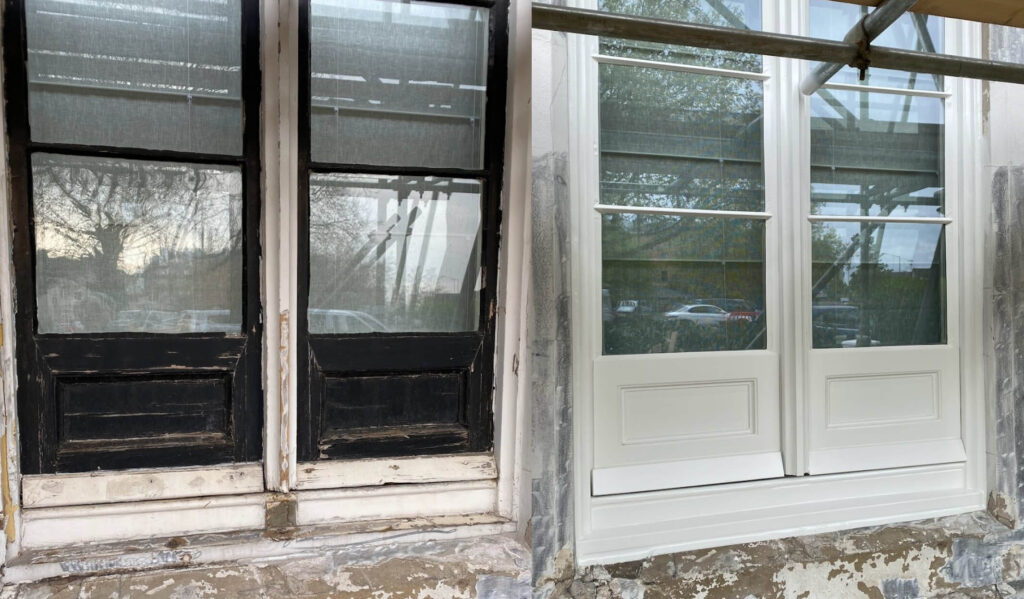 Timber casement windows double glazing retrofit.
All vacuum double-glazed units were made to measure for these original timber windows and delivered from a manufacturer from Belgium. We use vacuum double glazing instead of standard slimline double glazing for several reasons.
It is a new glass technology that beats slimline double glazing efficiency and durability. It is guaranteed to keep its insulation properties for at least 15 years. No other types of double glazing back their glass with such a guarantee.
When we say vacuum double glazing has better thermal properties, we mean it is 200% more efficient. Vacuum double glazing U-Value is only 0.7 (W/m2K), the same as triple glazing. This energy performance is achieved thanks to vacuum, which has better insulation properties than Krypton and Argon inert gases.
Vacuum double glazing also has Low-E coatings on one of the glass panes, preventing heat from escaping and stopping harmful UV radiation.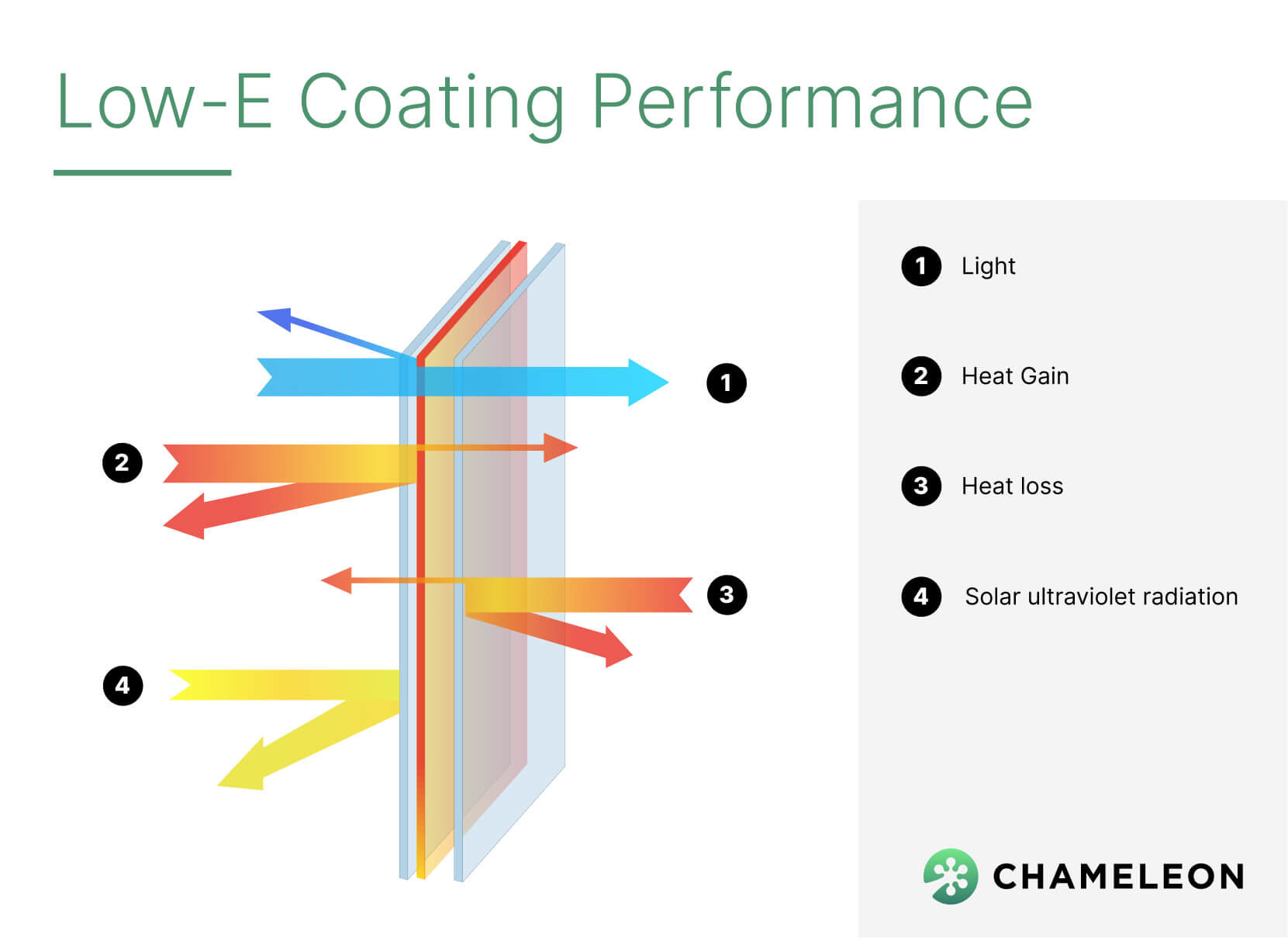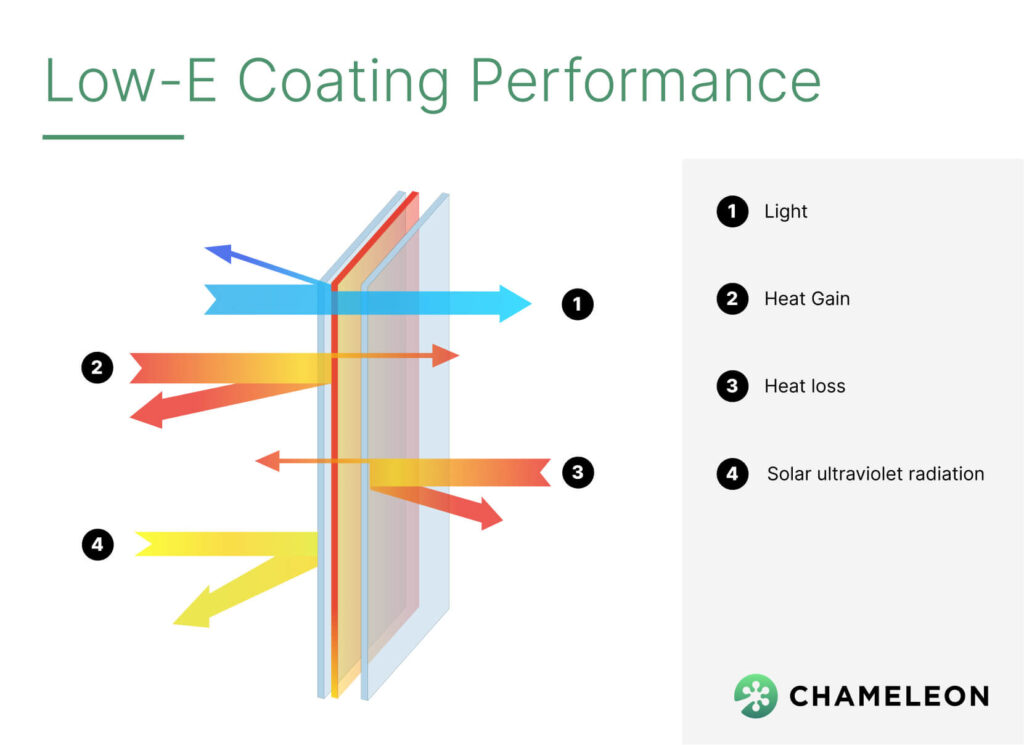 Vacuum double glazing also has acoustic glass properties, meaning reduced noise pollution. As the property is located in the city centre on one of the main roads.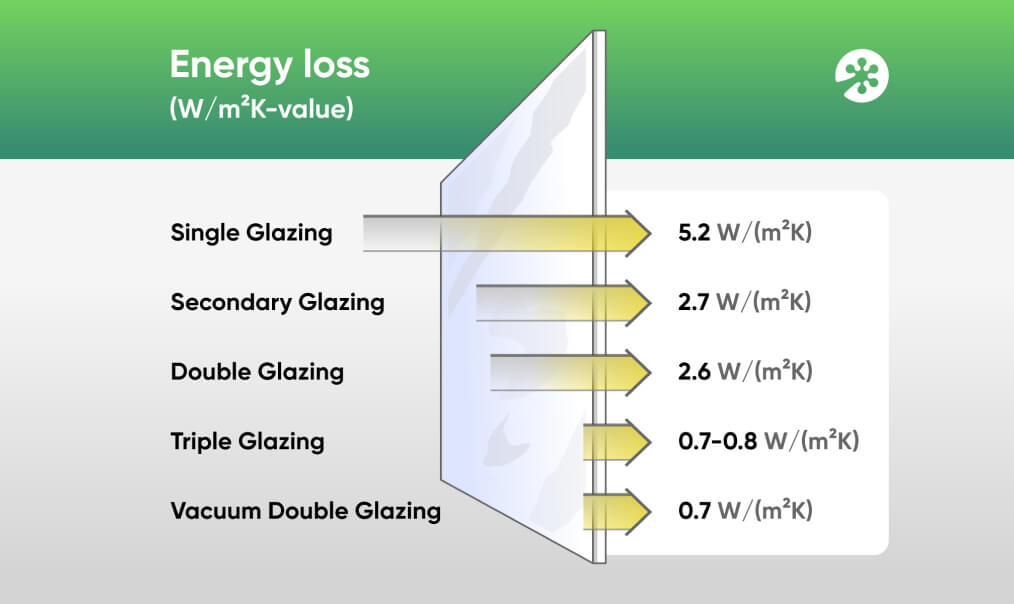 As other works were done to the properties, scaffolding was already in place. This made it much easier and quicker to repair and reglaze windows, but usually, we do not need it, which saves the budget.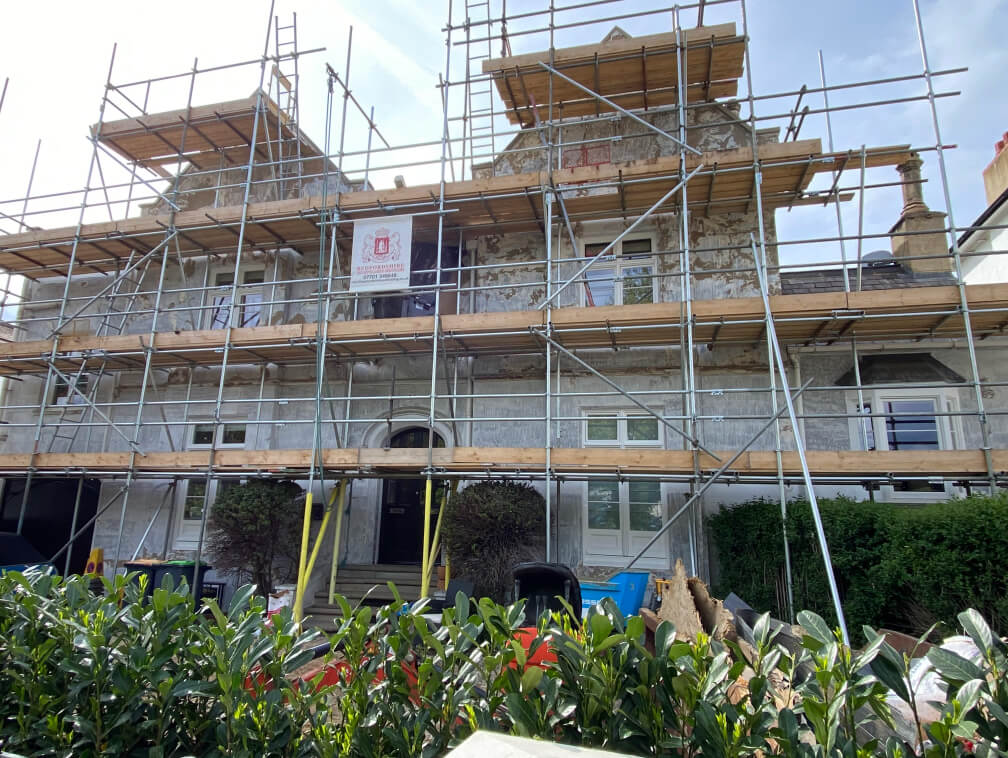 The renovated timber casement windows with new VIG glass installed
We used weather-resistant Accoya wood in this casement timber windows and doors restoration project. New replacement parts for the windows were made with this wood. Accoya wood has better durability than redwood. It is the perfect material for windows where the rot protection from weather elements plays an important role in preserving frames.

New draught-proofing seals were also installed together with retrofitted FINEO glass.
The new glass is only 7 mm thick. You can not notice it and say that those original timber casement window frames hold double-glazed units.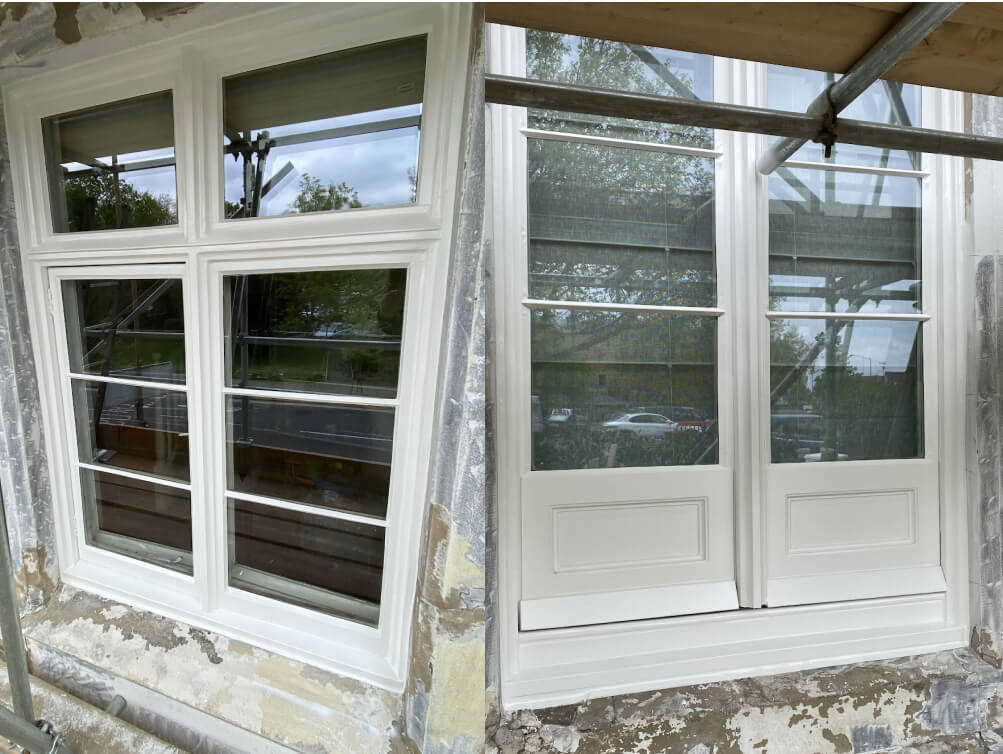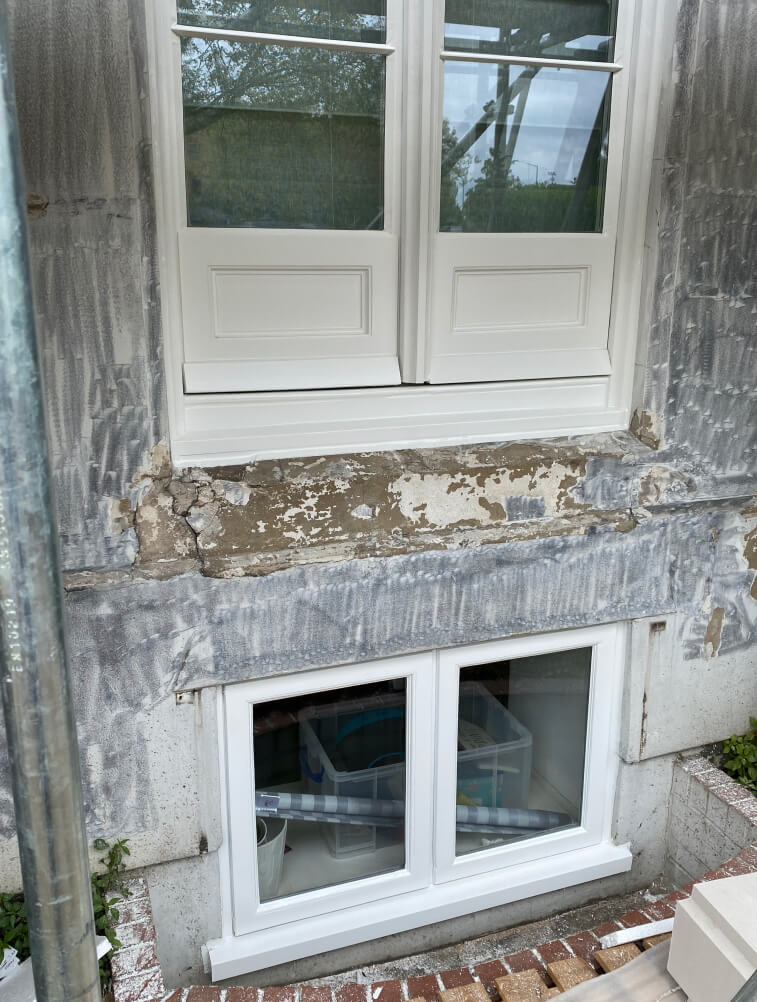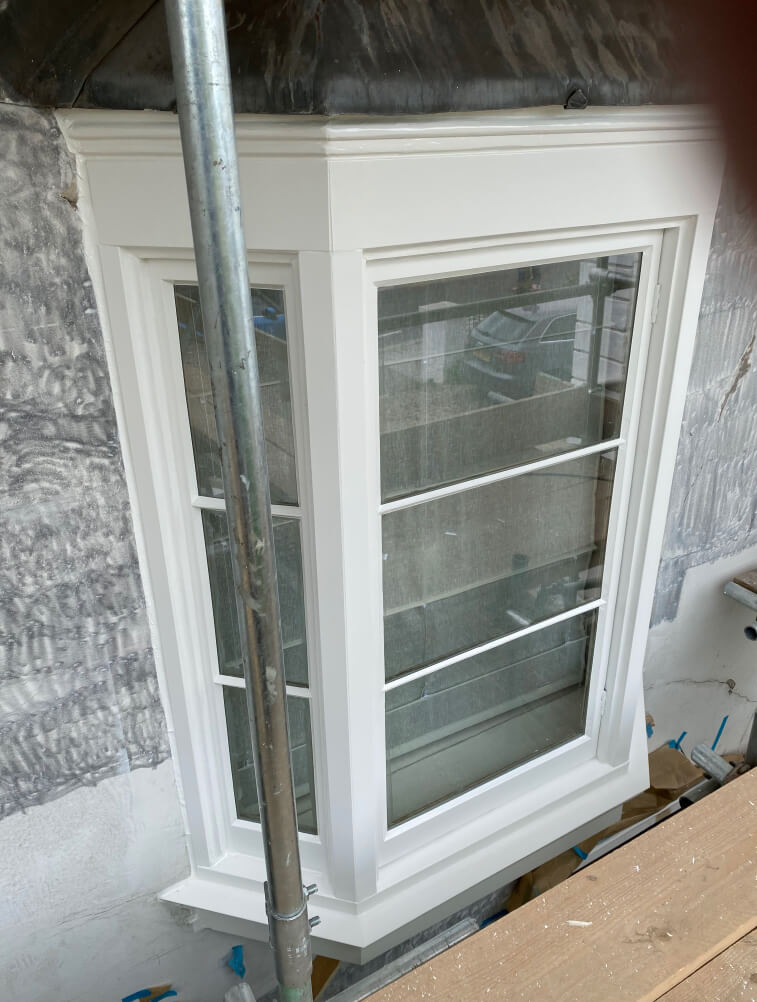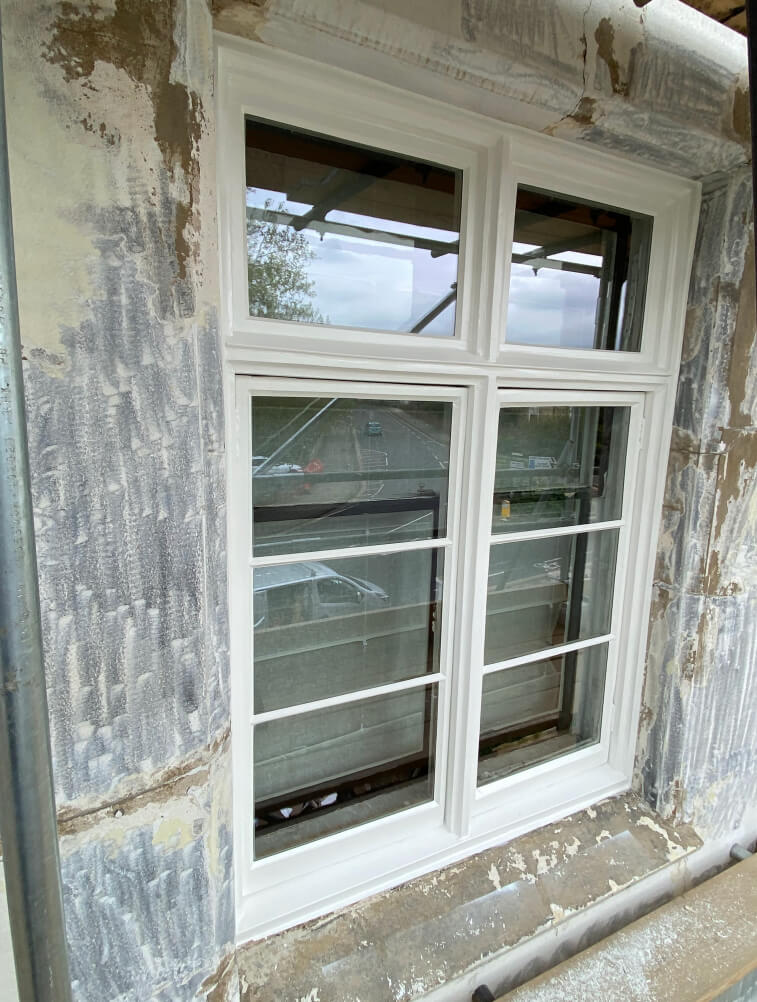 It was a quite challenging project for us because of the severally bad conditions of the wooden windows. Still interesting, and our team had great fun renovating and double-glazing those windows.
The result is fantastic. The customer is happy with the new look of their windows. The high-quality and efficient glass will save them money on energy bills in this time of high energy prices.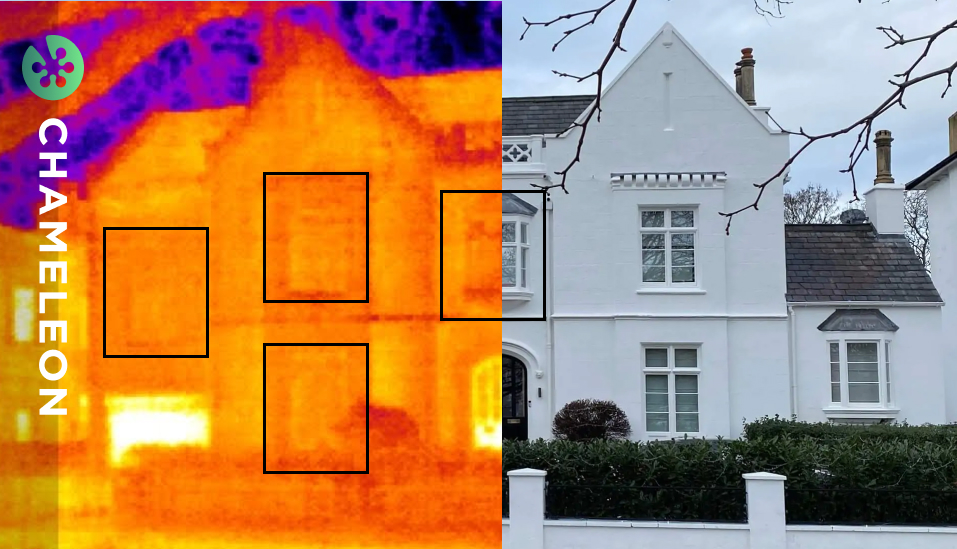 Thermal efficiency compared to neighbouring property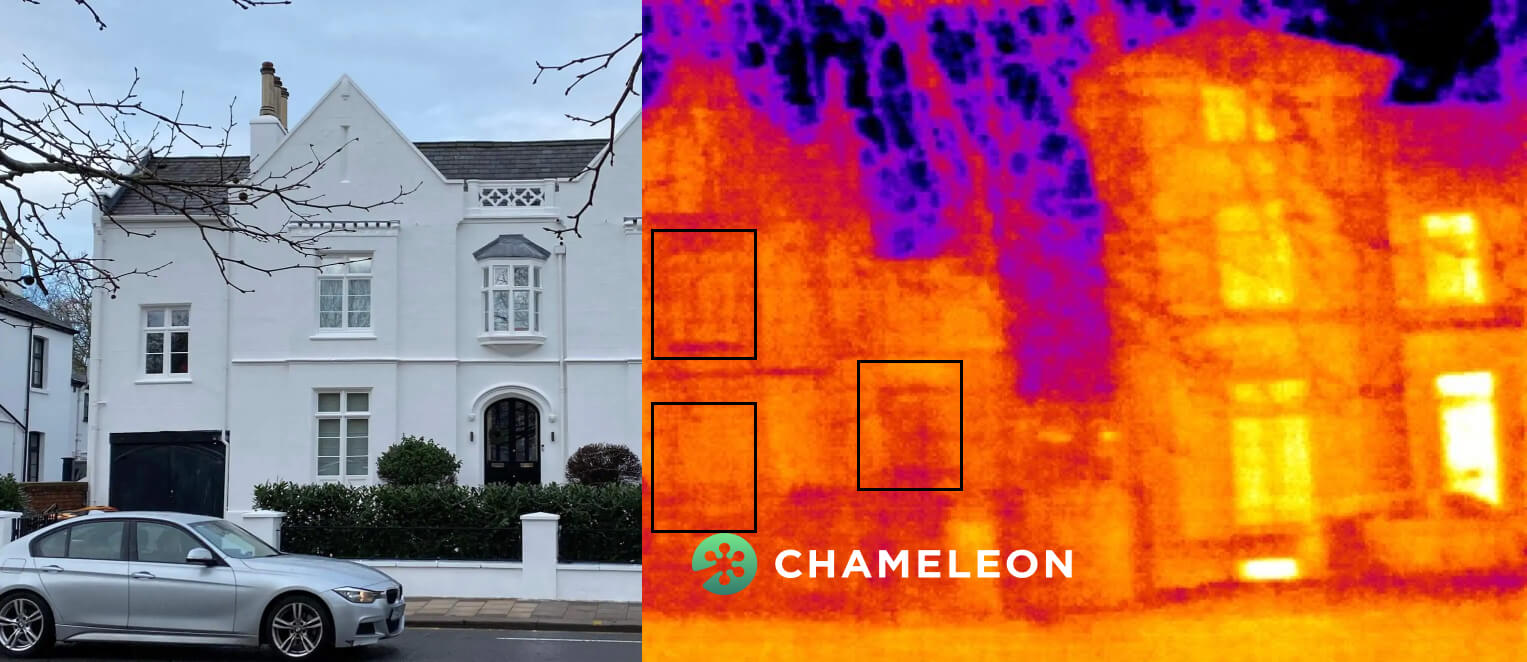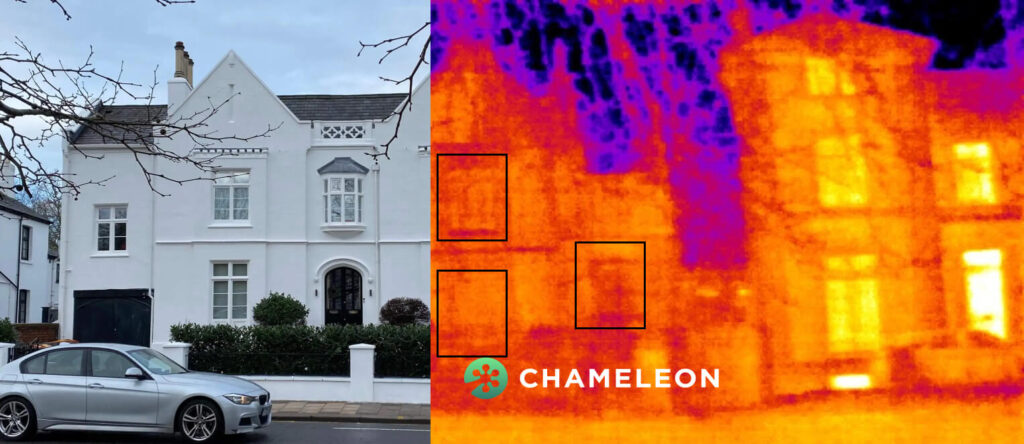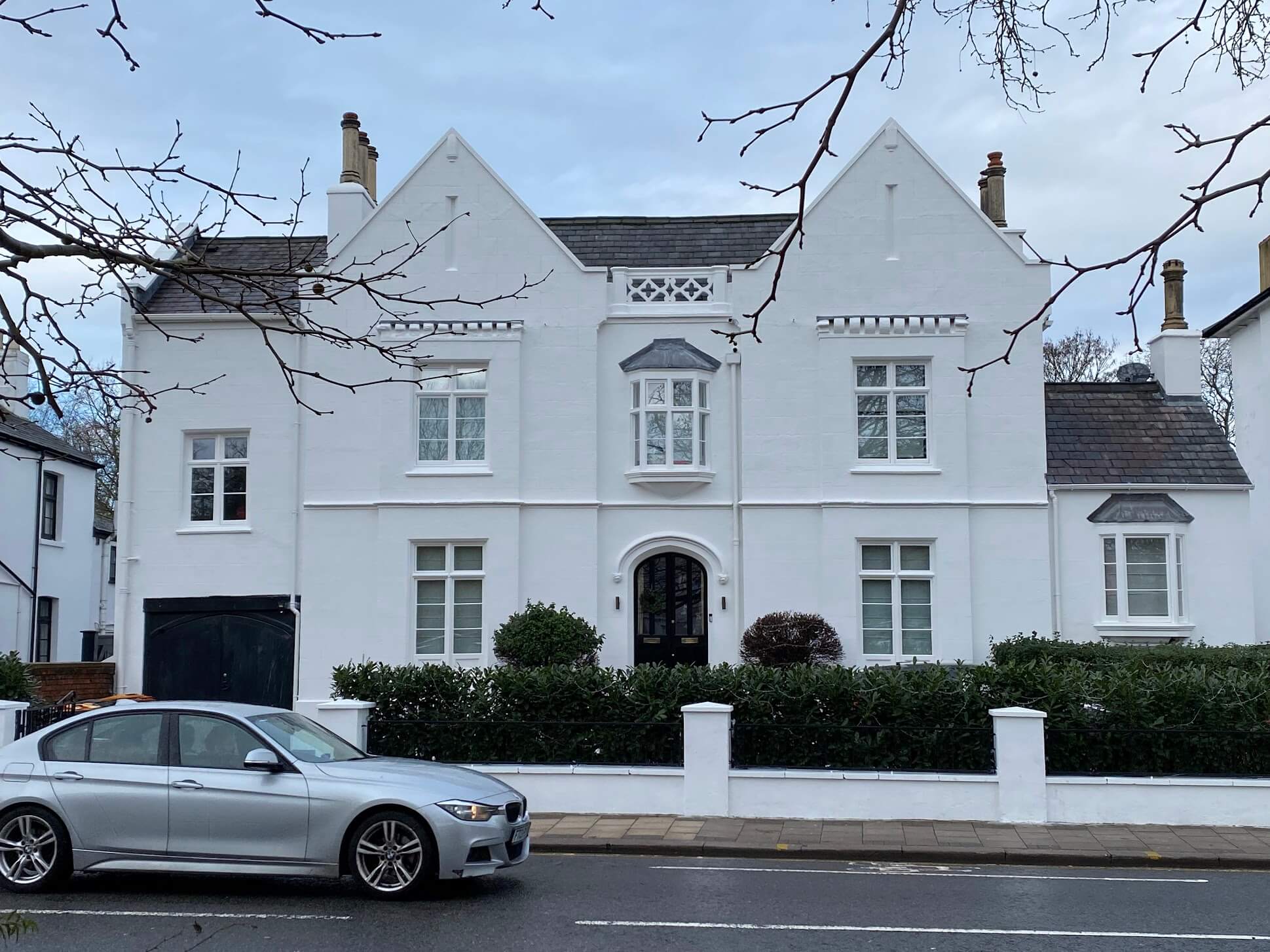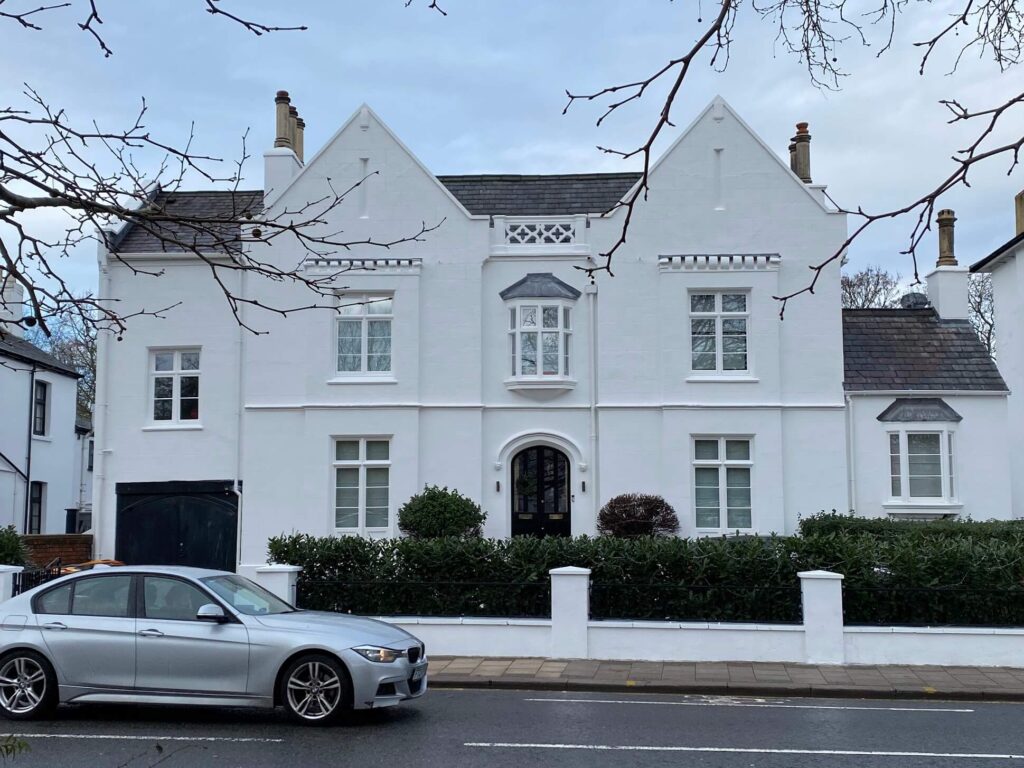 Suppose you have timber casement windows or sash windows needing some attention. Or, if you are thinking about retrofitting your existing windows with double glazing, please contact us for a free quote.