This beautiful home in the heart of Snailwell, Cambridgeshire was worked on during the summer of 2014 and required substantial sash window renovation. The current windows were the original sashes but were suffering from peeling paint, rotting wood and crumbling putty – making the window frames loose and inefficient.
Sash windows renovation
We spent 4 days transforming the window frames and improving the entire look of the home. Our staff sanded down the timber, revealing and removing rotten sections as they went. Any minor sections of softwood were filled with resinous wood fillers to strengthen them.
The rest of the wood was treated with a wood hardener. All holes in the wooden window frames were also repaired.
We also added new putty to all the glass fittings. This secures the glass for the future but also makes sure the windows are as efficient as possible. Once we had sanded down all of the repairs, we could then prepare the windows for painting.

Sash window painting
After protecting all adjacent areas with film and masking paper, we then painted the window timbers, giving them a smooth, almost mirror-like finish. We opted to use a paint spray gun rather than brushes because the primer and paint can fill the areas nicely and provide a very smooth and professional finish.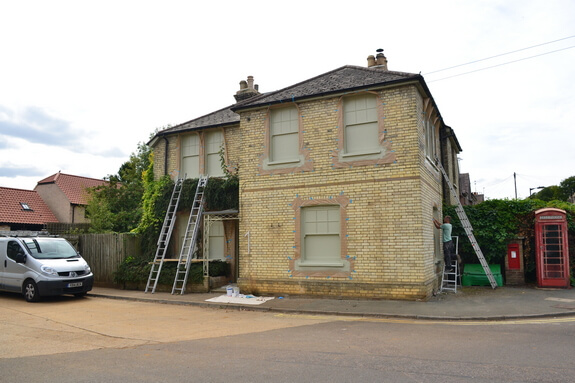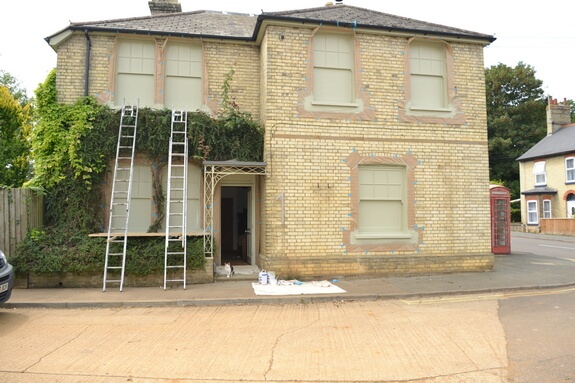 Sash windows renovation project completed
The result was a home that was restored to its former glory through a process of restoration and professional painting. All of the work our restoration team did ensures that the home will look great for many years.
We have also ensured the windows are protected from rot as well. This substantial home now stands out as a beautiful example of how older style windows can be bought back to life without needing to replace them.