Our recent sash windows restoration project in West London. The period property has over 30 original box sash windows, casement windows and French doors. These property features are in a condition that necessitates restoration.
Wooden window frame issues present at the beginning of the project
The original window frames were rotten in many spots, crumbling away due to years of neglect. The window sills were weathered and splitting apart, no longer able to properly hold up the weight of the window.
The ornate architraves surrounding the windows were also decomposing and falling to pieces bit by bit. It was clear that the once beautiful windows had not been properly maintained over time, leading to their current dilapidated and hazardous condition.
The glazing putty meant to hold the glass panes in place had also broken down over time, with large sections now missing or cracked, leaving gaps where outside air and moisture could seep in.
Several windows had sashes that were stuck or blocked, unable to open properly. Damaged sash cords prevented the sashes from gliding effortlessly up and down. Gaps and poor seals around the sashes led to significant air leakage and draughts.
It was clear the windows needed comprehensive restoration and draught-proofing to fix the many issues that accumulated over decades of deterioration.
Why we use Accoya and Tricoya wood in our sash window restoration projects
Accoya and Tricoya woods have become very popular choices for restoring traditional sash windows in heritage buildings. Accoya is created from sustainably sourced softwoods like pine that undergo a non-toxic acetylation process. This modification process makes the wood more dimensionally stable and extremely durable. Accoya is highly resistant to rot, swelling, warping and other problems that can afflict untreated softwoods.
Tricoya is a modified wood product created from sustainably sourced hardwoods like alder. It undergoes a similar acetylation process and can be used to create wood components that maintain the look and feel of traditional hardwoods. Tricoya is highly stable and durable, even in wet environments.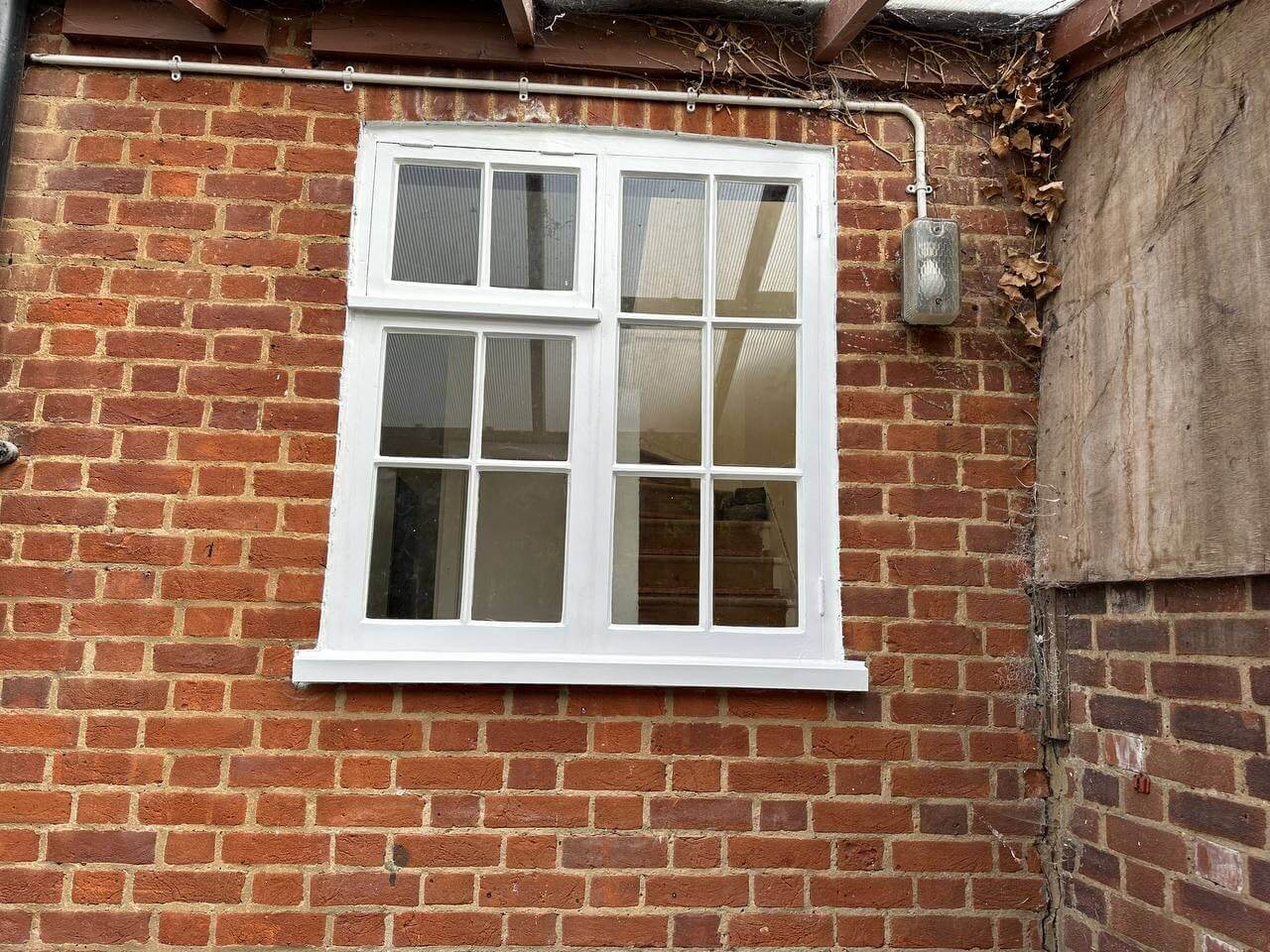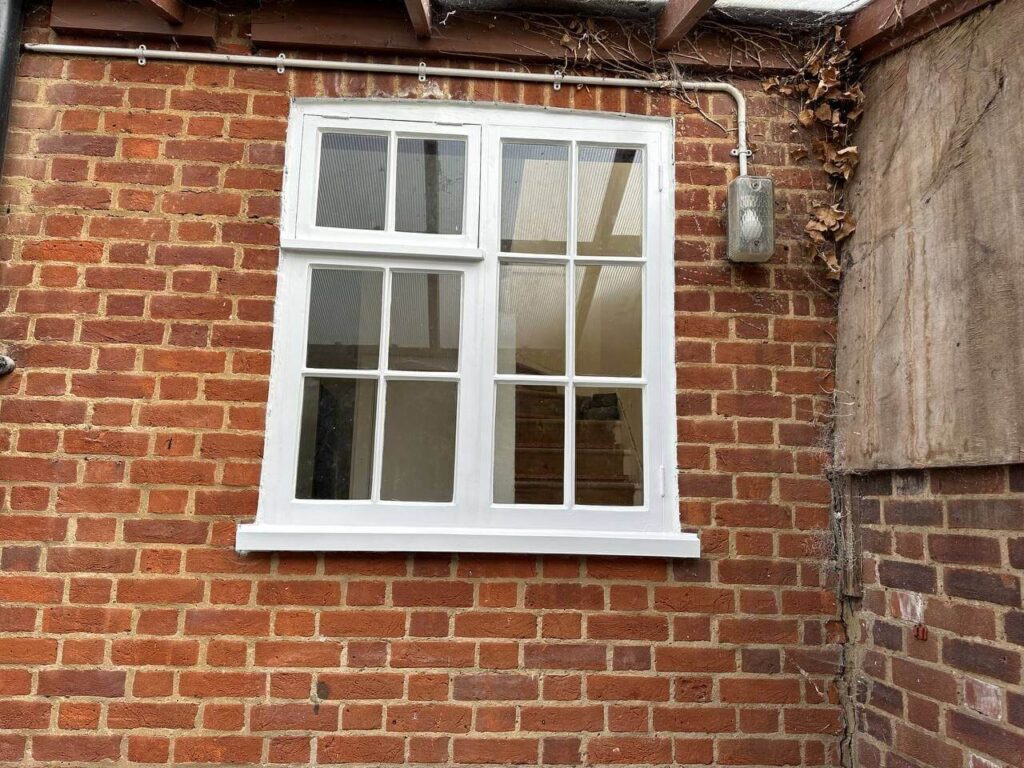 For sash window frame repairs, Accoya and Tricoya are ideal because they can be used to replicate decayed or damaged window components while providing superior longevity and performance. Their natural wood grains and characteristics can be maintained while making the components impervious to moisture, rot and pests.
This allows restored sash windows to recapture their original aesthetic appeal while meeting modern standards for energy efficiency, lifecycle cost savings and historical accuracy. Their minimal upkeep needs also position them as a pragmatic option for replacing sash window parts.
Why we are not big fans of two-component wood fillers for professional restoration
While 2 component wood fillers may seem like an easy solution for repairing rotted or damaged window components, they are not the best choice for professional sash window restorations. These fillers are made from polyurethane resins and hardeners which allow the filler to expand into cracks and holes.
However, the filler permanently remains a soft, flexible material even after hardening. This means repaired areas may be prone to shrinking, sagging, or falling out over time. The filler does not truly bond with the cellular structure of the wood but rather sits on top of the damaged area.
This can lead to future failure, especially in load-bearing areas like sills and bottom rails. The flexibility and difference in density from the original wood also make achieving strong paint bonds difficult.
Final results – completely refurbished and draught-proofed windows
After a meticulous restoration process, the sash windows are returned to their former glory and performance. Years of decay and damage have been completely reversed with a combination of repair and replacement of damaged components.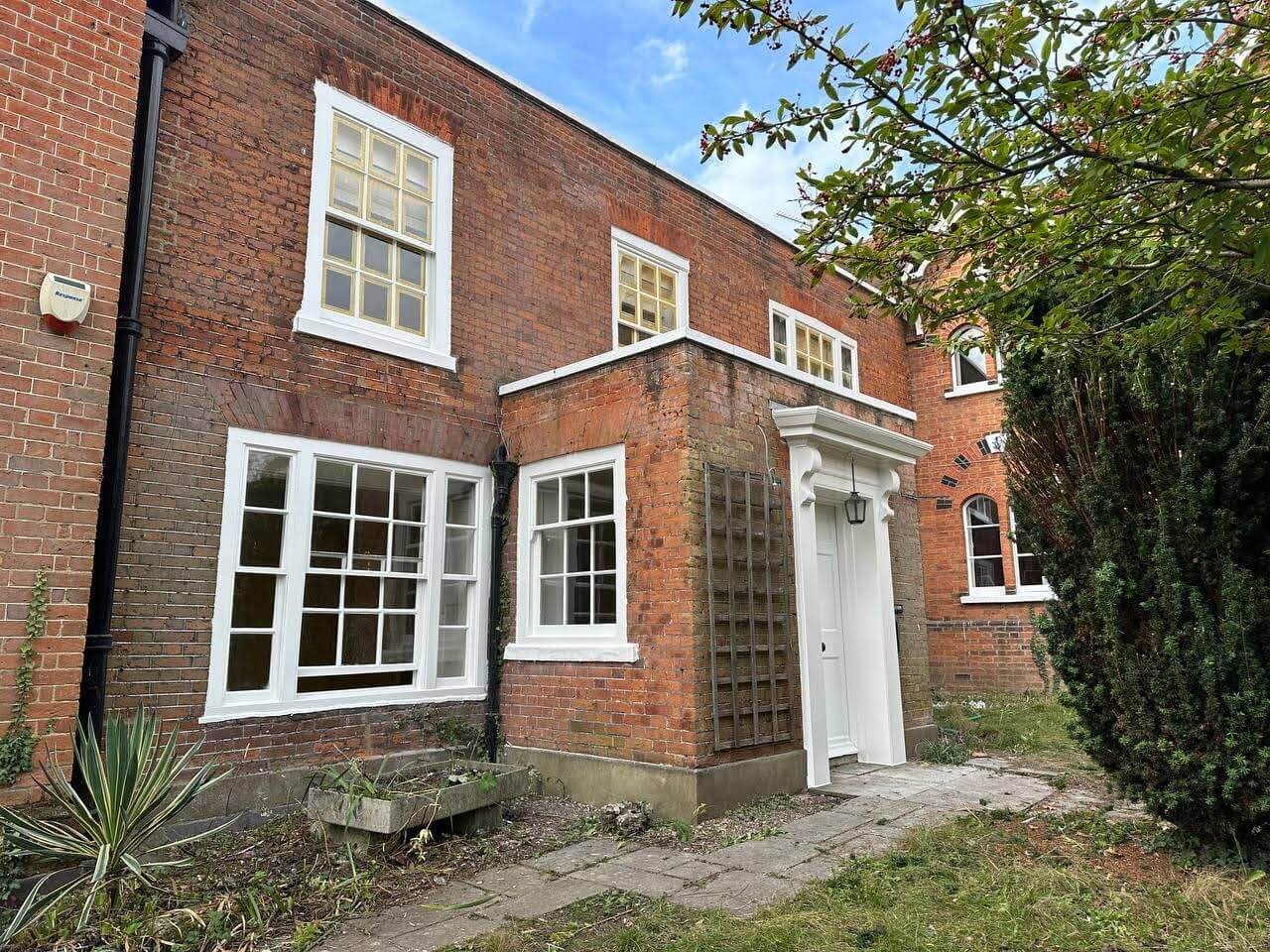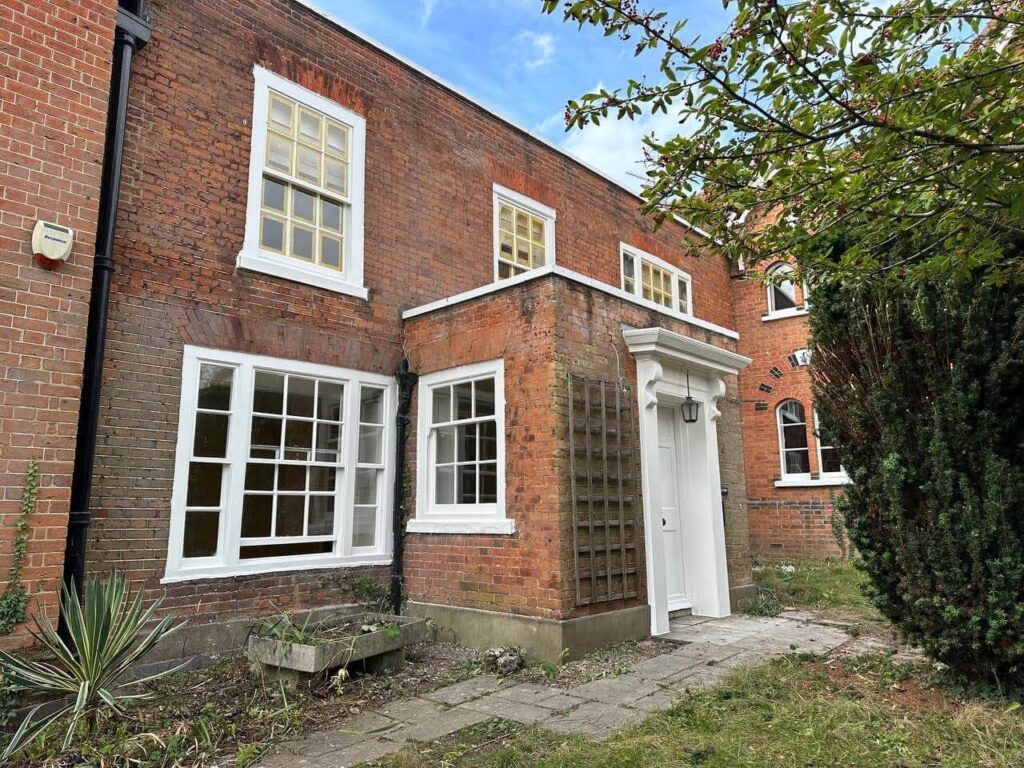 Rotten wood is milled out and replaced with strong, durable Accoya or Tricoya to match the original profiles.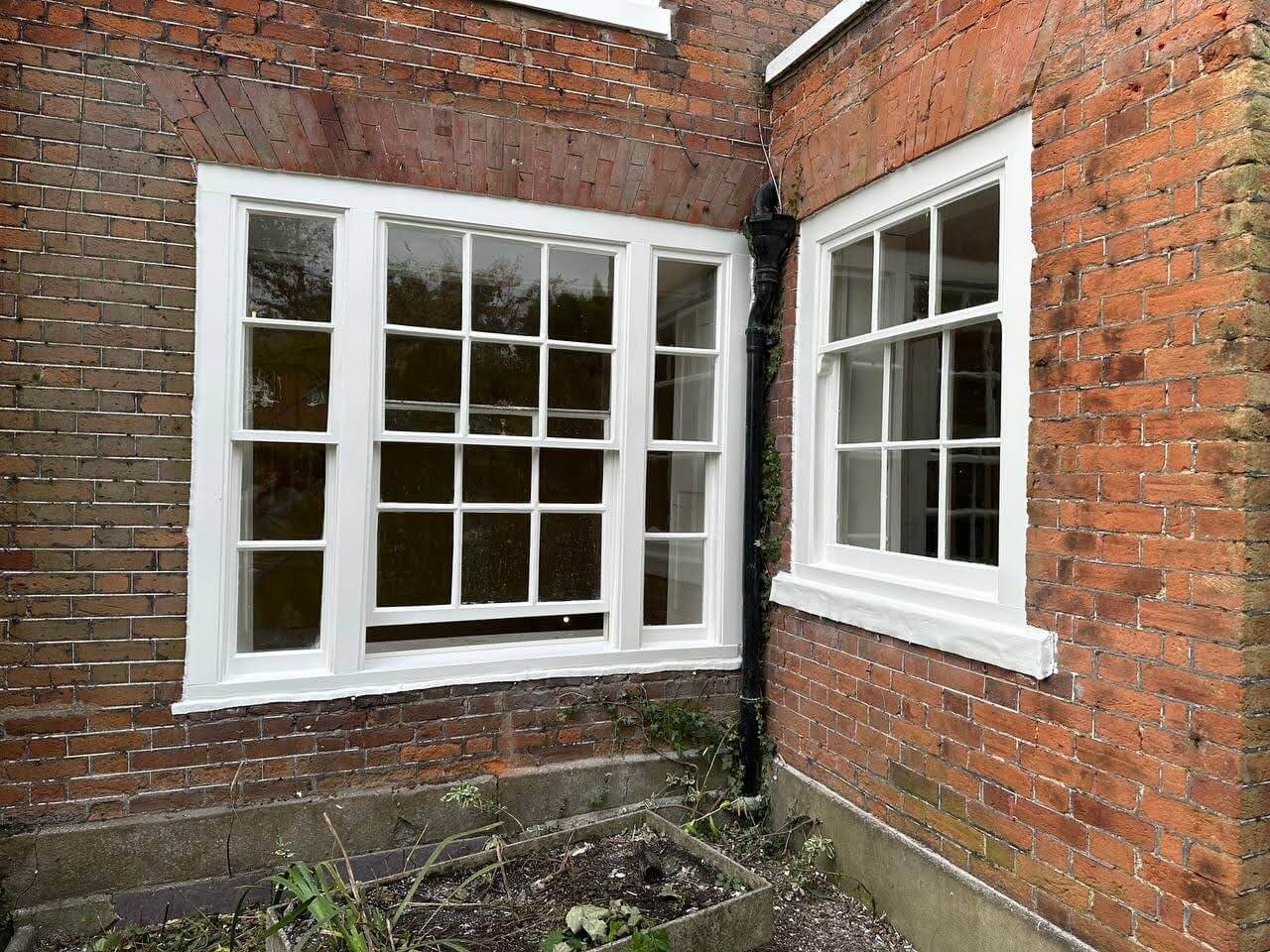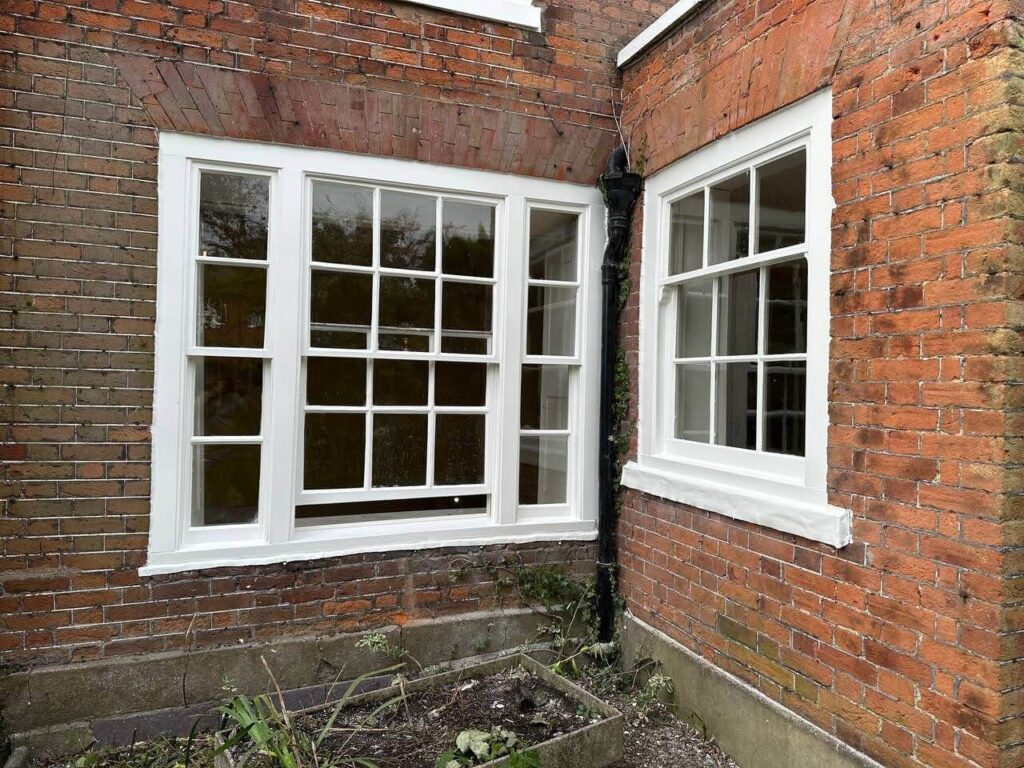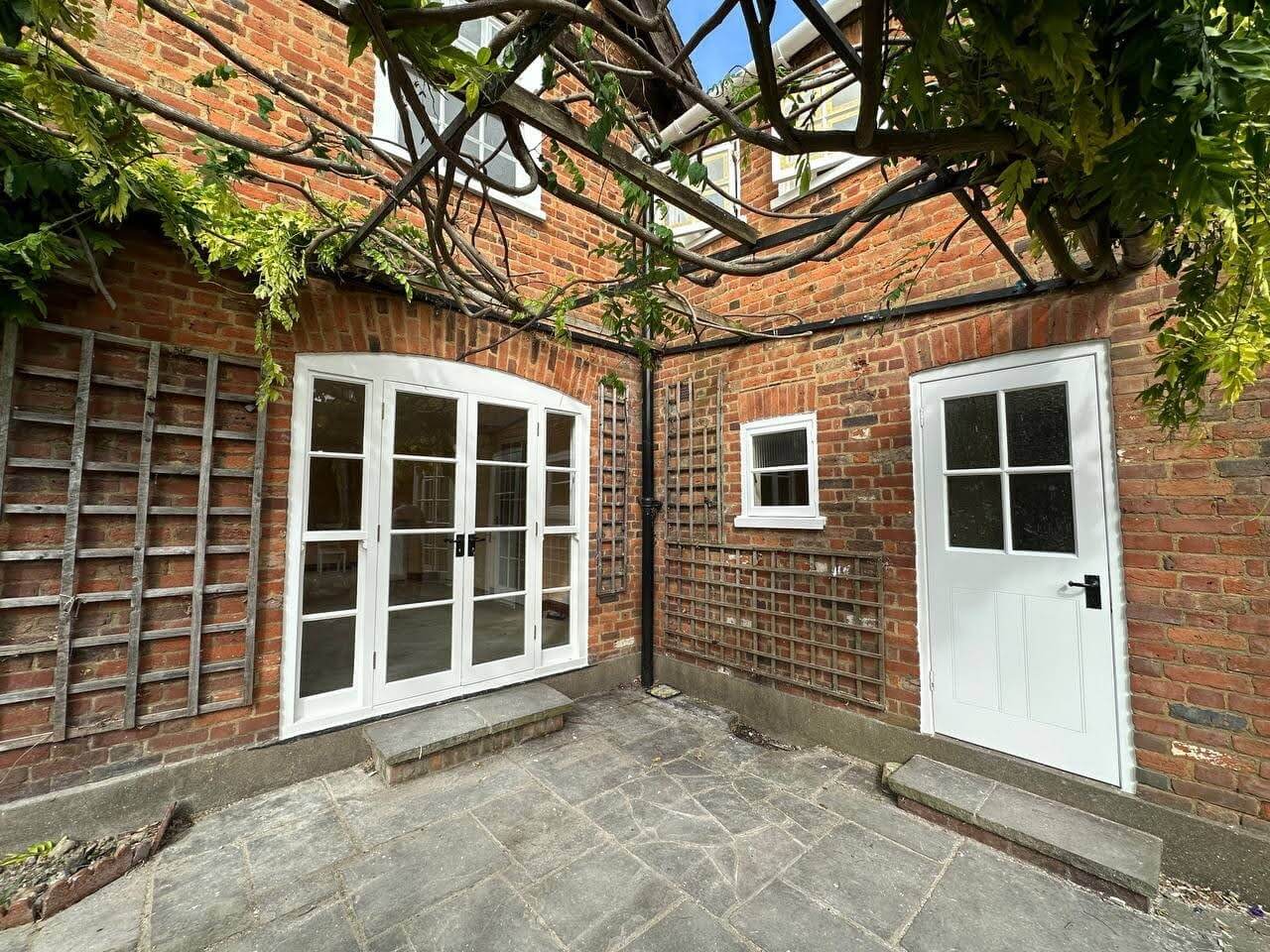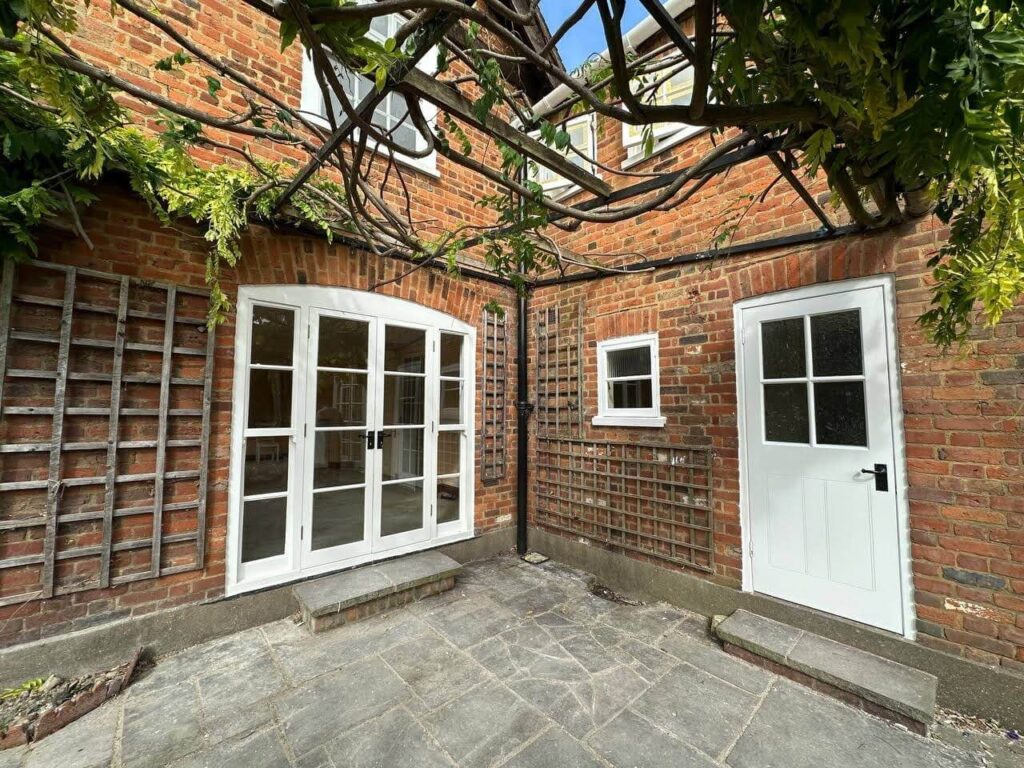 The glazing putty is renewed and painted to ensure a secure, airtight bond between the glass and the frame. Sills are rebuilt and angled properly to prevent moisture damage. Missing moulding sections are duplicated and installed for an architecturally accurate finish.
With meticulous handiwork, each joint, corner, and component fits seamlessly together once again. The windows operate smoothly and efficiently on newly refurbished mechanical parts.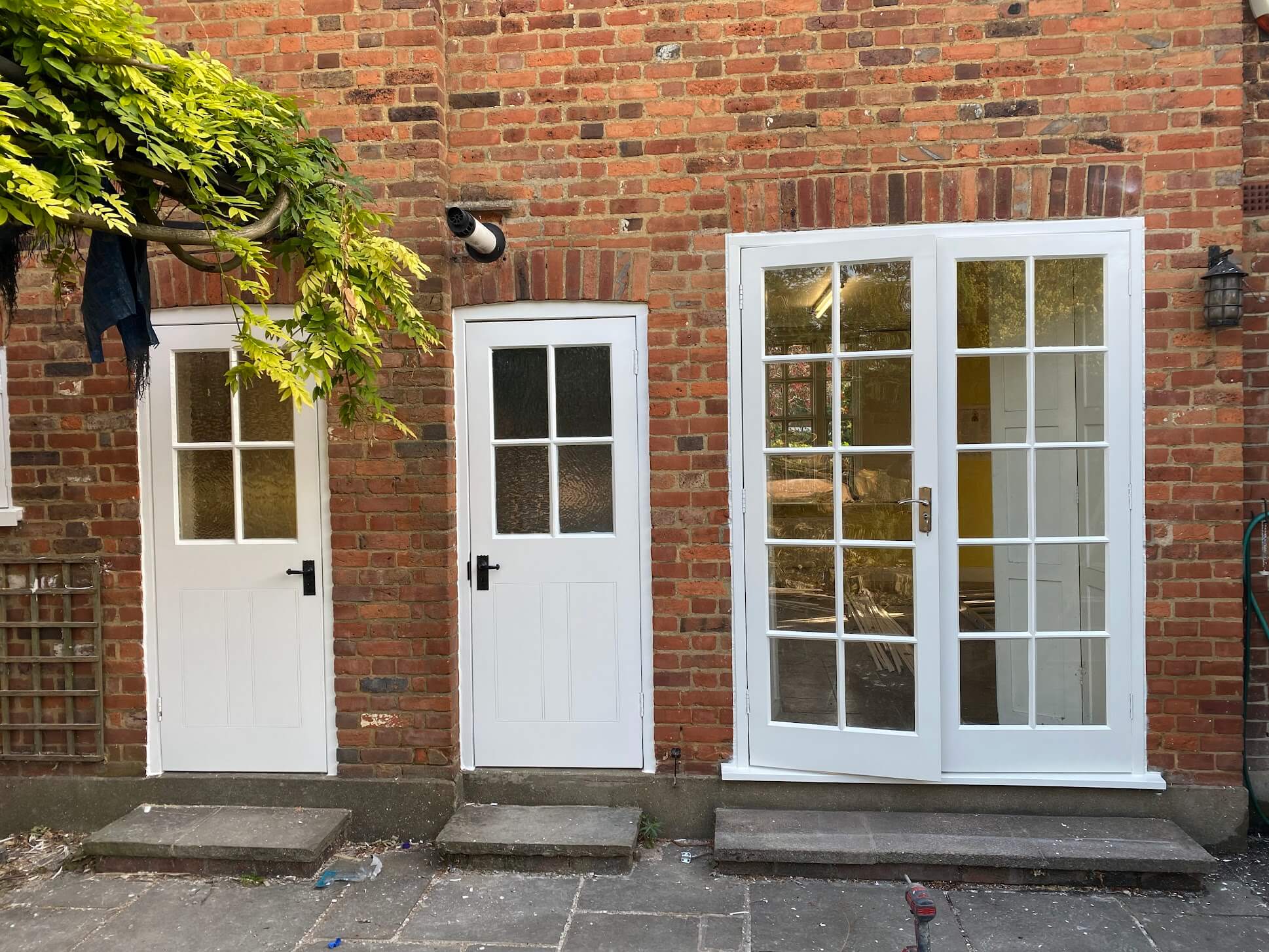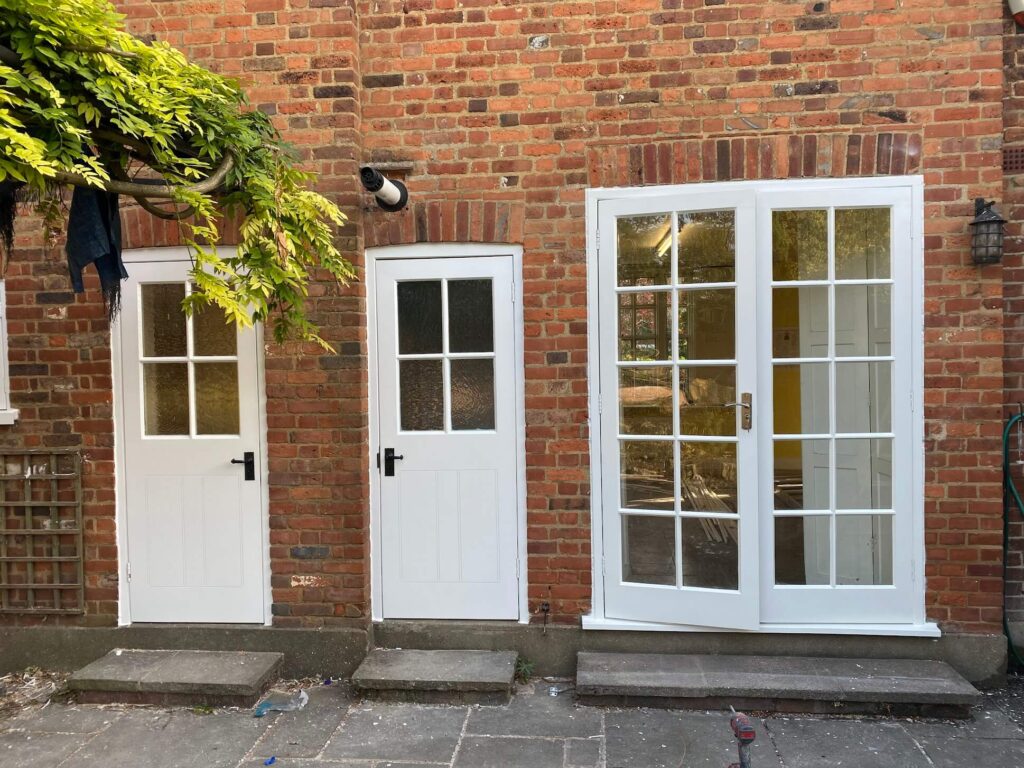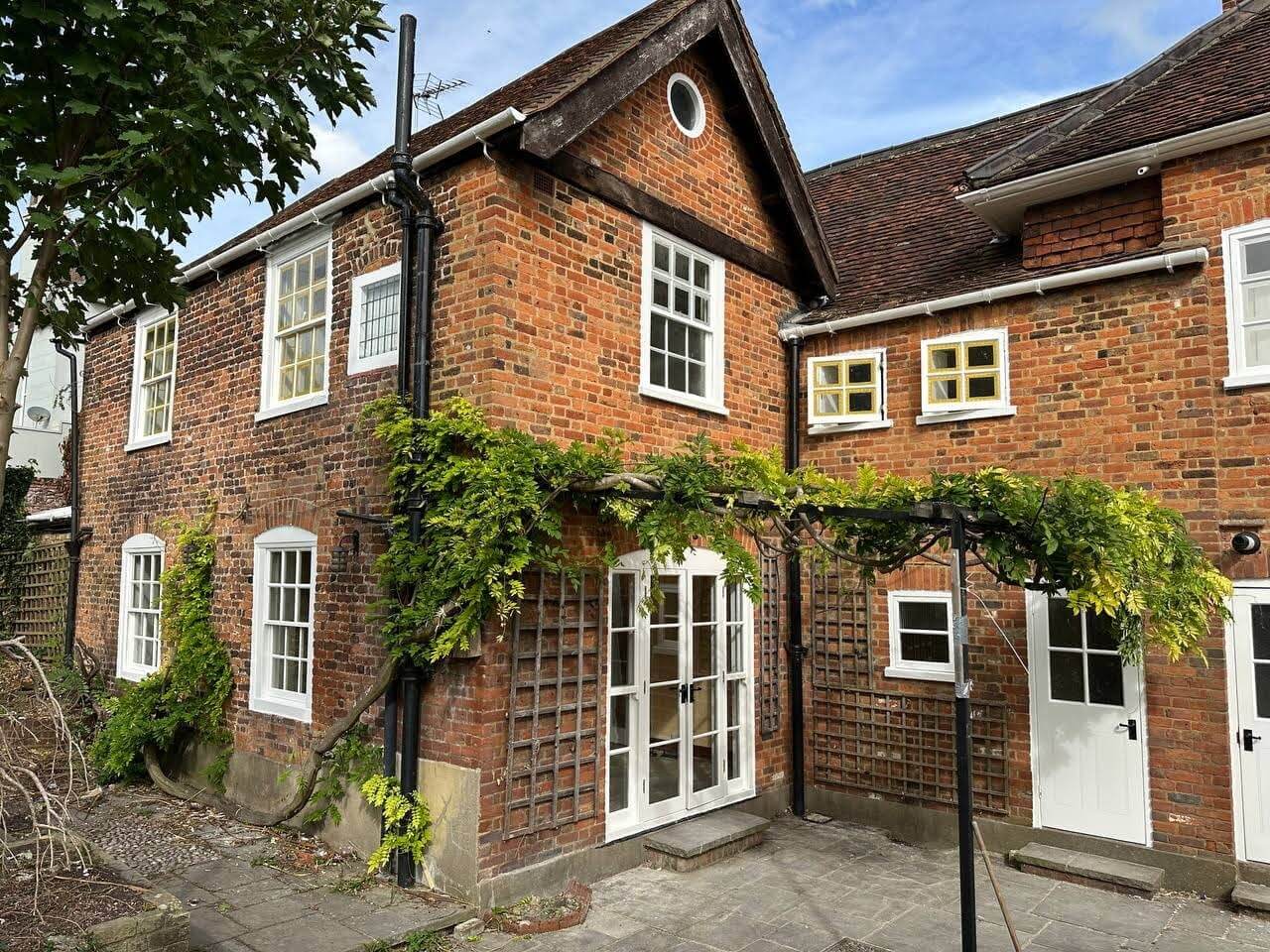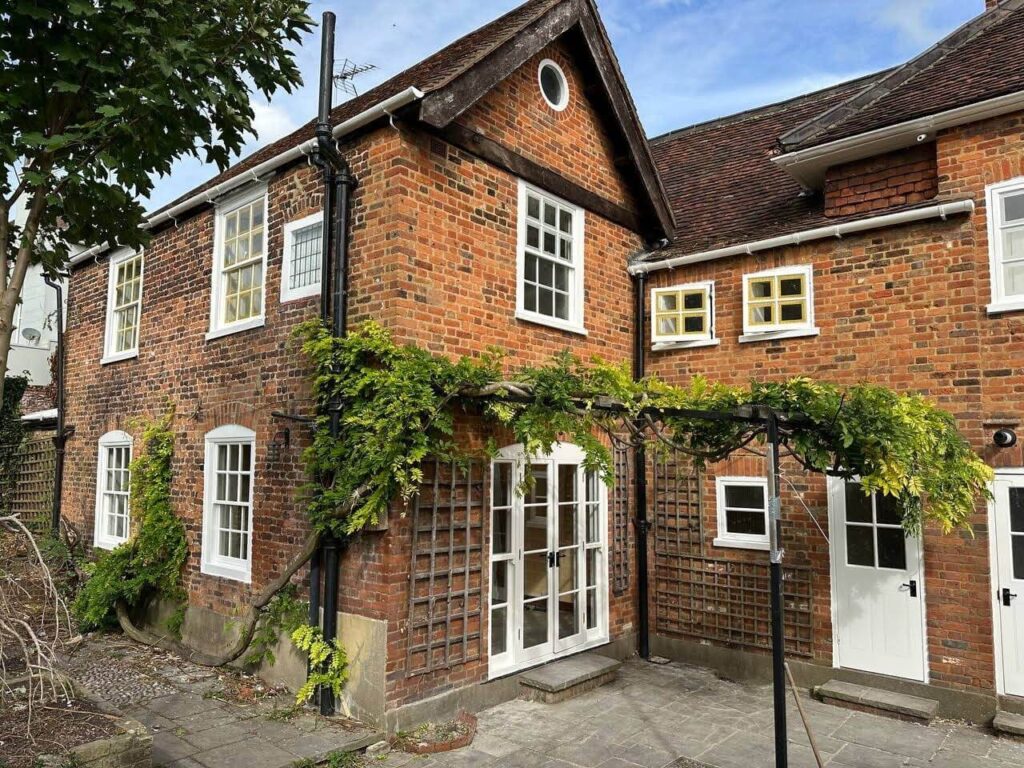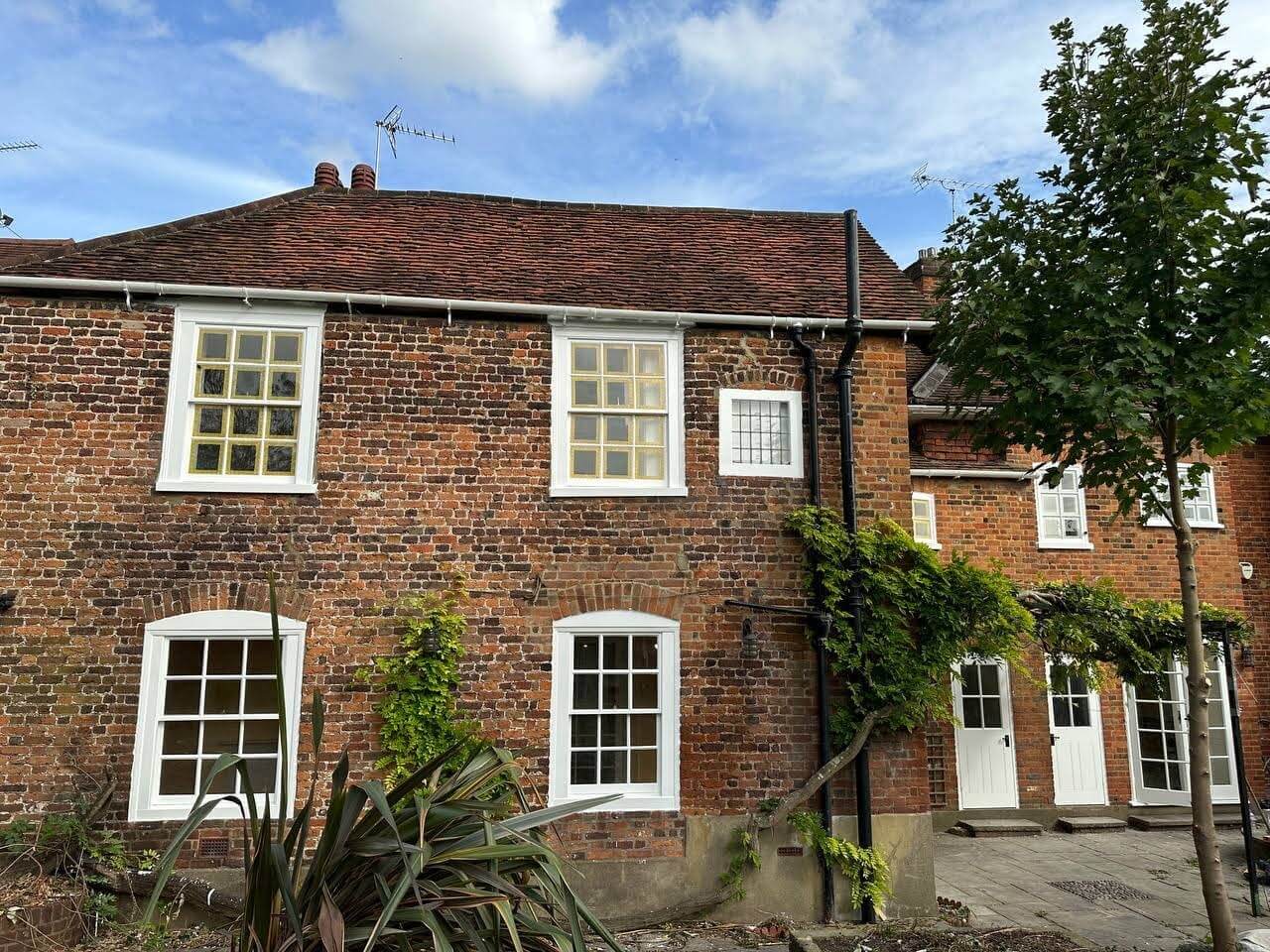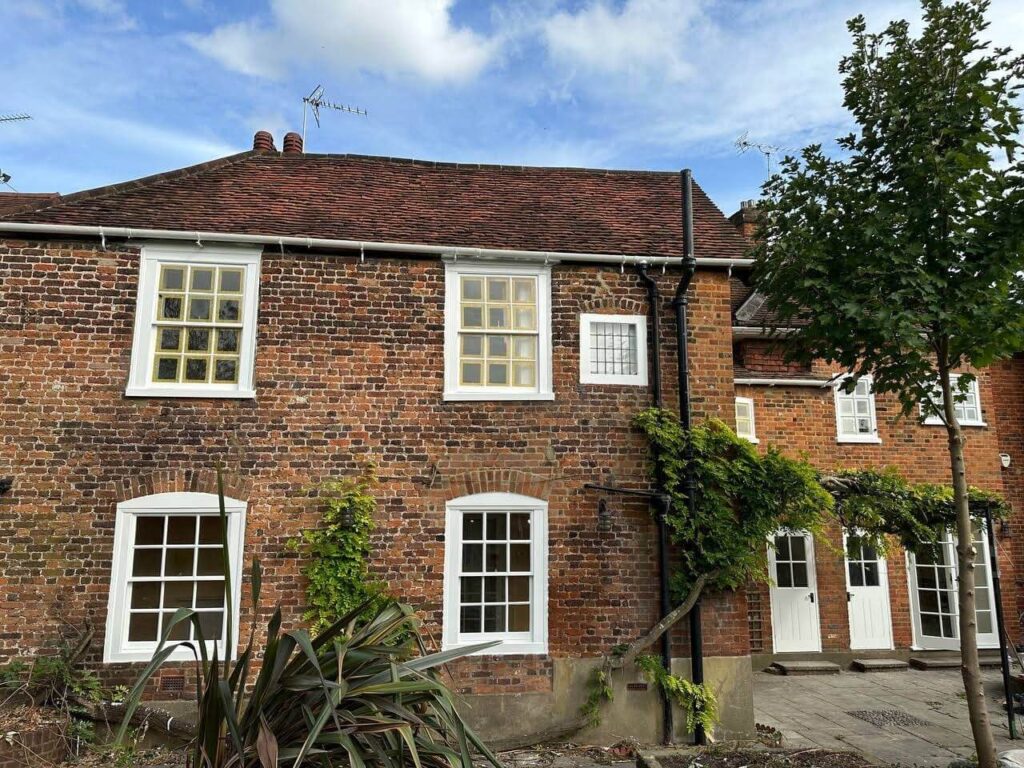 The restored windows are also draught-proofed with brush seals, preventing heat loss while retaining the original aesthetic.
Have a similar project?
If you own or manage a heritage building in West or North London with original wooden sash windows in need of restoration, we can help. Our company specializes in complete sash window restorations, from structural repairs to weatherproofing and energy efficiency upgrades.
We offer a full range of sash windows restoration services in West London:
Rotten wooden frame repairs – We can replace rotten sills, bottom rails, and other deteriorated components with strong, durable wood to match the original.
Reglazing – We replace cracked or missing glazing putty to create an airtight seal around the glass panes.
Sash Windows Draught-Proofing – We install high-quality brush seals and draught-proofing measures to reduce air leakage while retaining the original appearance.
Double glazing retrofitting – We can upgrade your single-glazed sash windows by installing slim double-glazed units within the existing sash frames to significantly improve thermal performance.
Double glazing your wooden sash windows with vacuum double glazing provides excellent insulation, reduces external noise and helps protect furnishings from UV damage – all while retaining the original charm.
We use traditional techniques and materials to restore your windows to pristine, historically accurate condition. Get in touch for a quote on giving your heritage windows the care and restoration they deserve.