Simon and Natasha live in a charming Victorian semi off Mill Road in Cambridge. Many years ago we helped them with some exterior painting. We were thrilled to hear from them after so many years. Natasha and Simon wanted us to repair and re-decorate their sash windows. Most of the windows were showing signs of timber decay. The surfaces became uneven with soft patches of rotten wood here and there.
The first step of the preparation was to sand down the old paint. It helped uncover decaying wood and make the sound surfaces smooth and ready for painting.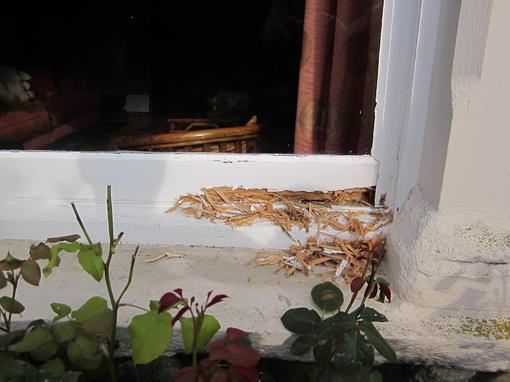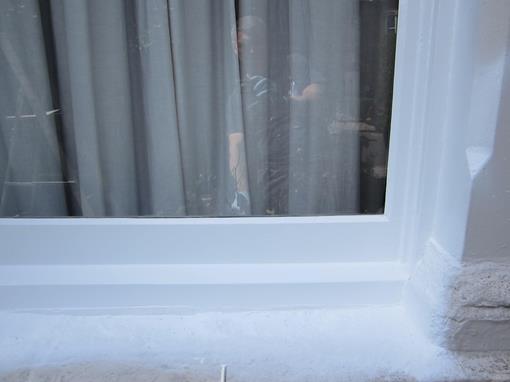 We did this project many years ago. Since then we have improved and redeveloped our window restoration method a number of times.

Please follow the link for the most recent sash window repair method.
Loose and broken putty
Almost every time we repair wooden windows we have to deal with loose and broken putty. While many companies stick to the traditional putty made of finely ground chalk and linseed oil, we replace it with resinous epoxy filler like WindowCare.


It is flexible (which means it will follow the wood expanding and shrinking with the change of seasons), it dries within a few hours and is perfect for creating beautiful angles between glass and window panes. Epoxy filler, if applied correctly, will not crack, unlike the traditional putty. Therefore it will protect the wood from moisture getting in. We find it miles better than traditional glazing putty.
Decayed wood
Once the decayed wood has been cut out, the affected areas treated with wood hardener, repaired with epoxy filler and the super durable Accoya wood, we start masking the areas surrounding the windows so we can then spray paint them.
Re-decoration: Paint spraying
Thanks to paint spraying the whole job are done faster than it would have been done if painting with brushes.

And that's with highly meticulous preparation and full attention to tiny details like straight lines of the paint edges, smooth surfaces of the painted wood, no splashes on the surrounding areas, no dust or mess left around the house.
Project completed
The wood is carefully restored, the surfaces are properly sanded with powerful sanders and the windows are skillfully painted with paint sprayers. The job is done, and the clients are very pleased with the results.
Simon, Natasha, thank you for your trust and custom!