We carried out work on this spacious family home in June of 2015. Located in Harston, Cambridge which is a pleasant village of about 1700 inhabitants in the south of the county. The property was in need of window restoration work as well as treatment and painting of the masonry.
A pleasant 20th-century building with a range of window styles including multi-small paned feature windows and bays, all of which required thorough preparation before painting.
Preparation and painting
We sanded the window frames, surrounds and sills down to bare wood in order to identify areas that had suffered from rot and other damage. These areas were then filled with our two-part resinous filler before repair work with Accoya wood. We then laminate the frames with strips of wood to complete the window and frame repair process.
Accoya wood is extremely durable and mould-resistant working very well for the purpose of heritage window restoration where the original wood is often dense and of a high quality due to being harvested from older trees than is normal in today's industry practice. During the preparation phase, we also treat the masonry walls with an anti-fungal solution to ensure they stay resistant to mould and fungus in the future.
Windows painting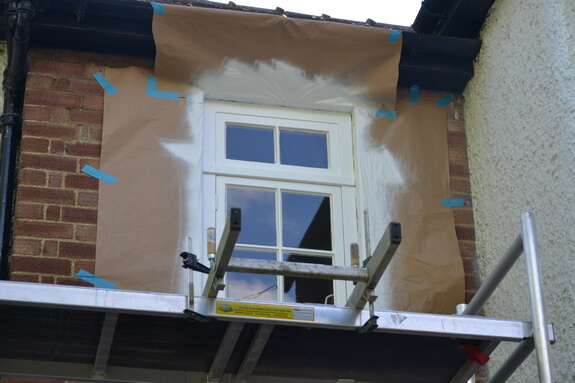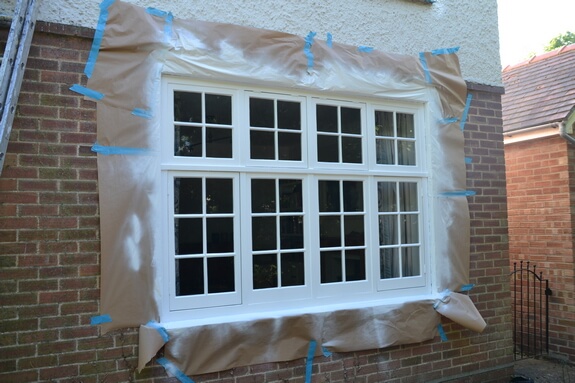 After thoroughly protecting work areas with paper and masking tape, we are ready to begin spray painting. For the woodwork, we use our top-quality US imported paints which give a smooth and durable finish (also coming with a 20-year guarantee), whilst for the masonry, we use specialist weather-resistant exterior paint.
Project video
The wooden windows were renovated and protected with paint spraying coating.
In this project, we paint sprayed both, windows and Masonry.
More videos
In just 5 days we complete our thorough restoration and redecoration process, transforming this beautiful home into one that is fully refreshed and protected for many years to come.
Project gallery