Completed in October 2017 in Cambridge, this sash window repair was part of an overall home improvement program for a busy landlord who needed a fast turnaround. We were happy to offer our fast complete window renovation service, as we understood that for landlords, time is money.
The main areas of concern were the crumbling putty and areas of rotting timber around all of the windows and the patio doors. Using Accoya/Tricoya wood and the best wood fillers, we were able to restore the wood to almost new condition – preventing any issues from spreading further. The old putty was replaced, ensuring the glass was firmly held in place.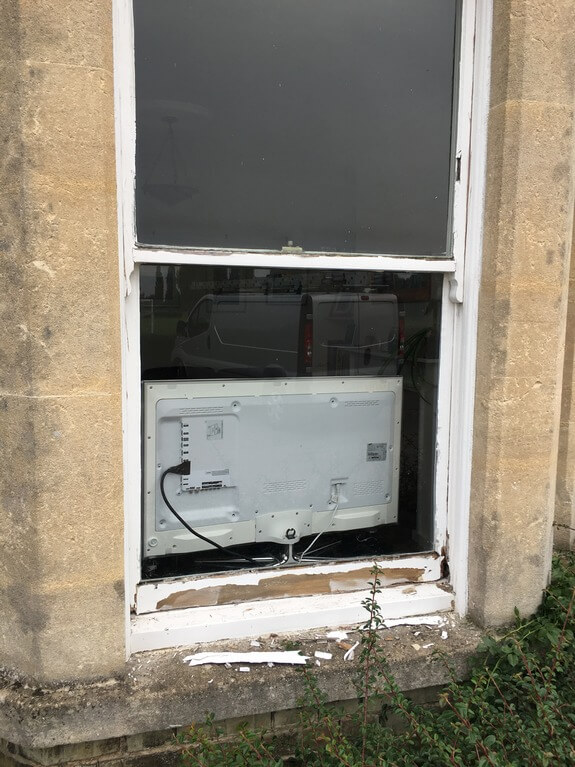 Using, our bespoke spray painting system, we coated the window frames with top quality paint, leaving a glossy and almost glass-like smooth finish. Of course all surrounding areas were carefully protected using masking paper and film before any work was done.
We were even able to carry out all of this work with the tenants still in place – they were not disrupted at all and with it being such a quick job, they only had our team outside their property for a short time.
Just four days later this large property was looking like new and the landlord had happy tenants and maybe even the opportunity to review the rent in the future.

Instead, we sanded the boards down to bare wood, primed and undercoated it properly and applied two coats of Sadolin paint. This was all done with minimal disruption to the family and at no extra cost.
Our advice is that if your windows are in need of restoration, or you think they are, give us a call. The quicker you do, the easier the restoration will be, the smaller the price and the happier you will be. Chameleon Decorators are here to help you breathe new life into your windows and your home.