Our telephone number was passed on to Andrea and Alan by their friends. They loved our work and thought Andrea should ask us for a quote, which she did. Andrea also asked to see our previous work. We provided her with the contact details of several clients who kindly agreed to meet Andrea and Alan to show them our past projects. Andrea chose to meet Kate and Andrew whose house was of the same period as their own, therefore the craftsmanship required would be of the same standard. Having seen the work and received positive feedback from Andrew and Kate, Andrea hired us to redecorate the exterior of her house and refurbish the windows which needed some TLC.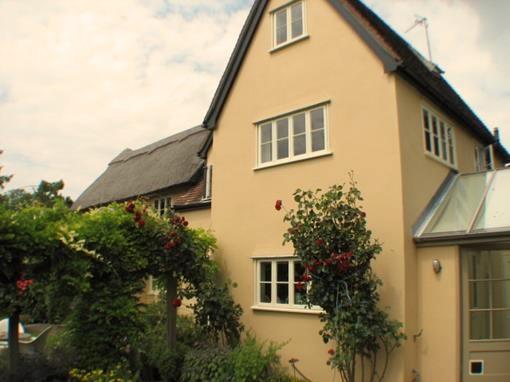 The exterior woodwork was decayed and needed repairs. Alex shaved off a layer of rotten wood from the windows and repaired them with Accoya. Being an engineered wood, Accoya is more resistant to elements than any hardwood. Together with Window Repair Care epoxy wood filler, it will keep the windows protected for many years to come.
Soffit boards repair
One of the soffit boards was badly rotten. Alex cut off the rotten end of it and replaced it with a new one. By replacing only the rotten area of the soffit board, we saved the clients' money on the unnecessary extra labour and materials. We use this principle in everything we do – our work is always cost-effective for clients. Repairs are only carried out if they cost less than replacements.
Masonry
When preparing to paint the masonry, we carefully detached the climbing plants from the walls and made sure they did not get damaged during the work. Once the paint was dry, all trellis and the plants were skilfully returned to their places. The house looked great again.
As a result we've got two more happy clients who are kindly passing our number to friends.