Prior to this particular project, we have been working with James (the landlord) for a number of years. As the houses at Call Park Farm were becoming vacant, James called us in to get them re-decorated and ready for the new tenants.
We've been working on painting these properties over the course of 2 years. Re-decoration of each and every house took us on average 3.5 days. It included complete interior and exterior paintwork and some wood repairs.
The properties were in good condition and did not require much preparatory work on the inside. The exterior, however, needed some attention. The windows became rotten and needed a good deal of repairs.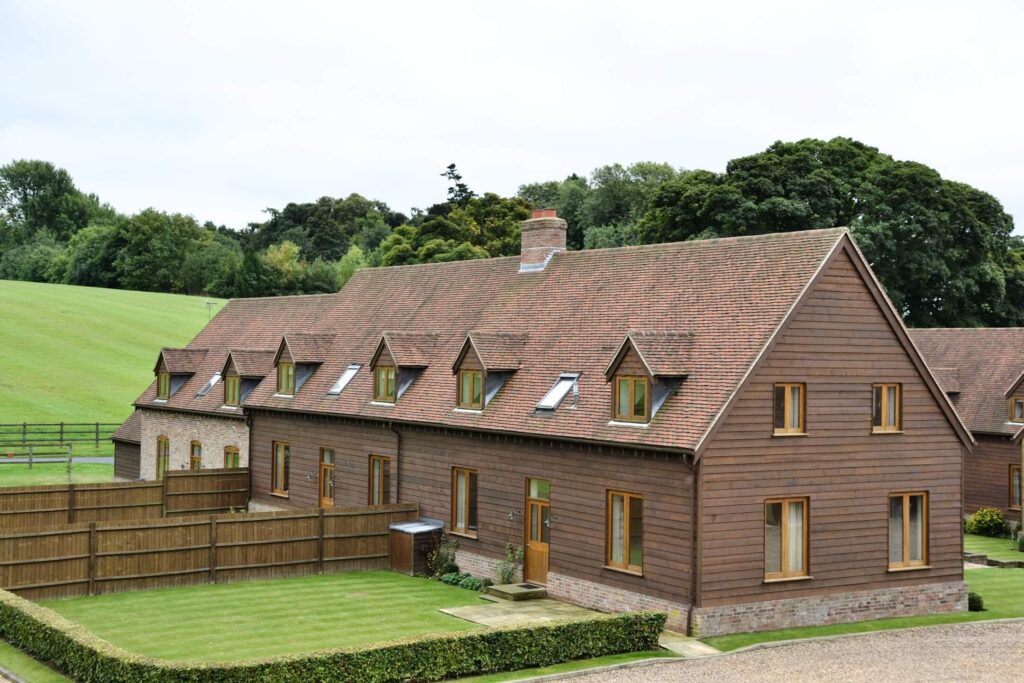 Window repairs
Many windows had black water stains on them. The existing coating cracked and peeled in many areas letting water in. To get rid of these stains we used specialist wood bleach. Unlike ordinary household bleach, it doesn't harm the wood, doesn't smell and is easy to clean up.
Once the window repairs were done, the windows and doors were ready for staining. In this case, we used the Sikkens Cetol wood stain.
It was designed to protect the wood from weathering.
Interior house painting
For interior painting, we used Dulux Diamond Matt emulsion (for high traffic areas, such as halls and stairs) and Dulux Vinyl Matt emulsion for all other parts of the houses.
It was a wise decision to split the types of paint between the rooms of the house.
Dulux Diamond Matt is a wipeable emulsion, perfect for high traffic areas as the painted walls can be washed as they get marked. However, it costs twice as much as the standard vinyl matt. By using the former only where necessary James made a good saving.

If you are thinking of re-decorating your own property and feel you need help choosing the right materials for the job, give us a call. Having extensive knowledge of all domestic and industrial decorating products, we'll be happy to help you make a choice that is right for your particular needs.
Please note: We did this project many years ago. Since then we do not offer exterior or interior painting services as we only specialise in wooden window refurbishment and exterior window paint spraying.