Andrew and Kate asked us to paint the exterior of their lovely thatched house. The paint on the fascia boards was peeling off, so we decided to sand the boards down to bare wood and see if any timber repairs were needed. Thankfully there wasn't much timber decay underneath. The usual application of primer, undercoat and two coats of paint magically transformed the look of this lovely house.
The owners will not have to worry about the next redecoration for at least five years.
Curved sash repair | Before & After
BEFORE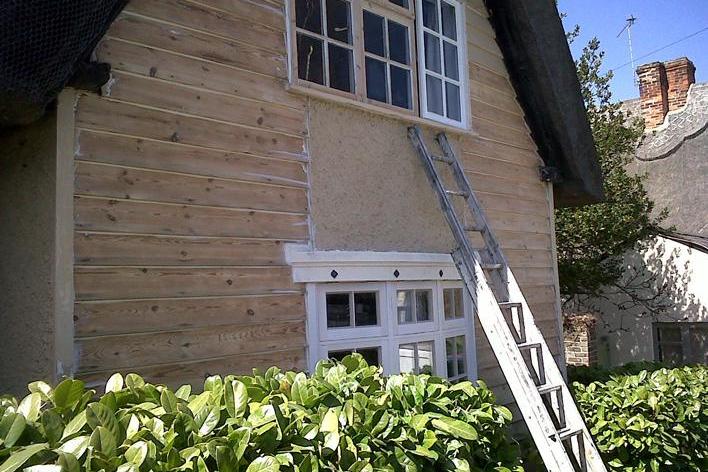 AFTER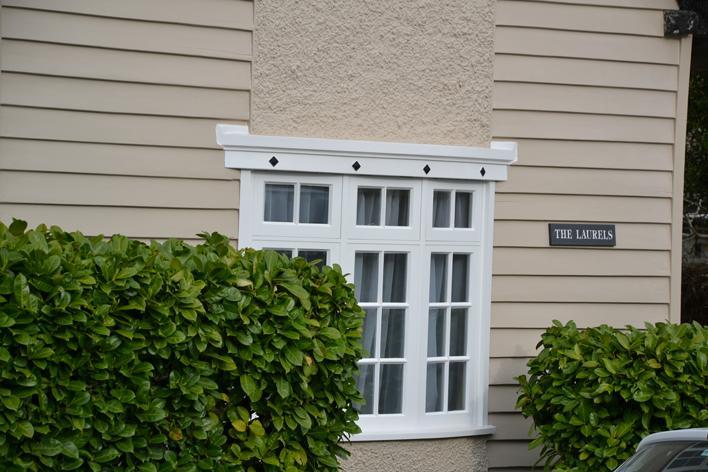 Before & After gallery
During the restoration of this beautiful thatched home in Barely, our team wanted to ensure their work was in keeping with the traditional style of the house. As this was a thatched cottage, not changing that styling was extremely important to the customer and us. So, before we removed the peeling paint from the fascia boards, we took note of the colour and matched it with a modern paint that we knew could stand up to the weather.
Sanding and wood preparation
We then stripped this old, peeling paint off, sanded the boards until they were nice and smooth and then got ready to paint. We masked off every inch of the house that didn't need paint. This includes the beautiful windows, mortared walls and the thatched roof. And then sprayed the primer and two layers of paint.
As you can see from the beautiful home photo, this paint really transformed this cottage but kept the traditional style. It is a light-coloured paint that is extremely high-quality. This ensures the home is protected from UV light and bad weather for at least five years. However, the new paint has also added a finishing touch to an already lovely thatched home that looks wonderful at any time of year.
This was a relatively quick restoration because the boards on this home were in very good condition. However, even if the boards on your home are not in good condition, we can achieve the same results. Get in touch to find out more.