Painting a wooden garage door can really bring it back to life. New paint will protect the wood and give it some much-needed colour if the colour has dulled. But how do you paint a wooden garage door, and which paints are the best to use?
Well, today, we're going through the steps of how to paint a wooden garage door and tell you about the best paints to use.
We also have some tips on how to repair wooden garage doors if you notice any rot as well. Let's start with how to paint a wooden garage door, shall we?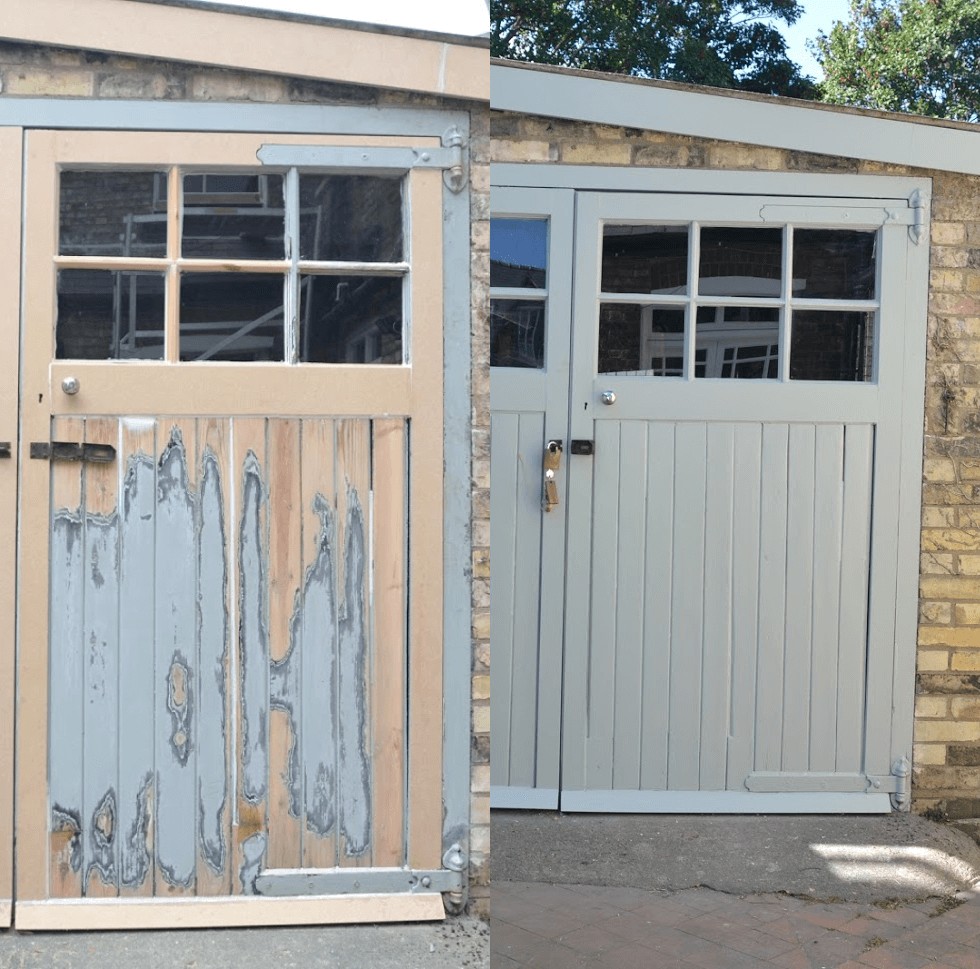 How to paint a wooden garage door
1. Remove old paint from the garage door
The first and most crucial step in painting anything is to strip away any old, flaking paint.
If you skip this step, the fresh coat of paint won't adhere properly. For wooden garage doors, you have several options to remove old paint: chemical strippers, orbital sandpaper, or a heat gun. While sandpaper alone can do the job quicker, it will also require a good selection of quality sandpaper. Using a heat gun can help loosen the paint, making it easier to scrape off and saving you money on sandpaper and expensive sanders.
We highly recommend investing in an electric sander. Combining all these methods will significantly expedite the prep work. Plus, both the sander and heat gun will come in handy for many other DIY projects. If your garage door has decorative features, like the one in our examples, you'll also need to do some hand sanding.
It's essential to remove as much of the old paint as you can. If some parts of the old paint are still in good shape, you can leave them be. However, be prepared to give those areas extra care later in the process.
2. How to repair a wooden garage door
Now that you've removed as much of the old paint as you can, you can take a look at the garage door and see if you need to make any repairs. Check common problem areas like the bottom of the door and any areas where the paint has been missing for a while.
If there are minor rotten areas, you can use a two-part resin bonding agent or wood filler to fill these areas and then sand it back flush with the door. If there are entire panels or boards that are rotting, you will need to replace them, for this task you can use tricoya wood. If your DIY skills aren't up for this challenge, a local joiner or hobbyist woodworker may be able to help with this step.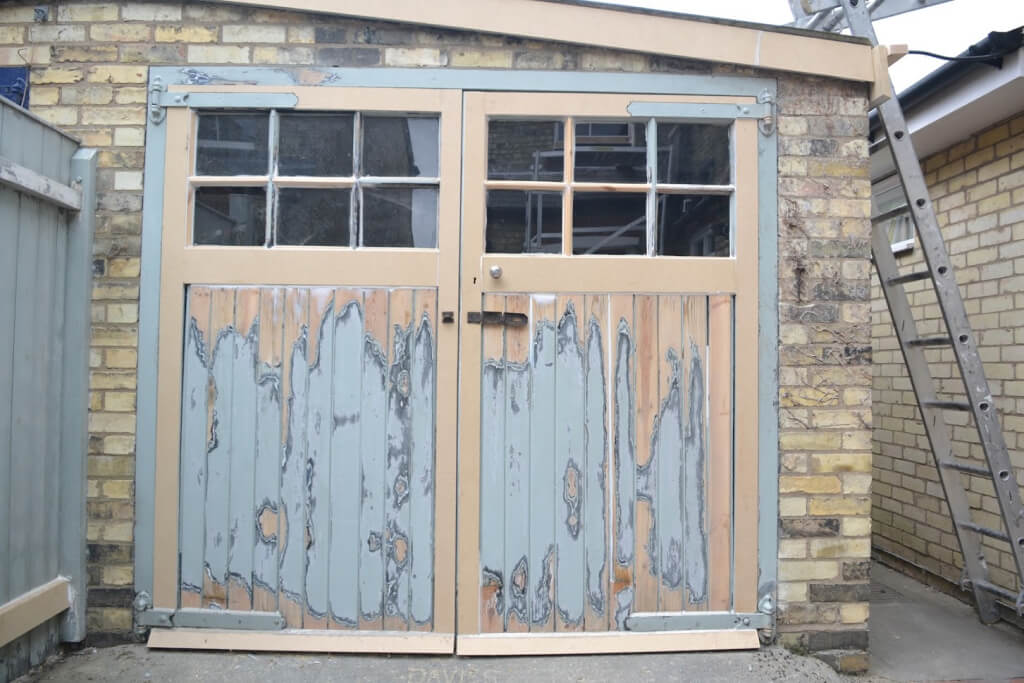 3. Prepare the garage door for paint
Now that the paint has been removed and all of the rotting sections have been sorted out, it is time to prepare the garage door for paint. First, remove as much dust as you can. White spirit is great for this, but make sure you dispose white spirit correctly if you have any leftovers.
Add a few drops to a rag or paper towel and wipe the doors down as thoroughly as you can. Next, mask off any areas that you don't want to paint. In the case of our example garage door, that would be the brickwork of the garage, the windows and the lock.
Now you are ready to paint.
4. Paint the garage door
You want to start with a good quality primer that is designed for outdoor use. You may need to sand between coats of primer, but check the instructions on the can that you buy as they are slightly different.
Most primers will require light sand before the topcoat is applied, though. You can then add the paint of your choice to the garage door. Do this in thin coats and add two-three coats depending on the paint you use.
You can use a brush and roller to apply primer and paint, or you can spray both if you have a spray gun. Ff you do not have paint sprayer, check our blog post where we described different paint sprayers available on the market to help our readers pick the right paint sprayer for their job.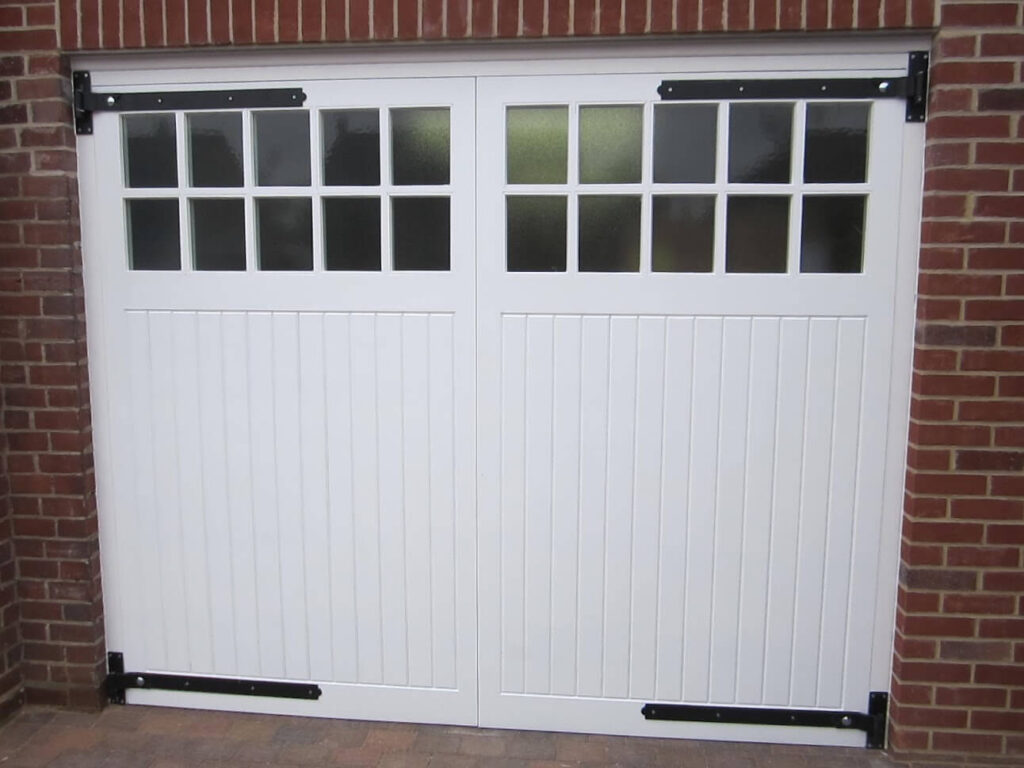 What paint should you use for a wooden garage door?
These are our top three paints for painting wooden garage doors and a fantastic wood primer. We have painted hundreds of garage doors over the years, and these paints have given us the best results without too much work.
Dulux Weathersheild Paint
Weathershield from Dulux is one of the best paints for any outside wood. It protects the wood for over 10 years; it is rainproof and mould resistant too. Not only that, it is touch dry in two hours and there are some beautiful colours in the range if you don't want to go with white. Plus, this paint is also available in gloss and satin.
Ronseal Exterior Wood Primer
This primer has been specially designed for exterior wood. Exterior wood expands and contracts with the seasons a lot, and this primer is designed to be flexible so that it moves with the wood. This means that it won't crack when the wood moves, so it keeps the door protected for many years.
Zinsser Allcoat Exterior Satin Anthracite Grey
This is the ideal paint if you don't have a paint sprayer and want a very professional finish on your wooden garage. We use this paint in our sash window restoration projects. You can use it on any exterior wood. In fact, you can use it on any exterior surface, including metal and concrete. And this awesome paint will provide up to 15 years of protection. Plus, the paint is designed to be self-priming, making protecting your wooden garage door from mould, algae and the weather nice and simple. Zinsser pain is also on our list of best paint for exterior wood like windows and gables.
We picked the satin grey colour for this article because it adds a very modern look to your garage door. This is the 1-litre can, but Zinsser also has up to 5-litre cans available, too, if you want to paint more than your garage door. This flexible, low-maintenance paint will look great for years and keep your garage door protected too.
FAQ
Can I use a roller to paint wooden garage doors?
Yes, you can use a roller to paint wooden garage doors. You will also need a paintbrush to get into any corners and decorative features on the garage door. This is a very easy way of painting wooden garage doors, but you can leave brush and roller marks on the surface. If you want a very professional finish on your garage door, a spray gun may be better.
Can I use a spray gun to paint wooden garage doors?
If you have a good quality paint sprayer already, this will make quick work of spraying your garage doors. If you don't have a spray gun, you can rent them for a few days at a very reasonable price. This is worth considering as the results from a spray gun look very professional. If you do a lot of DIY, investing in a spray gun could be a good idea as well. They are extremely handy for loads of painting tasks.
How long does it take to paint a wooden garage door?
With prep time, you can paint wooden garage doors in a weekend. Some primers and paints do take some time to dry, though, so this greatly depends on the paint you use and the method you use to paint the doors. Spraying the paint often means it dries quickly, for example. However, most DIYers should be able to paint wooden garage doors in a weekend or a weekend and one evening if the paint you use takes a while to dry.
VIEW ALL QUESTIONS
We hope this look at painting wooden garage doors has been helpful. We have an entire article about painting metal garage doors too, which goes into just as much info for that task. We also have loads of other painting tricks and tips for all around the house on our website too.