Every timber windows restoration project requires various specialized tools and techniques to ensure successful results.
Whether it's reglazing single-glazed windows or simply repairing some rot in your window sill, having the right tools on hand is essential for any professional timber restoration project.
In this blog post, we'll be taking a look at some of the essential tools professional window restoration companies use and explain why they are so crucial for achieving the desired result.

If you are looking for a more budget list of tools, we also have you covered with our article "Wooden window repair tools & materials UK shopping list for under £200 budget."
Access equipment – if you can't reach it, you can not repair it
It is necessary to have the proper access equipment for any professional restoration job, as you cannot repair windows that you cannot reach.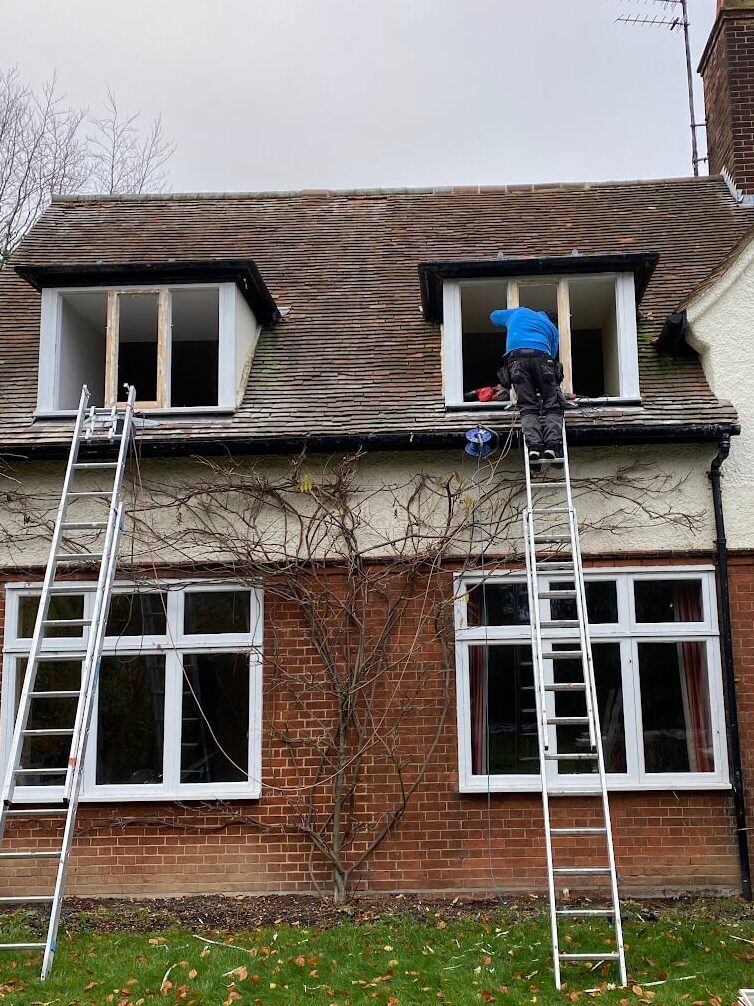 Here are some of the most common access equipment items you'll need to buy or hire to complete the project successfully:
Ladders are essential to have, and in the majority of cases, that's all that you need.
Scaffolding and access towers provide a secure and comfortable environment with room for all your tools without hanging on to a ladder – but keep in mind that it takes time and money to put up and move them around like in the case of access towers.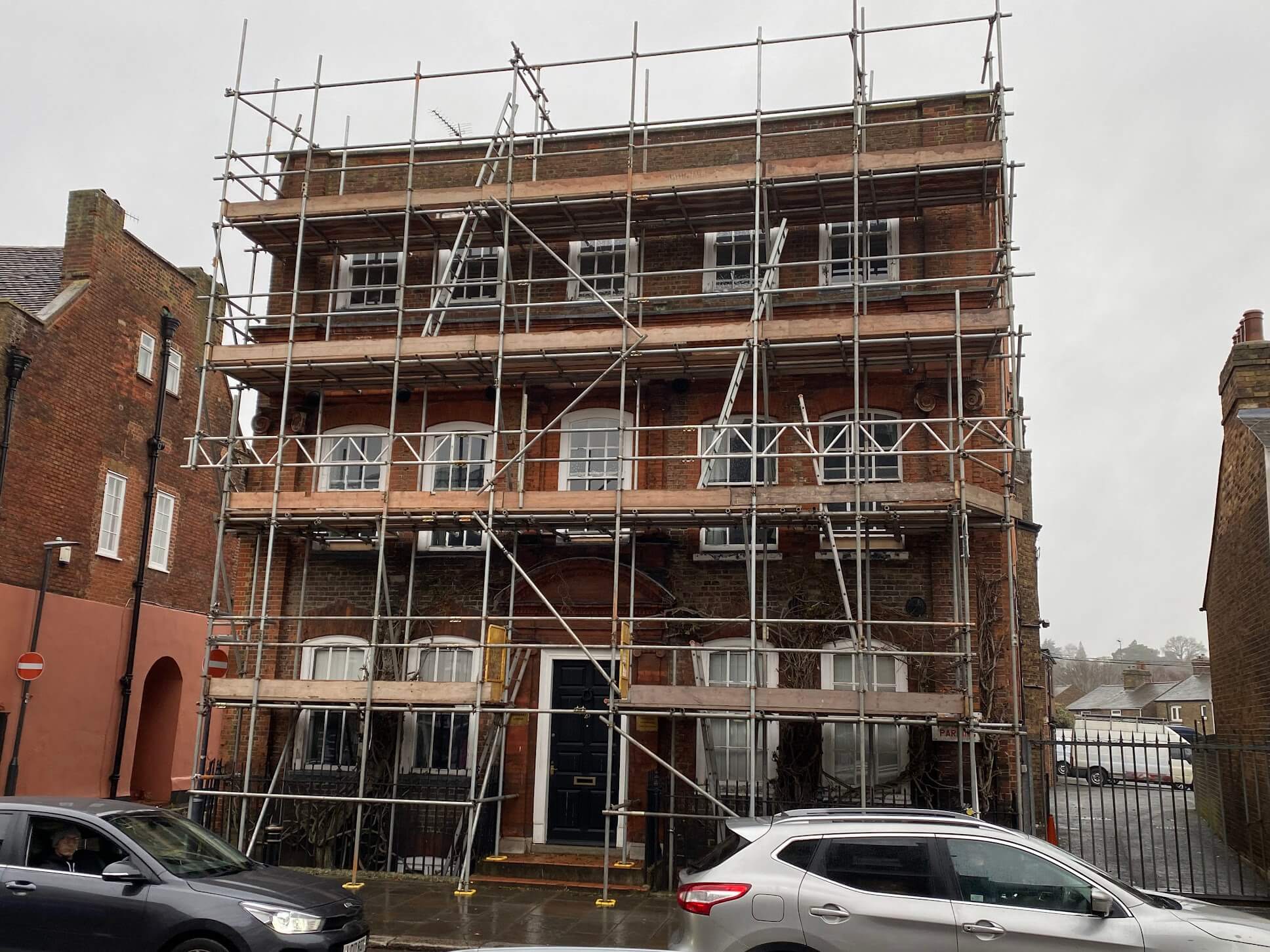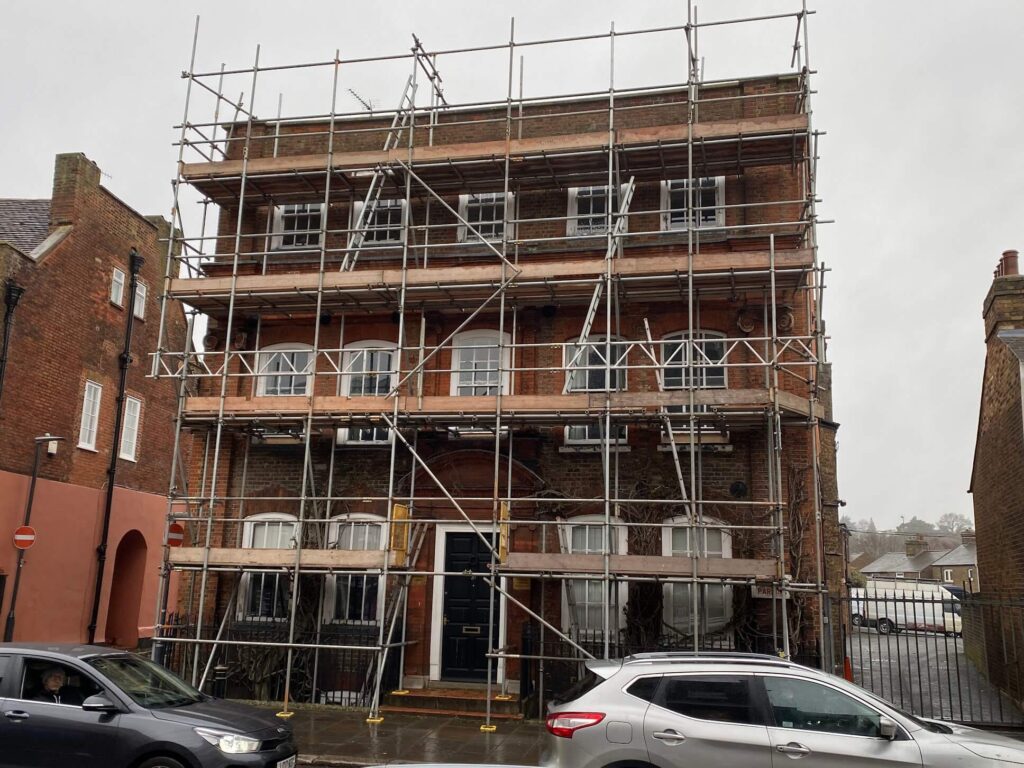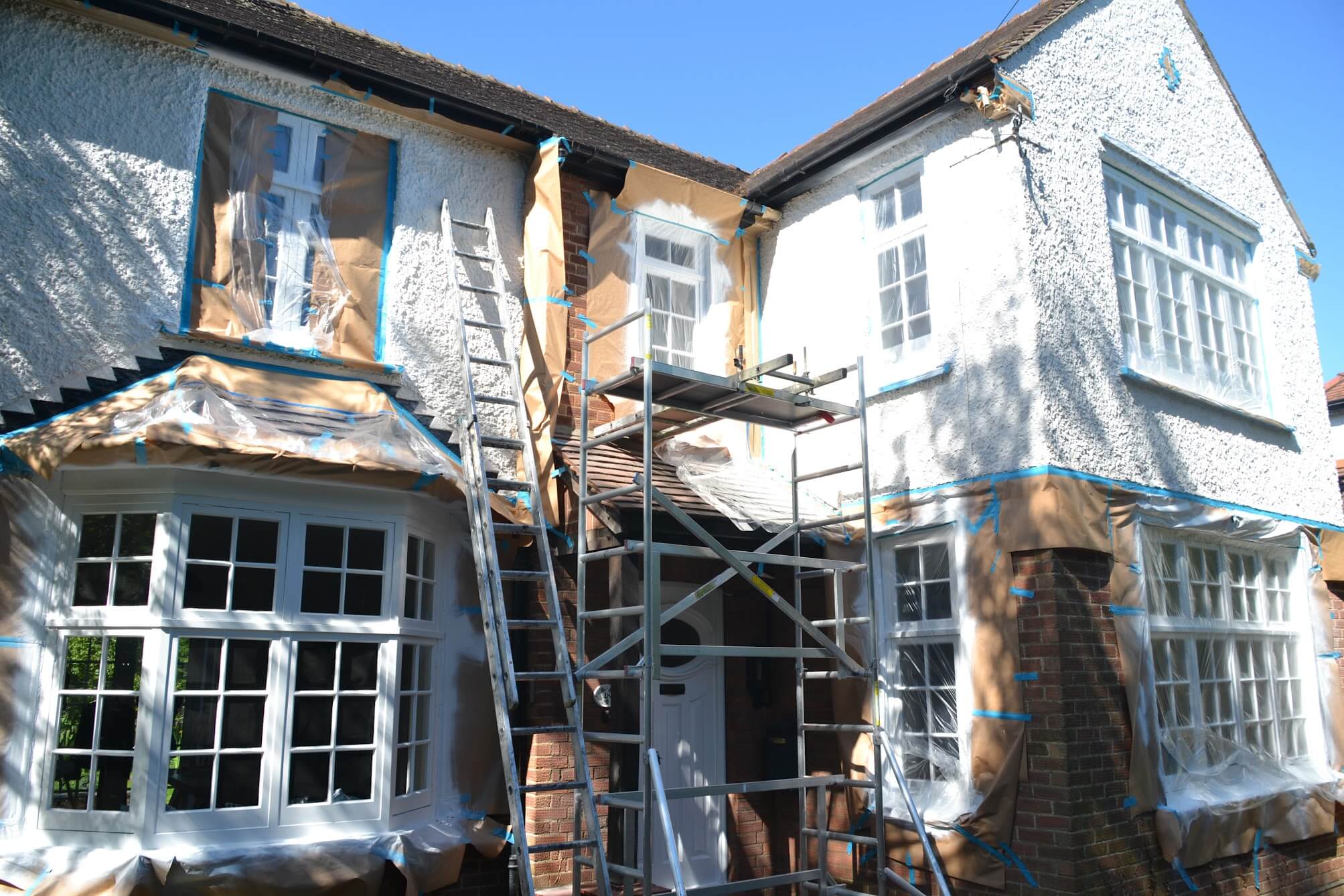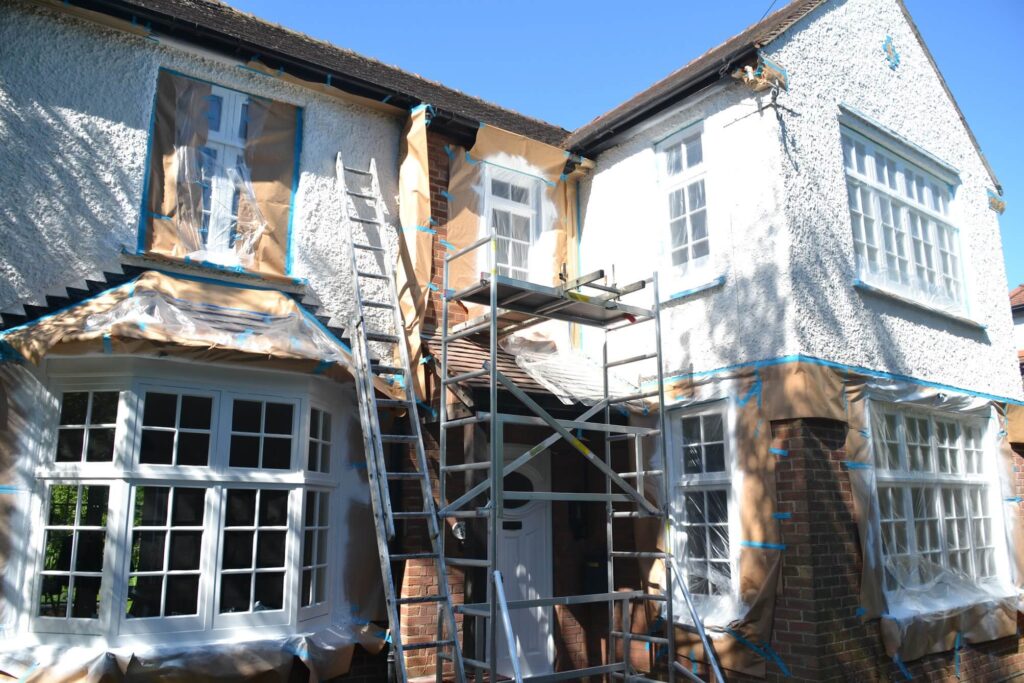 Access equipment is essential for any exterior woodwork restoration job, including windows, gables and soffits, as it allows us to reach the windows we need to work on safely.
Paint removing equipment
Removing old paint can be a challenging job, but with the right tools, it can be accomplished quickly and safely.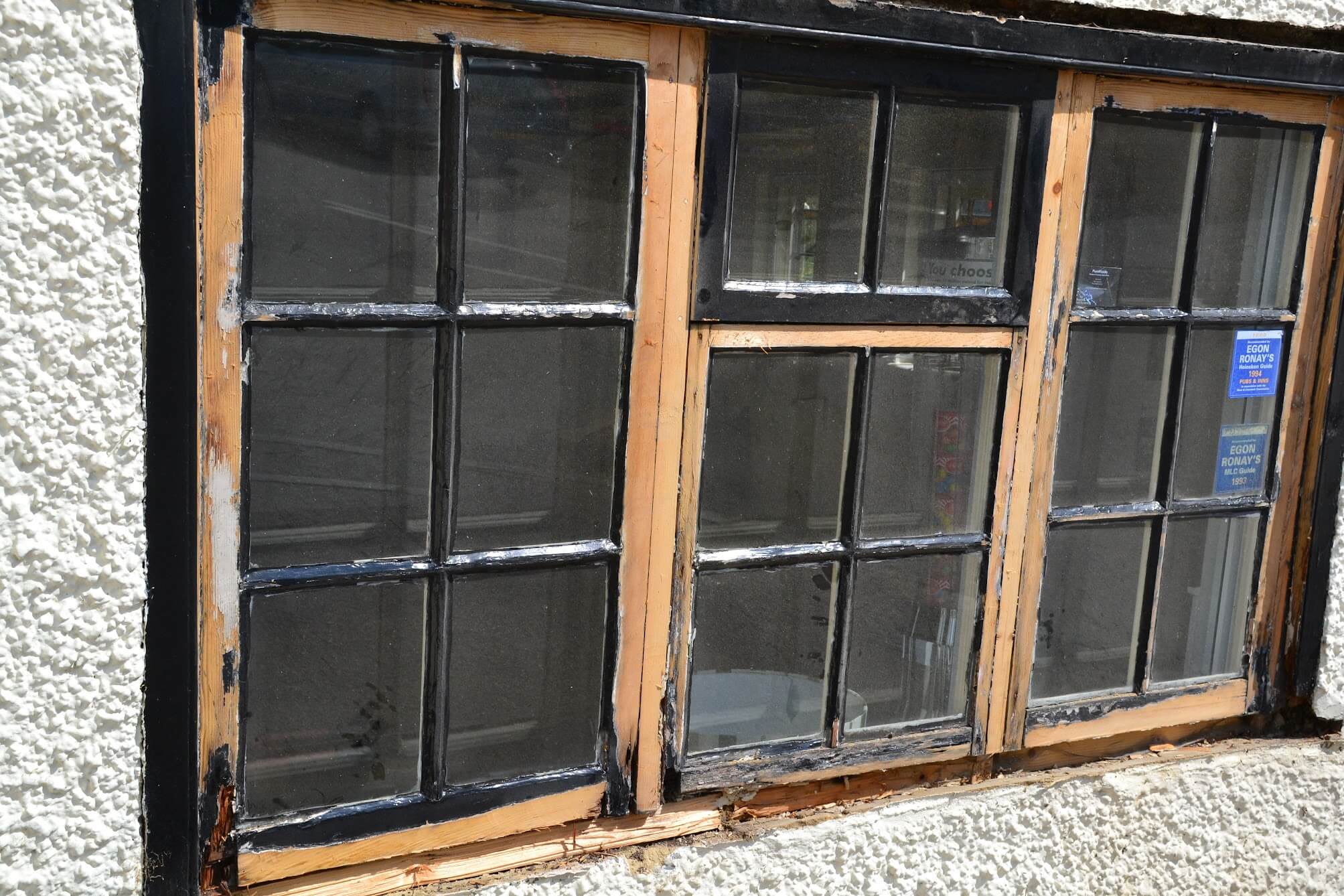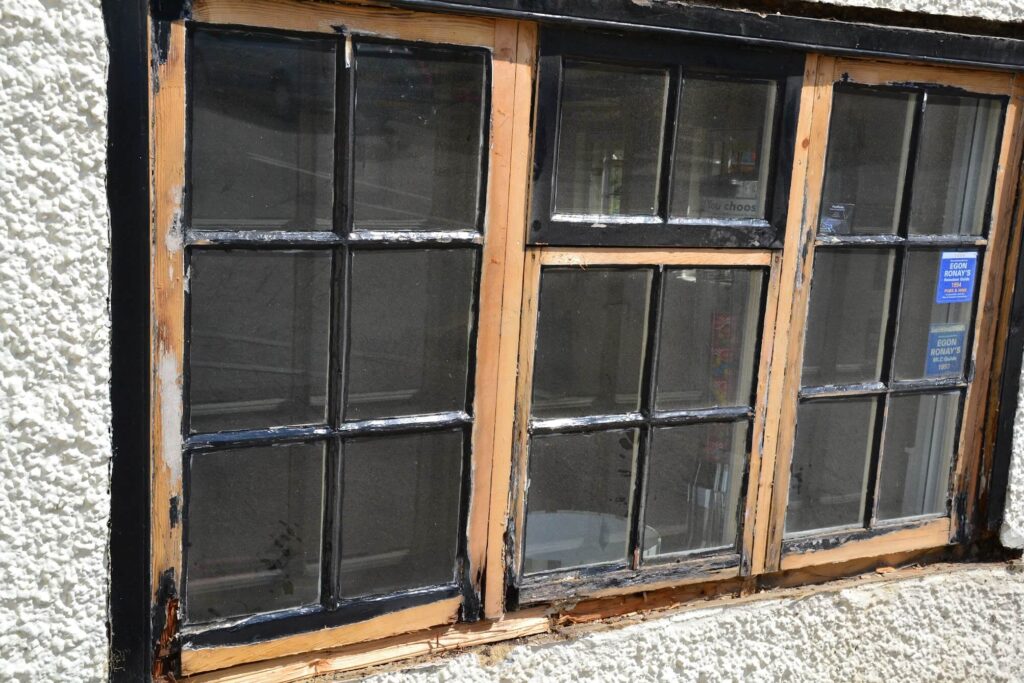 Here is a list of the most common paint-removal equipment used by professional restorers:
Heat guns – use hot air to burn, loosen and remove old paint from wood surfaces.
Paint scrapers (manual or electric) – scrapes or cuts away layers of paint with specially designed blades that rotate or affixed to the handle.
Chemical strippers – use harsh chemicals to dissolve old layers of paint. Before using these, make sure that all safety precautions are followed!
Sanders – Use sandpaper disks with hook and loop backing with an orbital sander to sand off the remaining layers of paint.
It's difficult to say which equipment is better removes paint; it all depends on an individual's preference.
Different paint-removing tools may be better suited for different jobs, depending on the type of paint being removed from the window.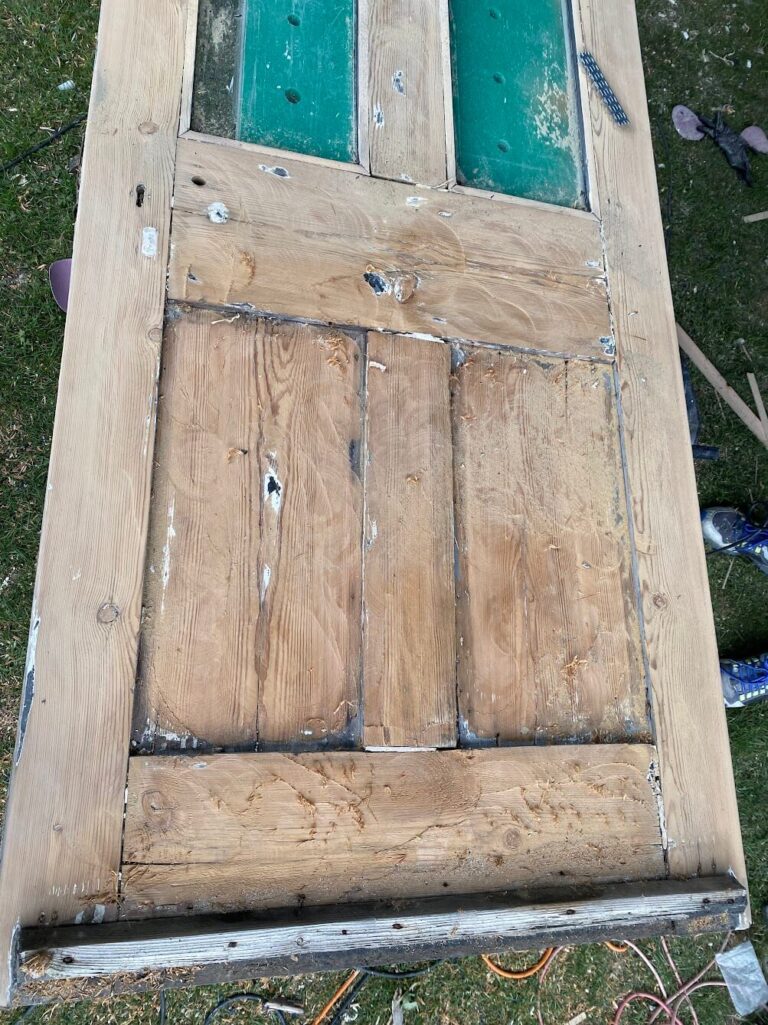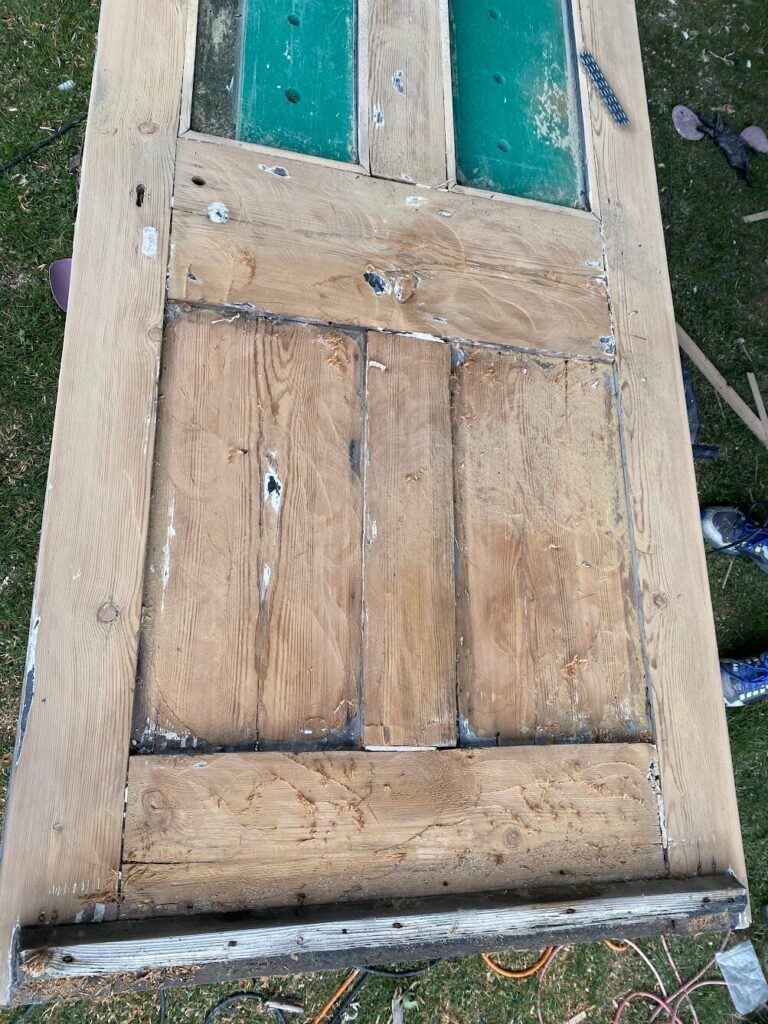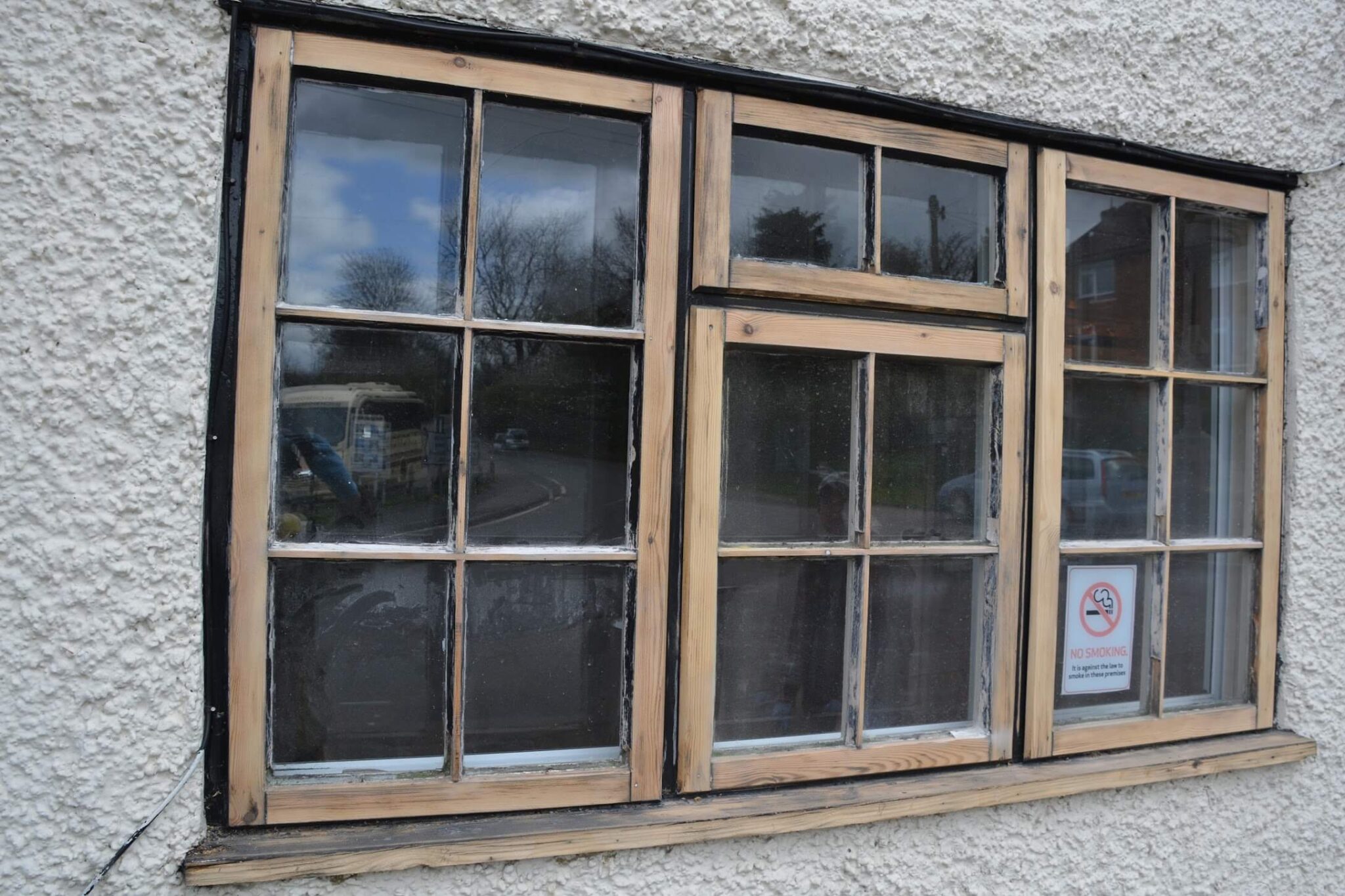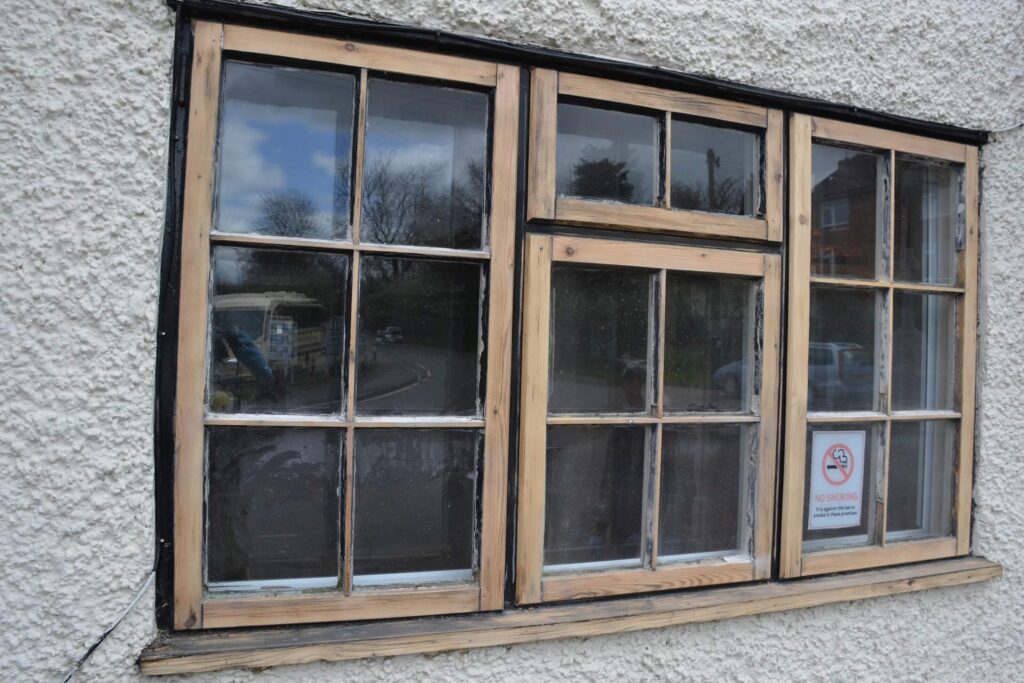 Some restorers claim that heat guns are the best way to strip away paint, as they can remove numerous layers quickly and safely. Heat guns are also fool-proof; as long as you don't set the window on fire, you will be fine.
However, chemical strippers can also be effective if used correctly. In contrast, sanders are best used for removing small amounts of paint or smoothing out surfaces after other methods have been used.
We use an orbital sander in combination with electric paint stripers to remove the old paint. In our opinion combining those two tools yields the best results.
Glass scrapers (Used to remove old paint from glass)
It's also worth mentioning glass scraping tools are used to remove paint from glass.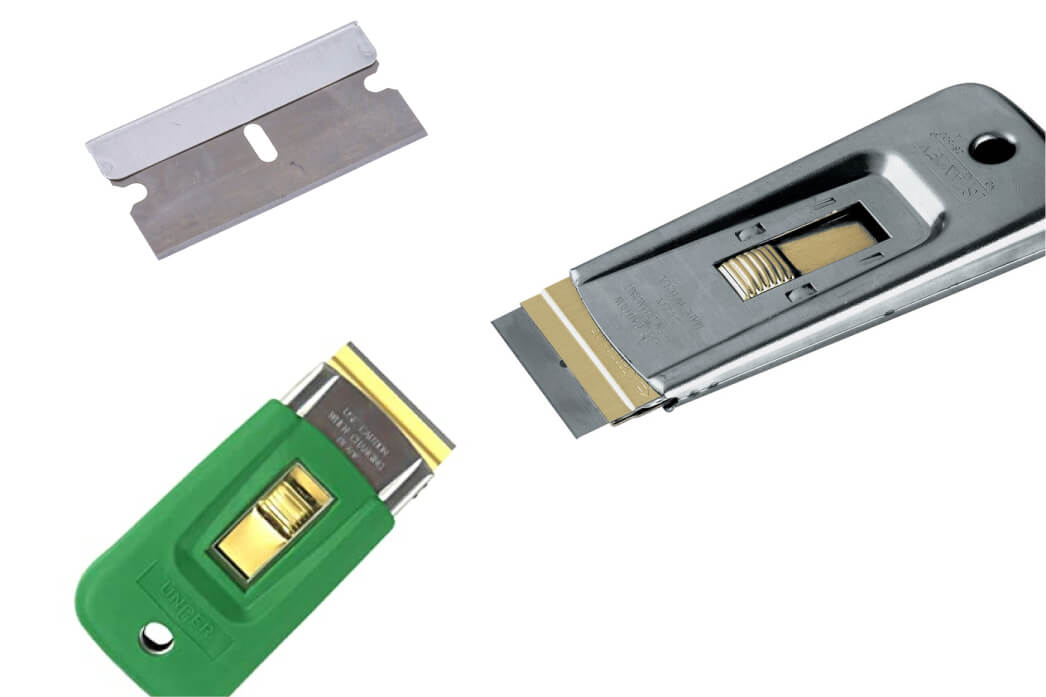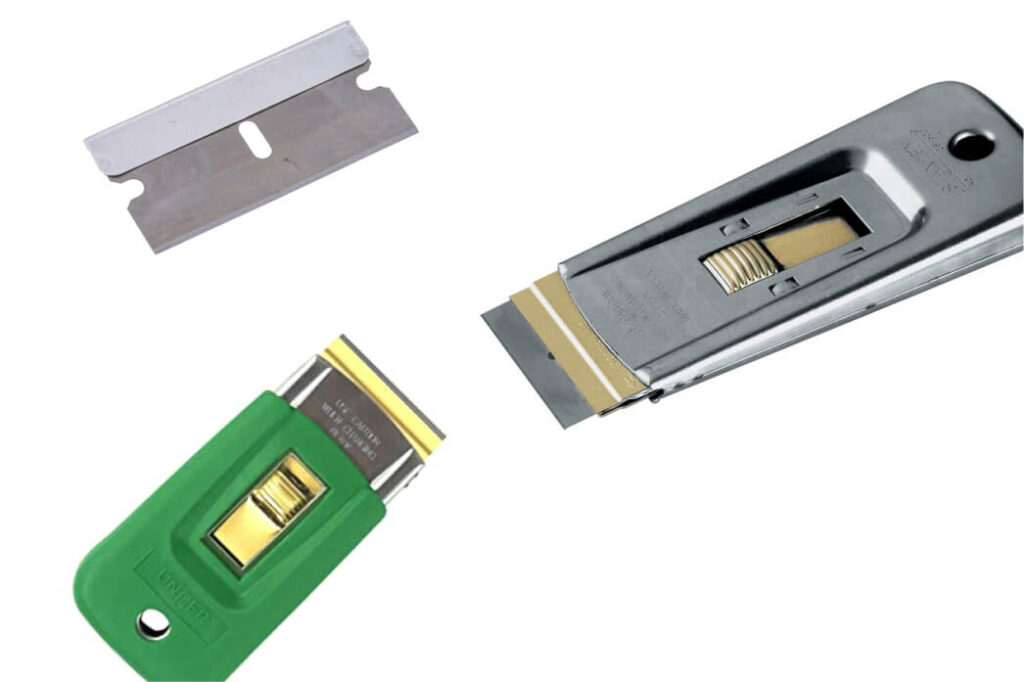 Tiny glass scrapers are specially designed for just this purpose – they feature precision blades that are perfect for scraping away paint without damaging the fragile glass surface.
When using glass scrapers for paint removal, it's especially important to work carefully and change blades frequently.
Regularly replacing the blade ensures that it remains sharp, which is important for ensuring a clean, precise scrape of paint from the surface.
In addition, it also helps reduce the chances of any accidental scratches or damages being inflicted on the fragile glass. This inexpensive piece of equipment will make your final paintwork look much sharper.
Comfortable workwear
It may sound obvious but wearing comfortable trousers and not feeling too hot or cold while working outside will affect your projects as much as a good router or paint sprayer.
We will not go into many details here, but wearing the right clothing will help ensure maximum focus and efficiency while completing projects outdoors.
Extension cords & Cable Reels unless all your tools are cordless
Working outdoors often requires the use of power extension cords, especially if you don't have access to cordless tools or not all of your tools are cordless.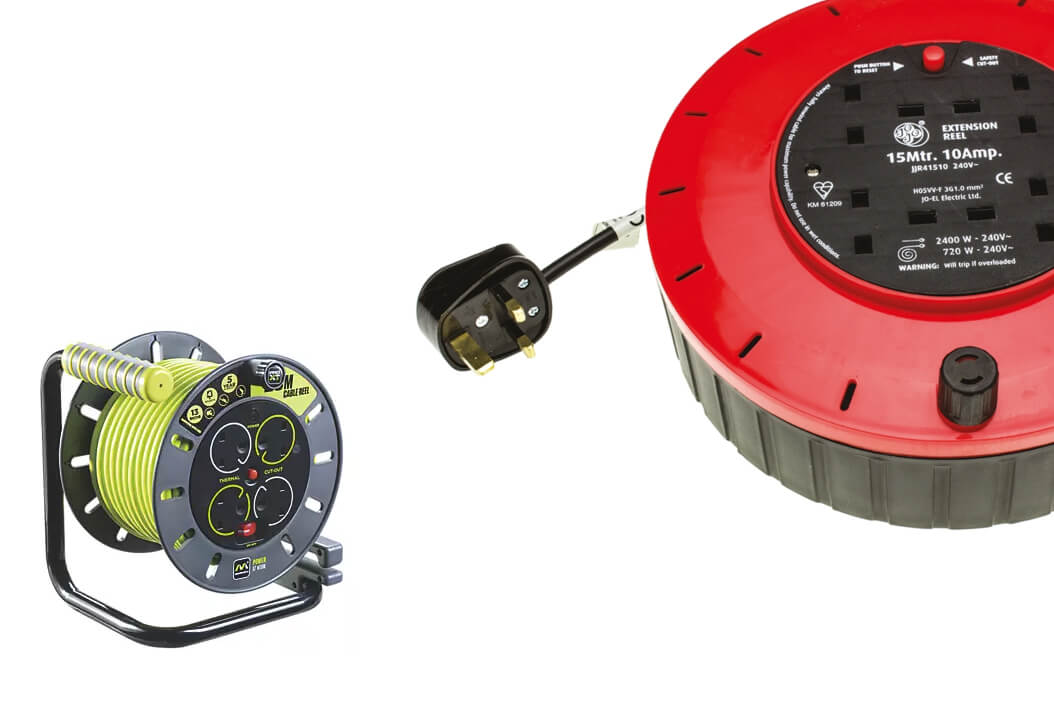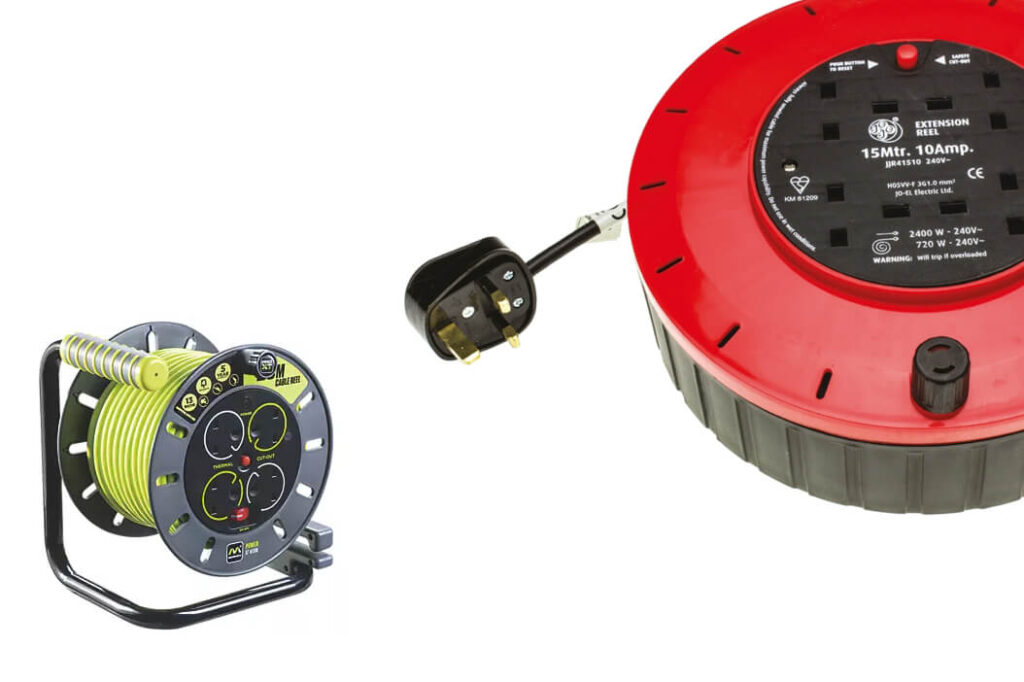 Power extension cords can be helpful when needing to work further away from an electrical outlet.
We advise you to have both extension cords & 25 m cable reels if you are working from a ladder; it is better to have a cable reel reaching the bottom of your ladder and from on the evaluation, use a regular extension cord.
Routers and track rails
When restoring windows, routers and track rails can be essential tools.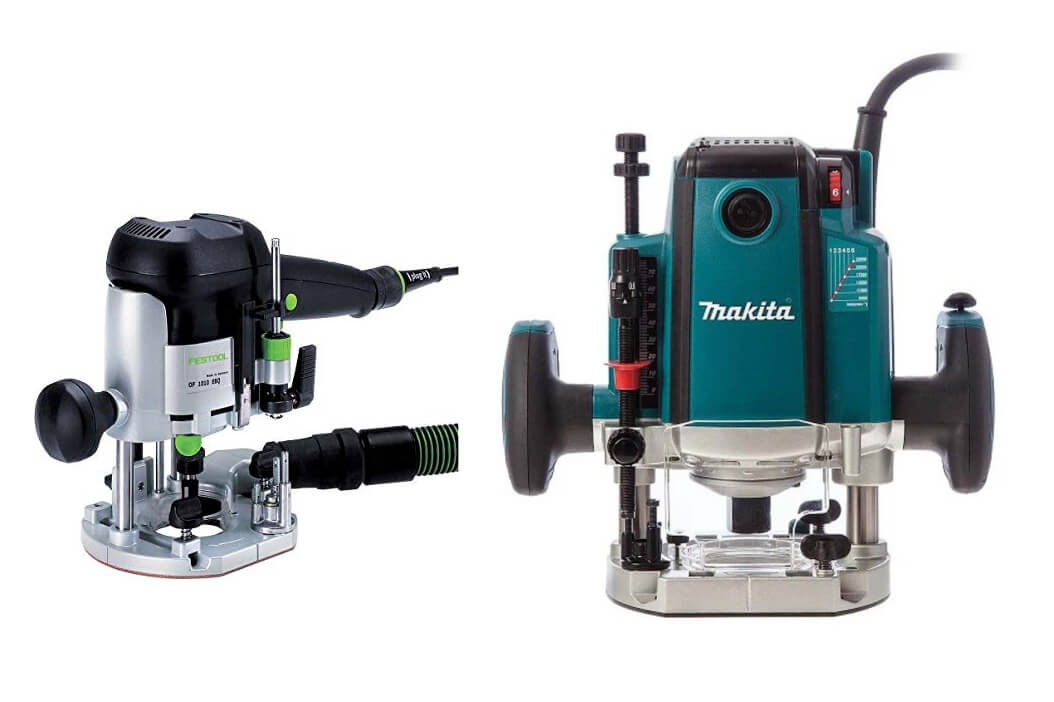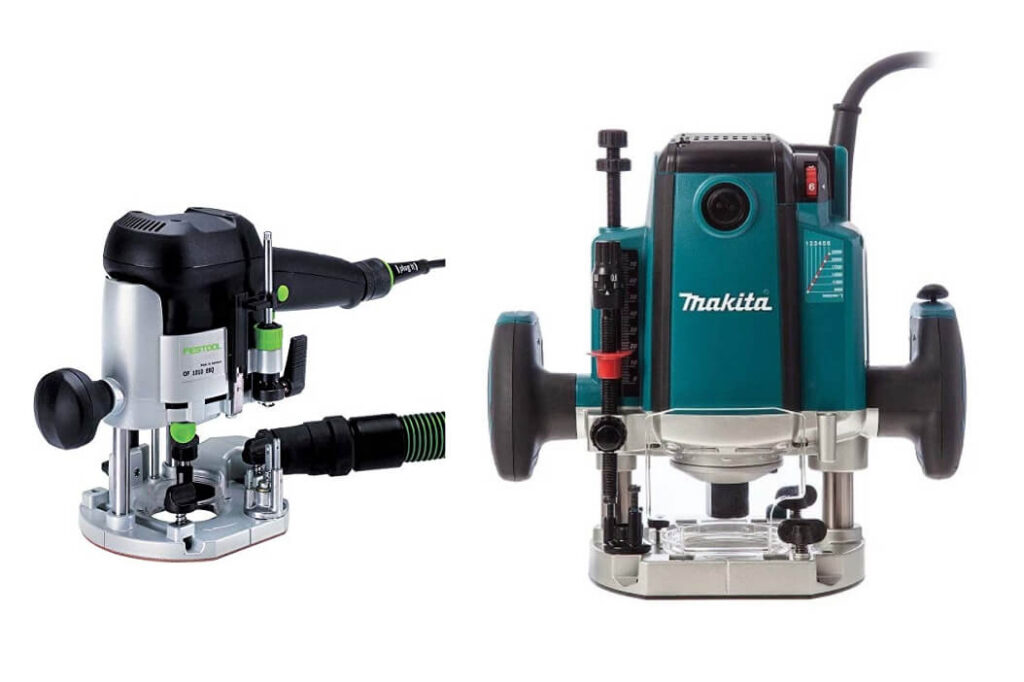 A router and track rail combination is the perfect solution for restoring old or damaged windows, allowing you to cut accurate grooves and lines.
If you planning to fit draught-proofing strips into your old sashes, the router is the tool you need.
Circular and mitre Saws
Rot happens. And when it does, you should take care of the problem as soon as possible.
Rotten timber repair is basically removing rotten wood and carving in fresh timber, and for cutting fresh timber, you will need good quality electric saws.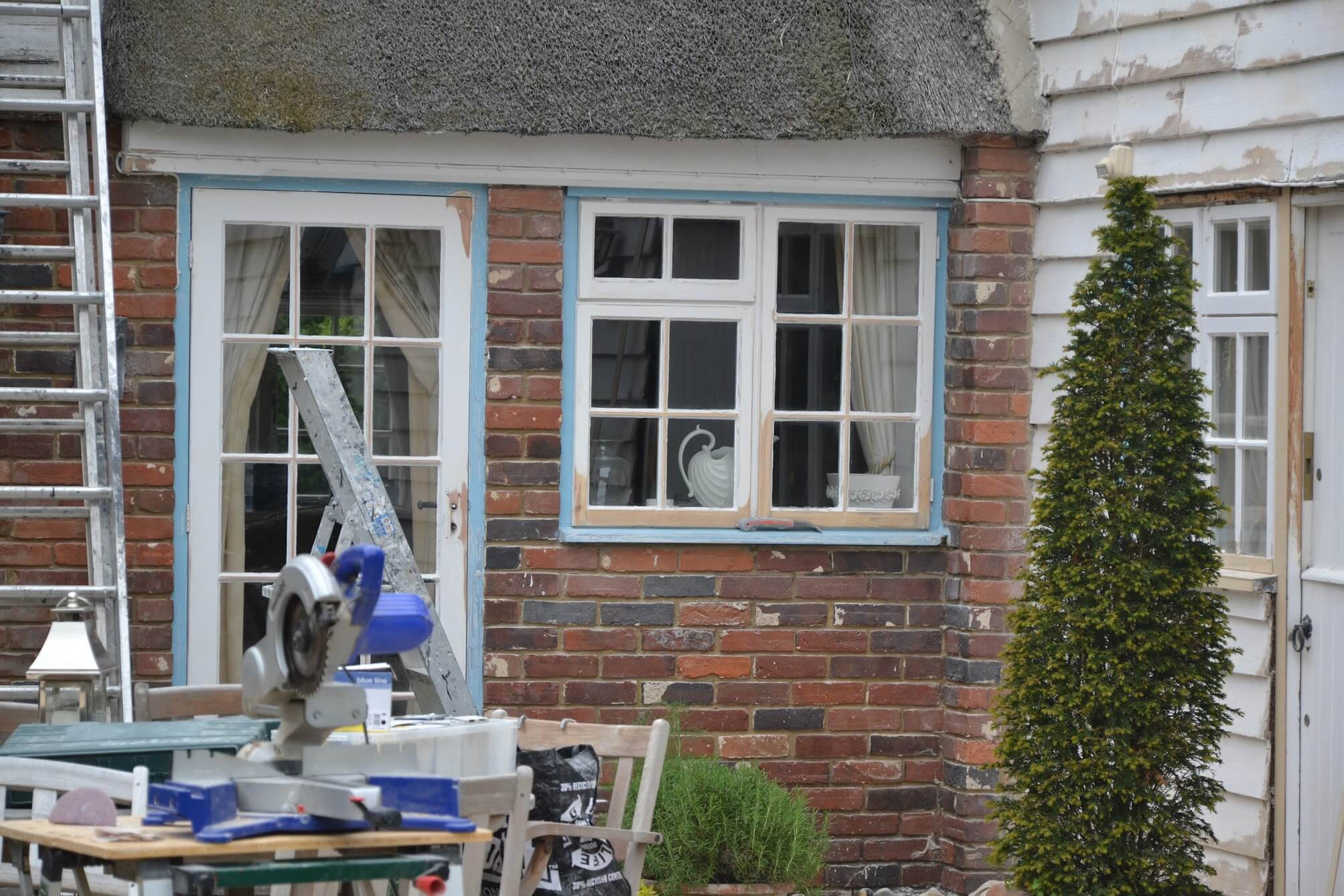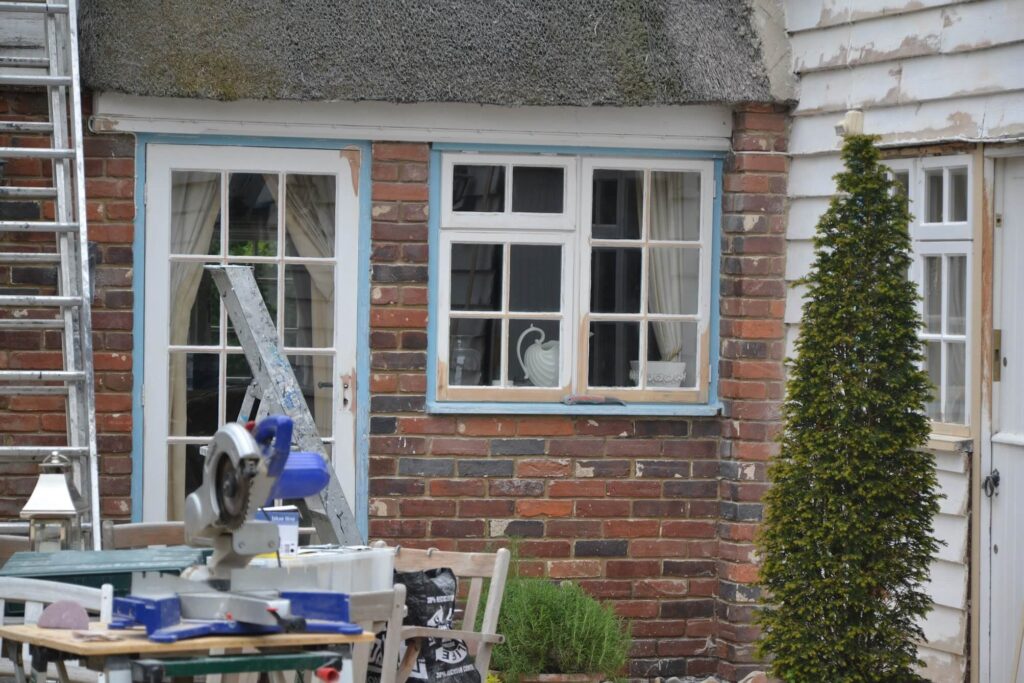 Quality saws will give you precise cuts and help you get a clean finish when you cut a new window sill or architrave.
When it comes to mitre saws, the main requirement is that they also can make precise angle cuts. This feature will help you to cut new beading and join together many other sash window parts.
Mitre shears
Mitre shears can be used to make accurate and quick cuts of wooden or plastic pieces up to 50mm in length and 15mm thick in various angles 45/60/75/90°.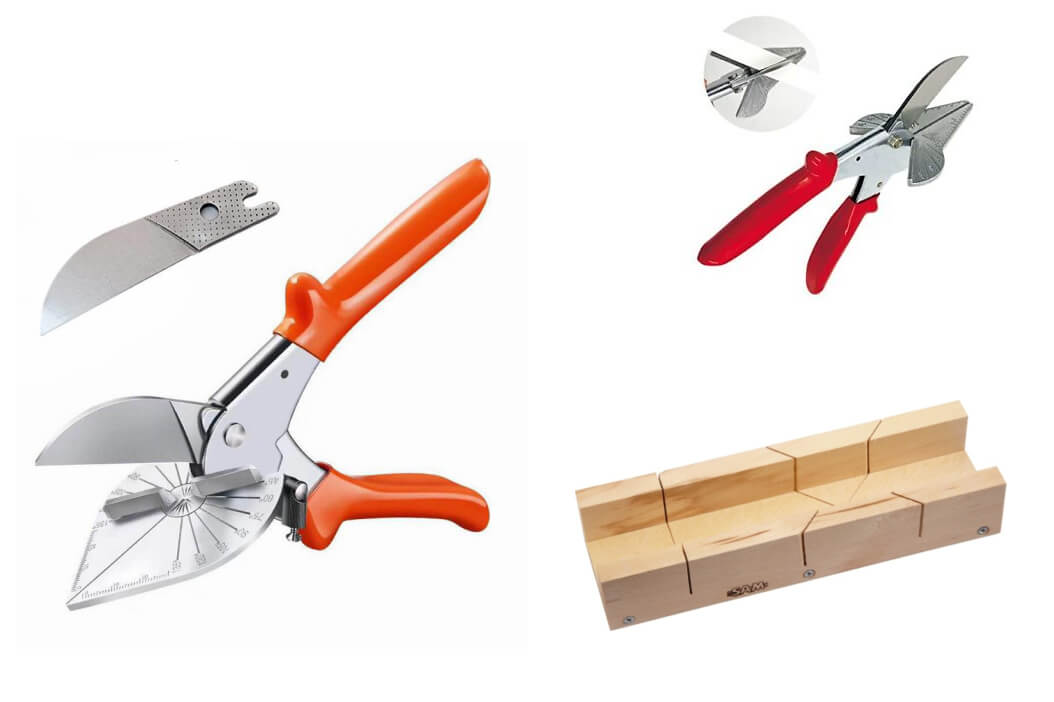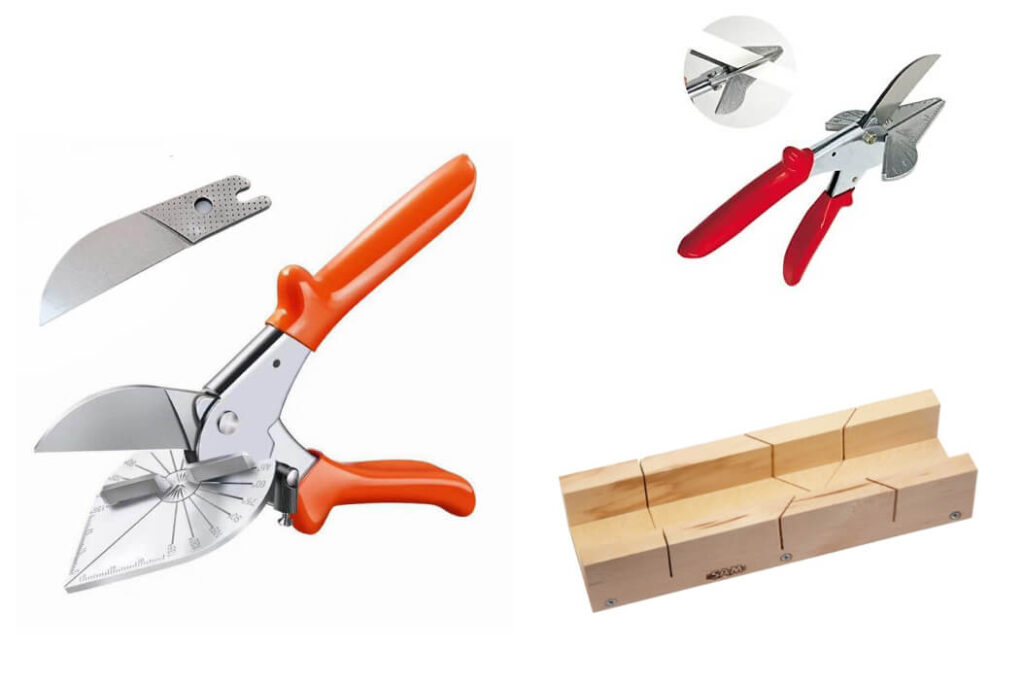 Here is the list of window parts you can cut with mitre shears:
Timber parting bead
Weatherstrip
Sash cords
Staff bead
Pile carrier
Multifunctional tools are ideal for removing decay from hard-to-reach window frame components.
This tool is extremely useful when you replace old glass panes. Removing a broken glass pane can be a tricky task. But with this tool, you can do the job quickly and efficiently.
If you buy a multi-tool, make sure you also get high-quality replacement blades. We have written a comprehensive guide about the best multi-tool blades and how to pick the right ones for your tasks. Make sure to check it out, because, over time, the cost of replacement blades can end up being more than the cost of the tool itself.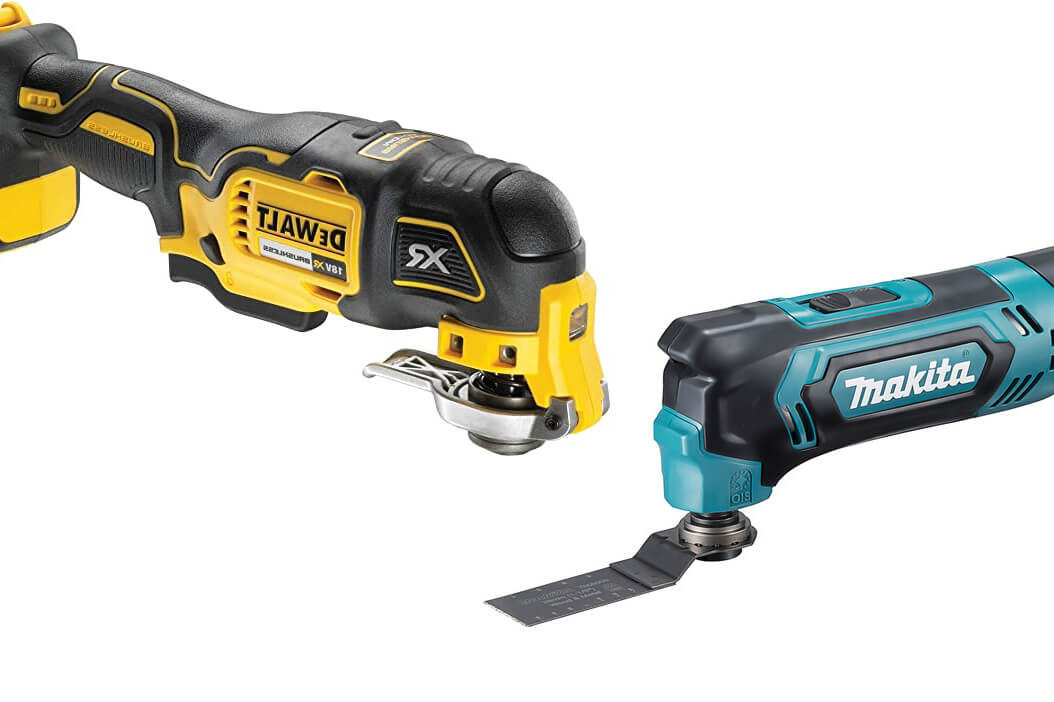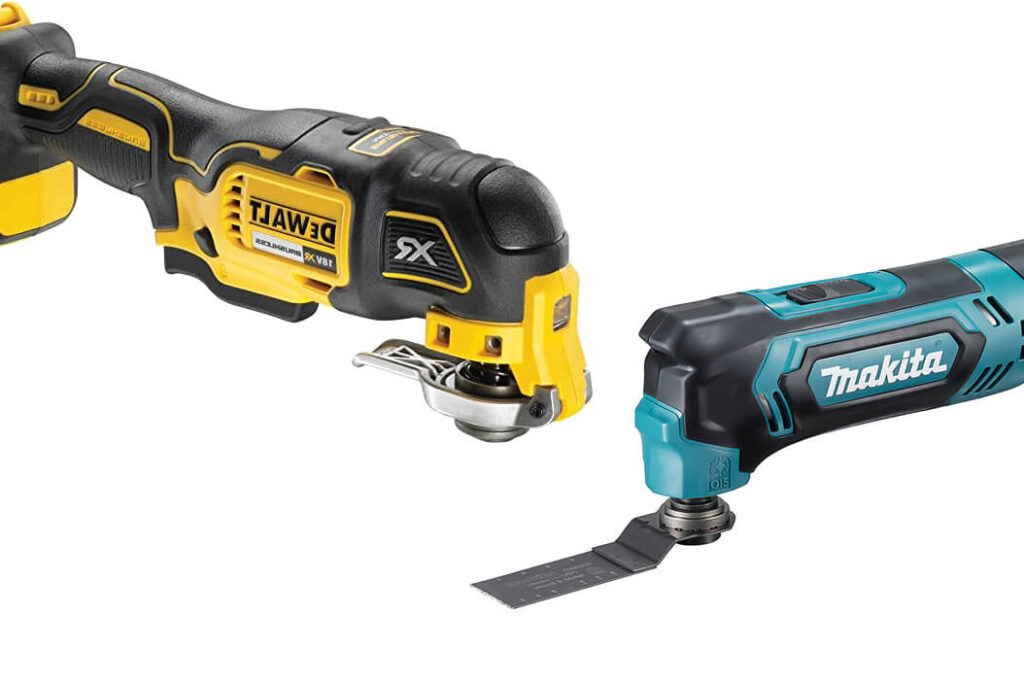 Electric Planers
Electric planers are power tools that are used for a variety of woodworking projects, including window restoration.
An electric planer is an invaluable tool with a unique design that allows it to plane multiple surfaces to help to join different parts together.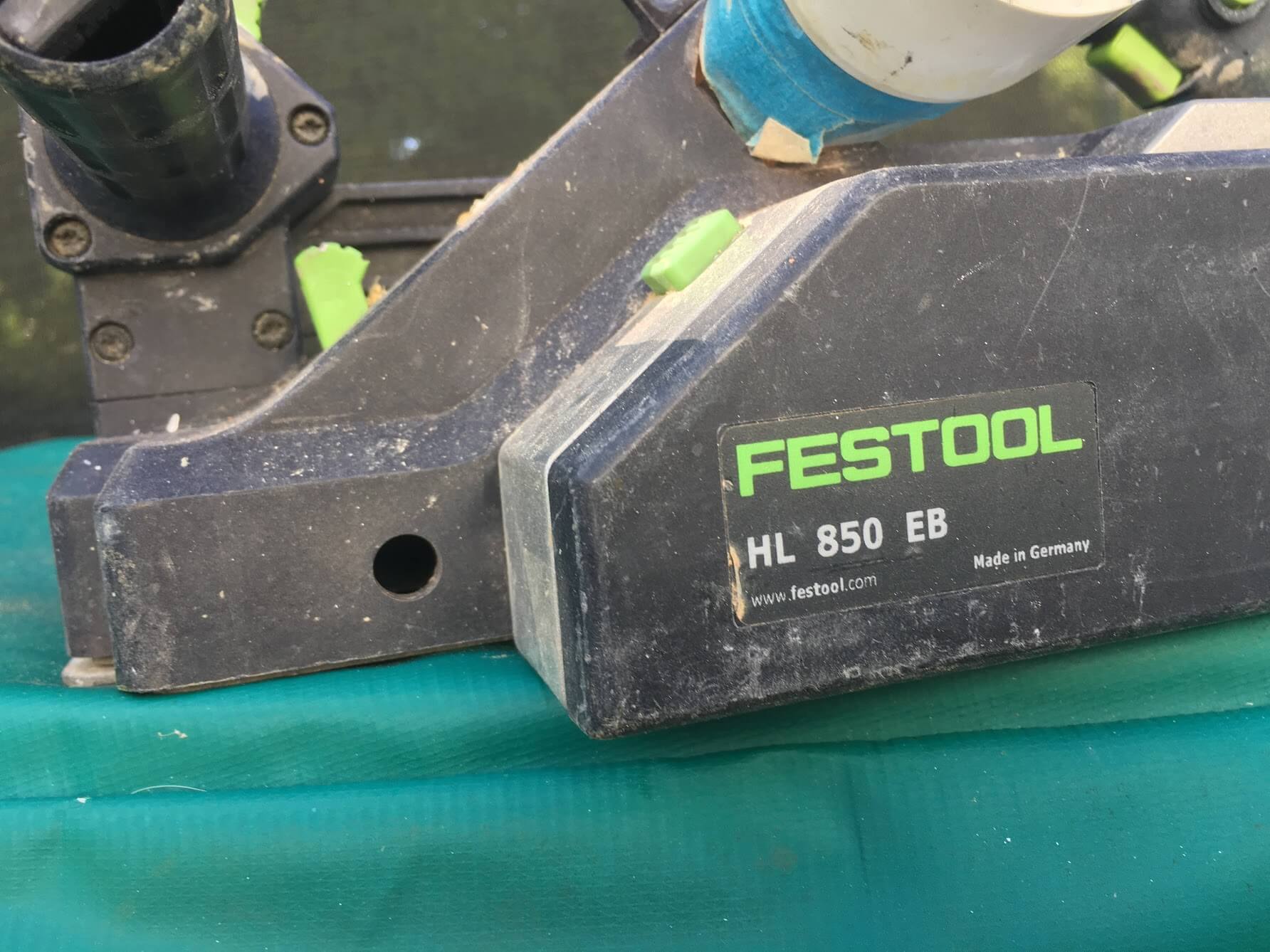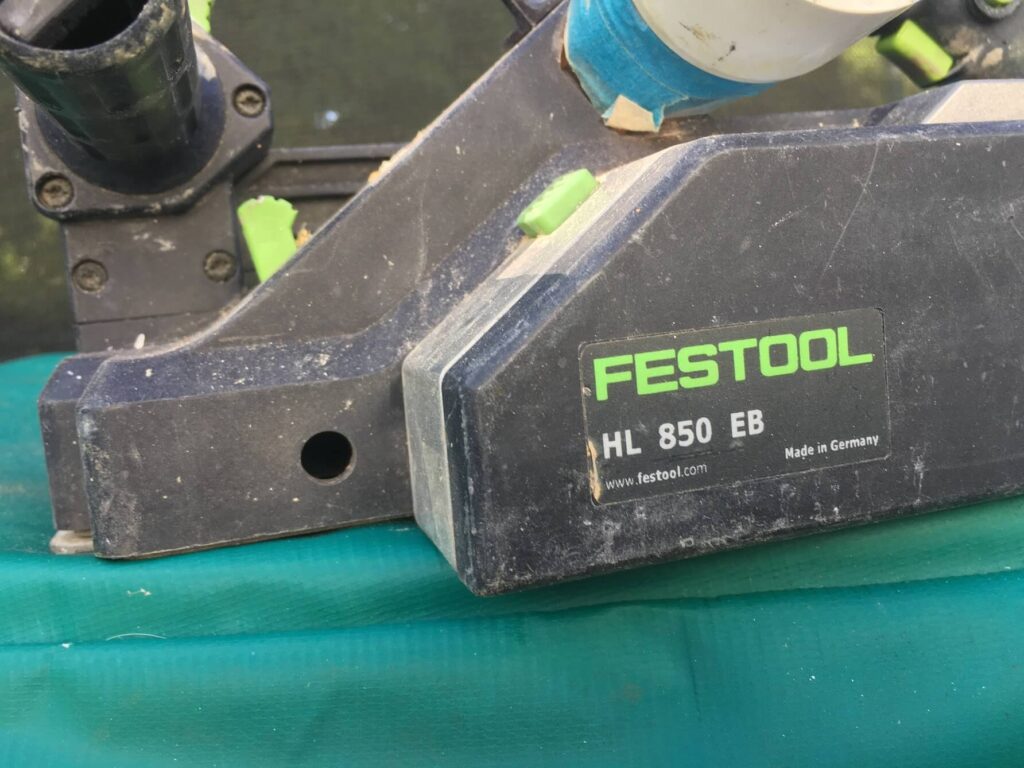 These tools feature an adjustable blade depth and can be used to remove material from wood and other types of surfaces.
With their versatility, electric planers make window restoration projects easier and more efficient by allowing the user to shape flat surfaces at any window specifications.
Profile gauges
With their precise measurement capabilities, profile gauges enable you to accurately copy shapes of window horns, architrave, sash glazing bars, and sash window trim without having to use any other measuring tools.
Profile gauges save time and give you precision and are a very affordable piece of equipment compared to power tools which can cost hundreds of pounds.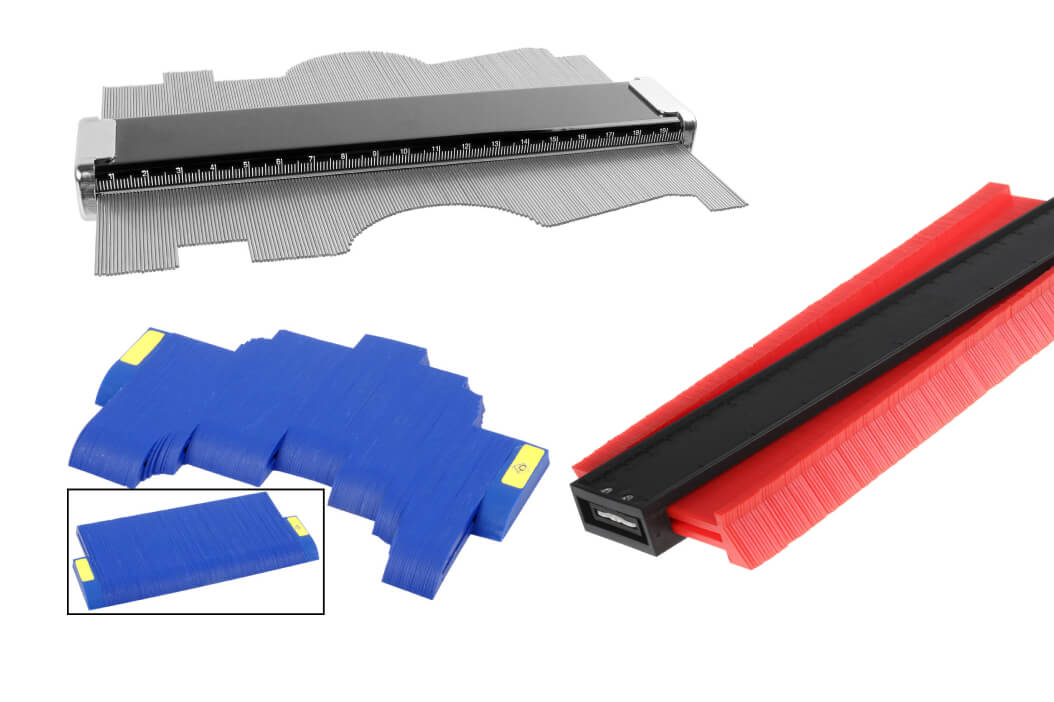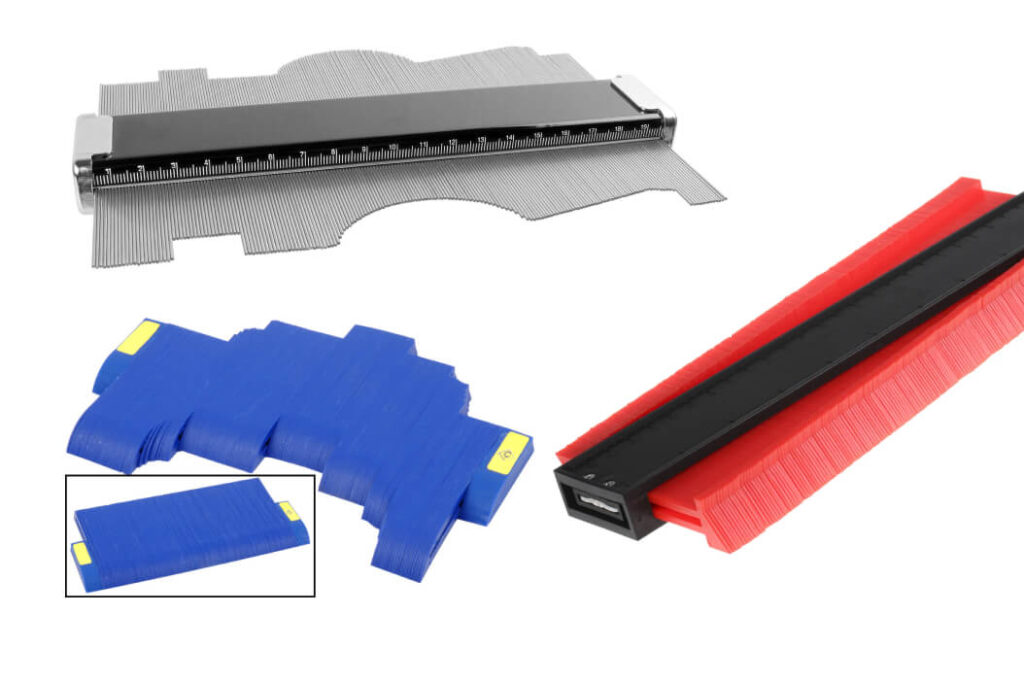 These reliable measurement tools also allow for quick and easy set-up compared to traditional methods like using a ruler or a template.
There are many profile gauges on the market, made with different materials and pin thicknesses; buy one or two and test which works best for your tasks.
Quality putty knife set for patching jobs
For window restoration projects that do not involve replacing rotten components, patch repairs can be used to fix minor damages.
High-quality spatulas and putty knives are essential for mixing and applying wood filler. With their long handles and thin blades, they allow you to reach into tight spaces while evenly spreading and blending the wood filler, so you have less to sand and smooth later on.
Having spatulas of various sizes is also beneficial, as you'll need a wide, large one for patching your window sill and achieving a smooth result without any bumps.
Folding workbench & Clamp
Some of the severely damaged sashes are usually disassembled and repaired on the ground or in the workshop. A folding workbench is a piece of equipment you need if you care about your back spine health.
Workbench not only reduces strain on your body but also allows you to assemble all of the pieces more easily as you can steadily affix a sash to the workbench with some clamps.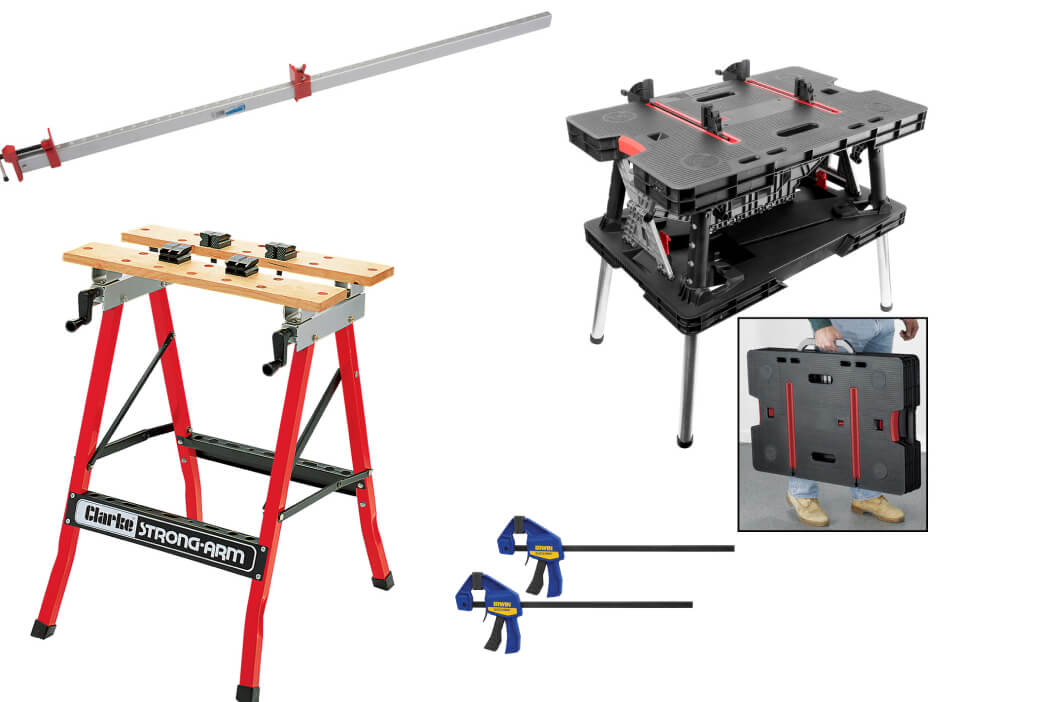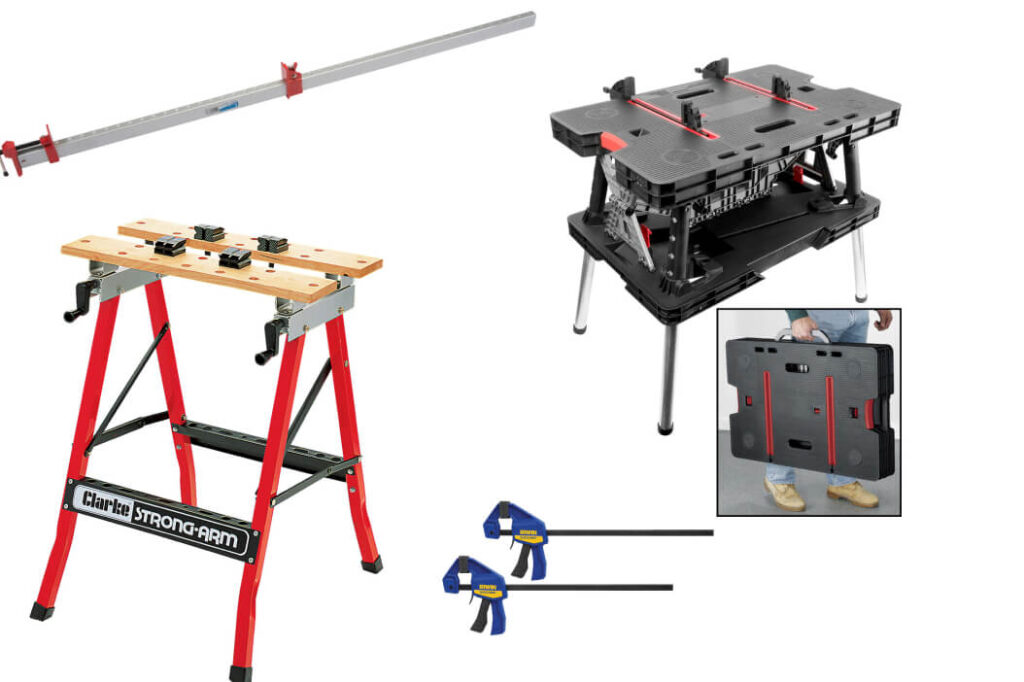 This allows you to work steadily, giving you a better chance of getting it done right the first time.

A foldable workbench is also easy to store, and it will not take up much of the space in your garage.
Impact Drivers and Damaged Screw Extractor Set
Old casement windows often come with old and rusty hinges, as well as damaged screws.
This can make the task of repairing them especially difficult, as damaged screws will make it extremely difficult to disassemble sashes from the windows frame.
You can spend hours removing damaged screws and end up just plucking out the screws with a piece of timber around them, leaving a torn hole.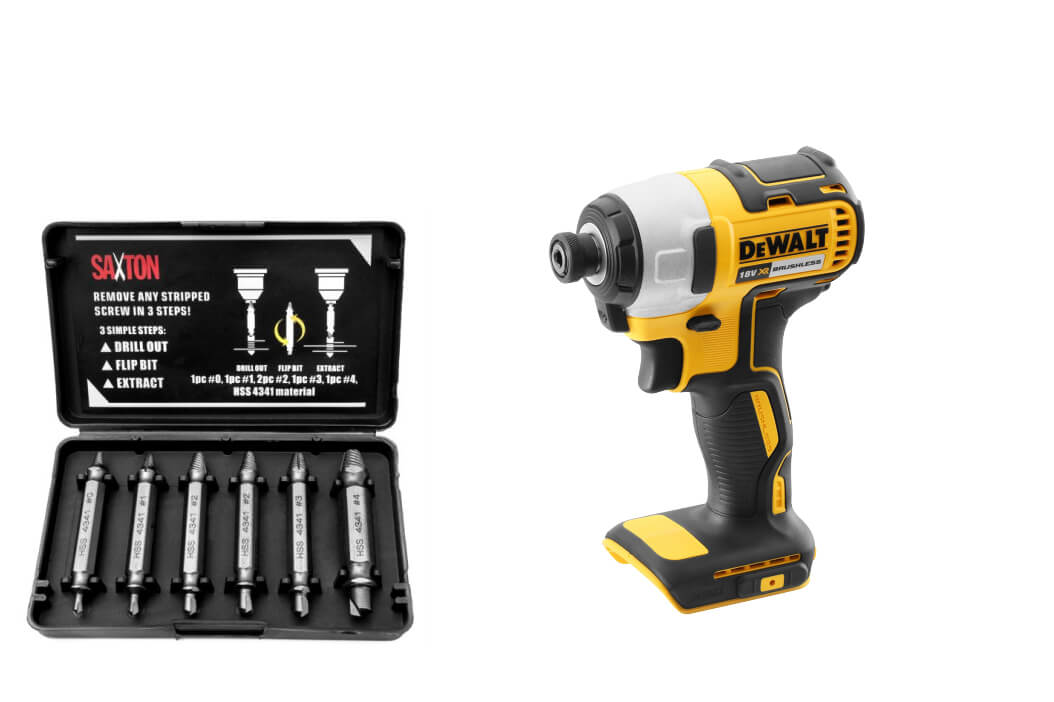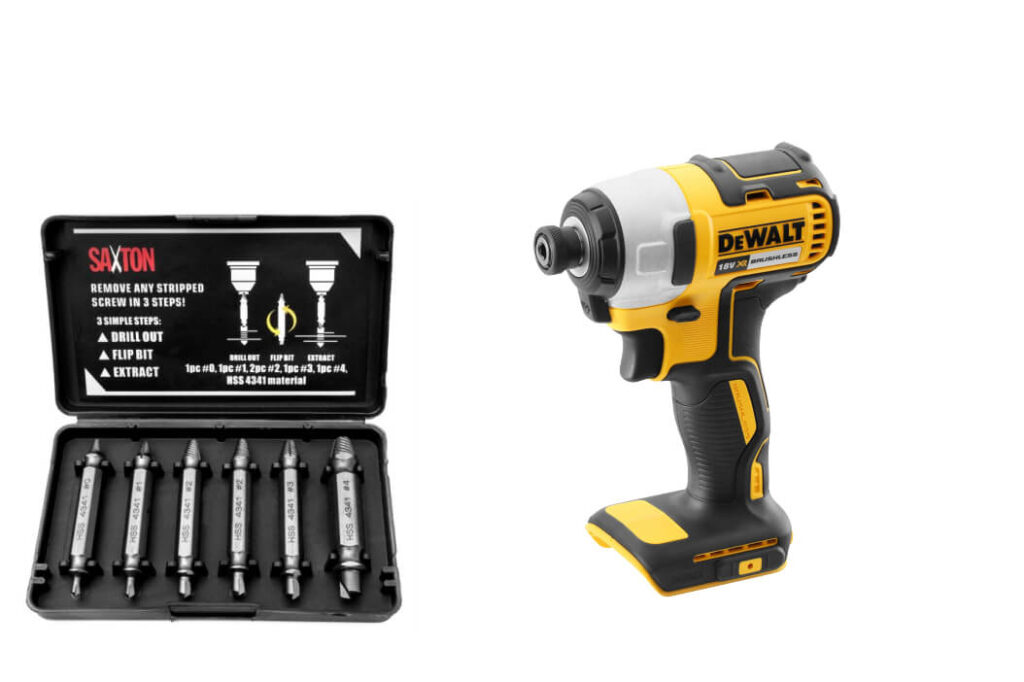 The solution for the above issue is the right set of equipment which includes a damaged screw extractor set and a quality impact driver.
Impact drivers are invaluable tools for dealing with damaged screws.
They generate much higher torque than regular screwdrivers, which makes it easier to remove even the most stubborn screws. Impact drivers also make it much safer to work with damaged screws as they reduce the risk of breakage.
To get the best results when dealing with damaged screws, always use an impact driver in combination with a set of damaged screw extractors.
Nail Guns
Nail guns are an essential tool for nailing thin planks of wood-like stuff beads.
Not only do they get the job done quickly and accurately, but they also help reduce the risk of damaging materials due to their precise and powerful head.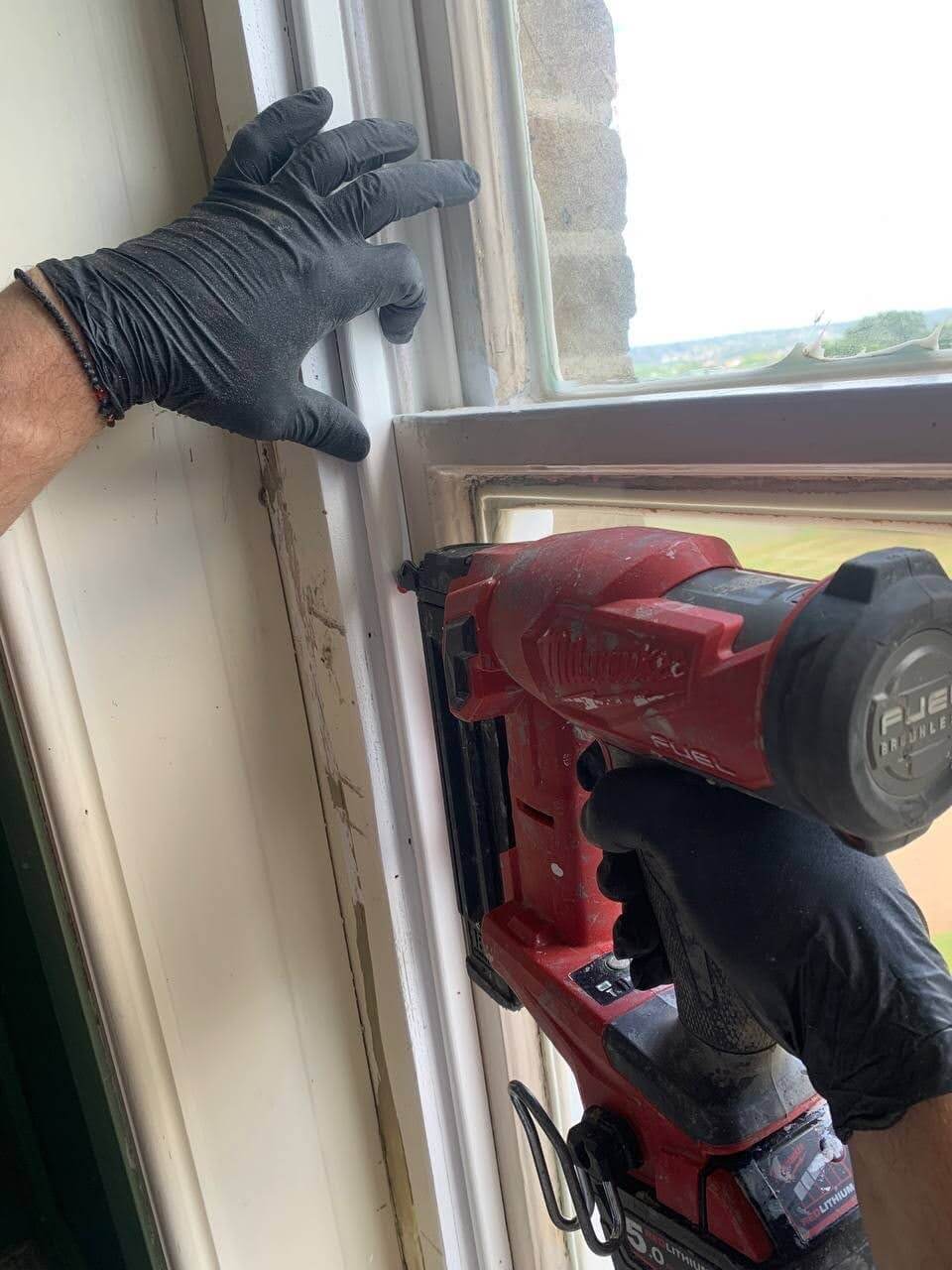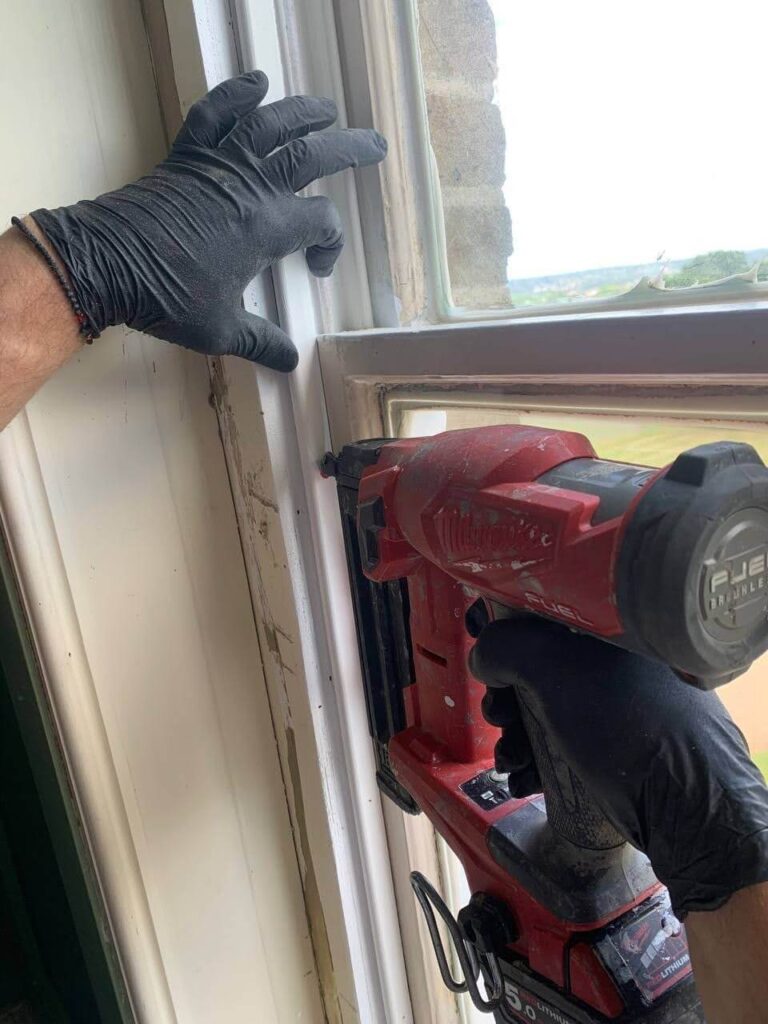 The picture above shows how we use a nail gun during sash window cord replacement.
A hammer can be used for the same job, but the chances of causing damage to delicate materials are much higher when using a hammer than a nail gun.
Airless paint sprayer
Airless paint sprayers are a handy tool for spraying paint, as they offer a more consistent finish with better coverage when compared to a regular brush or roller.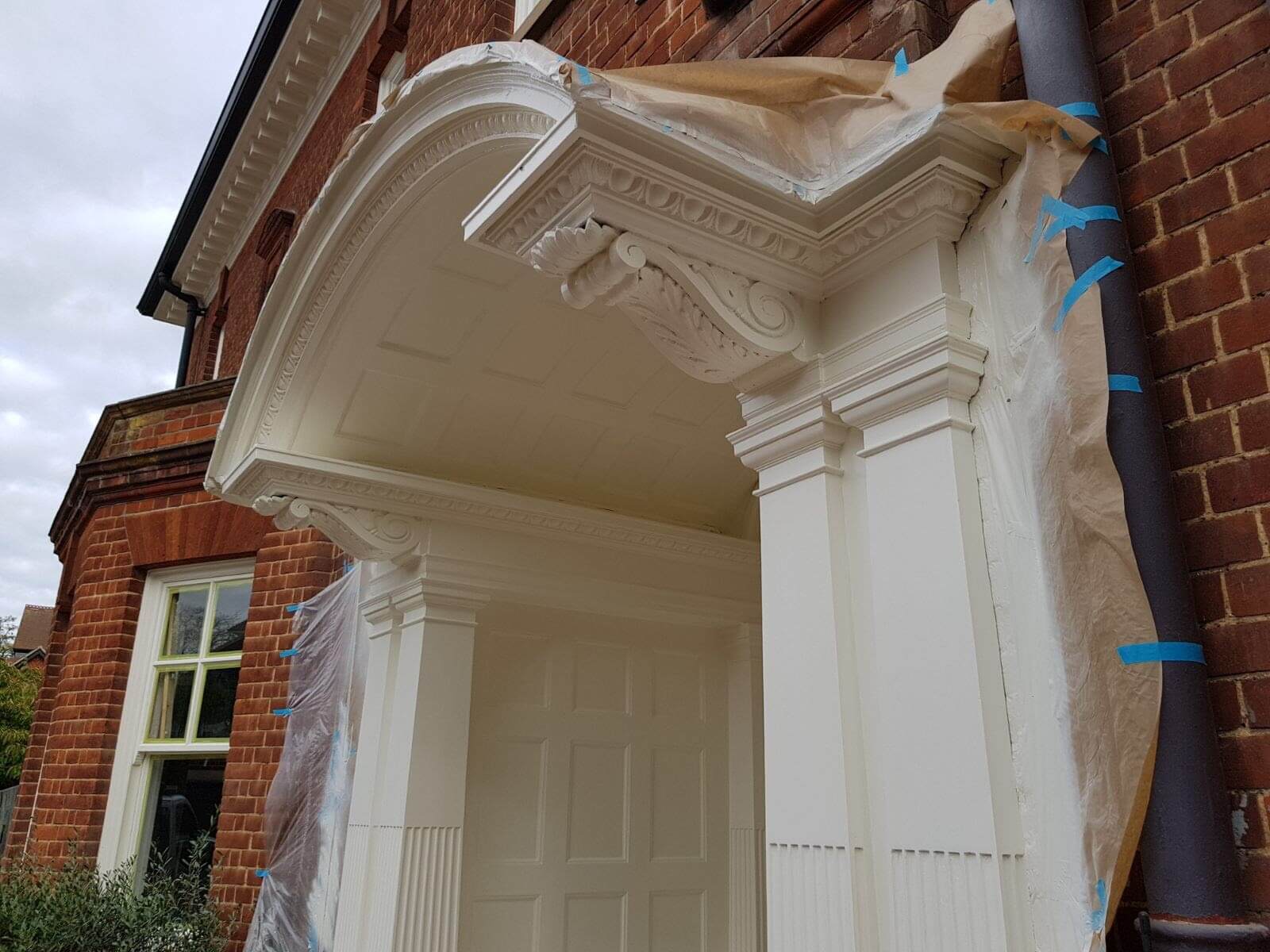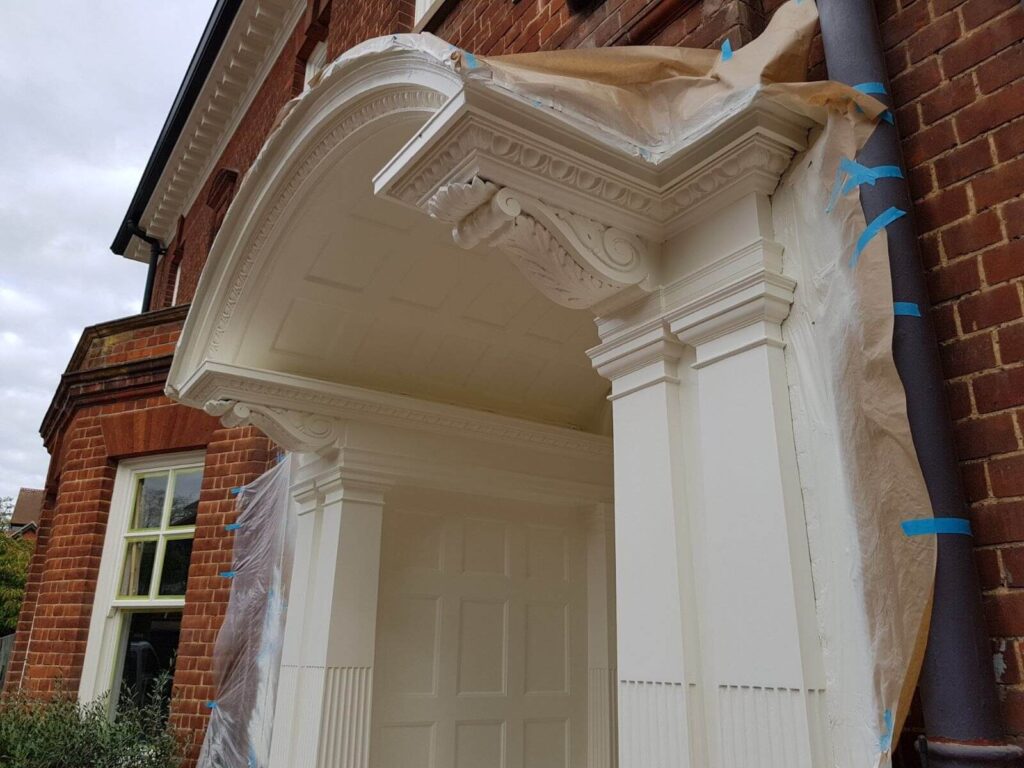 Additionally, airless sprayers can save you time and money since it takes significantly less time to cover large areas than when painting by hand.
If you want a manufactory-like finish on your windows, you will need a professional airless paint sprayer.
Conclusion
We hope you enjoyed the article and gained valuable insight for your upcoming restoration projects.
In conclusion, having the right tools and equipment is essential for any professional exterior timber restoration work.
From folding workbench and clamps to impact drivers, nail guns, and airless paint sprayers, having the right set of tools will make your job easier and more efficient.