Chameleon delivers the highest quality wooden windows renovation services and wooden window upgrades. We pride ourselves on achieving stunning results with the longest possible lifespan. Once we have completed your restoration project, the benefits of our skilled workers will last for decades. To maximise these benefits, good aftercare will have a positive impact. Keeping your wooden windows clean and cared for is one of the best places to start and the simplest way to show off your windows' beauty.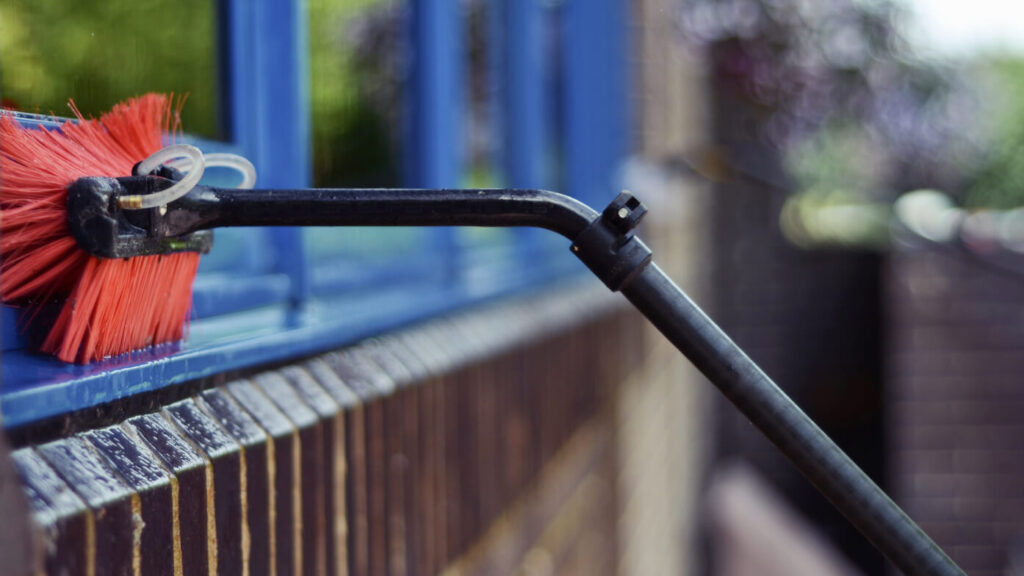 Introduction
Exposed to the weather, dust and various airborne dirt, your windows do a great job at staving off the outside elements. Periodic cleaning not only keeps your property looking loved and charming, it helps prolong the life of your windows so that they can continue doing their job! (Cleaning is also a fantastic way to inspect your windows and identify any maintenance needs sooner rather than later.)
With different cleaning methods available, it can be hard to clean your windows with confidence – without the worry of inflicting unwanted, unnecessary damage. Our team of experts offer some thoughts which we hope you find helpful.
Never use pressure wash for wooden windows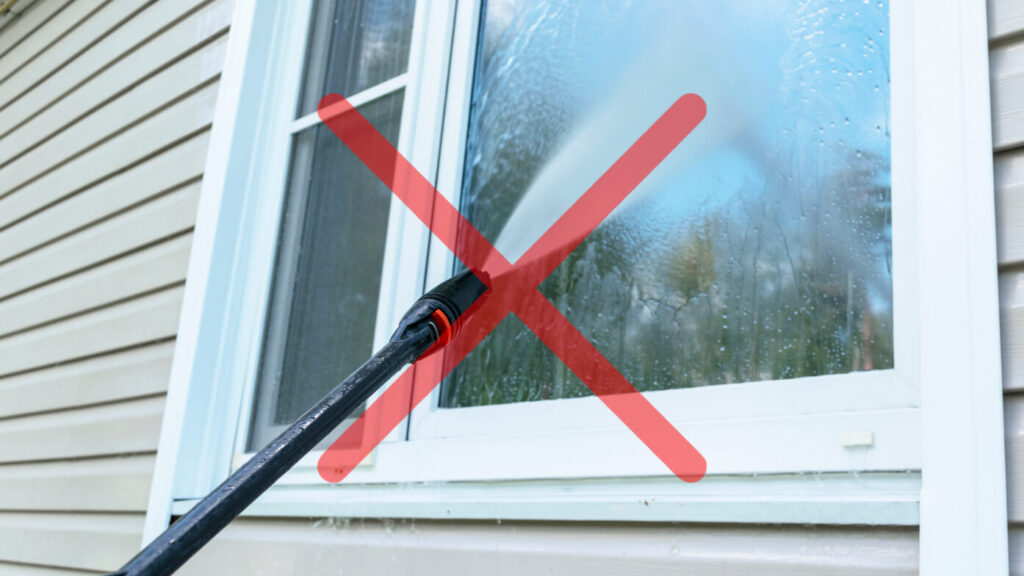 Firstly – in case there was any doubt – never pressure wash your windows.
This may seem obvious, but it is a worthwhile reminder that wooden windows are special.
They are expertly crafted using timber and fitted, restored and enhanced with passion and premium materials.
Although timber is incredibly durable, with many unique advantages over other materials, it is a natural material that will not respond favourably to lots of water at high pressure.
Pressure washing your beautiful wooden windows will, at the very least, give our sensitive team of experts terrible nightmares. In addition, it will very probably damage paintwork, excavate putties, penetrate seals and prompt lasting damage.
Is it safe to use a water-fed pole to clean wooden windows?
The quick answer: no in the long term
it is not recommended as it reduces windows maintenance cycle as hard brush micro damages paint layer which protects timber from external weather factors.
This is a relatively new window cleaning method that, in general terms, can be incredibly time-saving; overcomes accessibility issues; is a safer option to ladder work and is an easy task to perform. However, feature wooden windows do not have the same properties as the majority of modern UPVC windows.
But it is perfect for UPVC window
Comparatively, water fed pole cleaning gives the user much less control than a simple clean with a cloth and gentle soapy water. The brush bristles are often stiff, designed with UPVC windows in mind where scratches are less apparent. Brush bristles, combined with reduced dexterity, can easily damage your window's putty which will have subsequent adverse effects on the security of glass panes and protection against the ingress of rain, particulates, draughts and outside noise.
We suggest very soft-bristled brushes from the following windows cleaning kits list can be used to remove surface dust, but attempting to remove any more deeply ingrained dirt with a brush can be damaging for paintwork.
Old timber frame windows
Older feature windows will have been painted exclusively with brush and roller which is much less even than the finishes achieved by paint spray method. This means damage from brushes catching uneven surfaces is likely. Even with our ultra-smooth and durable finishes, we strongly advise against using hard brushes for cleaning wooden windows.
Once the protective layer of the paintwork is compromised, the timbers are exposed to moisture – dampness and rot will ensue, and the otherwise minor task of carefully cleaning windows can become a larger timber repair and redecoration task.
Conclusion
The short response is that timber windows deserve care and respect and Water Fed Pole cleaning is not the optimum solution.
Modern and quick is not always better, and as we explore in our article "Wooden Windows: Best Practices in Cleaning and Caring", there are simple cleaning solutions that are gentle, effective, and remove the risks associated with other cleaning methods more suited elsewhere.
If you require any advice or any of our listed services to support the enhancement and longevity of your traditional windows, we welcome your query.