Cleaning your windows can be a very enjoyable experience if you have the right window cleaning kits.
As you'll know, cleaning the inside of your windows is relatively straightforward with simple tools, but when it comes to the outside of your windows (particularly first and second floor windows), a basic window cleaning tool kit doesn't always get the job done! Or does it?
Today, we are looking at the best window cleaning kits available in the UK right now.
We'll also tell you how to use these window cleaning kits to get the most out of them and the easiest way of cleaning outside windows.
But first, let's look at what professional window cleaners use as this will give you a clue to what you should be using too.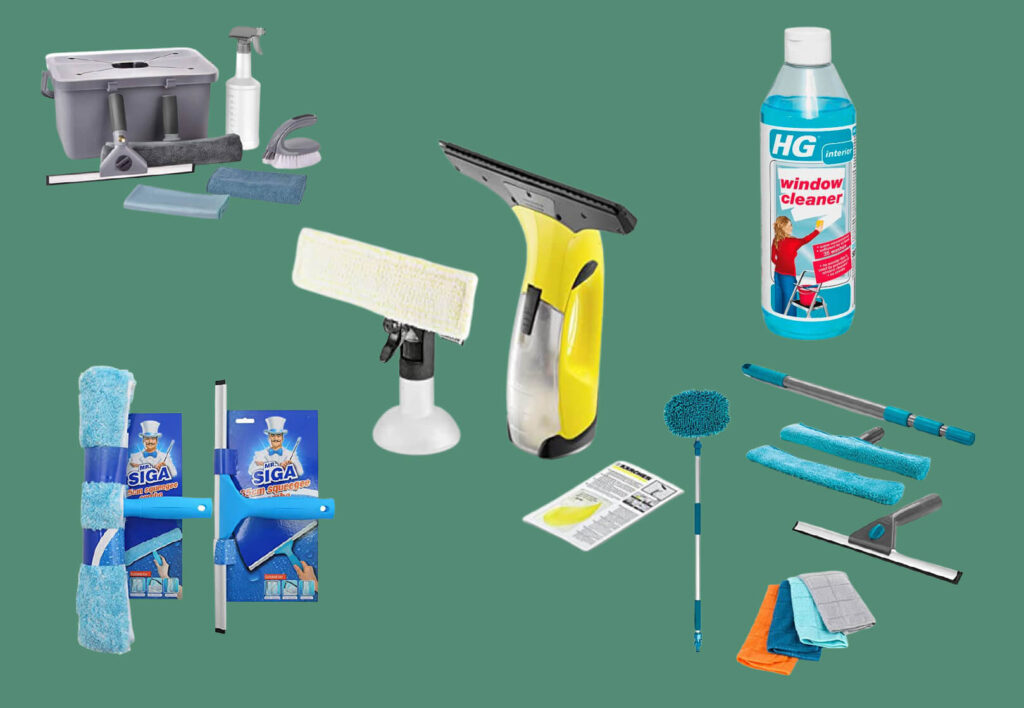 What do professional window cleaners use to clean windows?
You won't be surprised to know that professional window cleaners use much the same kit as a homeowner does to keep windows clean. Some professional window cleaners use pressure washers with extension bars and brushes to make getting to second-floor windows easier, for example.
However, for the most part, most professional window cleaners use squeegees, a ladder, a bucket and microfibre cloths. Knowing how to use these window cleaning tools is the key. Once you have a bit of practice, cleaning your windows with them is extremely simple. We'll show you how to use this window cleaning equipment below, but first, let's take a look at the window cleaning kits available, shall we?
MR.SIGA 7-Piece Household Cleaning Supplies Set
This is a fantastic cleaning kit for the entire home. It would be the perfect cleaning gift for someone who has just moved into a new home. However, the window cleaning part of this kit is really top-notch too, which is why we had to include this home cleaning kit on our list.
With the kit, you get a rectangular bucket that has cutouts to use with the squeegee and the microfibre window scrubber. You also get the scrubber and the squeegee, as well as two microfibre cloths. Everything you need to get a streak-free shine on your windows, plus this kit also has everything else you need to clean loads of other areas of the home.
Kärcher 16332200 WV 2 Plus Window Vac, 10 W, 240 V, Yellow/Black
This Karcher Window Vac is basically a handheld wet and dry vac with a squeegee attached to it. This makes very quick work of inside windows, mirrors and lower level outside windows too. The powerful vac makes keeping your windows clean a breeze. Simply spray some window cleaning solution on the window and then run the vac over the window. That is it.
This vac is certainly one of the easiest ways of making light work of window cleaning. You'll need to use a ladder to get to higher outside windows, but the vac is so quick that you won't be up the ladder for long at all. Just like every other Karcher product, this is extremely well made and does its job very effectively.
MR.SIGA Professional Window Cleaning Combo – Squeegee & Microfiber Window Scrubber, 14″
This is a professional window cleaning kit, and as you can see, this window cleaning kit is as simple as you can get. You get a window cleaning squeegee and a window scrubber, and that is it. Still, though, in the right hands, this window cleaning tool kit really makes light work of all window cleaning tasks.
MR SIGA has also made sure that both of these tools can be fitted to their extension pole (and many others). This means that you don't need to climb a ladder to clean your upstairs windows with this kit if you buy an extension pole which is sold separately.
Bentley Brushware Professional Window Cleaning Equipment Set Washing Cloth Squeegee Bucket Sponge
Here is another pro window cleaning kit. Unlike the other window cleaning kit above, this one comes with two squeegees and two microfibre scrubbers. One squeegee is smaller than the other one (the same is true for the scrubbers). This allows you to cleaner smaller windows or small panes of glass if you have sash windows, for example. You also get a bucket and a microfibre cloth with this kit.
Just like the window cleaning kit above, this one has everything you need, and all of the tools can be fitted to an extension pole to make cleaning outside windows nice and simple. Once you learn how to use these window cleaning tools effectively, you will never need to use any other tools to keep your windows streak-free and clean.
Beldray COMBO-6322 Window Cleaning Set with Outdoor Chenille Mop & Cloths
Finally, we have a window cleaning kit that comes with an extension pole, a squeegee, a microfibre scrubber with a second mop, four cloths and an additional, more aggressive scrubber for those really dirty windows. The extension pole reaches 166cm, which means you won't need to climb a ladder to reach your upstairs windows, making window cleaning nice and safe.
This window cleaning kit is really solid and will last a homeowner for years. All of the cleaning supplies in this kit are also suitable for loads of other applications around the home, including cleaning mirrors, internal glass and tiles too.
How to use a window cleaning kit?
With all of the window cleaning kits above, there is no cleaning solution, so you need to find the right solution for you. Some professional window cleaners simply use washing up liquid as it is a degreaser.
This works fantastically well on windows. If this is your first time cleaning windows, you can buy specialist window cleaning liquid that will help you get a streak-free shine like this one from HG.
You can simply add this to your bucket of water and get going. One 500ml bottle will give you 35 washes, meaning one bottle will last you years of window cleaning!
Now you have the right window cleaning solution, you need to learn how to use the tools. If your windows aren't too dirty, you don't need to soak the scrubber too much at all. And if you are using the scrubber and squeegee in your home (which is absolutely fine, by the way), don't soak the scrubber too much either. This prevents wasting the cleaning solution and spilling it everywhere.
If you do have a lot of dirt on your windows, you can add washing up liquid (or another window cleaning solution) directly to the scrubber undiluted. This will cut through the grime without using a lot of liquid.
Next up, you need to apply the solution to the window. Applying the solution to the window can be done in just about any way you can think of. The key thing is to cover the entire window in the solution. You can do it in up and down motions or side to side. As long as the windows are covered, you're good to go. To make your life easier, though, only do one window at a time. That way, you don't need to rush to the next step.
"S" technique for cleaning windows
The squeegee is the most intimidating step of window cleaning, but it is nice and simple to do, we promise. However, to make the squeegee process as simple as possible, we thought we'd show you the technique rather than explain it.
We always opt for the "S" technique for cleaning windows as it provides the best results. And here is a video from Window Cleaning Adventure explaining this squeegee method in detail.
Essentially, though, the squeegee is used to remove all of the water from the window. It will leave a very thin layer of water, but this will dry extremely fast, leaving a streak-free shine. As long as you remove all the water and soap, the window will be clean and shiny.
What is the easiest way to clean outside windows?
To clean outside windows, the easiest and safest way is to use an extension pole with your scrubber and squeegee.
This one from WinHux is a two-metre pole designed to fit most squeegees and even paint rollers too. You can, of course, use a ladder to clean outside windows, but this can be unsafe and will certainly take more time.
Once you get used to using your squeegee on your extension pole, it will be just as quick to clean higher windows like the ones at ground level.
We hope this look at window cleaning equipment has been helpful. For more tips and tricks for cleaning windows, painting and a great deal more, please explore our blog further.
Chameleon Decorators has everything you need to take care of timber windows, being it timber windows repair or window frame re-decoration and many other areas of your home too.