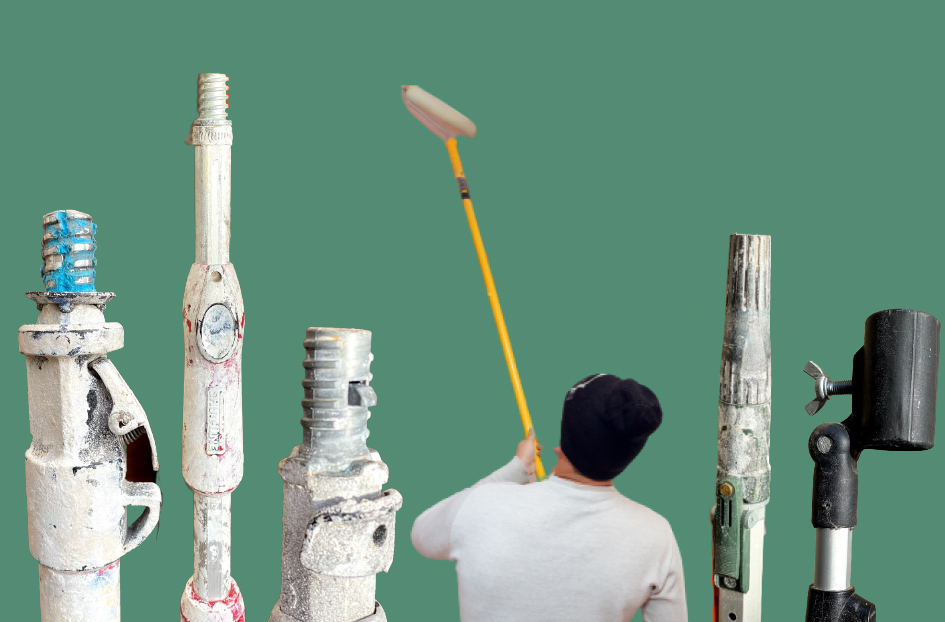 Below, we are looking at paint roller extension poles. Our team of painters and decorators have been using these poles on jobs, including projects for many months, and we have their results just below. Before we tell you about the best extension poles for paint rollers, though, let's find out what these poles are and why you need one!
Anatomy of a paint roller extension pole
A paint roller extension pole is a very simple tool comprised of just a few parts, including: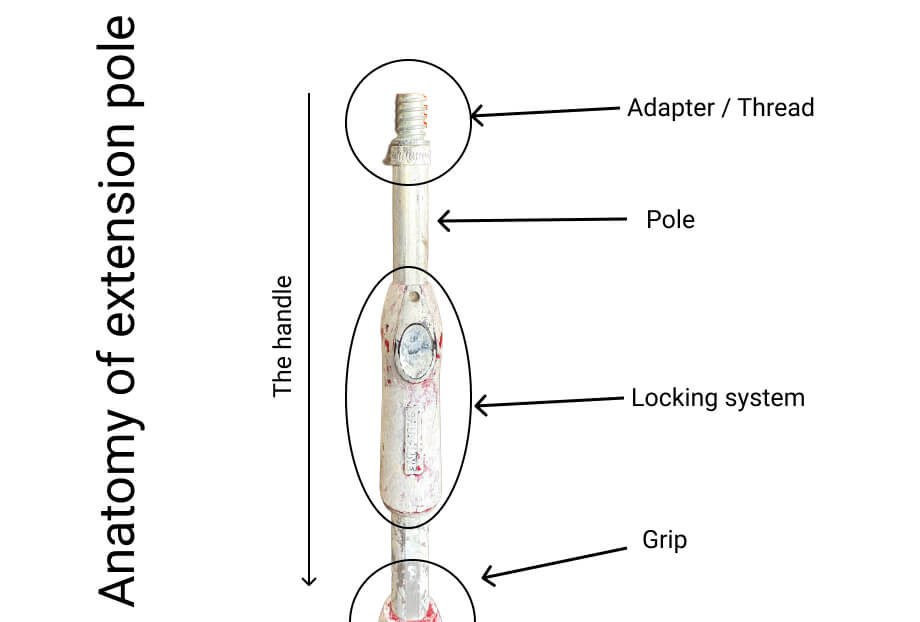 The handle – usually, extension poles are available in a couple of different heights (2-4ft, for example), and the handles are pretty much always extendable.


Grips – many extension poles have foam or rubber grips that make them very comfortable to use all day long.


Locking system – locking system for the extendable handle. Some of these are plastic clamps, other are metal pin and hole systems.


Thread – the thread is on the top of the pole and is designed to fit almost all paint rollers on the market. Some rollers don't fit on poles, but we have some adaptors below to help with this.
Our paint roller extension pole review
The paint roller extension poles below have been tested by our professional painters and decorators. Some of the extension poles have been tested for years on all types of painting jobs. Others, we have only tested for a few months. However, because we do a lot of painting, we can provide good examples of their strengths and weaknesses.
Does a paint roller extension pole have to be the same brand as the paint roller?
No, paint rollers and poles are pretty much universal. The threads are the same on all poles, and so if your roller has threads, it will fit on any pole.
What is a paint roller extension pole, and why you need one
A paint roller extension pole extends the height of your roller, allowing you to paint ceilings and tall walls without using a ladder or constantly stretching. They are really handy to have. Not using a paint roller extension pole can mean that painting is unsafe, but it is also very tiring if you need to stretch and reach above your head all day. Whether you are a DIYer painting a few rooms in your home or a handyman who does a spot of painting here and there, an extension pole is a very valuable piece of kit.
How to fit a roller to an extension pole
Fitting a roller to an extension pole can be as simple as screwing it on to the threaded portion of the pole. If the roller doesn't have threads, though, you need to find a suitable adaptor that will secure the roller. Just above this section are the best adaptors to secure paint rollers that don't have threads. You can either use a clamp and clamp the handle or use a push-fit style adaptor. Either works well, but clamps are a bit more versatile as they can hold brushes and scrapers as well.
How to use a paint roller extension pole
We hope this look at paint roller extension poles and handy adaptors has been helpful. For more equipment, tips and tricks in the painting world, please explore our website further. We have all of the best equipment and tricks to make any painting or decorating job quick, easy and enjoyable.