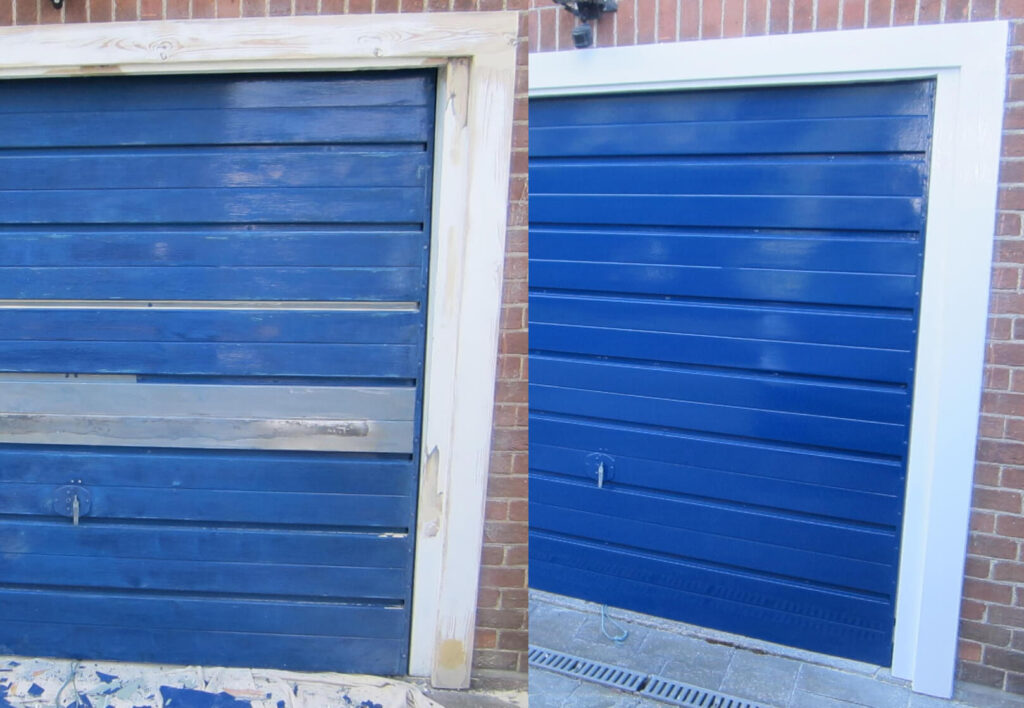 So, let's find out how to paint a metal garage door, shall we?
1. Remove old paint from the metal garage door
You can use a good quality chemical paint stripper to remove the old paint from your garage door. Or you can simply use sandpaper. If you use a chemical stripper, you will need to sand the surface of the garage door afterwards to ensure all of the old paint has been removed. We would recommend investing in a cheap sander for this, you'll use the sander in loads of different projects, and it will speed this process up a lot.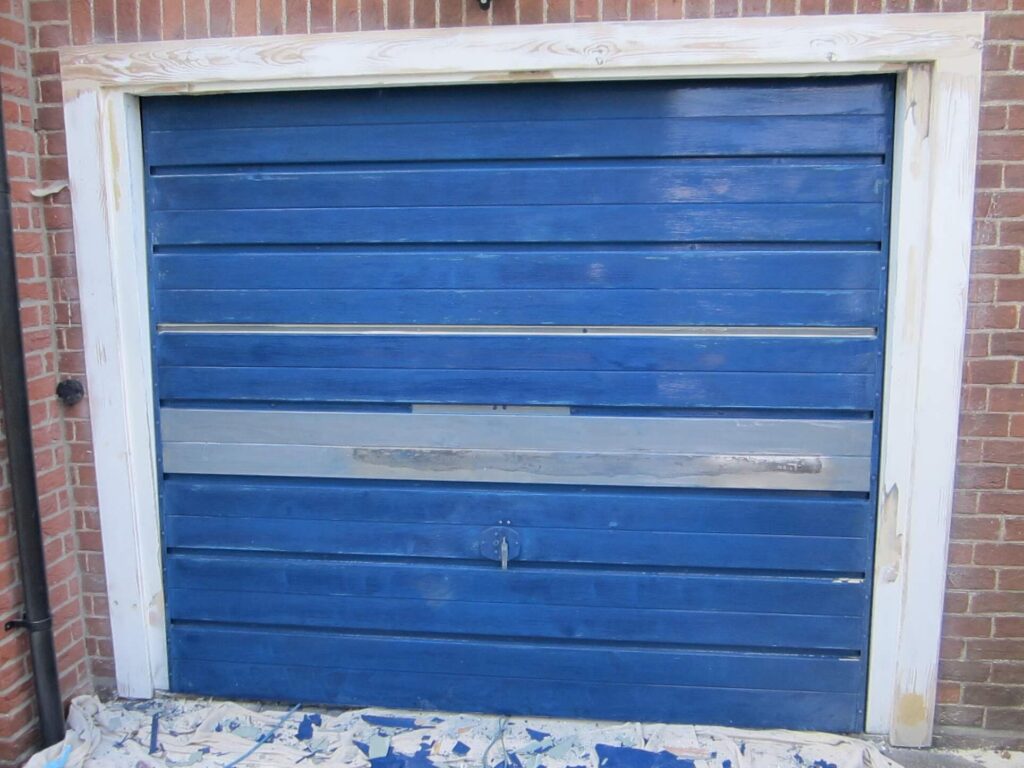 2. Prepare the garage door for painting
Once all of the paint is removed, it's time to prep the surface. If there is any rust on the door, this is the time to take care of it. There are specially made discs for angle grinders that will quickly take care of surface rust, or you can buy metal paint that can be applied over rust. If the rust on your metal garage door is extremely bad, you may need to replace parts of the door or the entire door, though.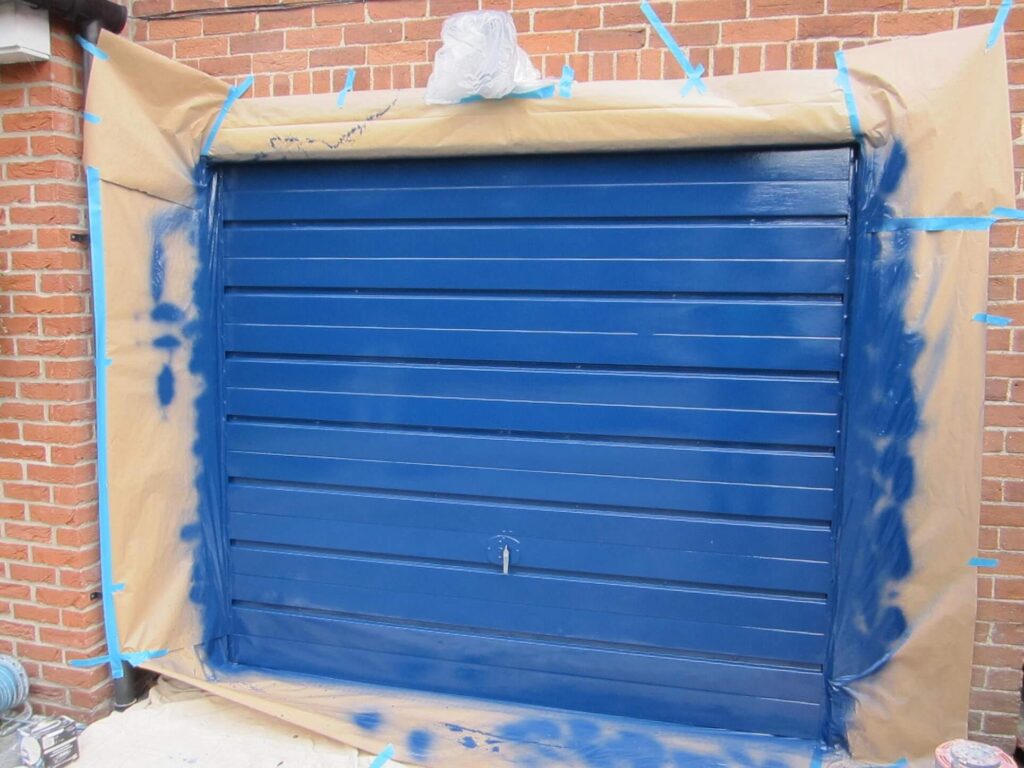 If you intend to prime and paint your metal garage door a few days after you have stripped the paint off, you should cover it to protect it from the elements. If you don't, it will rust.

Once you're ready to paint, give the metal a wipe down and remove any dust, dirt and grime. You can use white spirit to ensure all of the dust has been removed. Now is the perfect time to mask off any areas you don't want paint on too. Use good quality masking tape and paper to protect the garage and any other surfaces.
3. Priming and painting the garage door
A good quality metal primer should be applied to the metal garage door before you paint. Most metal primers have excellent rust protection that will protect your garage door for many years.
Follow the instructions on the primer (some require sanding between coats, others require some sanding before the paint). Once the metal primer has dried fully, you can apply your chosen paint.
Apply thin coats, following the instructions on the can. Thin coats prevent drips and mean the paint dries quickly. Most metal paints require at least two coats for good coverage; some require three or more.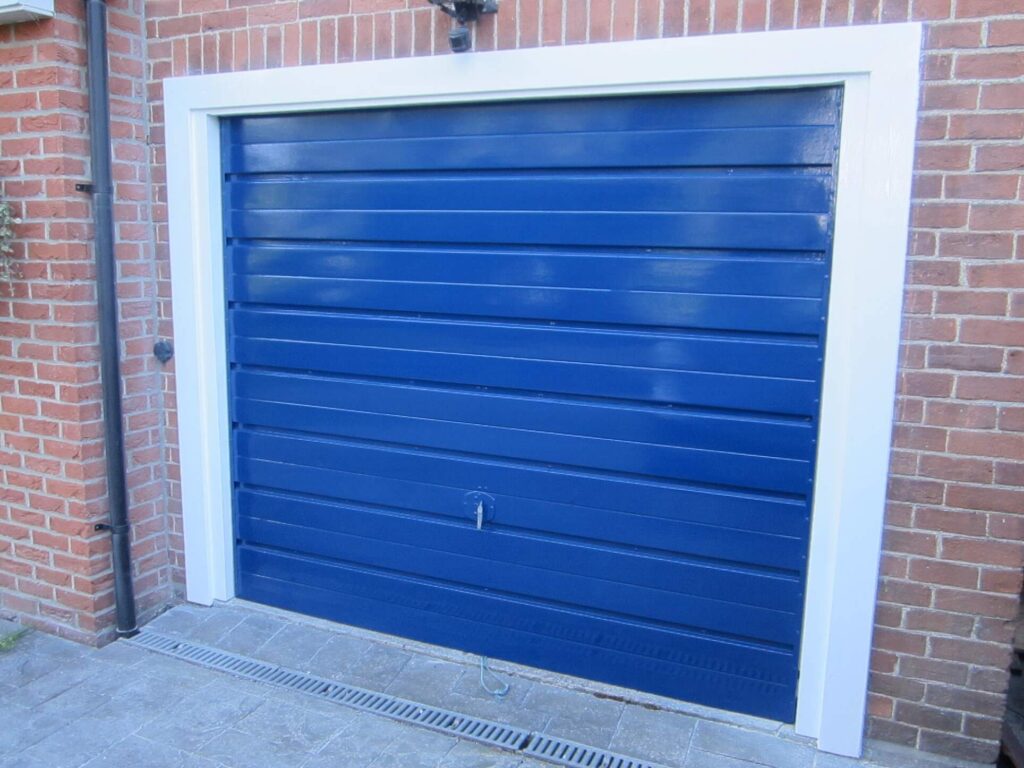 That is how to paint a metal garage door. The process of painting a garage door isn't too difficult.
If you do all of the prep work, making sure you remove as much of the old paint as possible and wiping the door down to remove the dust, the painting process is nice and simple. But what paint should you use to paint a metal garage door? Let's look at paints now, shall we?
Here are our top three paints for metal garage doors and a great primer to use for painting garage doors. There are loads of exterior metal paints on the market, but these have given us great results over the years.
Hammerite garage door paint
Johnstone's Weatherguard Exterior Gloss
Jenolite Garage Door Paint
Hammerite Special Metals Primer
FAQ
How to paint a rusty metal garage door?
If you want to paint a rusty metal garage door, it is best to remove as much of the rust as you can prior to painting. You can buy very inexpensive discs for angle grinders that are great for removing rust. You can then use metal paint designed to protect rusted areas.
How to strip paint off a metal garage door?
Using a chemical paint stripper is the easiest way of removing paint from a garage door. However, you will need to sand after removing the stripper to ensure that you have taken the garage door back to bare metal.
What colour should I paint my garage door?
The colour that you paint your metal garage door is really up to you. There's some lovely colours to choose from. We like more subtle colours for garage doors, but if you're feeling bold, go bold!
Type of paint to use on metal garage doors?
One of the paints above is ideal for garage doors. However, any exterior metal paint will work. For maximum protection, though, use a metal paint that is designed for use on metal garage doors.
How to paint a galvanised garage door?
A galvanised garage door can be painted in the same way as any other metal garage door. So, follow our tips above for more info. You can also use pretty much any garage door paint too. Hammerite is one of the most popular choices for galvanised garage doors, though.
How to paint a garage door to look like wood?
Painting a metal garage door to look like wood is not easy. There is no paint that has a wood texture-out of the can. It takes patience and skill. If you really want a garage door to look like wood, it is probably easier to buy a wooden garage door unless you are an artist.
How much does it cost to paint a garage door?
Factoring in the costs of sandpaper, masking products and good quality metal garage door paint, you can probably paint a single garage door for under £50 over one weekend.
VIEW ALL QUESTIONS
We hope this look at how to paint a metal garage door has helped you paint yours. With the proper prep, masking and good quality paint, painting a metal garage door is quick, easy and enjoyable. If you have a wooden garage door to paint, check out our article, all about painting wooden garage doors. And for more tips and tricks about painting all around the home, check out the rest of our articles.